Apple Segmentation, Targeting, and Positioning
Ever curious about how Apple's marketing strategies made them this successful? Explore its techniques through a detailed diagram.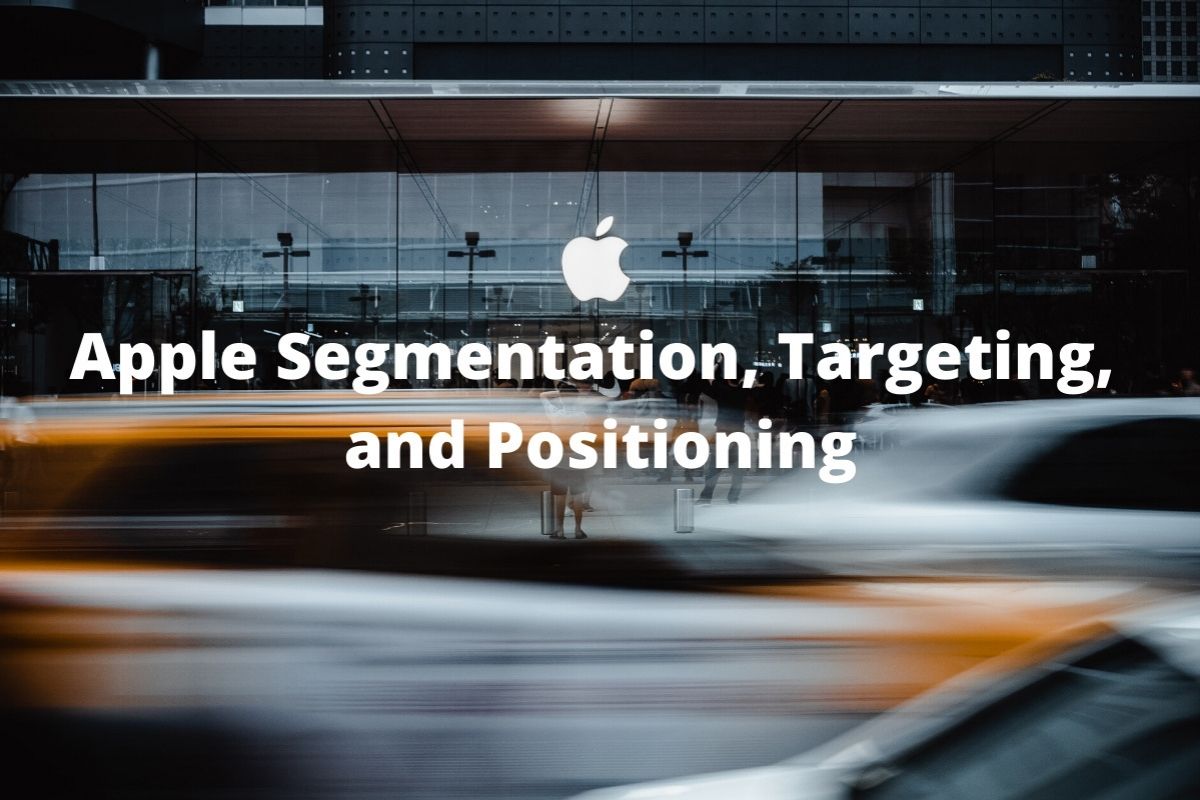 Introduction
Market segmentation refers to identifying several elements of a market to cater to the needs of all potential consumers. It allows a company to drive a complete and unified solution that coincides with customer outreach, channel strategies, and messaging to support and sell to target customers. Segmentation calls for a thorough understanding of potential consumers and working to meet their needs (Kamakura and Wedel, 2000).
Customers have varying needs. Thus, a business will not achieve its objective to satisfy its market by treating them alike. Consumers must be treated according to their specific needs. An example of this is the youth and the older generation. These two markets have various needs, and meeting the demands of these groups needs different products and approaches. As with Apple's case, the company can innovatively work through its product developments and market segmentation, satisfying various needs of different age groups.
Besides segmentation, almost all companies today use the STP approach in marketing. It stands for segmentation, targeting, and positioning. This is a three-step process that explores products and services and the ways their benefits can be communicated to its target market. This model allows companies to tailor marketing approaches to meet customers' expectations.
Follow here to know how Apple does its STP, and learn principles that help your business.
Apple Segmentation, Targeting, and Positioning Mind Map
As you sketch your mind map, you can refer to this example: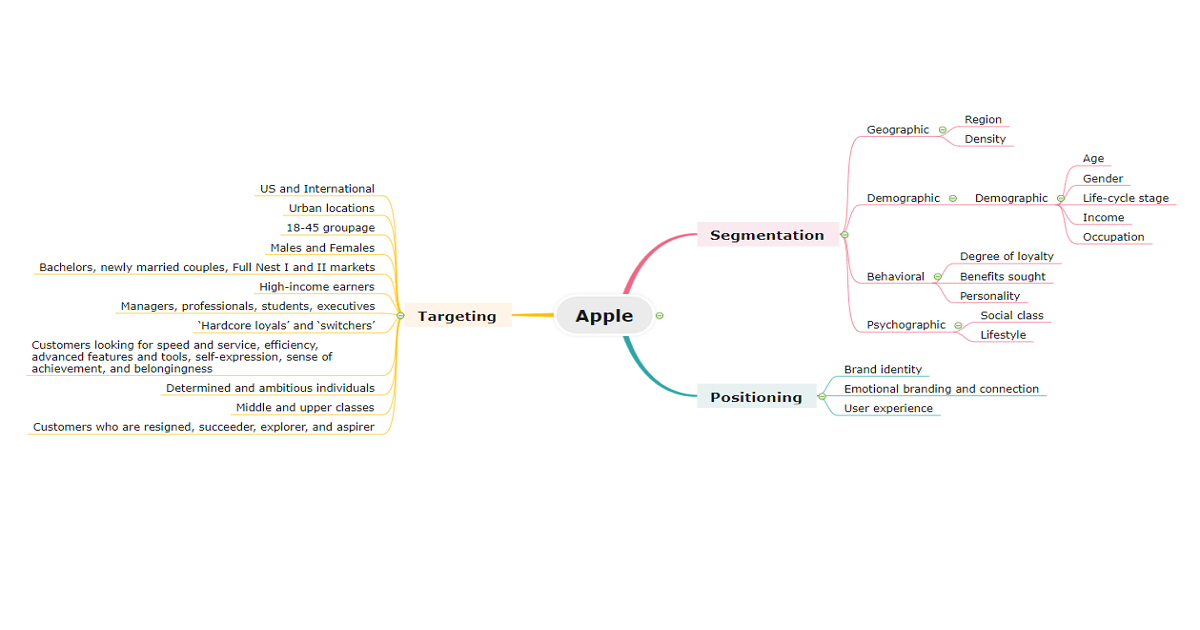 If you like this mind map and even want to modify it, click the link below! 
View, edit, and download this template in EdrawMind.
EdrawMind Apps
12 structures & 33 themes & 700+ cliparts
Support Win, Mac, Linux, Android, iOS
Advanced import & export options
On-premises software for business
Enterprise-level data security
EdrawMind Online
12 structures & 33 themes & 700+ cliparts
Access diagrams anywhere, anytime
Team management & Project management
Market Segmentation of Apple
With Apple, market segmentation is grouped into behavioral and psychographic variables. Segmenting is a process of grouping the audience into smaller segments based on specific characteristics like occupation, gender, age, and other customer preferences. These segments or variables must be accessible, measurable, and actionable to benefit the company.
Apple's demographic market segmentation includes developing its products around the target customers' age, lifestyle, and occupation. Apple's products are then distributed to various areas and classified based on family size and age (Bara & Al-Refaie, 2016). An example of this is a PC with the latest features and software for professionals and a PC containing more games for kids. You might also notice that Apple provides several features to its other gadgets. Those with the higher graphic resolution for the younger people and digital watches with the capabilities to monitor one's pulse rate will be highly favored by the later generations.
Since Apple caters to a broader range of global markets, geographic elements must be considered part of its segmentation. As of December 2021, Apple already has more than 500 retail stores across 25 countries worldwide. Besides its physical locations, customers can access its products through online retail stores wherever they may be in the world. This way, Apple can expand its market and reach several customers.
Apple also includes the behavioral variables of its target market in its market segment. It consists of the attitudes, usage, responses, and product knowledge. The psychographic element of Apple's market segmentation tackles developing products based on the target market's lifestyles.
Targeting of Apple
Apple targeting strategies involve determining the more attractive segments for the firm. This stage implies choosing particular groups identified from the segmentation process, where Apple can sell their products to. The company positions its brand as a premium provider of products and services with high-quality and advanced functions and capabilities.
Apple's target customers include the well-off individuals willing to spend more on technology products and services with advanced capabilities, functions, and designs. After years of evaluating Apple's customers' characteristics, it has revealed that most of them tend to appreciate quality, performance, and design of tech products and services over the prices.
Positioning of Apple
The positioning approach for every marketing plan plays a critical role in promoting a brand image in the customers' minds. A practical and critically selected positioning strategy can hugely influence the firm's success. When deciding on the brand's positioning, companies vary on the aspects they want to highlight and emphasize, based on the industry, company time, size, and products.
The technology industry is rapidly growing and constantly evolving, hence the continuous introduction of new products with technical resolutions and innovative features. Apple is one of the top firms in this sphere, and most of the players in the industry often look up to Apple, its new technologies and products.
This success is partially due to its solid and effective positioning based on various elements. Apple positions itself in the market as a premium brand sought by everyone. Surely, the company's products are not cheap, but you will find people, even those who cannot afford to find ways to get their hands on Apple products.
Apple positioning its brand to create an emotional connection with its customers through exceptional experiences is an excellent approach, especially in this competitive industry. In the same manner, Apple uses its positioning approach based on competition. Since competition is tight in the technology industry, Apple ensures to continuously invest in R&D and introduce innovative products and features all the time. It keeps on making unique technologies for the brand and cannot be copied anywhere else.
Table
Here's how Apple segmentation, targeting, and positioning look when organized in a chart. This is just an overview of classifying the segments and other elements. Apple has a wide array of products; hence, it can be expected to have more lists for every product and service they offer.
Apple's Targeting
Segmentation Type

Positioning

Devices: iPhone, iPad, iPod, Mac

Services: Mac App Store, Apple Pay, iCloud, iTunes, and iTunes Store

Brand identity, overall user experience, emotional branding through innovation, imagination, and design,

Geographics

Region

US and International

US and International

Density

Urban

Urban

Demographics

18-45

18-30

Males & Females

Males & Females

Bachelor, newly married couple, Full Nest I and II

Bachelor, newly married couple, Full Nest I and II

Income

High Earners

High Earners

Occupation

Professionals, executives, and managers

Professionals, managers, and students

Behavioral

Degree of Loyalty

'Hardcore loyals' and 'switchers'

'Hardcore loyals' and 'switchers'

Benefits sought

Self-expression, Speed of service,

advanced features and tools, sense of belongingness and achievement

Efficiency and speed of service

Personality

Ambitious and determined

Ambitious and determined

Psychographic

Lifestyle

Explorer, aspirer, succeeder, resigned

Succeeder, aspirer, explorer

Social class

Middle and upper classes

Middle and upper classes`
Key Takeaways
As you explore every element of Apple segmentation, targeting, and positioning, or STP, you surely have found ideas and principles that can be useful for your brand. While you may find it intimidating, it's a given considering the broad scope of Apple's market. However, if you are a startup brand, you can streamline the list above and select only those related to your company's marketing strategy.
Together with outlining and classifying these elements on your marketing approach should be a reliable diagramming tool. EdrawMind is a user-friendly mind mapping software that allows users to navigate its straightforward interface and take complete control of utilizing its features and tools. You can create from scratch or choose from various pre-built templates on Market segmentation and STP analysis to guide you in making the diagram. The pre-built ones provide a simple structure that you only need to input information on every section of the diagram. Forget the hassle of building the skeleton, as EdrawMind will do that for you.
References