5 AI Article Writers | Generate High-Quality Content Within Minutes
In this guide, you will find the 5 best AI article writers to generate attention-grabbing and forceful content to keep your potential audience engaged.
Create Mind Maps Today!
EdrawMind is a mind mapping tool equipped with 700+ cliparts. This article presents a step-by-step guide to creating a creative mind map to present your idea elegantly. Try EdrawMind and create hundreds of mind maps today!
Producing human-generated content is not as easy as it seems. It requires a lot of time to perform comprehensive research and hours of continuous effort. But well-formatted and well-researched content does wonders for your digital platforms, like websites, blogs, or social media channels. Many people find it difficult to spare time and generate content, which is why they look for efficient solutions.
If you need some assistance in creating high-quality content, an AI article writers will surely lend you a helping hand. A number of AI-based writing assistants have been introduced. These tools help you create quality content within minutes. Choosing a reliable writing assistant often becomes tricky. But don't worry, as this presents the 5 best AI article generators to create premium-quality content pieces.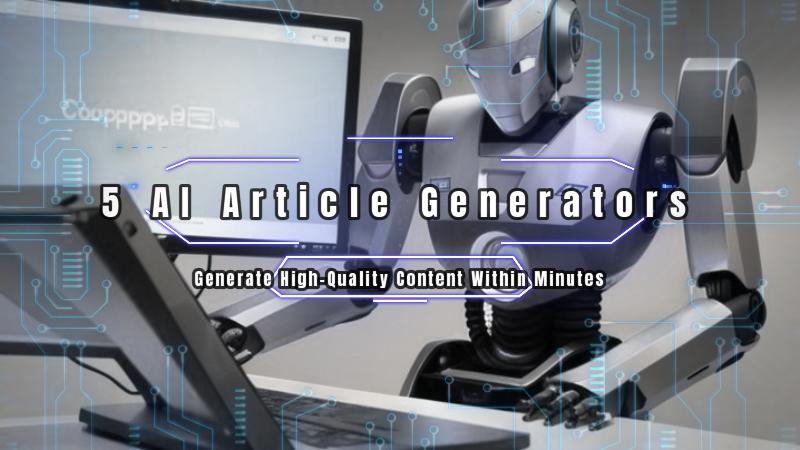 1. Wondershare EdrawMind - Give Your Articles a Solid Boost
If we talk about the differentiating features of EdrawMind AI, they are mind mapping and brainstorming. However, this tool has continuously been upgraded and introduced new features. One more potential feature of this utility is "AI article writing."
Though EdrawMind AI is not specifically designed to create content, you can use this software to generate unbelievable articles within a few minutes. It also enables you to fine-tune the generated content if it does not fully meet your requirements.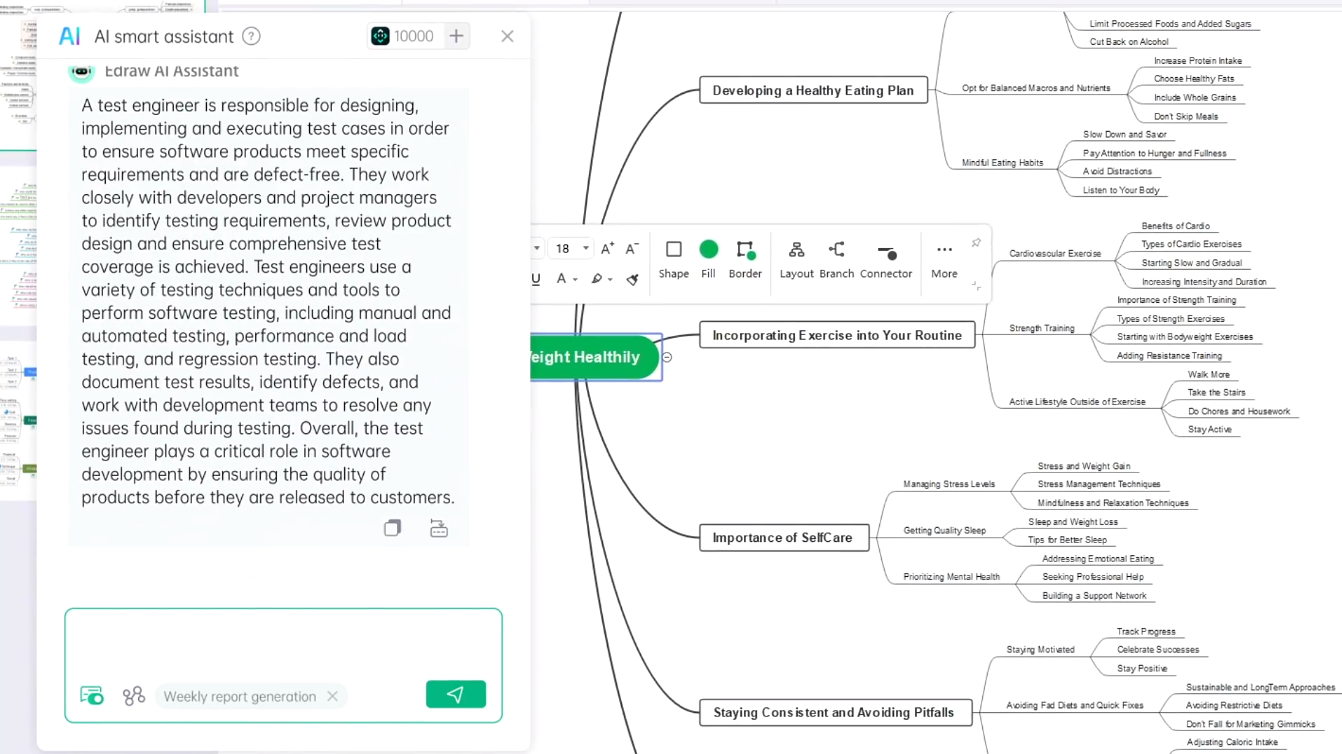 AI Features of EdrawMind
The leading AI-based features that set EdrawMind apart from traditional utilities are as follows.
AI article creation
Weekly reports creation
AI mind mapping
This software will introduce more AI features in the upcoming days. So, stay tuned to get familiar with the new releases.
Learn More about EdrawMind AI✨ Brainstorm Intelligently, Mind Map Inspirationally. Empower Your Creativity Now>>
How Can You Generate Articles with EdrawMind?
If you are looking for a tool to generate articles effortlessly, EdrawMind should be your top choice. It makes AI article creation very simple, fun, and efficient. Below is a list of steps you will have to follow when writing articles with EdrawMind AI.
Step 1: Open this software. Find "Edraw AI" in the top menu, and click on it right away. You can also tap on the "Edraw AI" ball that is located on the bottom-left side.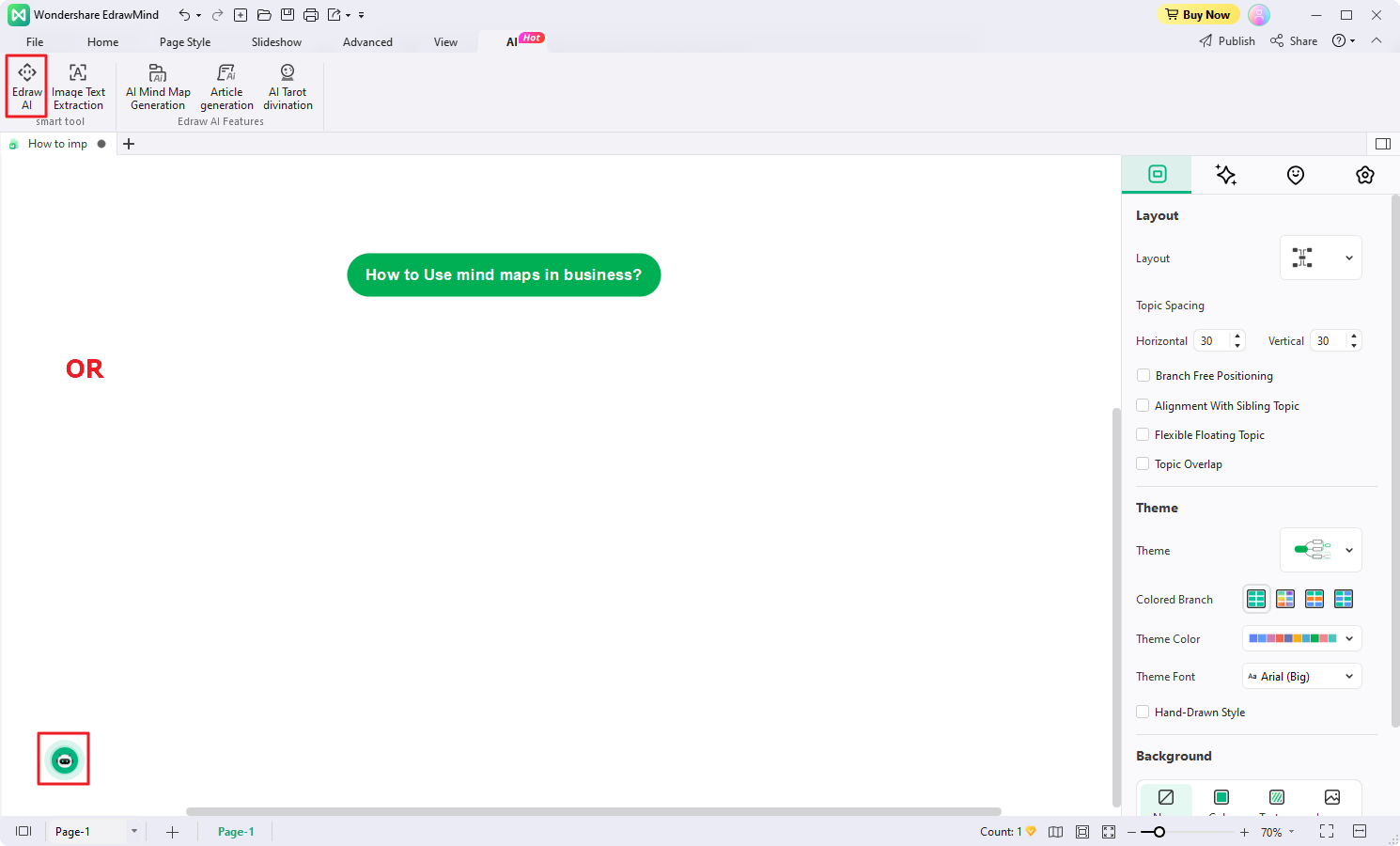 Step 2: Now, select "Article Generation" from the pop-up window in the "Pre-Scene Setup".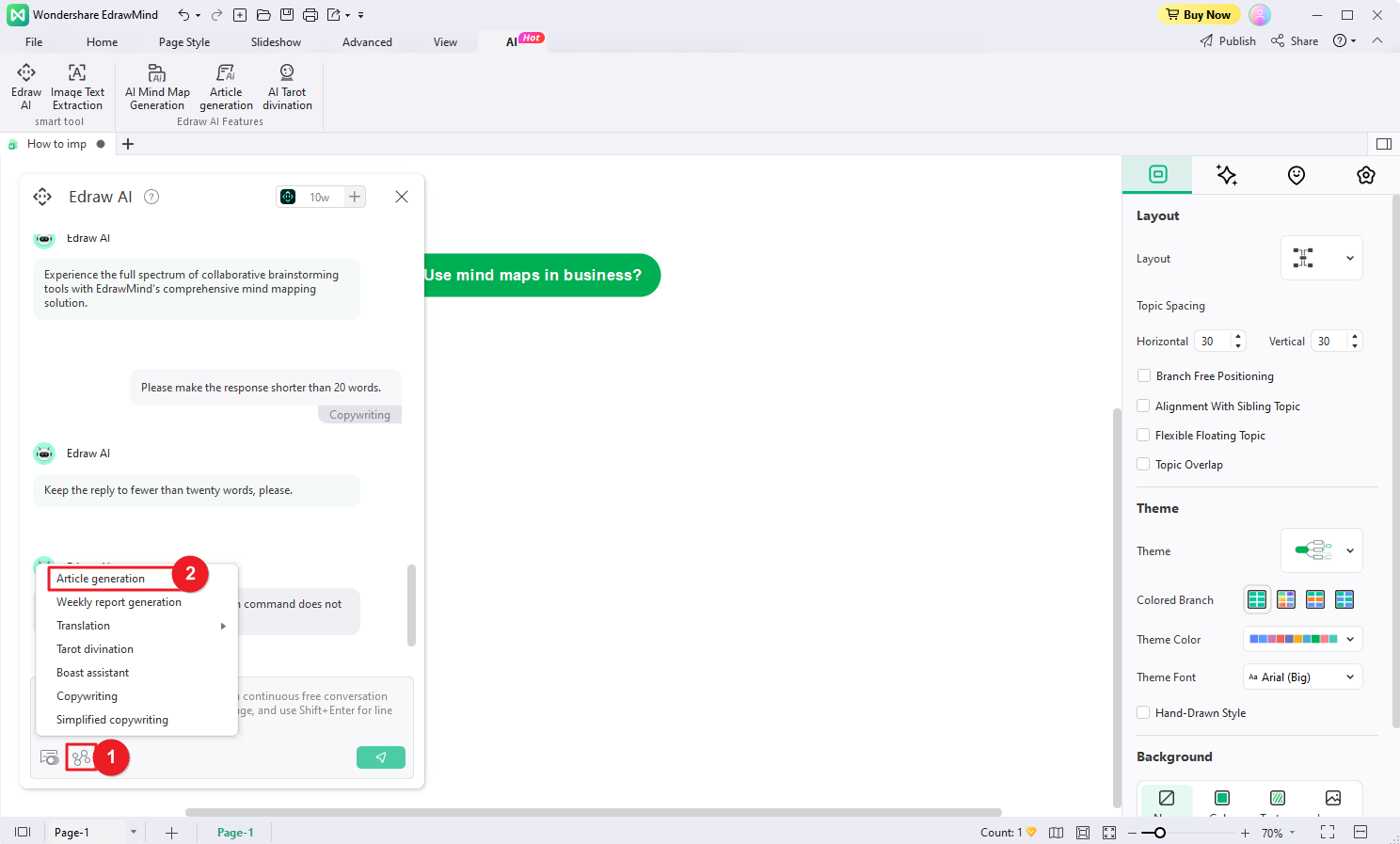 Step 3: Look for the "Article Generation" entry in the AI tab. Doing this will take you to the Edraw AI window, and the article creation option will automatically get selected.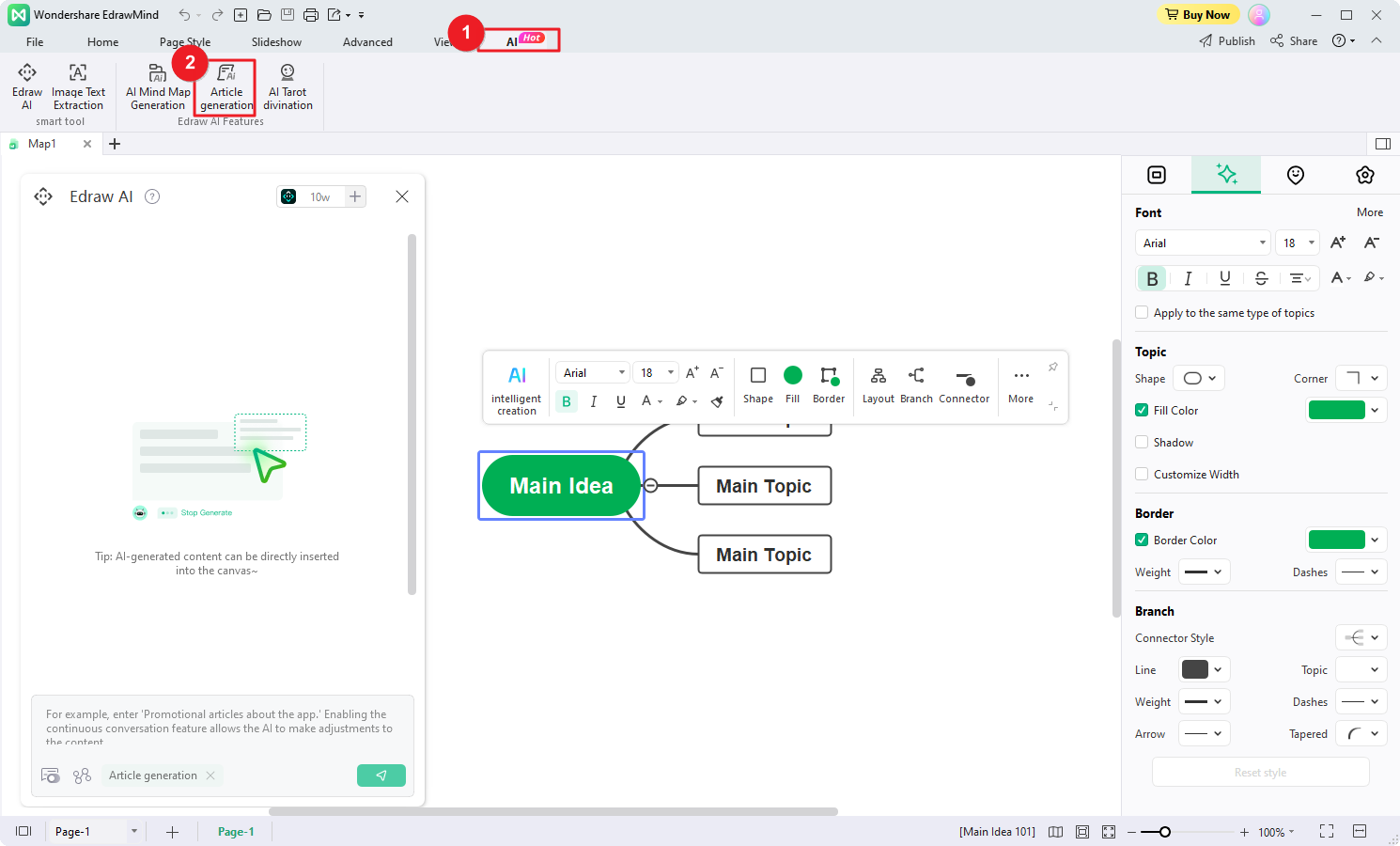 Step 4: It is time to assist EdrawMind AI by providing your specific instructions that need to be considered while creating content for your article. This tool will carefully analyze the provided instructions and create content accordingly.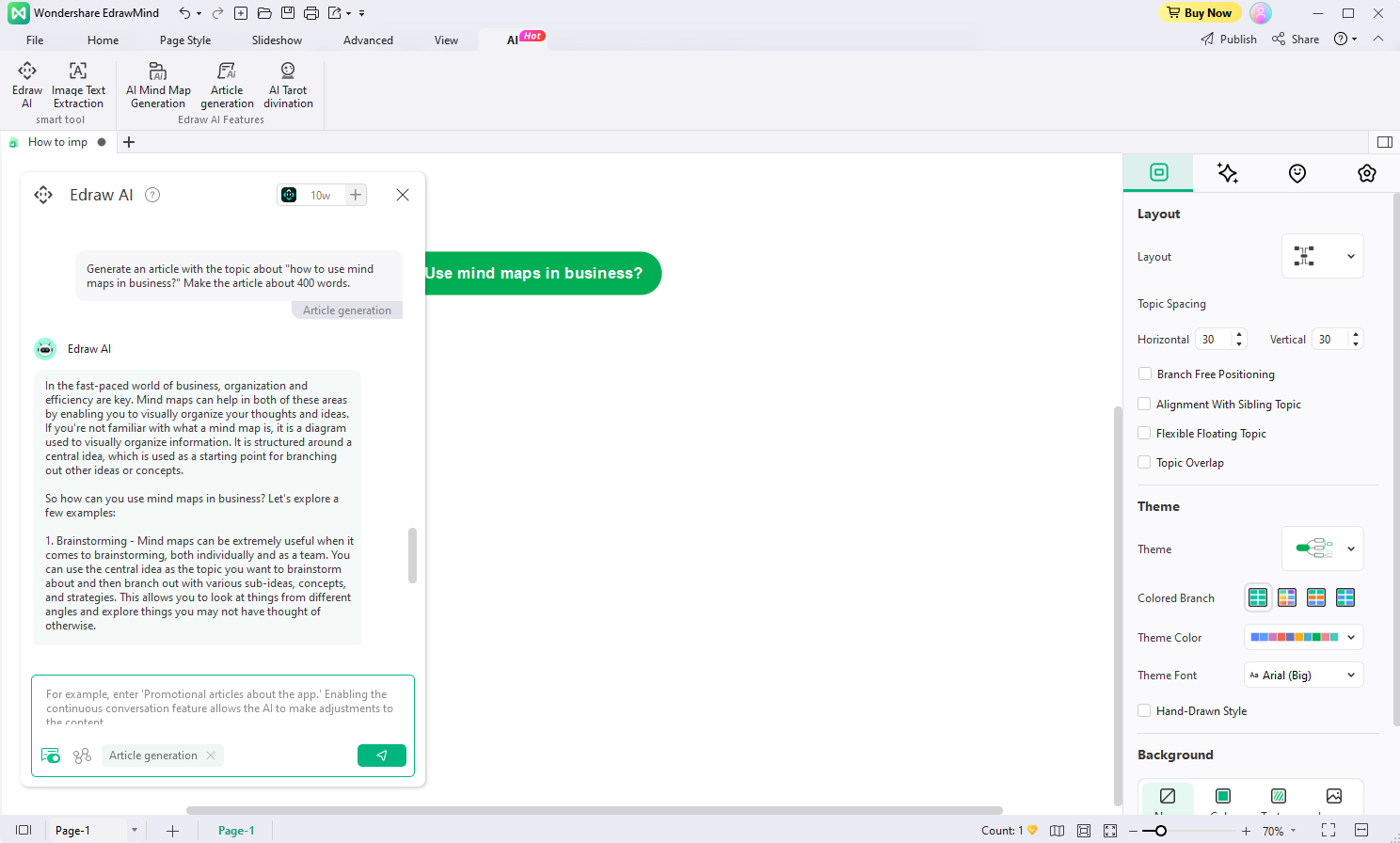 Step 5: Don't worry if you are not satisfied with the final output because this software allows you to make adjustments using "continuous dialogue" to polish your content further unless it satisfies you.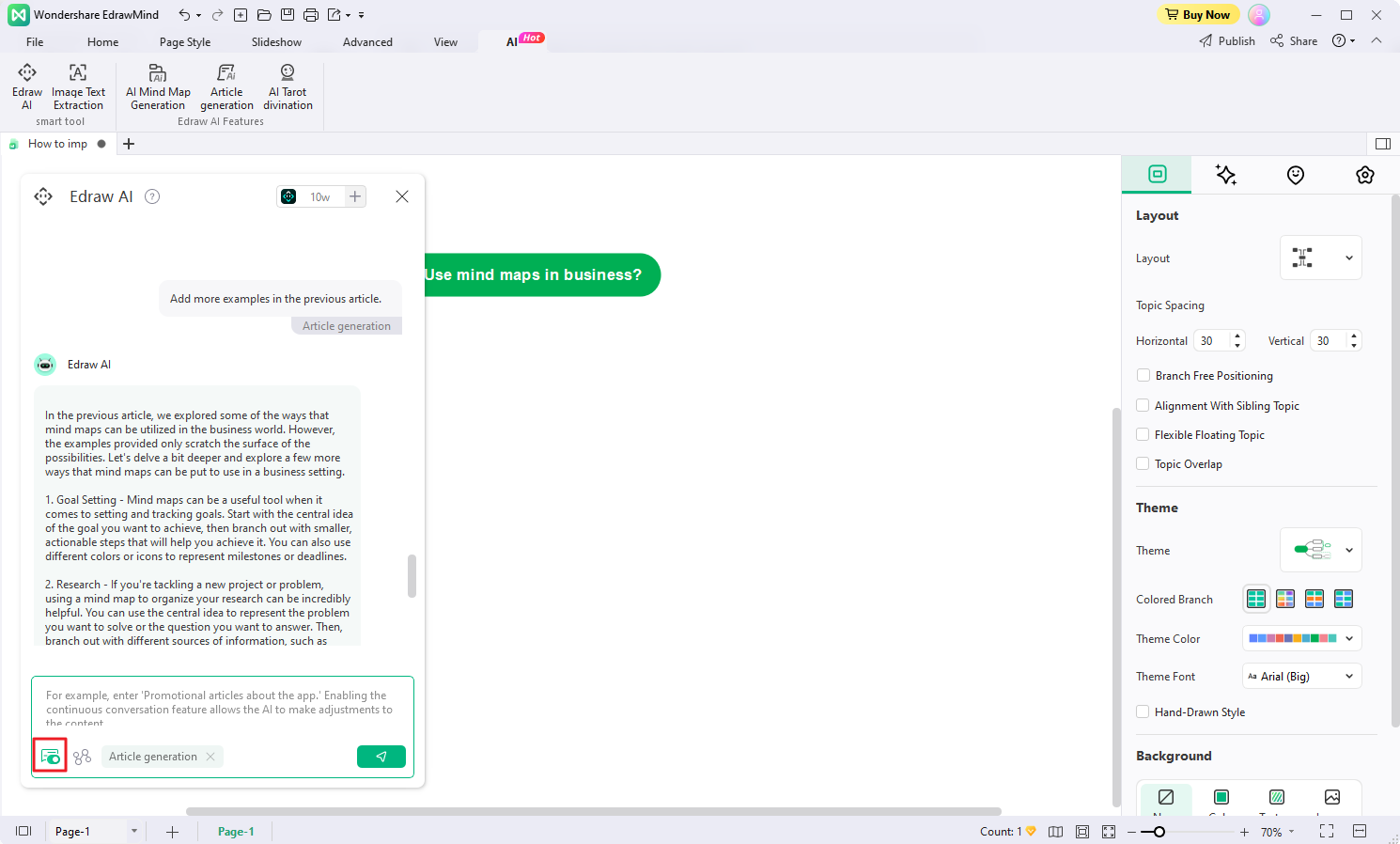 2. Rytr - Advanced AI Content Generator
This is another credible tool listed among the best AI article writers. It automates the AI writing process using GPT3 technology. It is best known for having an in-depth understanding of different language models. With just a single click, you can create plagiarism-free content with Rytr. In addition, the availability of AI templates makes article writing very easy and fun.
Moreover, you get access to more than 20 tones to choose and create your articles with the one that best matches your needs. Furthermore, it also allows you to enter a guiding sentence to understand your requirements in a better way.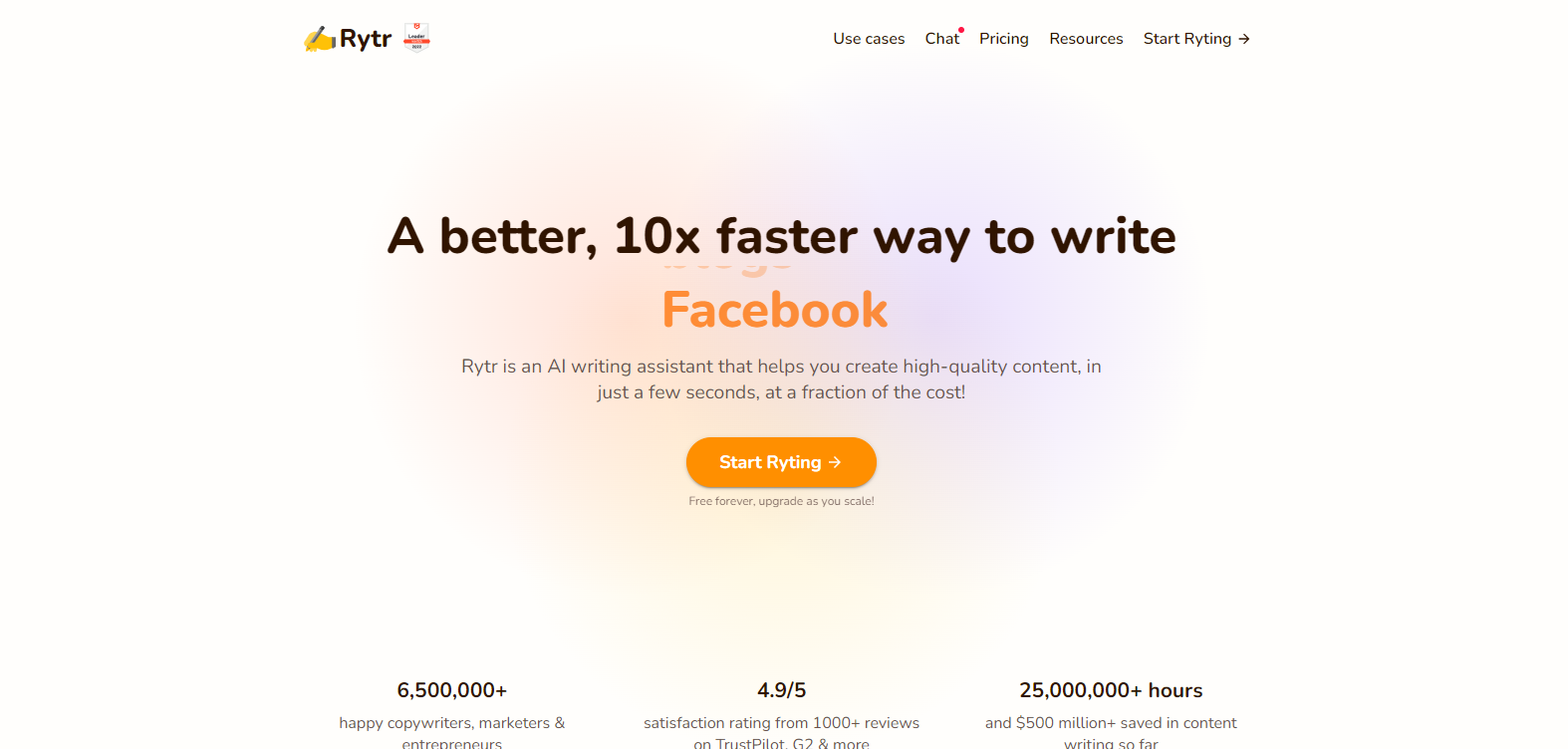 Features
You can create more than 30 types of content with Rytr. The most common of them are as follows.
Article ideas
Outlines
Product descriptions
Facebook ads
Emails
Formulas for copywriting, like PAS or AIDA
G2 Ratings (based on 756 reviews)
4.7 out of 5.0
Pricing
€0 (free trial), €29 per month (basic plan), €59-€139 per month (power plan), €199 per month (premium plan)
Pros

Elegant interface
Fast article writing
Over 30 AI templates
Over 20 writing tones
Cost-effective

Cons

The free trial allows you to create articles of up to 2000-4000 words only.
3. ContentBot - All-in-One AI Article Generation Tool
This AI article writer has started doing wonders in the writing industry. ContentBot is equally beneficial for founders, agencies, marketers, and content creators. It does not matter if you want to generate a long-form or short-form copy; this tool has got you covered.
"Blog Shot" is a recently introduced feature of ContentBot. It enables you to generate a complete blog post just by tapping a single button. The best thing about this software is that it provides you with a drag-and-drop facility. You can drag any content block into the AI editor to write articles and blog posts.
In the beginning, you can enjoy the free 5,000 credits by signing up for the tool. All you need to do is to choose the "DEMO" option when creating your account.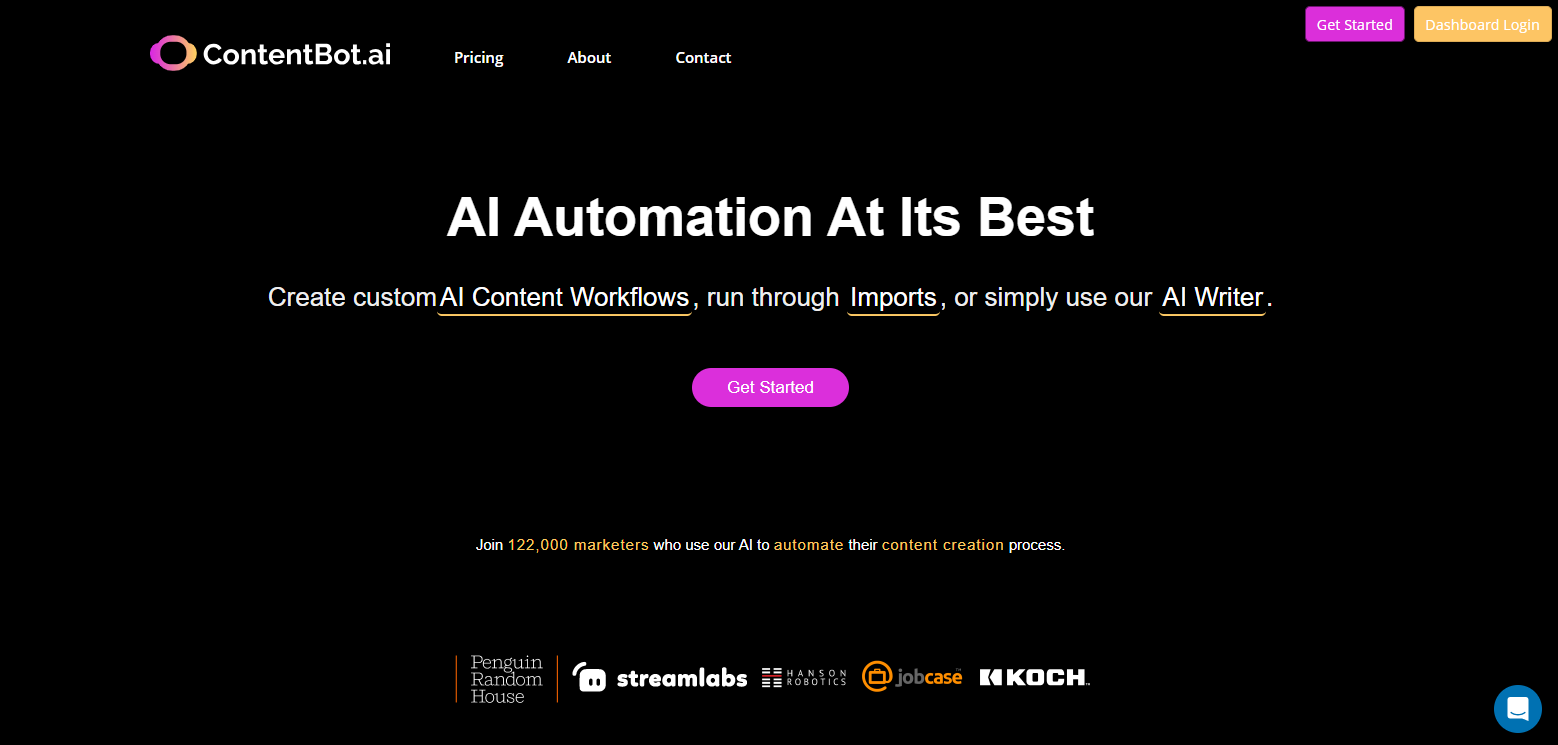 Features
It allows you to generate long-form articles with a single click.
You can paraphrase your content with this tool.
This software helps you create SEO reports.
You can generate topic ideas and outlines with this utility.
When it comes to creating content for sales copies, ad copies, videos, slogans, and product descriptions, ContentBot is considered an effective tool.
G2 Ratings (based on 128 reviews)
4.8 out of 5.0
Pros

It gives you free access to AI writing features.
You can create an article of up to 5,000 words for free.
If you rate this tool on G2, you can get another 30,000 words for free.

Cons
For advanced features and a regular writing facility, you will have to purchase the paid version.
4. Simplified - Efficient AI Content Generation Utility
It is basically a design software, but effective writing features make it one of the best AI article generators. Simplified is perfect for creating marketing content, including but not limited to blog posts, articles, ad copies, sales copies, and ads.
This software comes with free AI templates to create engaging designs and generate high-quality content within minutes. The Google Chrome extension of Simplified is also available. You can add it to your Chrome browser to make the process of article writing easy and more accessible.
Along with creating super engaging content for social media posts, it also enables you to schedule these posts to publish within specific intervals of time.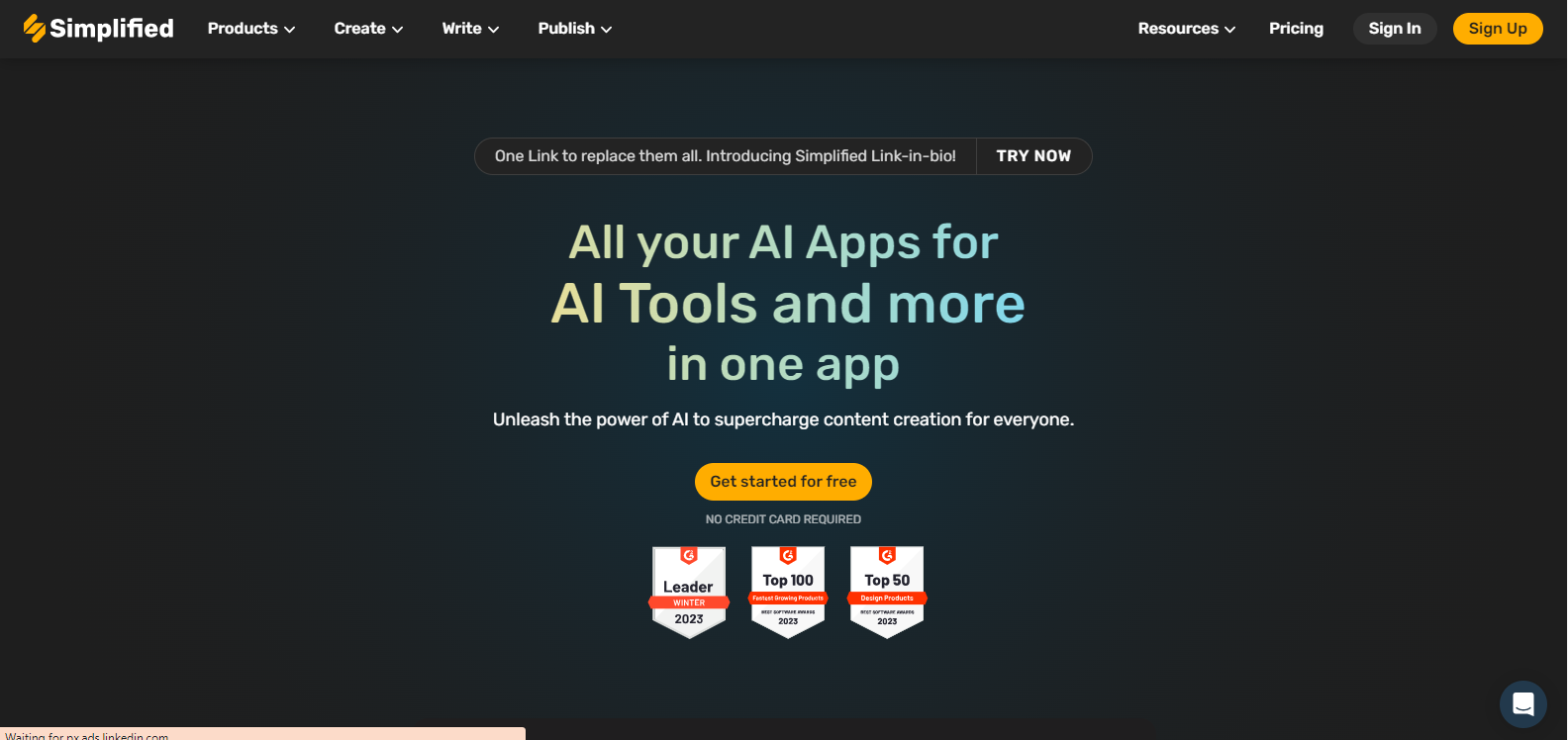 Features
You can create long-form content copies instantly with this utility.
It comes with the ability to rewrite your existing articles or any other content.
Along with generating attention-grabbing social media posts content, it is a great content planner.
G2 Ratings (based on 912 reviews)
4.7 out of 5.0
Pros

The user interface is simple yet engaging.
It allows you to generate new content and rewrite the existing one.
Simplified enables you to create high-converting designs.

Cons
It gives a word limit of only 5,000 for free.
5. Smart Copy - Enhance Your Copywriting Skills
Are you looking forward to creating effective and forceful copies to increase the conversion rate for your company? If yes, Smart Copy will be the go-to AI article generator and your partner in growth. It is available as a desktop application, web application, and Google Chrome extension.
The use of Smart Copy makes you an intelligent generator and saves you time. As a result, the overall productivity gets enhanced. Along with the ad copies, you can also use this software to generate catchy content for taglines and landing pages.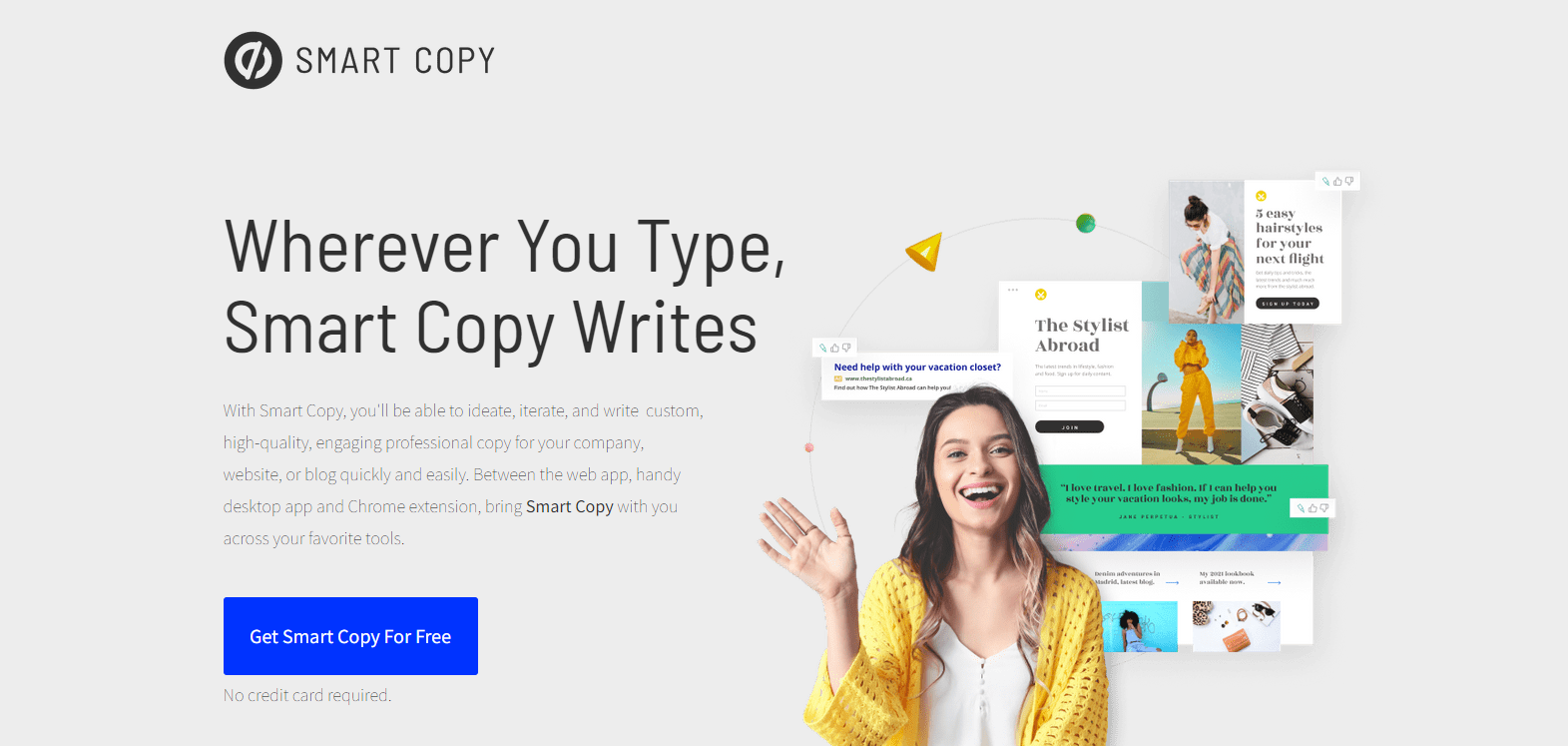 Features
It offers more than 30 AI writing templates to create ad copies, website copies, and other marketing content.
A content paraphrasing facility is introduced in Smart Copy.
It enables you to create effective emails to maintain smooth communication.
You can easily generate long-form AI articles in a matter of minutes with Smart Copy.
G2 Ratings (based on 352 reviews)
4.4 out of 5.0
Pros

AI templates-based easy writing.
It allows you to create more than 30 types of content.
It helps you make your marketing campaigns effective by producing high-converting ad copies.

Cons
You only get five content credits every day.
6. Ending Note
Creating grammatically correct, plagiarism-free, and well-formatted content is indeed a time-consuming task that requires a lot of effort. Well-written content helps you rank high on searches. But many people do not want to invest hours creating content. This is where an AI article writer can assist you.
If you are searching for a trusted and efficient AI article generator, try Wondershare EdrawMind AI. Though it is known for creating mind maps, it helps you generate quality content pieces within minutes. You can either download the desktop app or use this tool online.
This tool is highly compatible with mobile, Windows, Linux, and Mac devices. The above discussion has presented four more AI writing assistants to help you create unmatchable articles.
EdrawMind Apps
12 structures & 33 themes & 700+ cliparts
Support Win, Mac, Linux, Android, iOS
Advanced import & export options
On-premises software for business
Enterprise-level data security
EdrawMind Online
12 structures & 33 themes & 700+ cliparts
Access diagrams anywhere, anytime
Team management & Project management