Top 6 Free AI Mind Map Generators in 2023
Free AI mind map generators are taking over the industry. They offer an intelligent way to present your ideas and simplify concepts.
Create Mind Maps Today!
EdrawMind is a mind mapping tool equipped with 700+ cliparts. This article presents a step-by-step guide to creating a creative mind map to present your idea elegantly. Try EdrawMind and create hundreds of mind maps today!
Each day, you navigate through an ocean of information and ideas, which can get overwhelming. Structuring them in an understandable manner can be a real challenge. That's why mind maps come in handy. A mind map is a visual tool that presents ideas visually to foster information retention or creativity.
However, creating a mind map can be difficult, too. Thanks to some free AI mind map generators, this process is now more accessible. AI can aid in organizing ideas and predicting relationships between concepts. They can even suggest ways to expand your mind maps. That's what this article is all about. Discover new ways to improve your mind maps with AI below.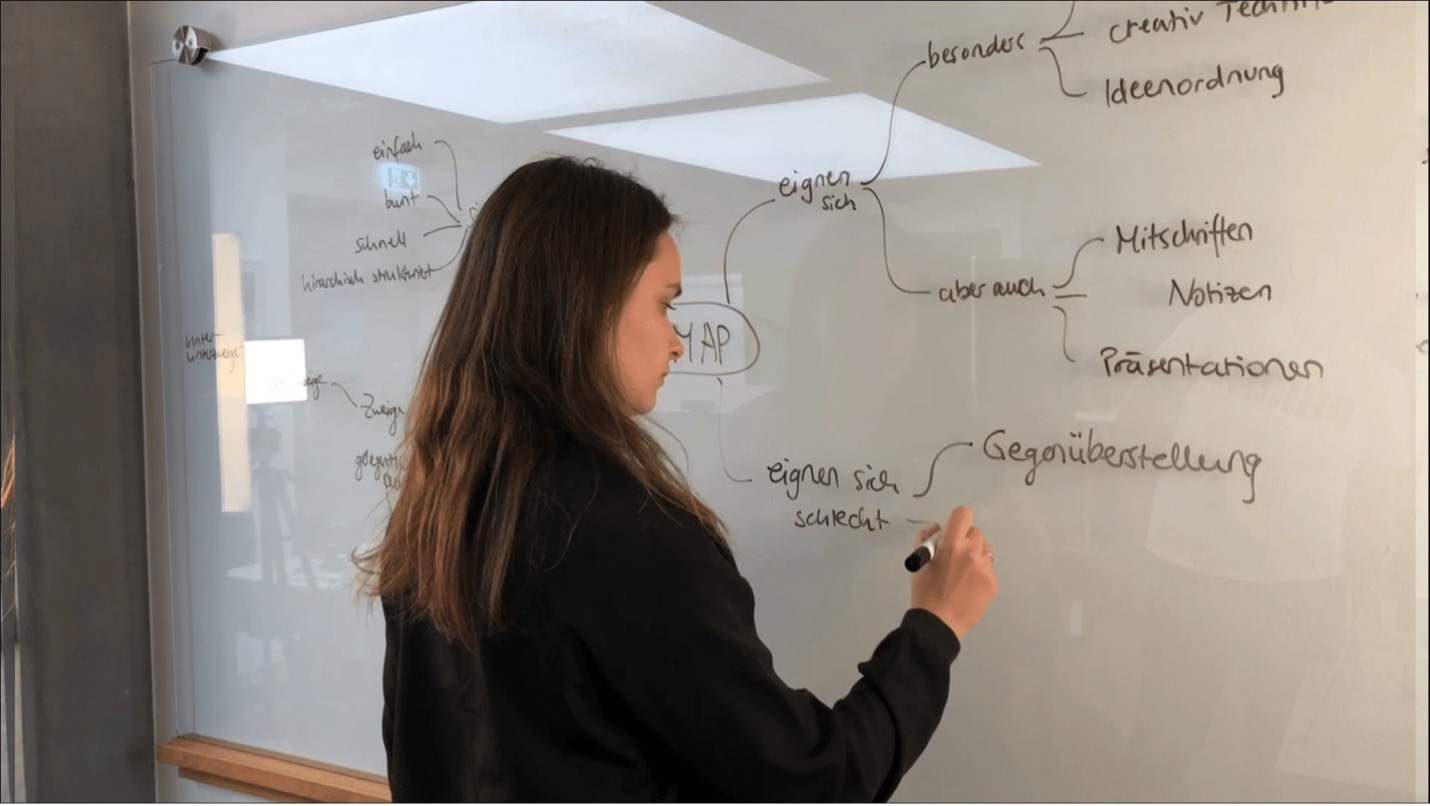 1. Benefits of Using Free AI Mind Map Generators
Artificial Intelligence (AI) plays a significant role in many areas, including mind mapping. By incorporating AI into mind mapping tools, users can enjoy several benefits that simplify and enrich their brainstorming process.
Traditional Mind Mapping vs. AI
One of the critical advantages of AI is the increased efficiency it brings to mind mapping. Traditional methods can be time-consuming, especially for extensive and intricate projects. AI speeds up this process, organizing thoughts and ideas into a coherent structure and reducing the time and effort required.
Compared to manually creating each node, link, and sub-link, AI allows users to input ideas and handles the structuring. It organizes ideas based on their relationships and hierarchy, adjusting the layout as nodes are added or altered. This real-time adjustment capability is a distinct feature of AI-powered tools, setting them apart from the standard, non-AI software tools.
Getting More Creative With AI
Another considerable benefit of AI is its ability to stimulate creativity. Standard mind mapping tools provide a blank slate, which can be intimidating for some, especially when faced with a creative block. However, AI can suggest related topics and subtopics based on the keywords or central idea provided, catalyzing creativity.
These suggestions can reveal different perspectives or uncover previously unconsidered paths, broadening the brainstorming scope. Moreover, AI can adapt to a user's vision for a project. If a specific structure or layout is in mind but isn't easy to execute, AI can learn from initial inputs, recognize patterns, and replicate them throughout the map.
These features allow the flow of ideas to be maintained while ensuring the mind map aligns with the envisioned structure.
Learn More about EdrawMind AI✨ Brainstorm Intelligently, Mind Map Inspirationally. Empower Your Creativity Now>>
2. Best Free AI Mind Map Generators You Should Try
The marketplace is teeming with various AI mind map generators, each with unique features that cater to different user needs. Here's a breakdown of the top AI mind map generators you can try.
EdrawMind is an intuitive and powerful mind-mapping tool. It's recently been powered up with AI capabilities. This expedites the brainstorming process, auto-generating relevant nodes based on the central idea. Edraw AI also learns from consistent use, making it a personalized assistant over time.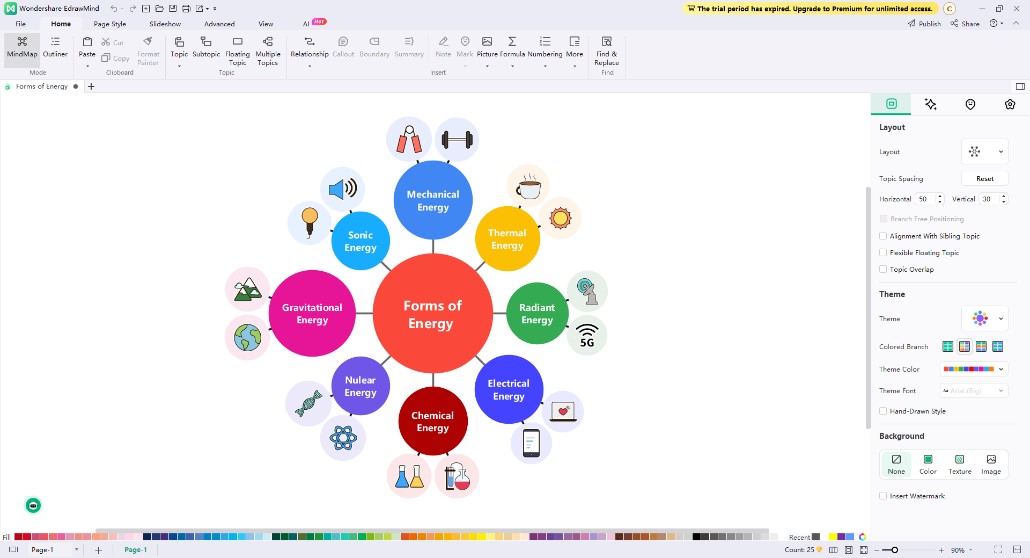 Here is an informative table showing everything you need to know about EdrawMind.
G2 Ratings
4.5/5
OS Availability
Windows, macOS, Linux, iOS, Android, and Supported browsers
Pros

Can generate mindmaps in one-click
Features a wide range of fun and functional AI capabilities (SWOT analysis, copywriting, tarot divination, compliment generator, etc.)
Chatbot is intelligent and fast; it can quickly provide users with input

Cons
AI may provide inaccurate answers
How To Create Mind Maps With EdrawMind
Follow the steps below to create your mind maps with Edraw AI. The new "One-click Mind Map" and "Copywriting" features are used below.
Step 1: Download EdrawMind from the EdrawMind homepage or click button below. Afterwards, install the application.
Step 2: Launch EdrawMind. On the first page, click Edraw AI.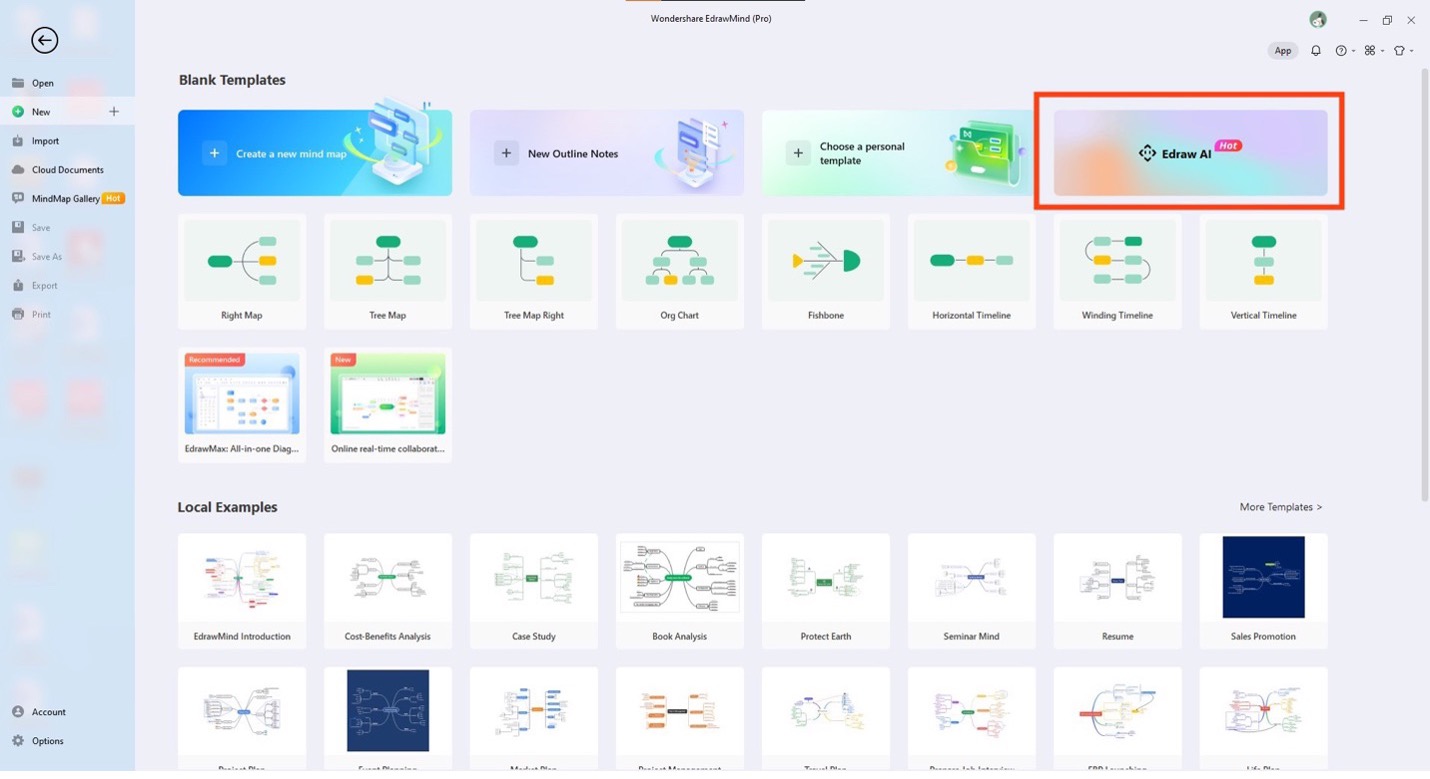 Step 3: Type in what you need and click One-click generate after. In this example, "Easy ways to study" is used as the prompt. Edraw AI will automatically generate your mind map.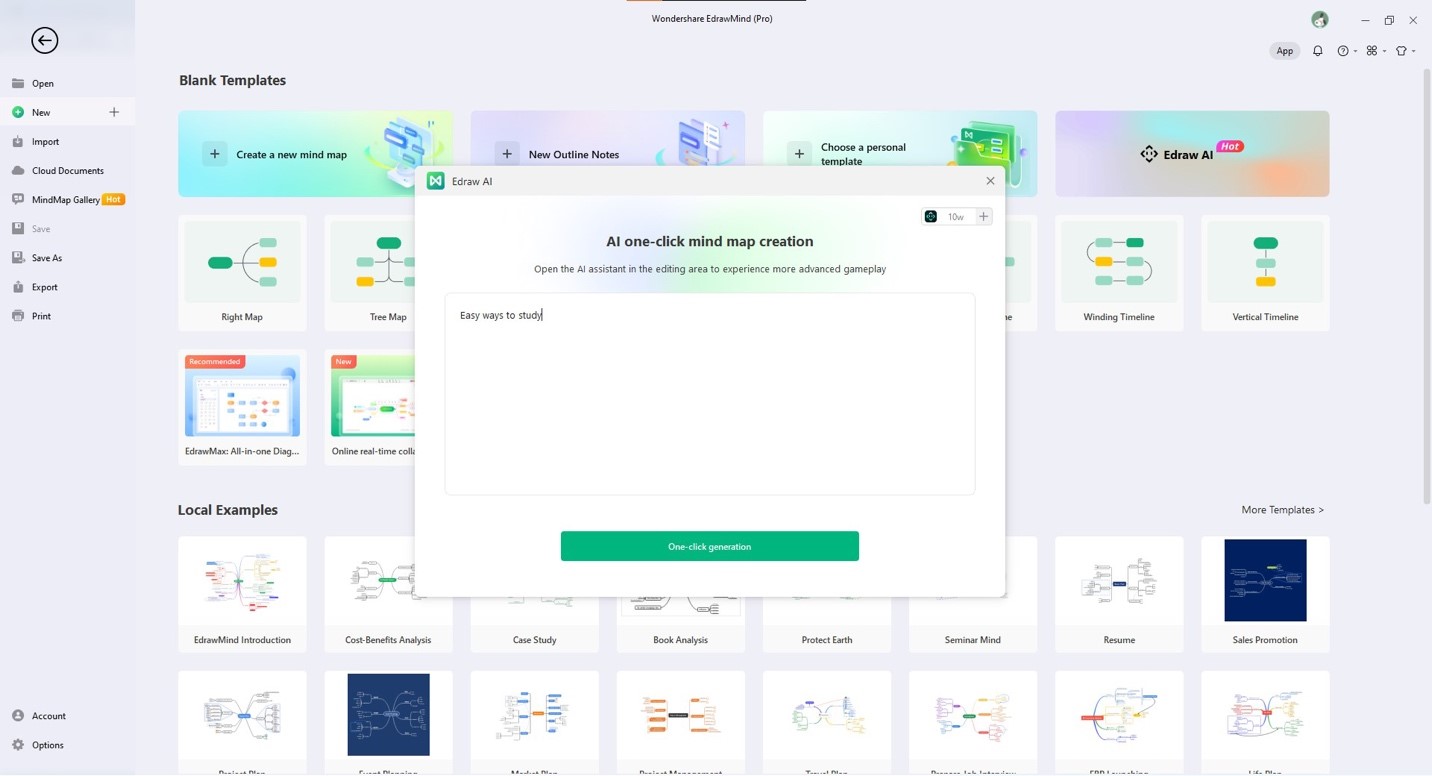 Step 4: Click on the node you want to edit to expand or polish some texts. Then, click AI. On the pop-up menu, click Copywriting.
Step 5: Check out the results. Copywriting adds more information or context to the nodes.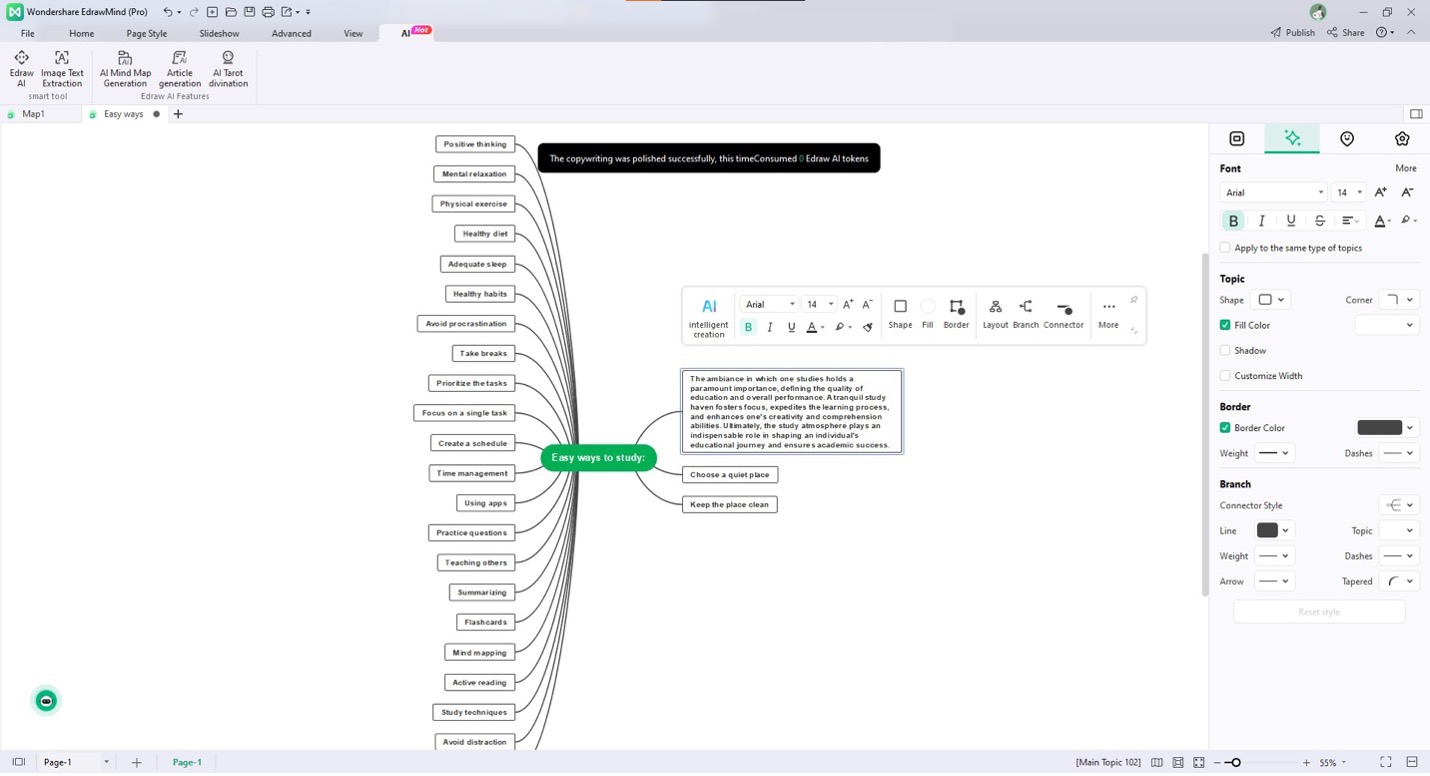 2. Boardmix
Boardmix takes the lead as a digital collaborative whiteboard, offering an extensive range of purpose-built tools for efficient project management and communication. Its primary objective is to enhance productivity by enabling teams to accomplish more within shorter timeframes.
By incorporating a diverse range of technologies, Boardmix facilitates seamless team collaboration and intuitive idea exchange. It seamlessly integrates essential tools such as flowcharts, mind maps, Venn diagrams, SWOT analyses, timelines, weekly plans, reverse brainstorming, and many more, empowering teams to present and collaborate on ideas in real-time.
Boardmix equips users with fundamental tools like pens, notes, erasers, shapes, frames, and others, making it easier to graphically organize ideas, stimulate creativity, and establish rapport through shared knowledge with clients or team members worldwide.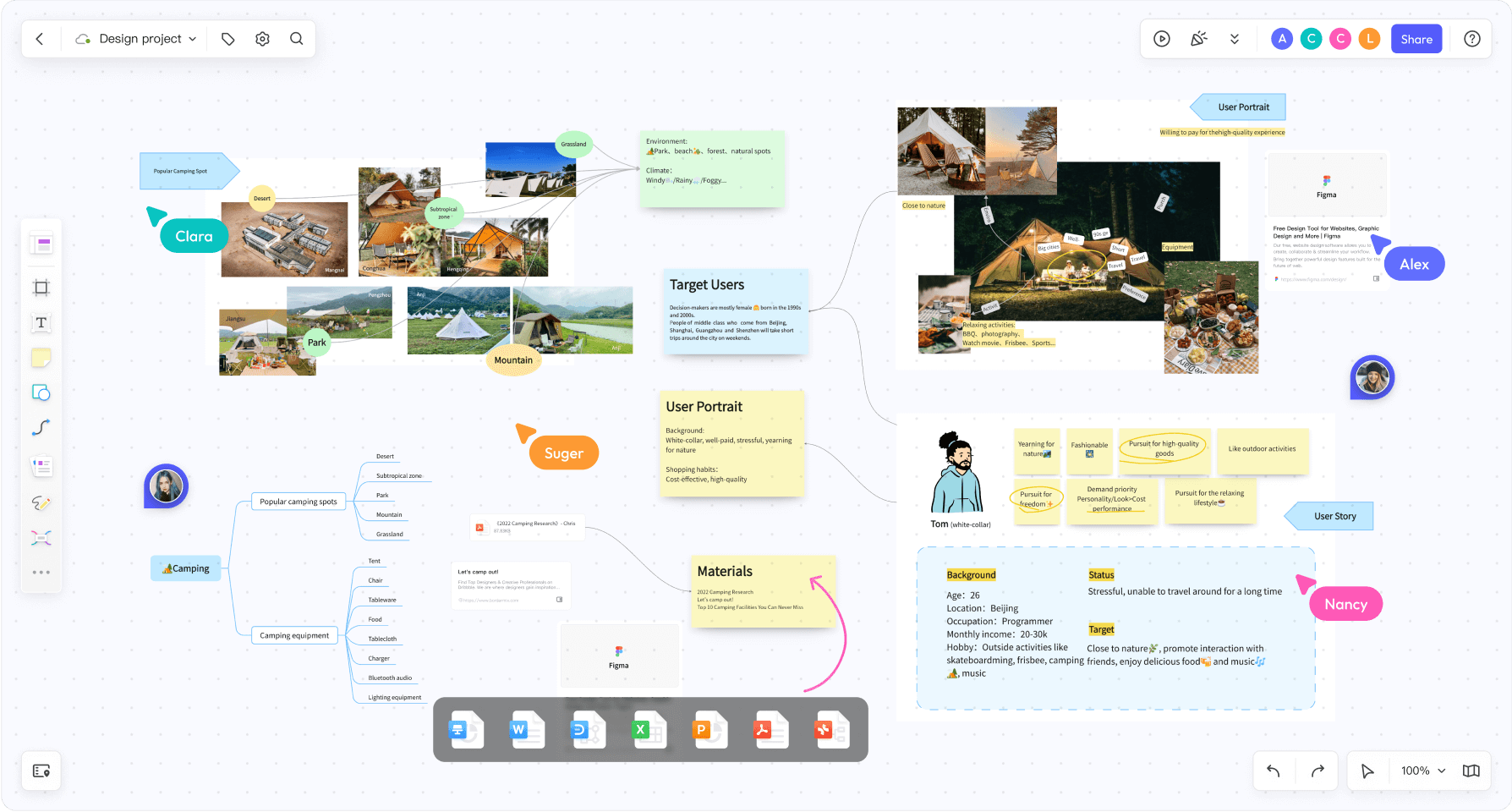 Embark on an enhanced level of interaction in your sessions with Boardmix's complimentary plan, allowing you to access a wide range of features without any cost. Sign up using your email and seamlessly dive into a world of enriched collaboration
Advantages:
User-friendly interface that is intuitive, making it suitable for beginners.
Highly customizable, allowing users to tailor the experience to their preferences.
The free plan provides excellent value, offering a range of valuable features at no cost.
Exceptional collaborative features that enhance teamwork and idea sharing.
Disadvantage:
Features sometimes could be overwhelming.
3. GitMind
GitMind utilizes AI to streamline the mind-mapping process. It provides automatic suggestions based on the given prompts, aiding in expanding the mind map. Its strengths include the user-friendly interface and the ability to customize nodes.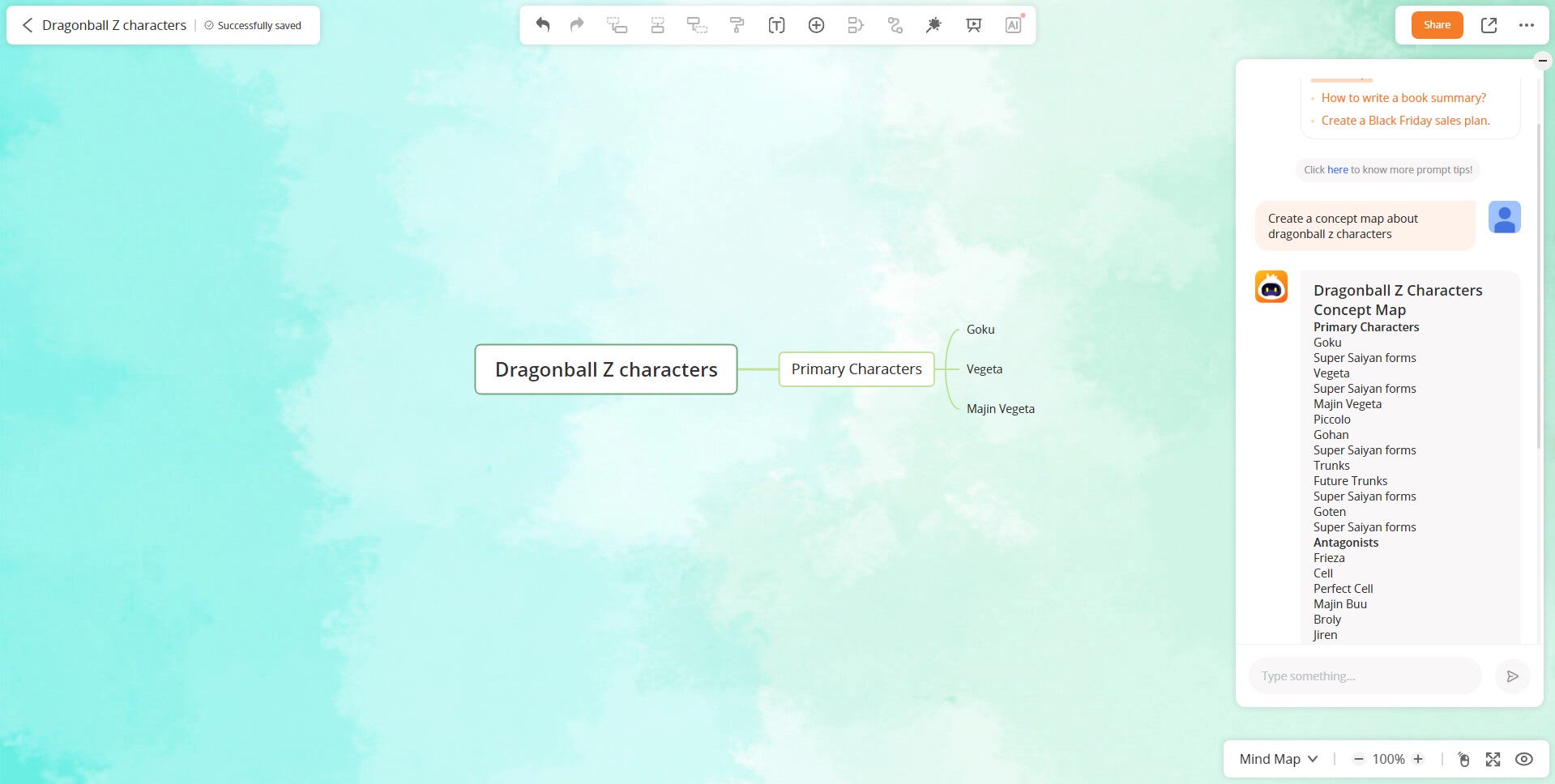 G2 Ratings
4.8/5
OS Availability
Windows, macOS, iOS, Android, and supported browsers
Pros

Multi-device compatibility
AI chatbot can deliver a wide range of content/provide ideas and suggestions

Cons
Lack of mind map generation features
4. Ayoa
Ayoa's AI enhances mind mapping by automatically structuring ideas based on their relations. This tool presents a visual hierarchy of ideas, making navigating complex mind maps easier. Collaboration features are also present. It's marketed as an online whiteboard designed to brainstorm ideas and create mind maps.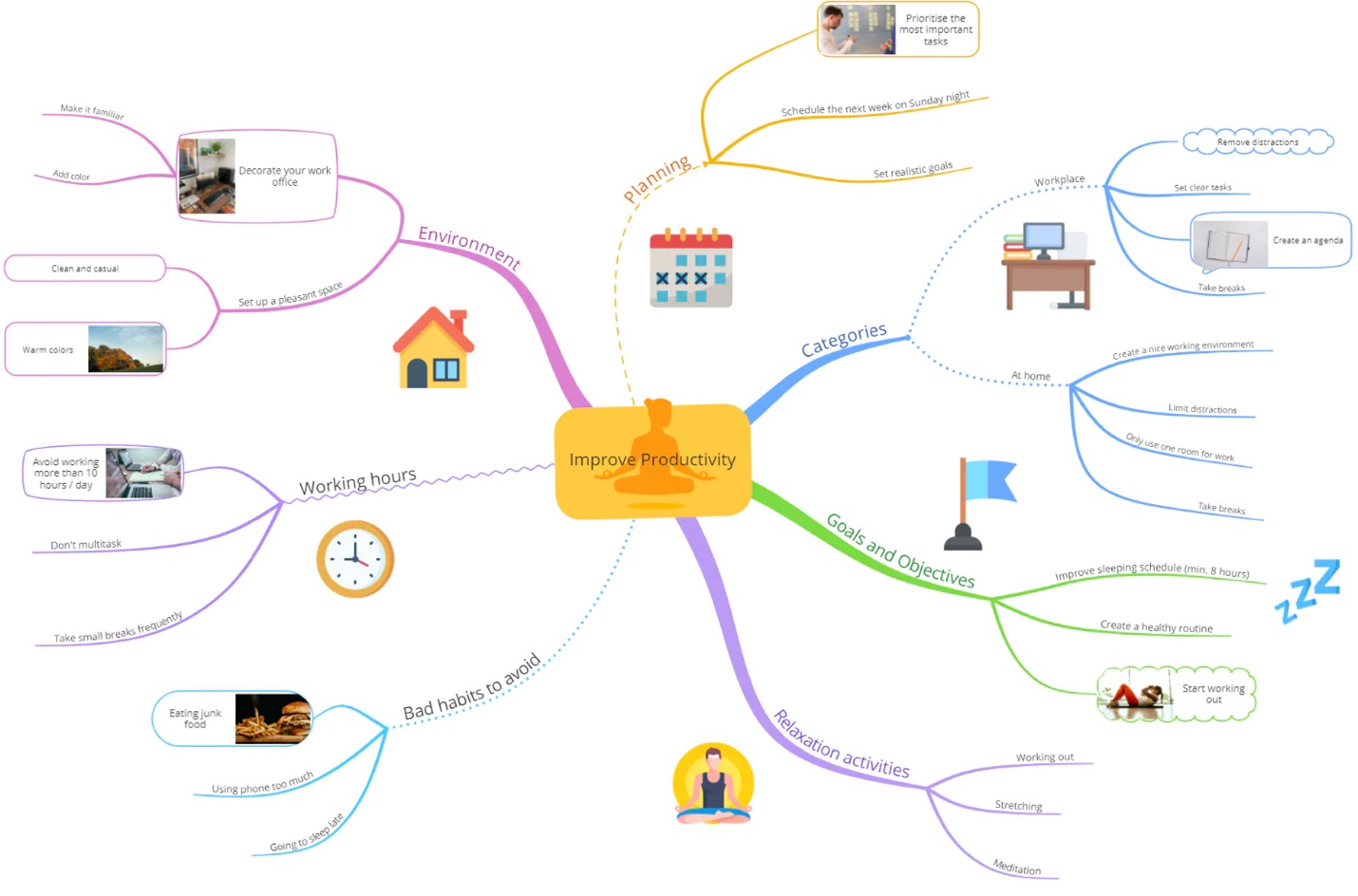 G2 Ratings
4.3/5
OS Availability
macOS, Windows, Linux, iOS and Android, supported browsers
Pros

AI generates nodes based on user input
Intuitive AI interface

Cons
AI is limited to generating content/optimizing content
5. Whimsical.AI
Whimsical.AI focuses on simplicity and clarity. Its AI capabilities help simplify complex ideas and aid in forming connections between nodes. Type your queries, and it will generate relationships and branches for you. The minimalist interface is a bonus, offering distraction-free brainstorming.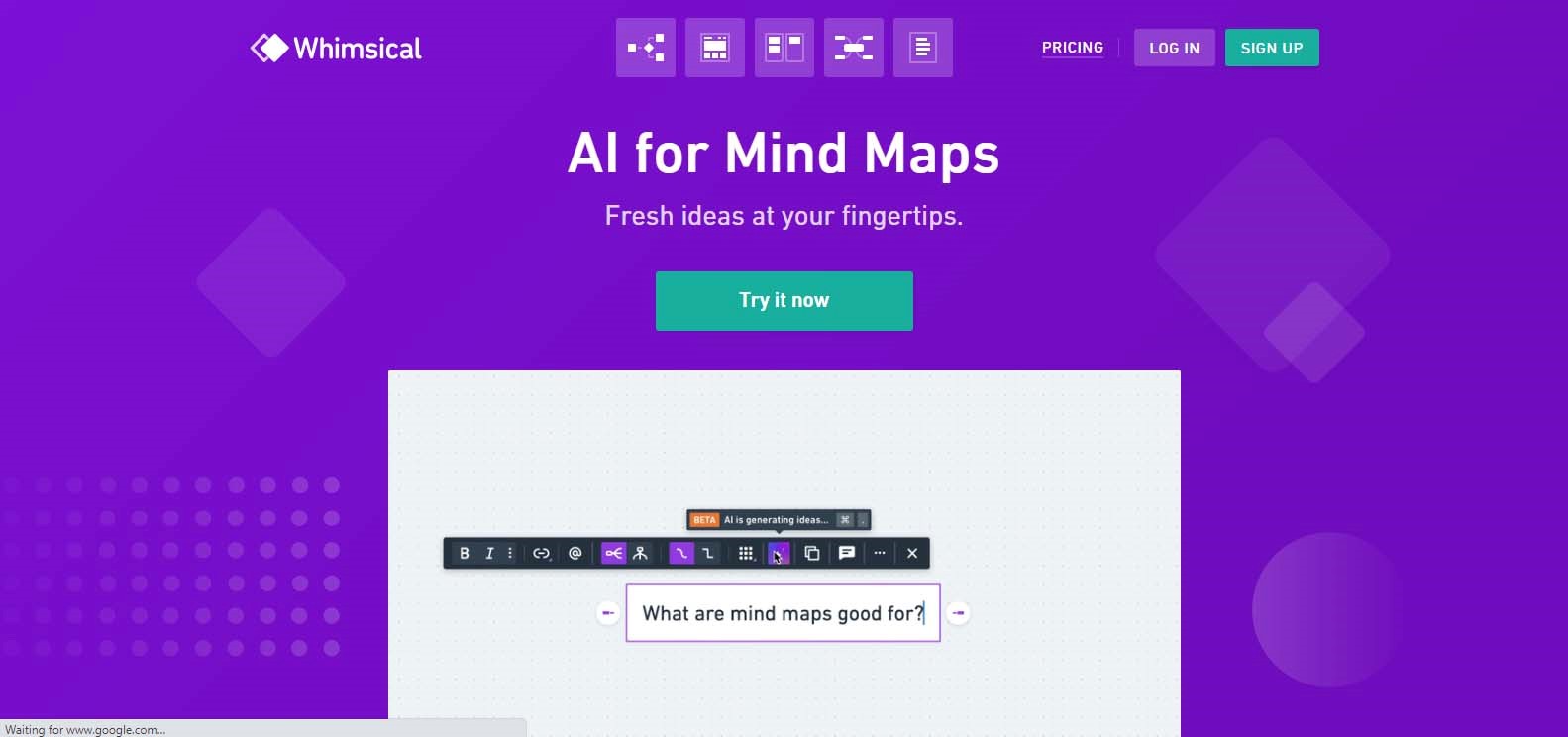 G2 Ratings
4.6/5
OS Availability
macOS, Windows, Linux, iOS and Android, supported browsers
Pros

Prompt/question-based AI generation
AI mind map generation

Cons
AI is still in the beta version
6. Taskade
Taskade offers AI-aided mind mapping with an emphasis on task management. It automatically generates nodes relevant to task completion, making it suitable for project planning. Real-time collaboration is another strong point. However, its features may seem essential for those who require more advanced mind-mapping capabilities.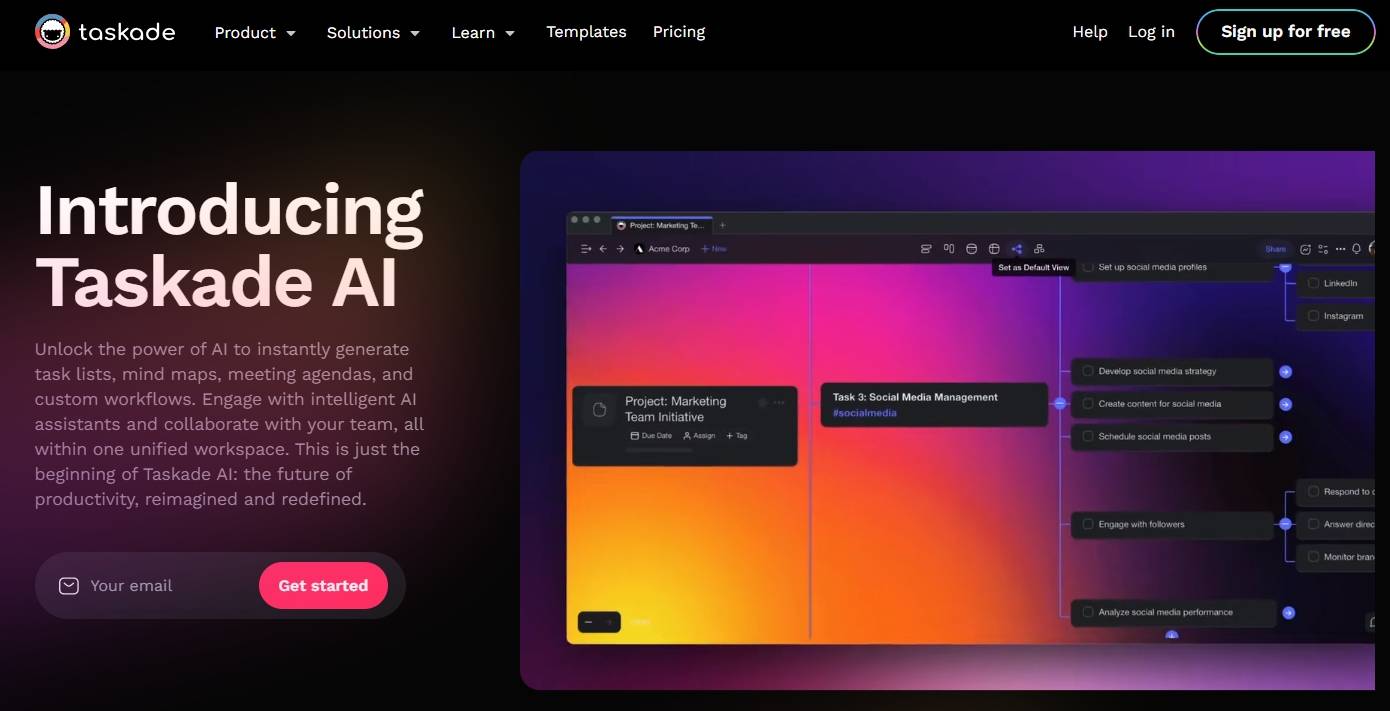 G2 Ratings
4.7/5
OS Availability
macOS, Windows, Linux, iOS, Android, and supported
Pros

Great way to create concept maps for productivity
AI intuitively provides real-time suggestions for ongoing tasks
AI delivers relevant search results and transforms them into content
Chatbot support

Cons
AI is limited to generating content/optimizing content
3. Tips To Maximize the Use of Free AI Mind Map Generators
Creating a practical mind map with AI is more than just using the tool. Here are some practical tips: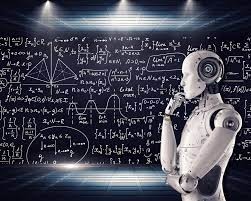 Prompt Correctly:AI thrives on good input. The more precise your central idea is, the better suggestions AI can make. So, try to be detailed with your starting point.
Train Your AI:Consistent use of AI helps it learn your style. Over time, AI can match your thinking pattern, making it a personalized assistant.
Start with a Central Idea:All mind maps need a starting point. AI uses this central idea to generate related topics and creates a logical mind map.
Simplify Complex Ideas:AI can handle complexity. It breaks down intricate concepts into simpler parts. This helps with understanding and communication.
While AI is a terrific mind-mapping tool, it doesn't replace human input. AI can generate and structure ideas, but human creativity remains vital. Including team members in brainstorming is essential. Their unique insights and AI's efficiency create comprehensive mind maps. AI should enhance collaboration, not replace it.
In short, mind mapping with AI involves good prompts, regular use, clear central ideas, and simplifying complex thoughts. However, the collaboration of individuals is just as important. AI can support the process, but human creativity shouldn't be overlooked.
4.Conclusion
Free AI mind map generators significantly enhance brainstorming and idea organization. They are efficient and versatile and bring a new layer of innovation to structuring thoughts and fostering creativity. With the ability to streamline complex ideas and stimulate creative thinking, AI enhances mind mapping like never before.
Finally, consider using EdrawMind for your mind-mapping needs. Its intuitive interface and AI features make it an excellent tool for creating comprehensive and insightful mind maps. Whether brainstorming for a project, studying for an exam, or organizing your thoughts, EdrawMind and its AI capabilities can help you chart a clear path forward. Try it out and experience the difference AI can make in your mind-mapping process.
EdrawMind Apps
12 structures & 33 themes & 700+ cliparts
Support Win, Mac, Linux, Android, iOS
Advanced import & export options
On-premises software for business
Enterprise-level data security
EdrawMind Online
12 structures & 33 themes & 700+ cliparts
Access diagrams anywhere, anytime
Team management & Project management