5 Best AI Brainstorming Tools | Utilize the Power of AI to Brainstorm
This brief presents the most efficient AI-powered brainstorming utilities to help you organize ideas to do something out of the box.
Create Mind Maps Today!
EdrawMind is a mind mapping tool equipped with 700+ cliparts. This article presents a step-by-step guide to creating a creative mind map to present your idea elegantly. Try EdrawMind and create hundreds of mind maps today!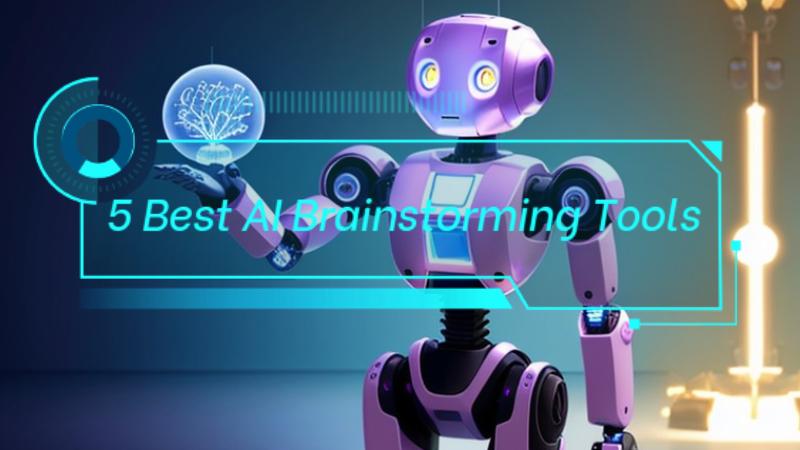 Whether or not a business will get successful largely depends on your business idea. If the idea is good enough, it will assist you till the end to make your brand stand out. Be it the product design, development, or marketing phase, ideas are required everywhere to keep your head up in the competition. This is where most businesses struggle.
Nowadays, a range of brainstorming tools is available that help you communicate with your team members online in real-time. They allow you to share your ideas, edit them as and when needed, and make better decisions in the end. This article lists the 5 best AI brainstorming tools for better ideas organization. Let's look at how these tools assist you.
1. Wondershare EdrawMind
Do you want to brainstorm your ideas using the real potential of Artificial Intelligence? If yes, look no further than Edraw AI. It is an incredible AI brainstorming tool designed and introduced by Wondershare. It helps you intelligently brainstorm your ideas.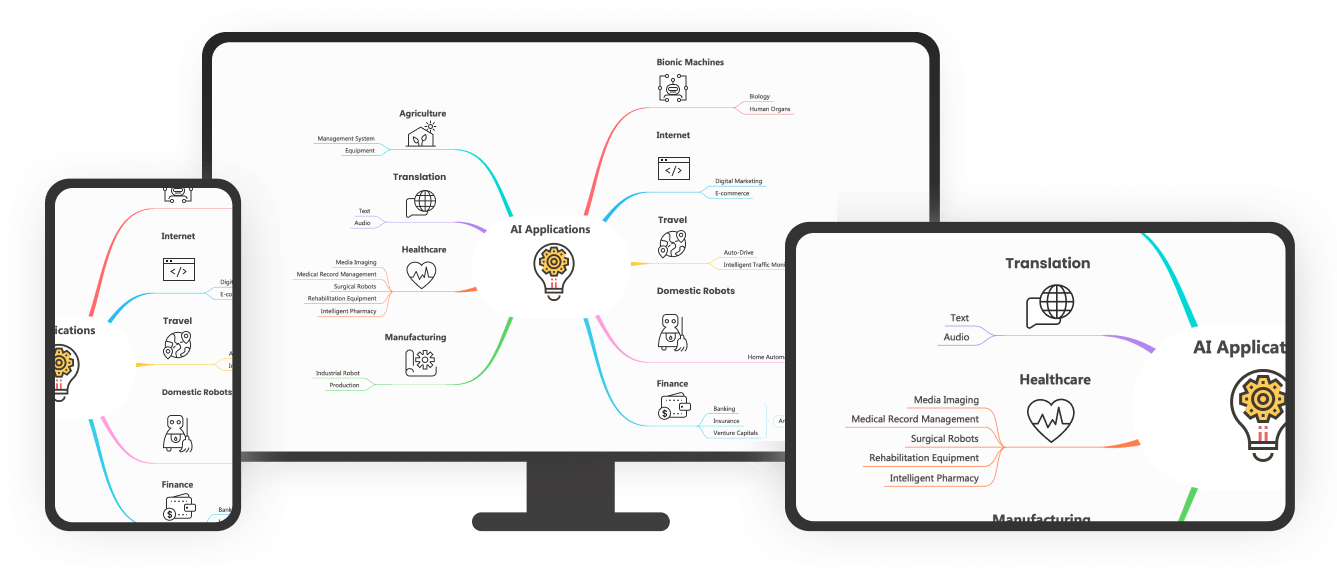 Along with the online application, this tool also has a desktop version. Both versions are equipped with different AI features, including brainstorming. Simply put, Edraw AI helps your brainstorming reach new heights.
Learn More about EdrawMind AI✨ Brainstorm Intelligently, Mind Map Inspirationally. Empower Your Creativity Now>>
How To Do AI Brainstorming With EdrawMind?
Are you looking for efficient and easy brainstorming? Edraw AI will be worth using on your computer. With this tool, you can create unmatchable ideas within minutes, keeping in view the assigned subject. To perform brainstorming with Edraw AI, follow the below steps.
Step 1: Open this tool and choose the specific subject you want to brainstorm. Then, hit the "AI Intelligent Creation" button.
Step 2: Now, choose "Brainstorming" from the list, as shown below.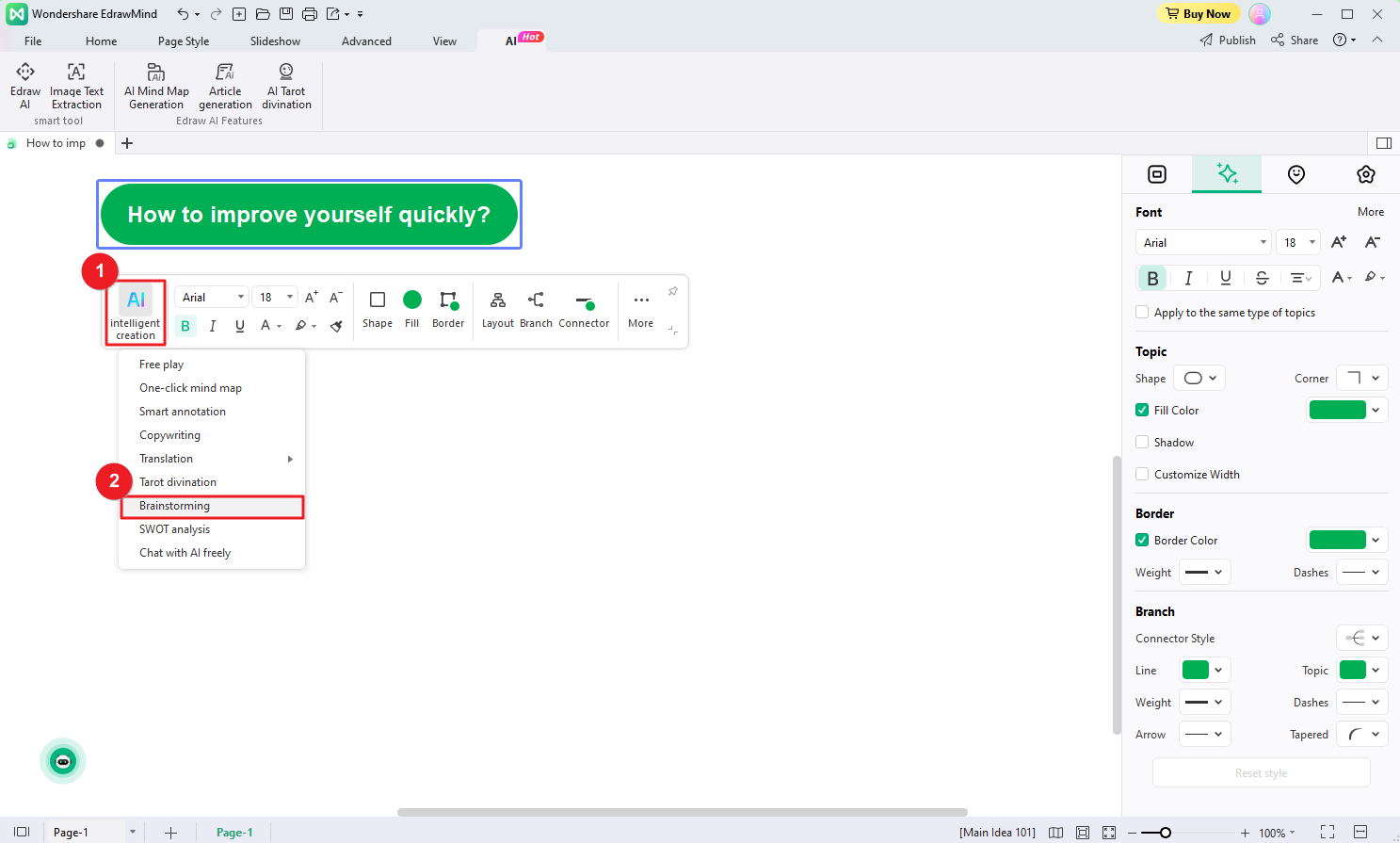 You can also perform the same action by right-clicking on the topic you want to brainstorm, choosing "AI Generated Content", and selecting "Brainstorming", as shown below.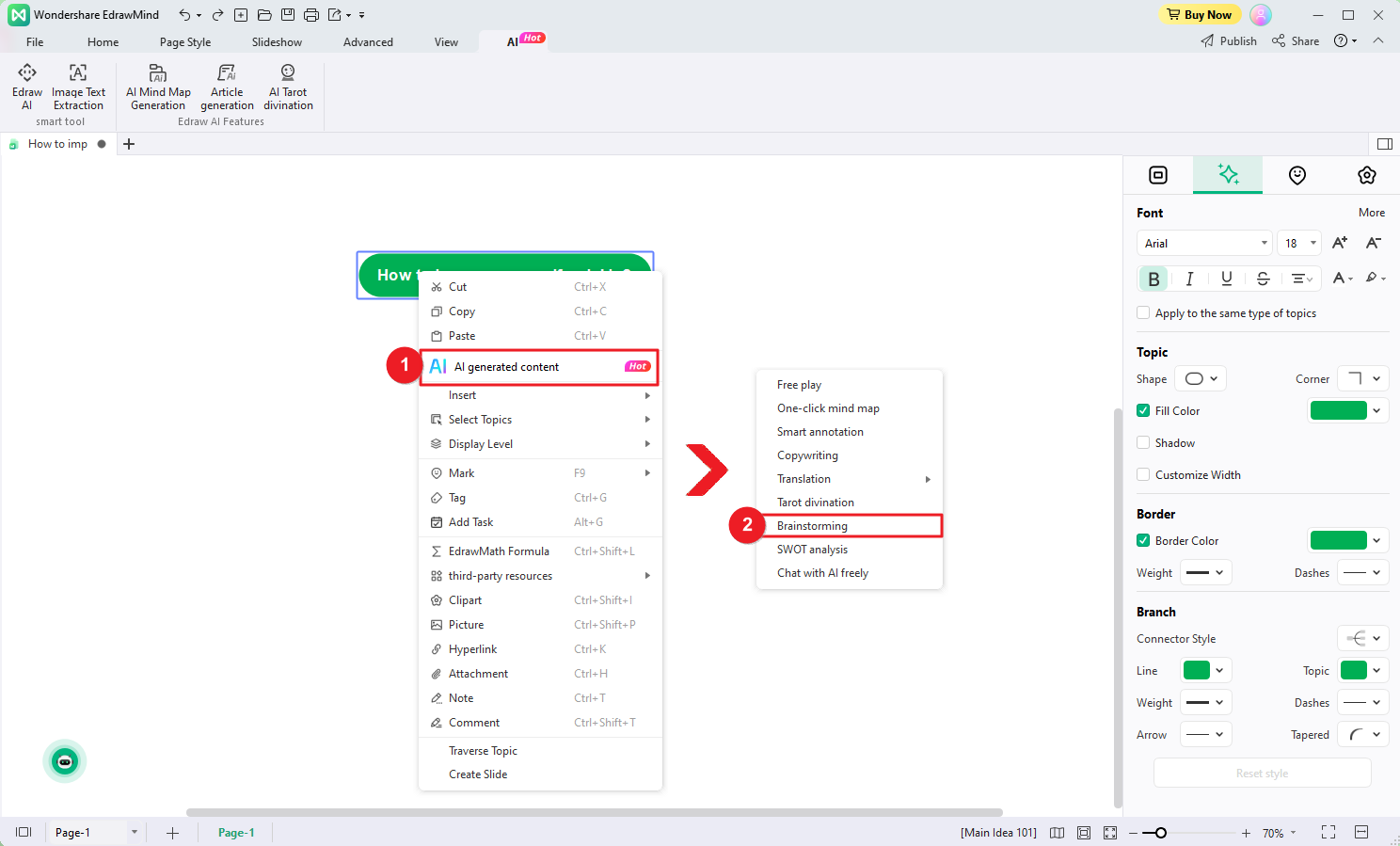 Step 3: Now, Edraw AI will generate a couple of unique insights and ideas. You can explore them one by one.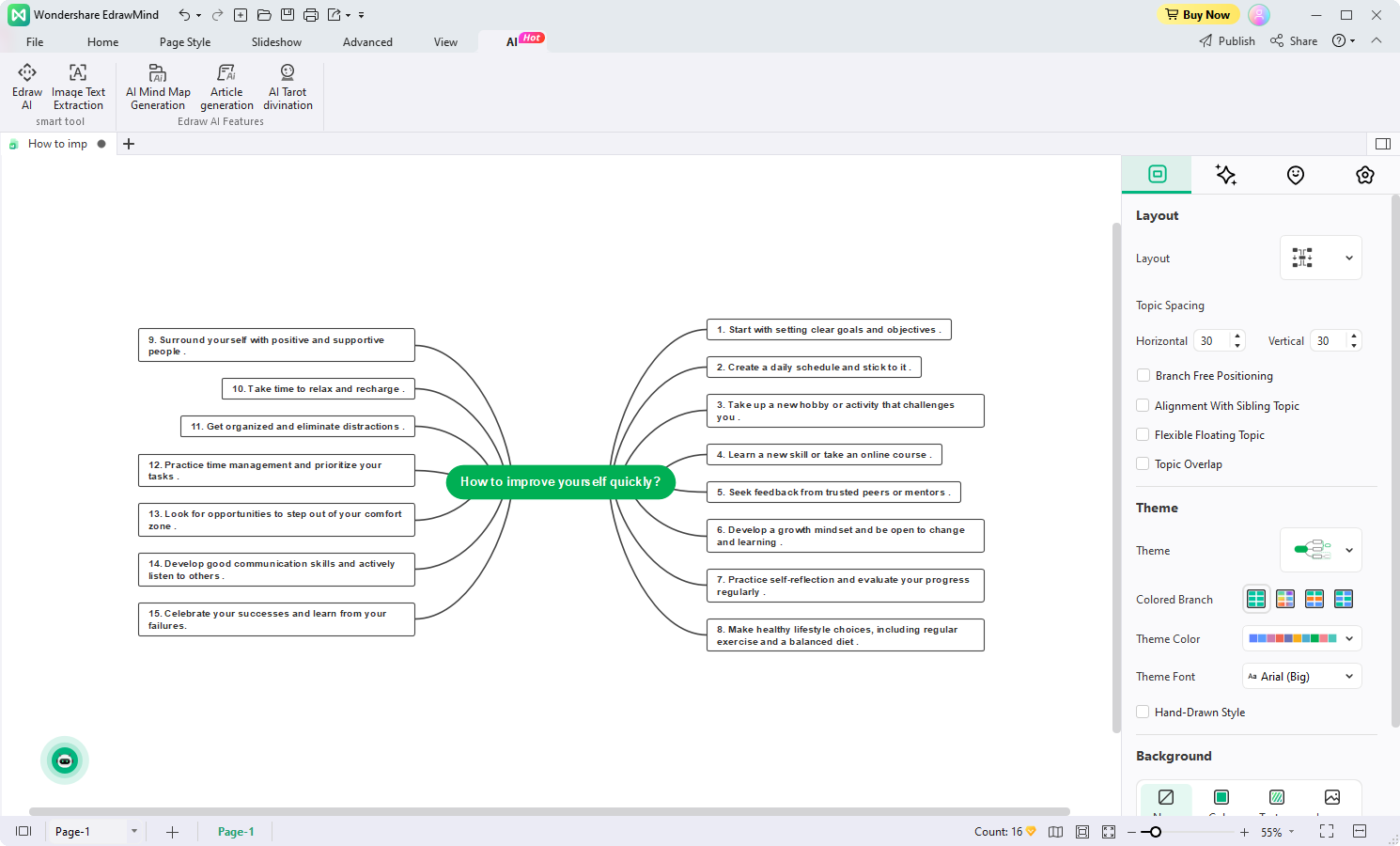 How To Polish the Text in Maps With Edraw AI?
Along with generating great ideas, Edraw AI also assists you in polishing your text content available on the map. Follow the below steps to make your text more precise.
Step 1: Decide the text you want to polish.
Step 2: Right-click on the decided text, move your cursor over "AI Generated Content", and hit the "Copywriting" option.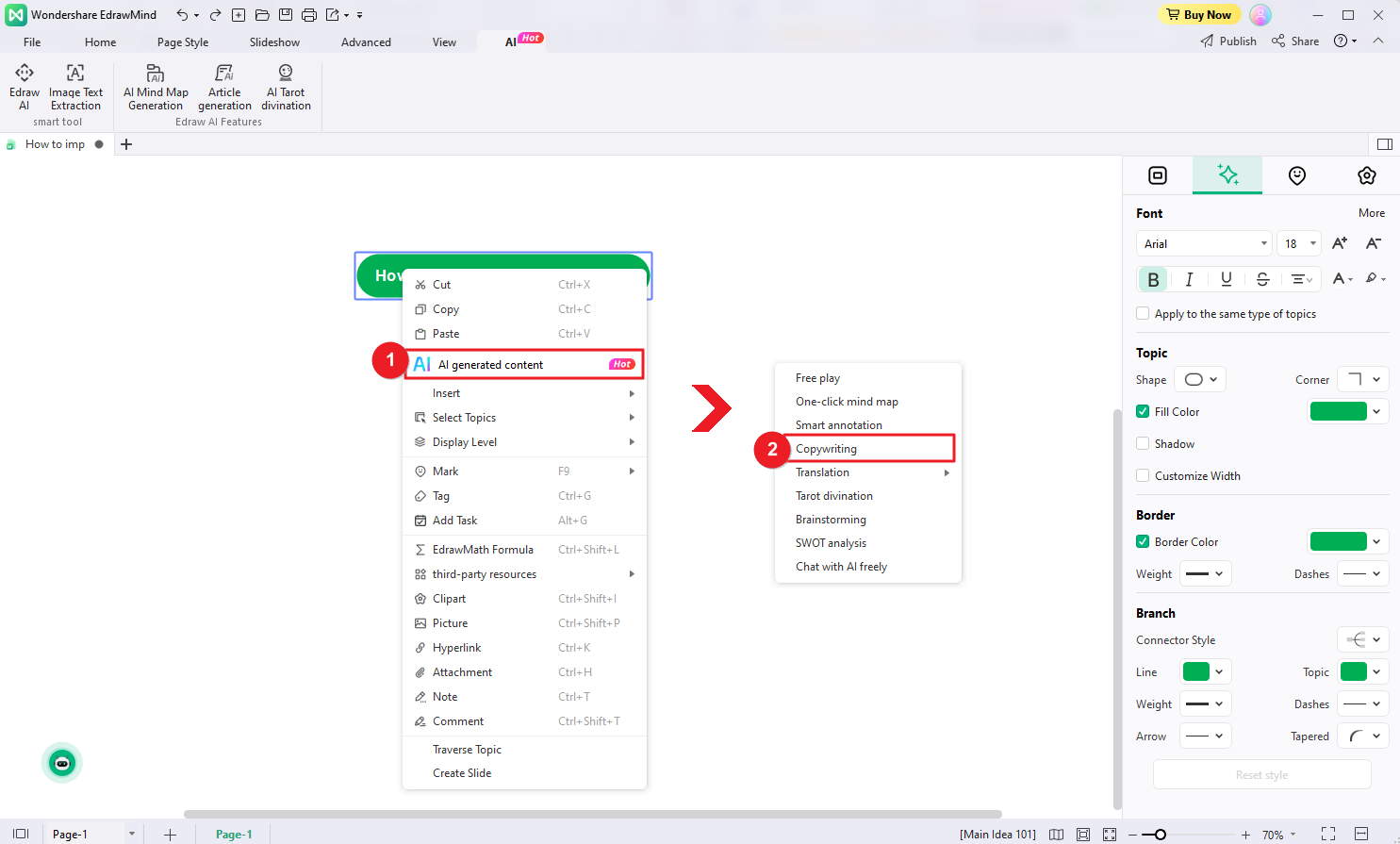 Step 3: The selected text will be analyzed carefully by Edraw AI. Then, it will produce an improved version of the text for you, as shown below.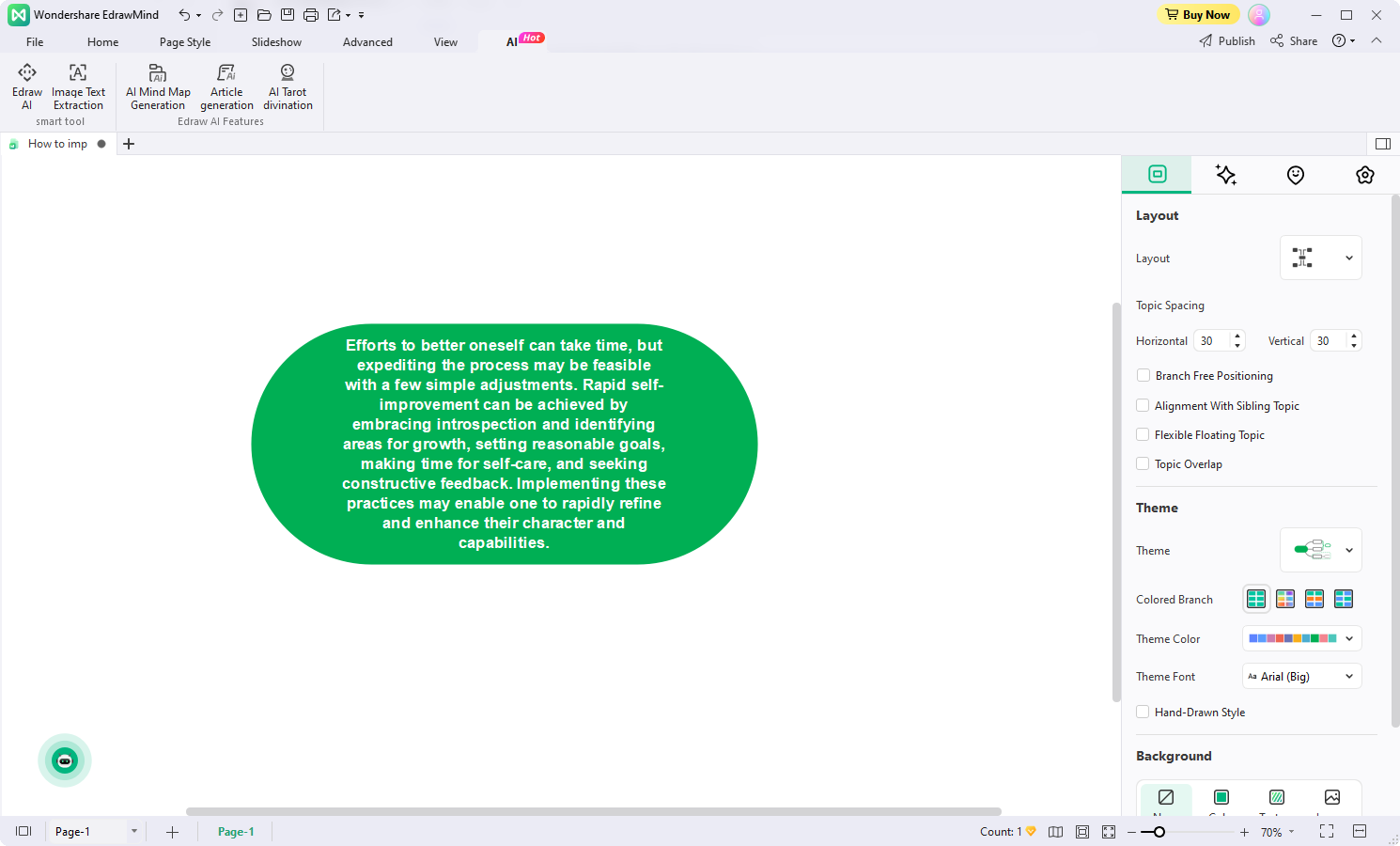 2. HyperWrite
Do you need an AI-powered idea generator you can count on? There is nothing better than trying HyperWrite. All you need to do is to provide this tool with the problem and leave the rest on it. It considers your problem carefully and generates a range of solutions and ideas based on it.
HyperWrite is powered by ChatGPT and GPT-4. You can easily overcome creative blocks with this tool, as it is introduced to spark inspiration. It does not matter whether you are a writer, entrepreneur, designer, or marketer; HyperWrite has got you covered. It is best known for assisting those looking for ideas to enhance business productivity and deal with different challenges.
It is very easy for every user to use HyperWrite. All it needs is a brief of your main topic. As soon as you provide it with your topic, it uses the power of AI to generate multiple ideas, keeping in view the provided topic.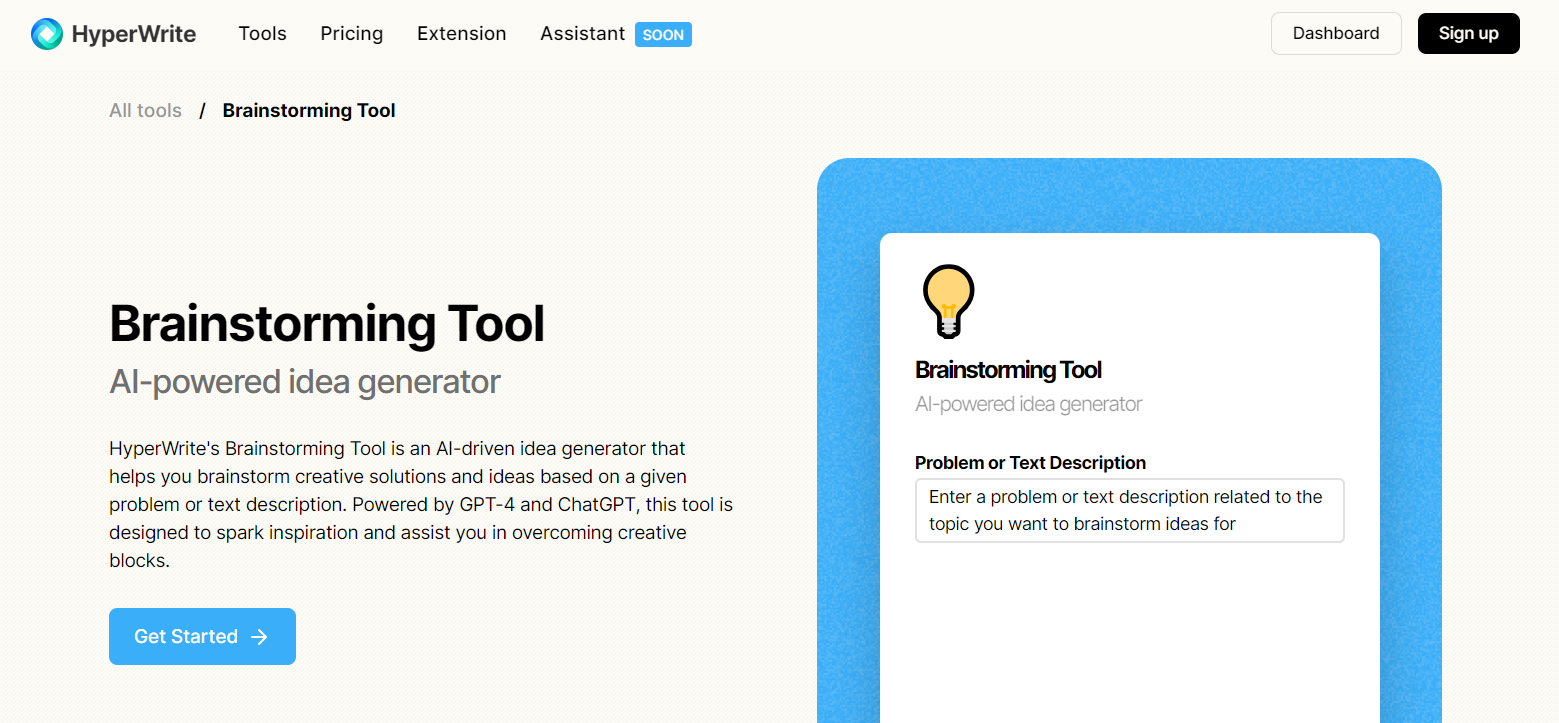 Features
It assists you in developing new strategies for marketing.
You can generate unlimited ideas to solve a business problem.
This tool helps you enhance your service or product to take them to the next level.
It allows you to arrange and attend group-based brainstorming sessions to enhance overall productivity.
You can use this tool to solve design challenges using a unique problem-solving approach.
3. Whimsical
This brainstorming tool is best known for its high idea-generating speed. Whimsical provides you with AI-generated suggestions to extract effective solutions to your problem. With this tool, you can beat the mental block when generating new ideas. If you compare it with the speed of thought, Whimsical generates ideas more quickly.
Apart from brainstorming and mind mapping, you can also use this software to create docs, wireframes, and flowcharts. In addition, this tool offers a number of pre-built templates to innovate your ideas to get the maximum out of them. This brainstorming utility is equally beneficial in operations, marketing, design, engineering, and product development.
You can easily integrate Whimsical with leading applications like Jira, GitHub, Notion, Figma, and Slack. When buying Whimsical, you only have to pay for an editor, whereas guests and viewers will come with it for free.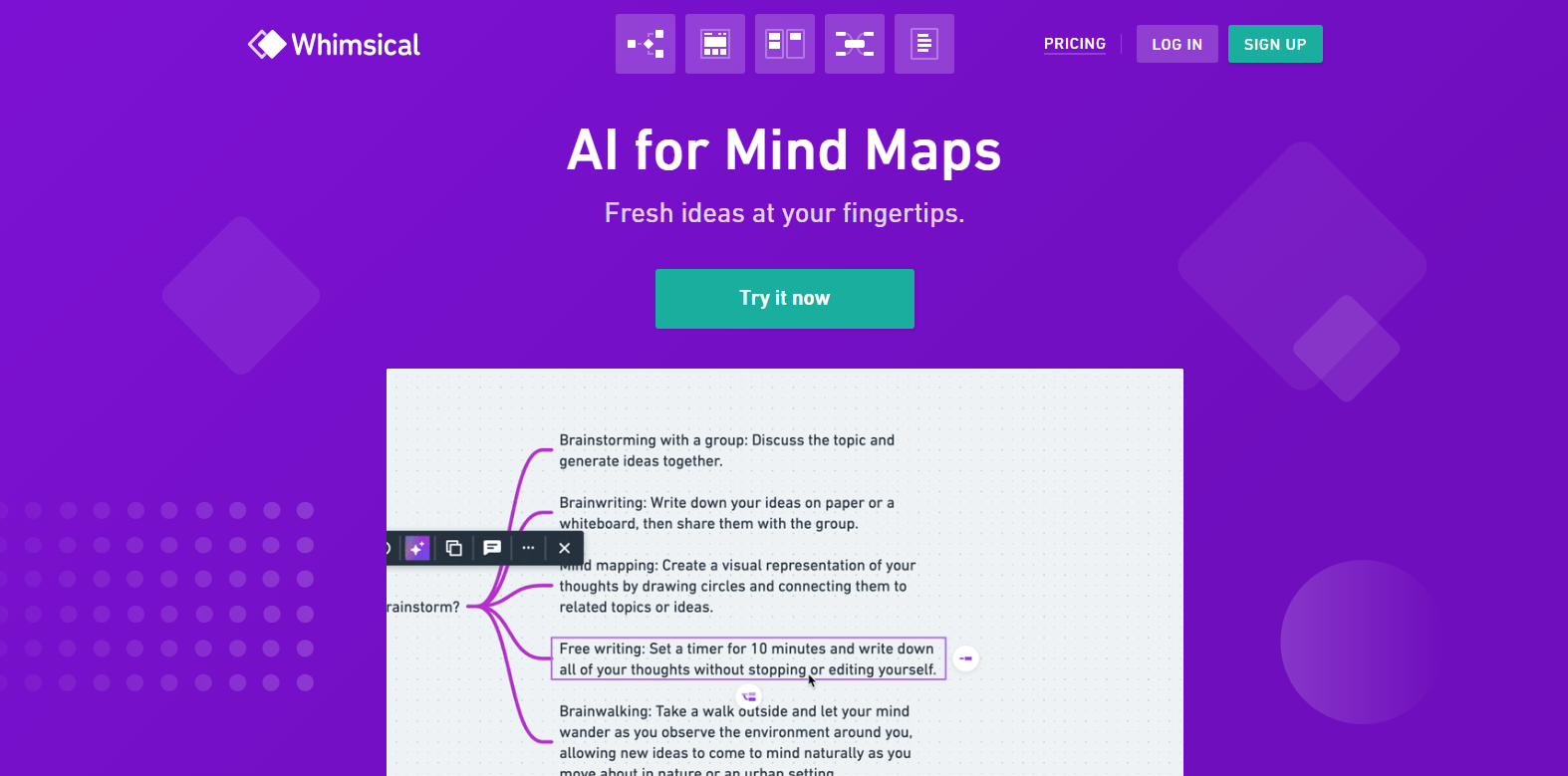 Features
The interface is very easy to use to brainstorm ideas.
It supports faster brainstorming.
You can create elegant mind maps with this tool to extract new ideas.
It makes visual collaboration fun.
This tool can be integrated with apps like Slack, Jira, and more.
4. Context Minds
Do you want to extract the best business ideas in a matter of minutes? If yes, Context Minds will be your dependable tool to consider. This software provides you with intelligent contextual suggestions to map creative and unique ideas. You can use this utility as a brainstorming partner to find unmatchable ideas, thereby linking your thoughts.
Context Minds not only gives you ideas from the mind map you create, but it can also provide you with valuable suggestions from the maps shared by your team members, colleagues, or friends. With this one-of-its-kind brainstorming software, you will always get unique ideas. You can compare the performance of this tool with the two brains that work simultaneously.
People who are currently using this utility seem happy and satisfied, which is why the customer reviews are satisfactory. You can visit the official website of Context Minds to review the feedback shared by previous users. It will help you determine the credibility of this software.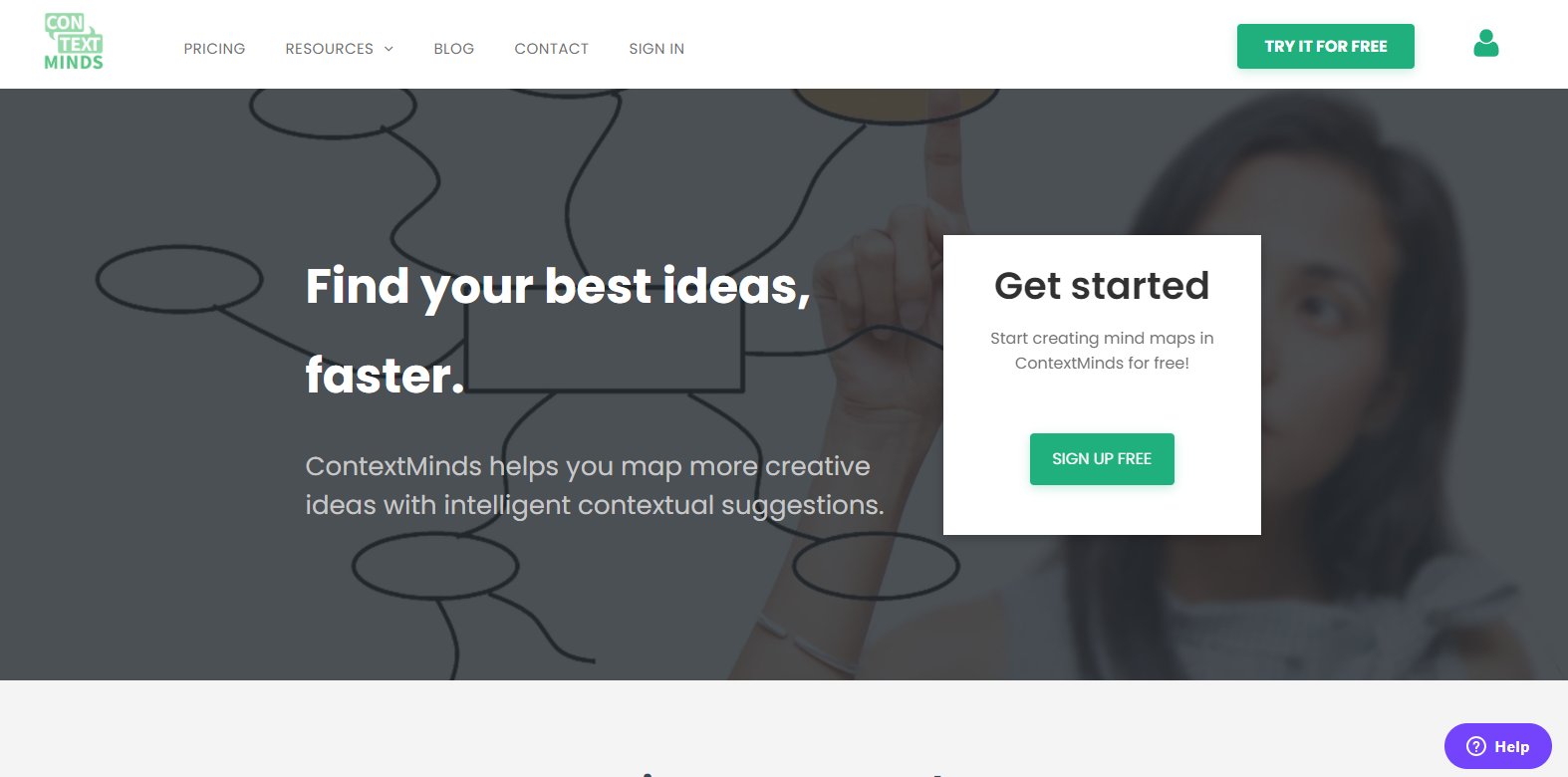 Key Features
It provides intelligent ideas based on contextual input.
Context Minds allows you to save ideas and set reminders to avoid the forgetting issue.
It enables you to build a strong relationship between all suggestions it provides.
You can make a database by saving your top thoughts. It will help you access the most credible thoughts instantly.
5. Ayoa
It is a neuro-inclusive tool for AI ideation or brainstorming. You can also perform task management and mind mapping with Ayoa. This tool is equipped with state-of-the-art mind mapping features to produce better ideas and manage tasks efficiently. The collaboration in real-time sets this brainstorming tool apart. With this brain-friendly software, you can map project cycles in workflow and canvas styles.
Ayoa is known for seamless idea generation and effective task management. If you prefer brainstorming in the traditional way, Ayoa has got you covered. It offers freehand branches to create maps that look like hand-drawn maps.
In comparison to many other AI brainstorming tools, Ayoa is much better in terms of AI-powered features and pricing. Whether you are a freelancer, entrepreneur, student, developer, writer, designer, or marketer, this tool is equally valuable.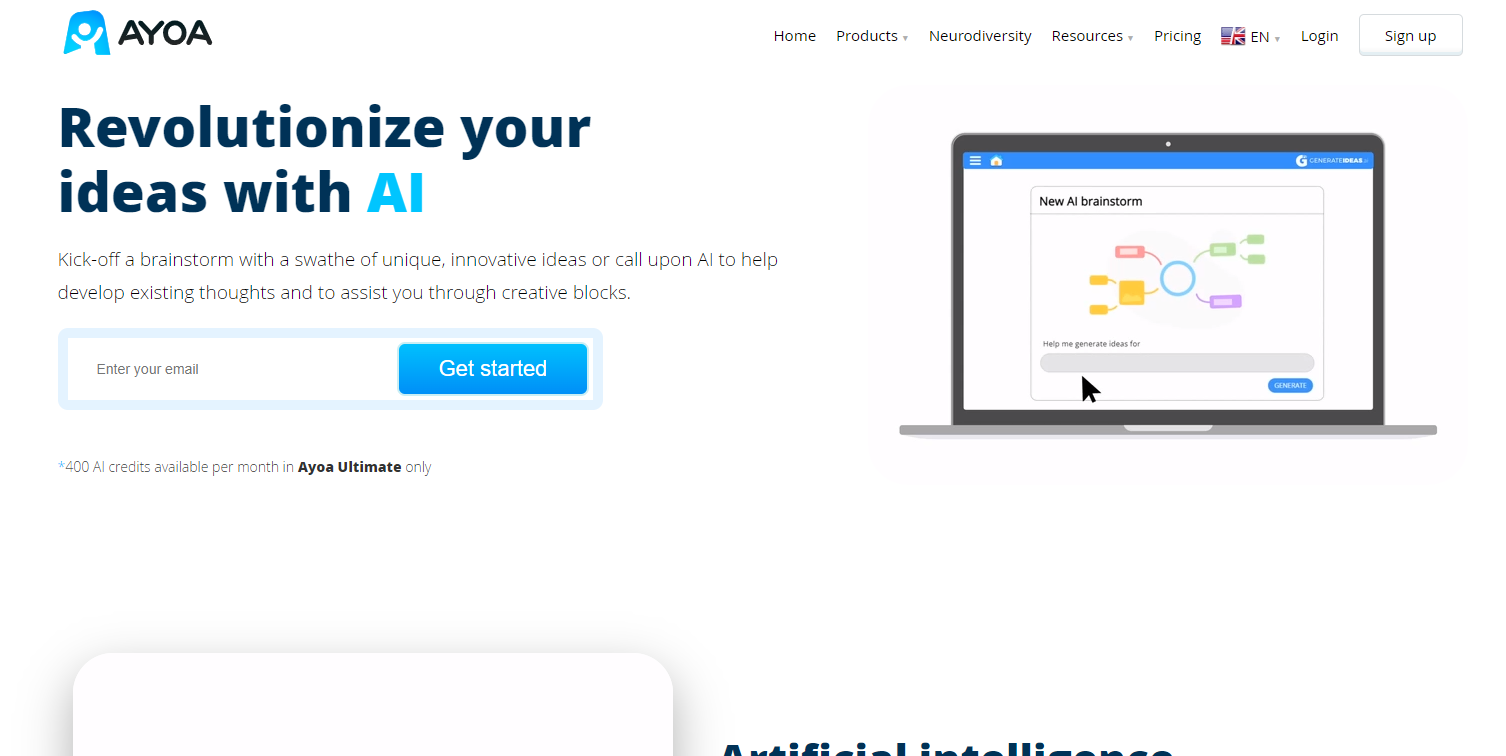 Key Features
It offers more than 30 AI writing templates to create ad copies, website copies, and other marketing content. It offers quick brainstorming with an easy-to-use interface.
You can integrate this utility with other applications easily, like Dropbox, Google Calendar, Zoom, Evernote, and more.
It is available for Mac, Linux, and Windows devices.
You can easily generate long-form AI articles in a matter of minutes with Smart Copy.
Mind mapping and task management are the leading features, along with AI-assisted brainstorming.
6. Final Words
Are you looking forward to enhancing your business? Searching for some credible ideas to make a difference? Get assistance from an AI brainstorming tool. These utilities ask you to enter the major problem or topic and then generate different AI-assisted solutions or ideas for you to explore and benefit from.
Finding the right AI-powered brainstorming software is not as easy as it seems. Don't worry if you are in search of some trusted tools that use AI for brainstorming, as the discussion presented above has listed the 5 best AI ideation software, including Wondershare Edraw AI.
It is available in both desktop-based and online versions with a range of AI-powered features. They are compatible with Mac, Linux, and Windows devices.
EdrawMind Apps
12 structures & 33 themes & 700+ cliparts
Support Win, Mac, Linux, Android, iOS
Advanced import & export options
On-premises software for business
Enterprise-level data security
EdrawMind Online
12 structures & 33 themes & 700+ cliparts
Access diagrams anywhere, anytime
Team management & Project management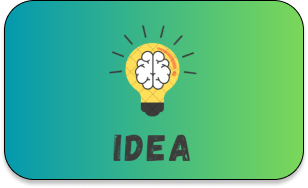 How to Brainstorm
Unlock your creativity and enhance your learning with a simple yet effective tool - learn how to brainstorm today!