How to Create a OneNote Mind Map
Learn how to create a dynamic and organized mind map in OneNote with this step-by-step guide. Boost productivity and streamline your workflow today.
Create Mind Maps Today!
EdrawMind is a mind mapping tool equipped with 700+ cliparts. This article presents a step-by-step guide to creating a creative mind map to present your idea elegantly. Try EdrawMind and create hundreds of mind maps today!
1. A Quick Know of Onenote
Microsoft OneNote is a multipurpose application catering to the need of many users across the professional space. While it offers the option of gathering information and the ability to keep notes, screen clippings, drawings, and commentaries in a single place, it focuses itself as the perfect digital notebook that can be used to store information. Some prominent uses of OneDrive include:
Planning and organizing ideas and projects.
Taking notes of all daily and weekly tasks.
Keeping the academic notes in a single platform.
Provide the ability to take handwritten notes for drawing ideas.
Sharing notes with other users.
2. How to Create a Mind Map in OneNote
As you are aware of the major features of Microsoft OneNote, we shall now proceed to understand the steps to use it properly. To make a OneNote mind map, please follow these steps below:
Step 1: Launch OneNote
Open OneNote and launch a new notebook. Now click on the New section to move to the blank page.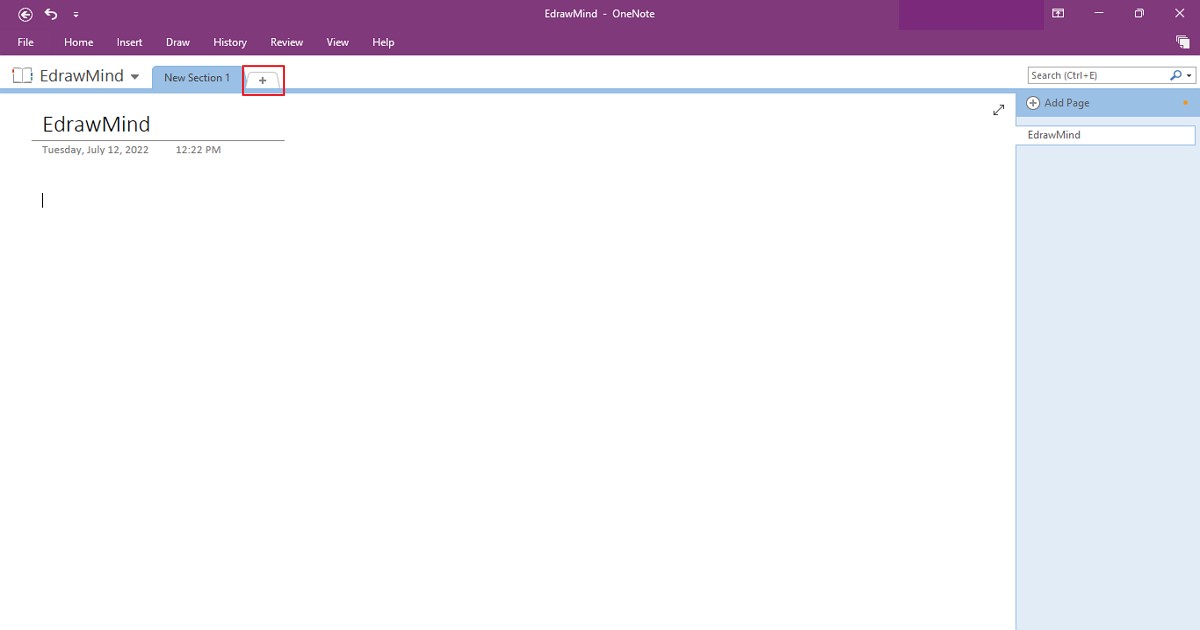 Step 2: Draw Mind Maps
Click on the Draw tab right next to the Insert tab to get different drawing tools. With the help of all these tools, we will create mind maps in OneNote. Similarly, you can also draw a rough mind map, using the free-hand drawing tools.
To make a mind map in OneNote, make sure you add all these features:
Central Idea - Choose the main topic. You have put the central idea in the middle and then arrange the key elements of your idea around it.
Supporting Content - These are the connecting thoughts that make up your central idea. Use keywords and phrases to present the supporting content.
Branches - Use branches to connect your main topic with the supporting content.
Color-coding - Color-code the crosslinks and connect your thoughts with the main topic.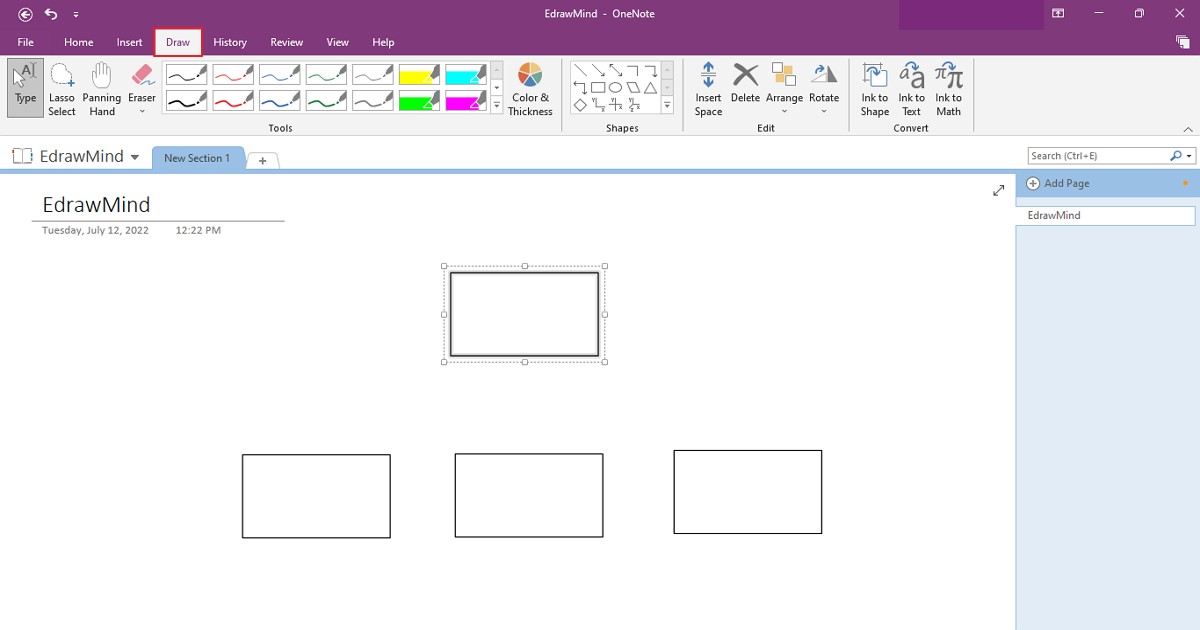 Step 3: Add Text and Edit
Finally, you can add text (keywords and phrases) to finish off the mind map. Add colors, images, and other visual signifiers to make your mind map look appealing. Once the mind map on OneNote is complete, you can share it with others by clicking on File>Share.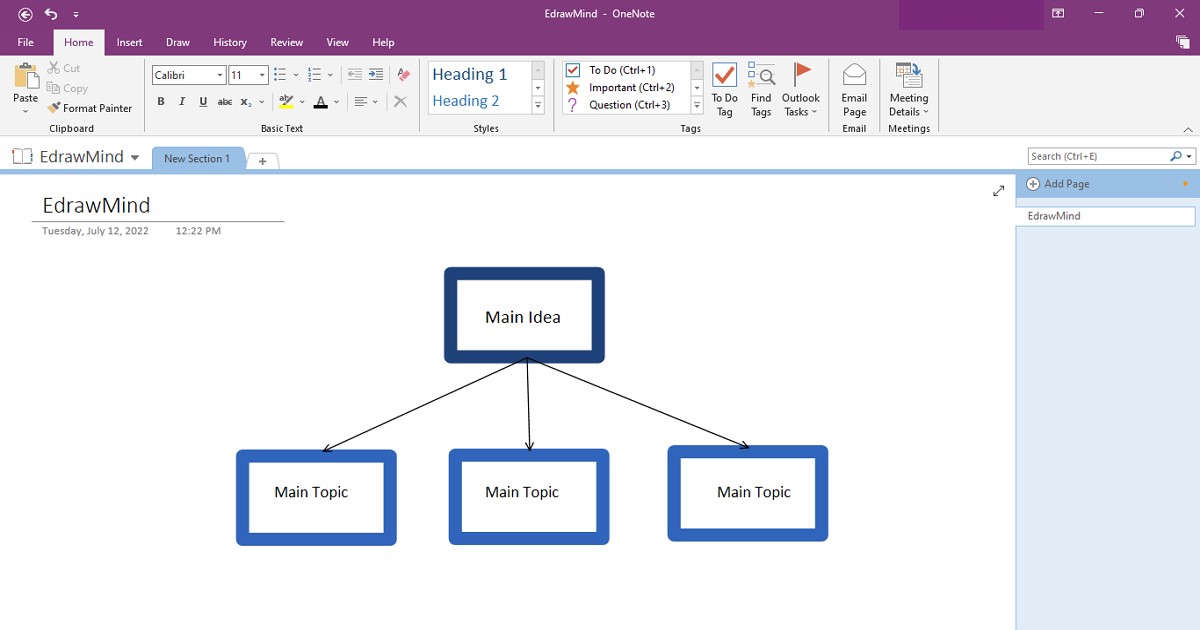 3. How to Create a Mind Map in EdrawMind
Using platforms like OneNote to create mind maps can get significantly difficult for beginners. While the mind maps are not manageable across such platforms, they usually result in a sub-standard version of mind maps. To counter this, EdrawMind is here to provide its dedicated support for creating mind maps with control and perfection.
EdrawMind Apps
12 structures & 33 themes & 700+ cliparts
Support Win, Mac, Linux, Android, iOS
Advanced import & export options
On-premises software for business
Enterprise-level data security
EdrawMind Online
12 structures & 33 themes & 700+ cliparts
Access diagrams anywhere, anytime
Team management & Project management
With a basic and functional user interface, it helps users create their mind maps through effective techniques. As you never run out of space across EdrawMind, you can create the best versions of your mind map across a single page. Easy positioning is another intuitive option provided across EdrawMind, which makes the tool one of the best options for creating mind maps. If you are up to creating a mind map in EdrawMind, follow the steps featured as follows:
Step 1: Add your Mind Map Main Topics
Find the option to download EdrawMind on your computer or use the version of EdrawMind Online to create mind maps across the online platform. If you consider downloading and installing EdrawMind on your computer, launch it across your device once installed. Select any template from the homepage and proceed. To add a "Main Idea" across the existing template, tap "Enter" to add more main topics.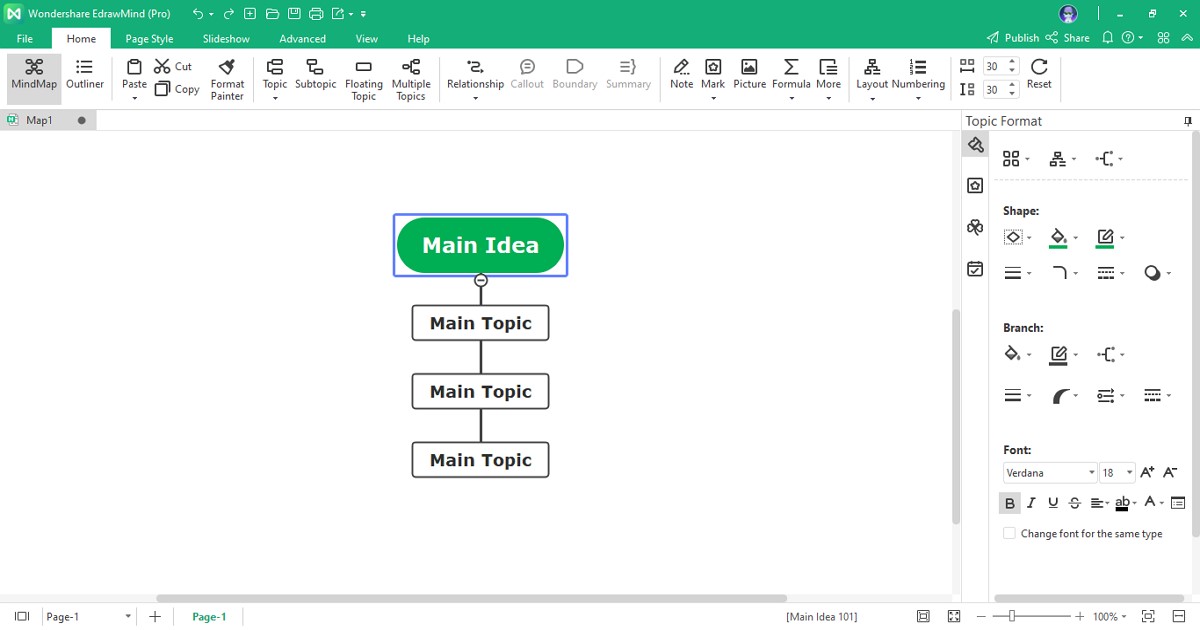 Step 2: Add Subtopics and Change Branches
You can consider adding sub-branches to your mind map design. For this, you need to simply select the specific "Main Idea" and tap "Tab" on your keyboard to add a sub-topic. Select any respective branch and come across the "Branch" section in the right panel to change the style of your branches, if required.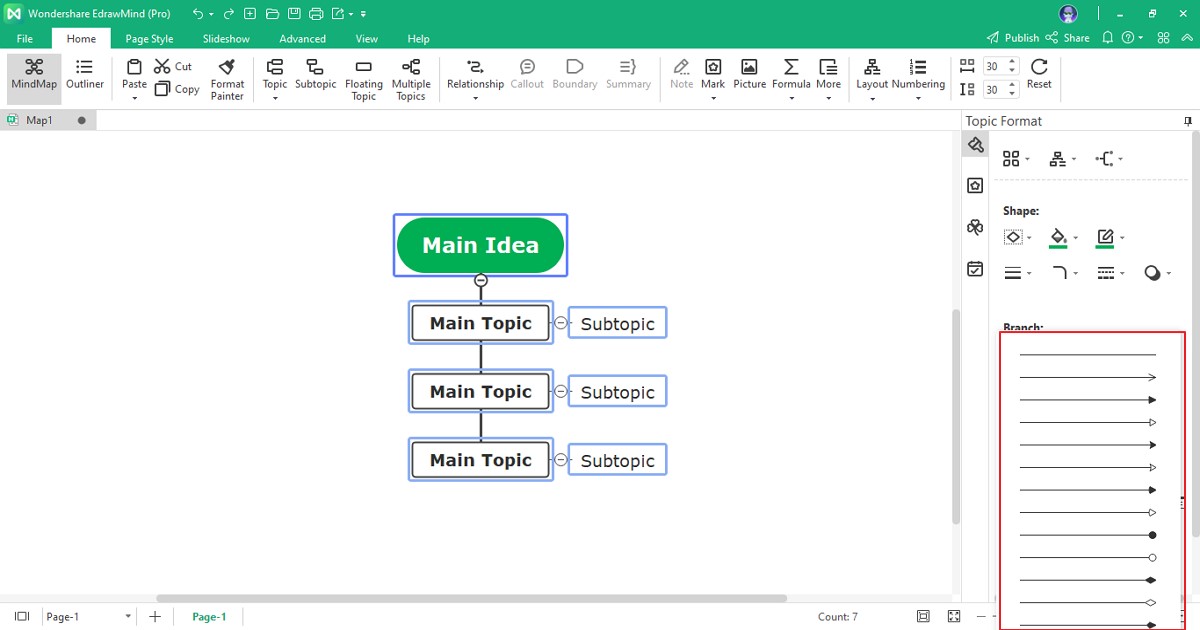 Step 3: Customize Mind Map Style
EdrawMind provides you with the option of changing the mind map according to your desire. With the multiple options of customizing the background of the mind map to adding an image as background across the mind map, you can find all options across the right-editing panel. Change the layout according to your requirements and manage the colors of your mind map elements to bring perfection to your design.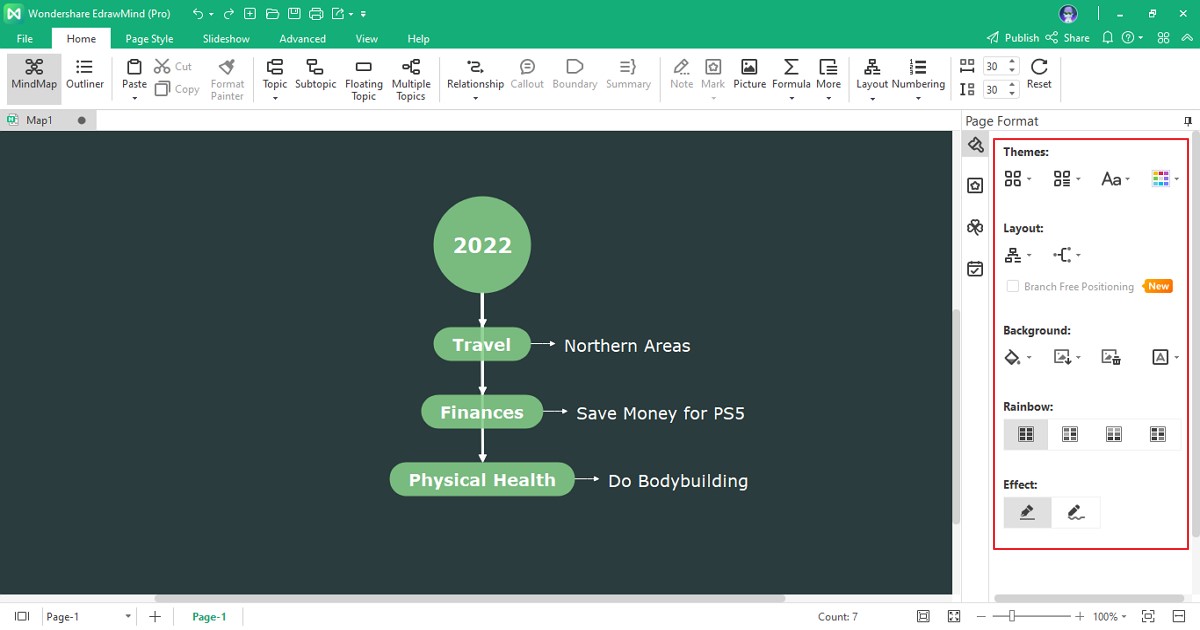 Step 4: Export or Share Mind Map
Once you are done editing your mind map, you should lead to the "File" tab, where you can select the "Export" option to save the mind map under any specific file format. You can save the mind maps as a Word document, PowerPoint presentation, an Excel spreadsheet out of multiple exporting options. Also, find the "Share" button on the top of the tool's homepage to share the mind map with other users.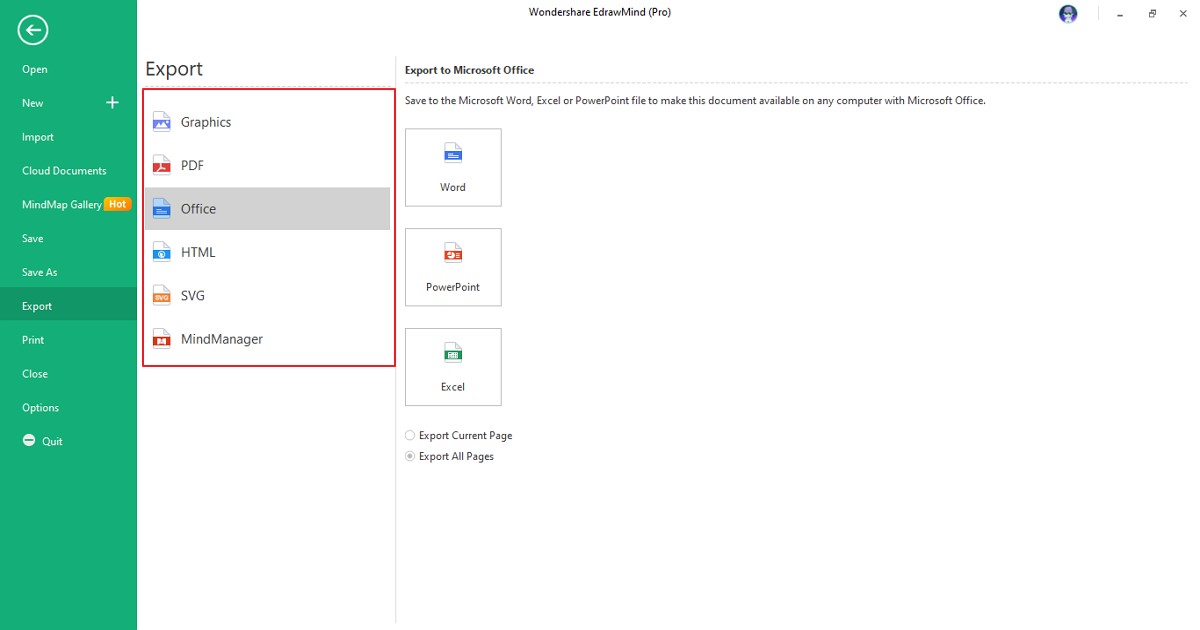 4. Editable Mind Map Templates
EdrawMind provides a complete set of templates to develop a mind map for your project. This makes it one of the best options in the market for creating mind maps. If you want to create a OneNote mind map using EdrawMind templates, you should have knowledge of the available options for figuring out the best mind map for your topic.
With the availability of multiple categories across the EdrawMind Template Center, you can find several examples and templates of mind maps. We have mentioned some templates for you so that you can look into the variety available across EdrawMind:
Root Cause Analysis Template
This root cause analysis template will help you find out the issue across a particular system.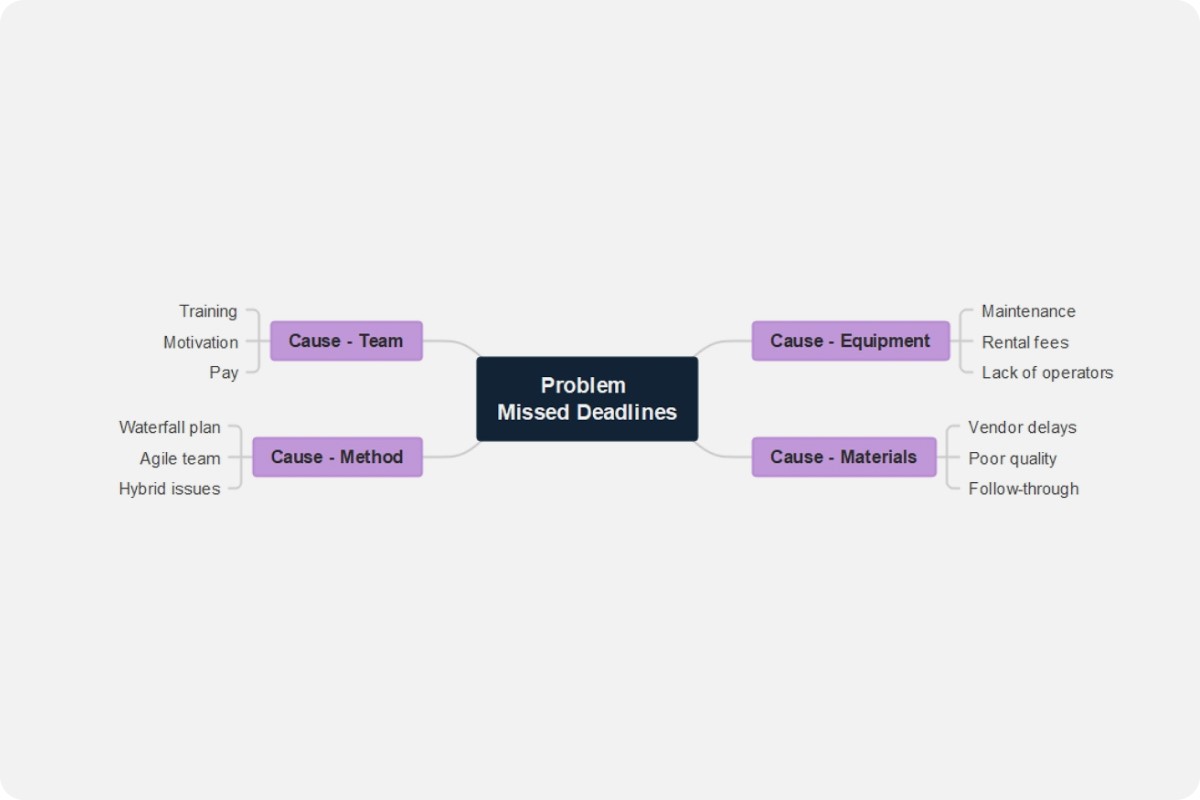 Strategic Planning Template
This strategic planning template to set up an improvement plan and framework with the right actions in order.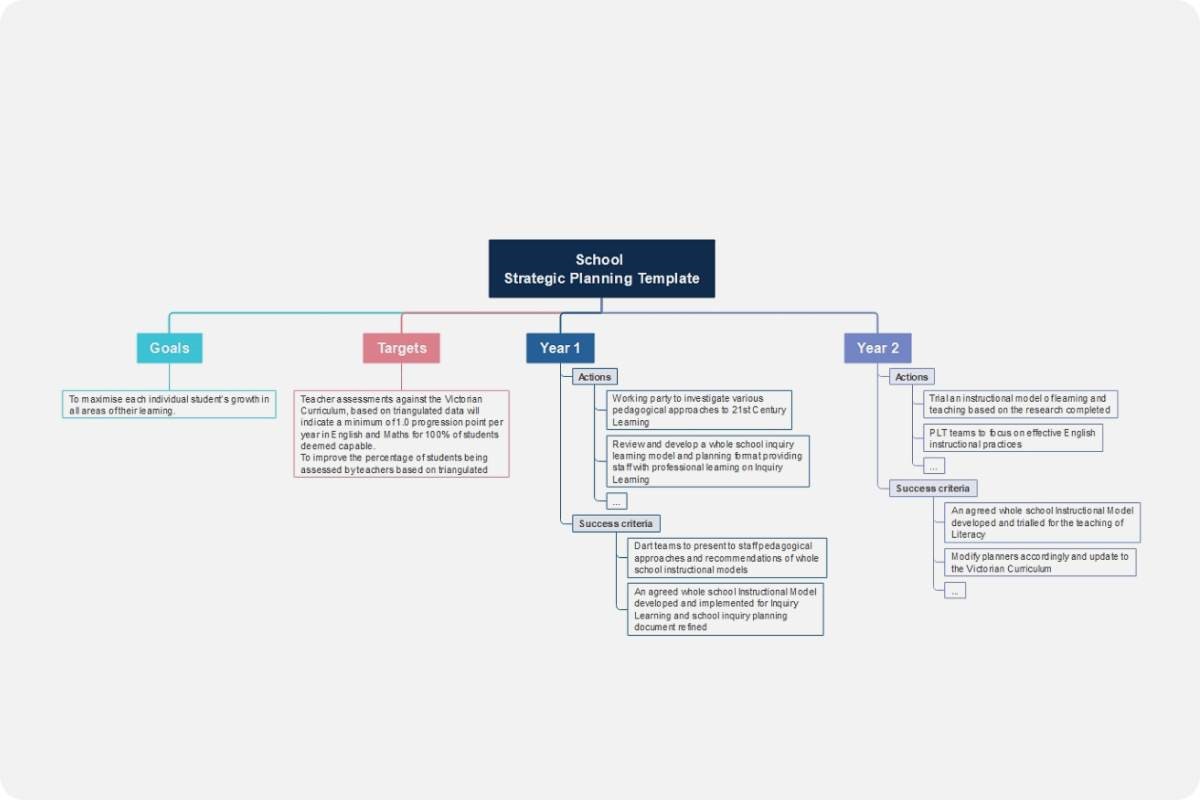 SMART Goals Template
Use the SMART technique with this smart goals template to create a focused plan of action for the team.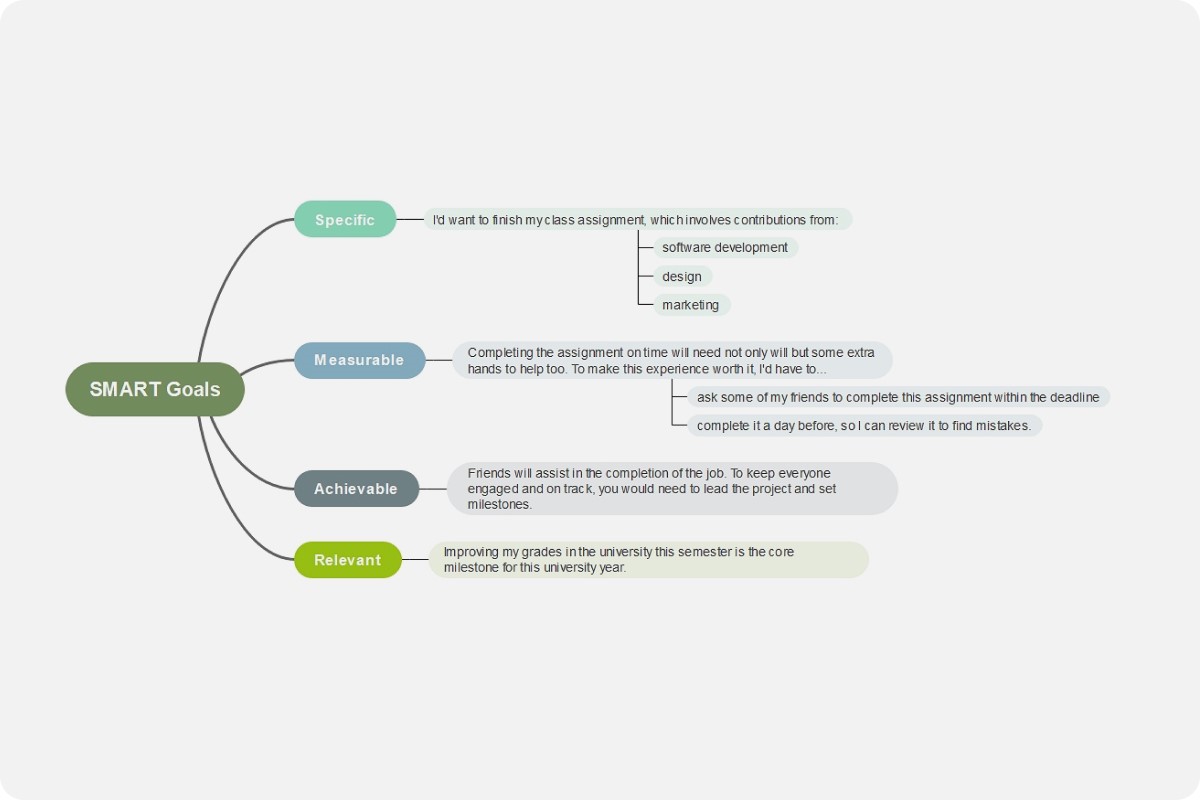 4 Ps of Marketing
You can set up a strategy for launching the product in the market with this 4 Ps Marketing goals template.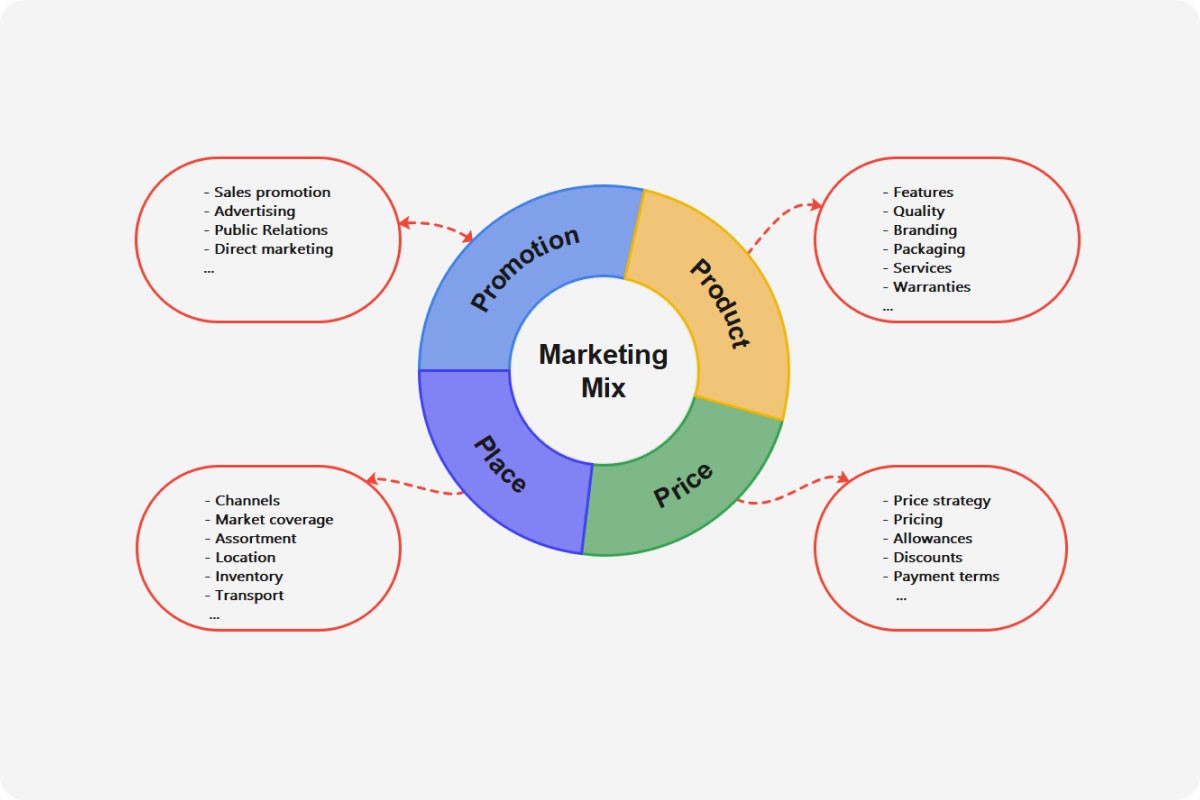 Target Audience Template
Make use of this target audience template to develop a mind map showing the target audience that the product should target in the market out of all available options.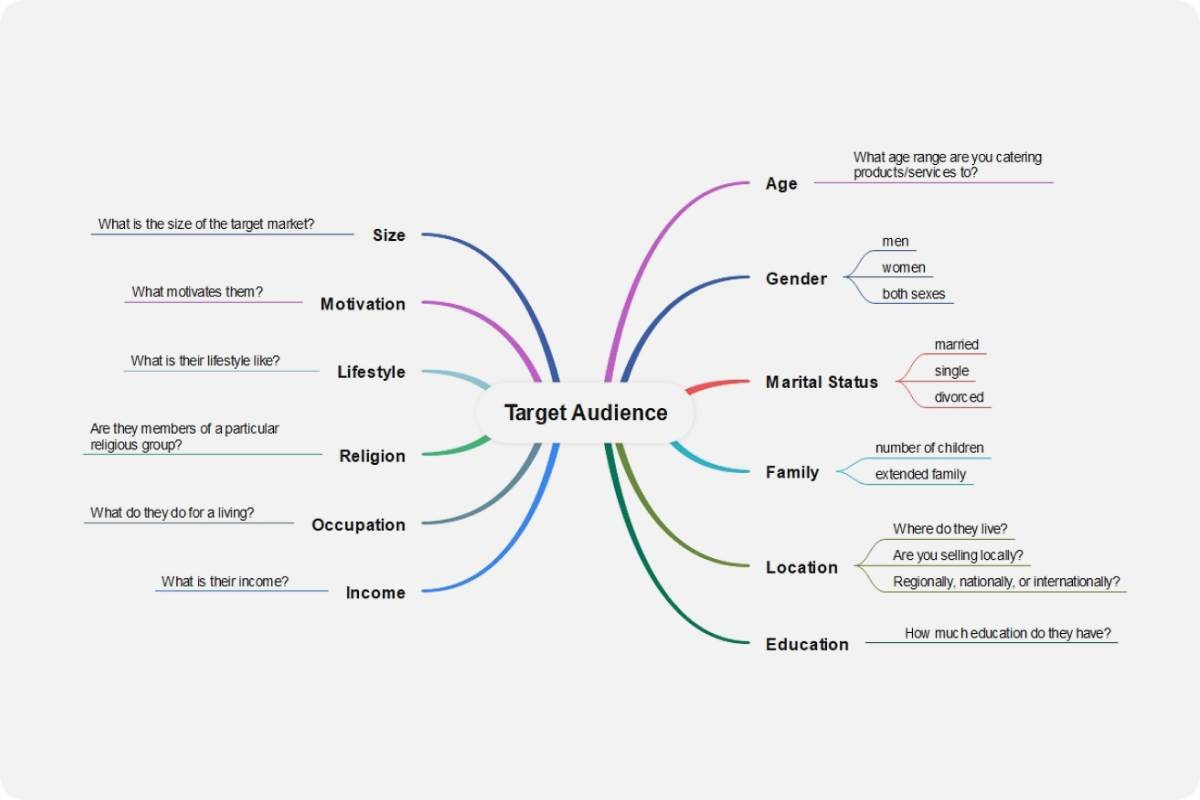 Stakeholder Map Template
This stakeholder map template designs a structure containing all the stakeholders that have to provide assistance in development.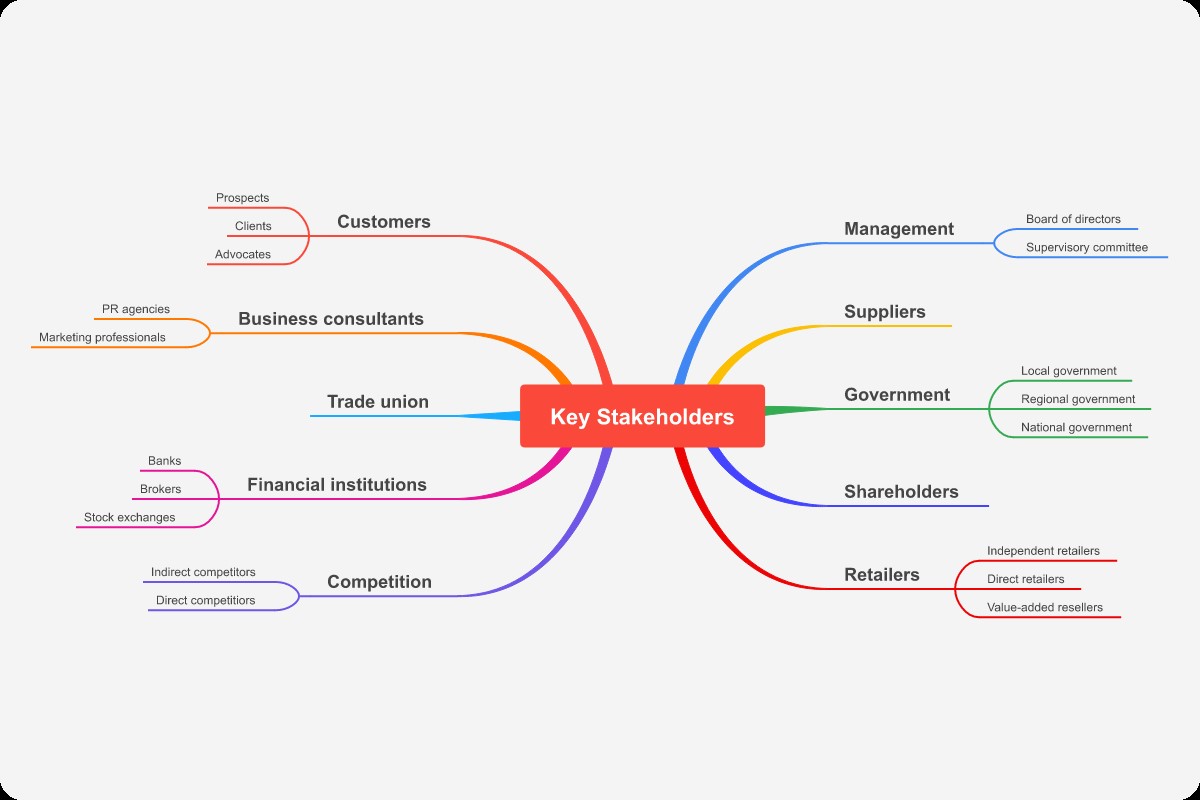 Impact Mapping Template
Outline the goals and their tentative achievements in the mind map with this impact mapping template.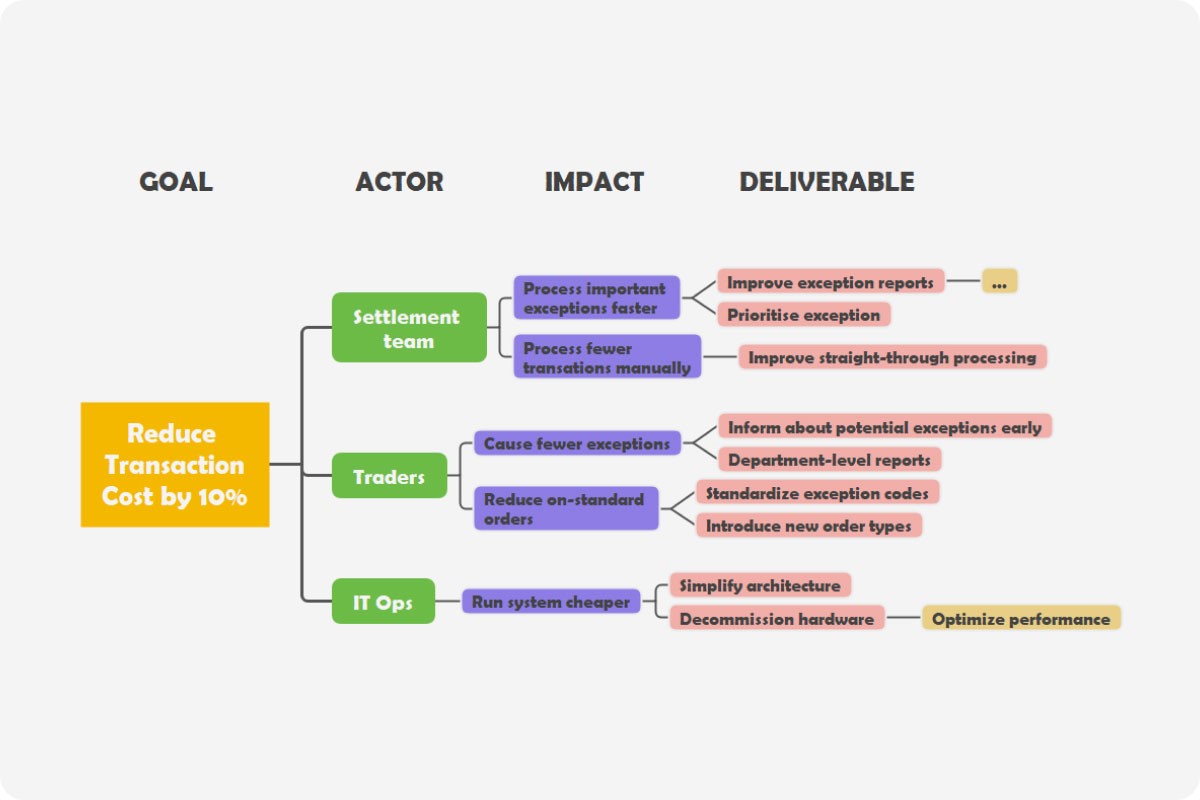 Communication Plan Template
Use thiscommunication plan template to set up a clear guideline explaining the hierarchy of communication across an organization.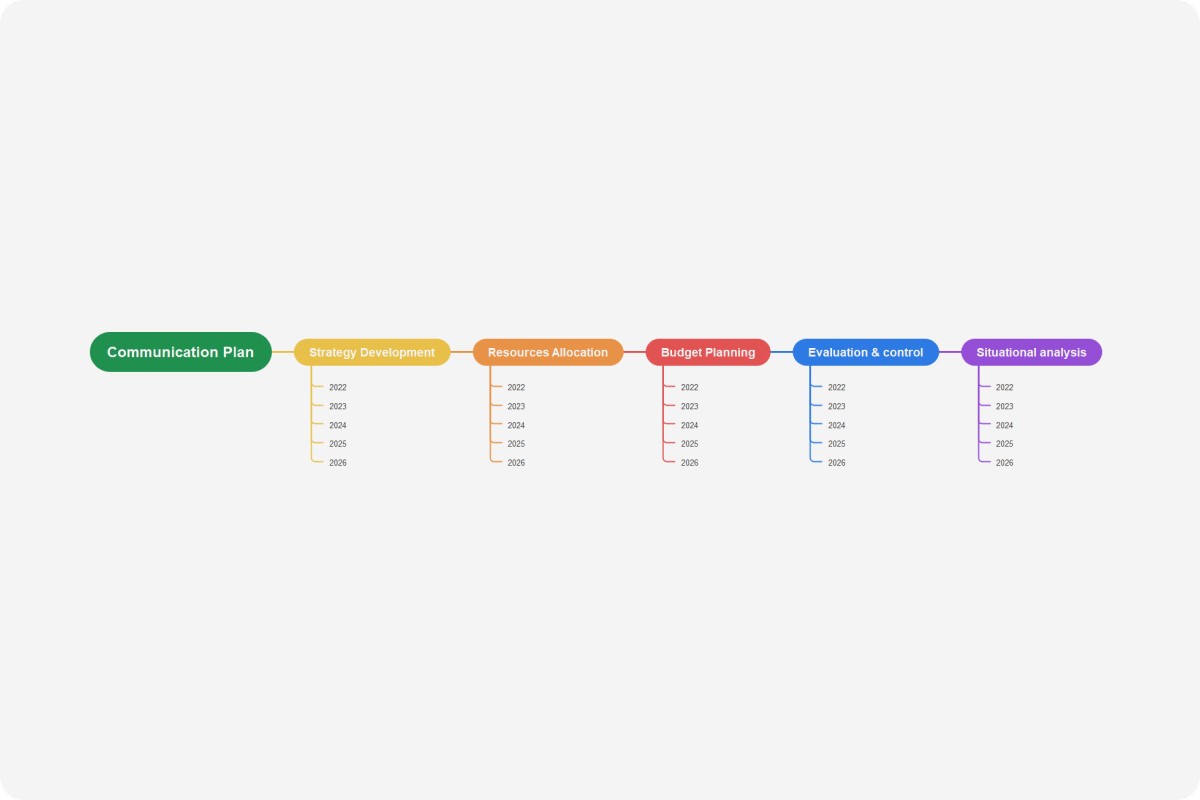 Organizational Breakdown Structure Template
This organizational breakdown structure template helps in defining the tasks and duties of the teams within the organization if it is exceptionally large.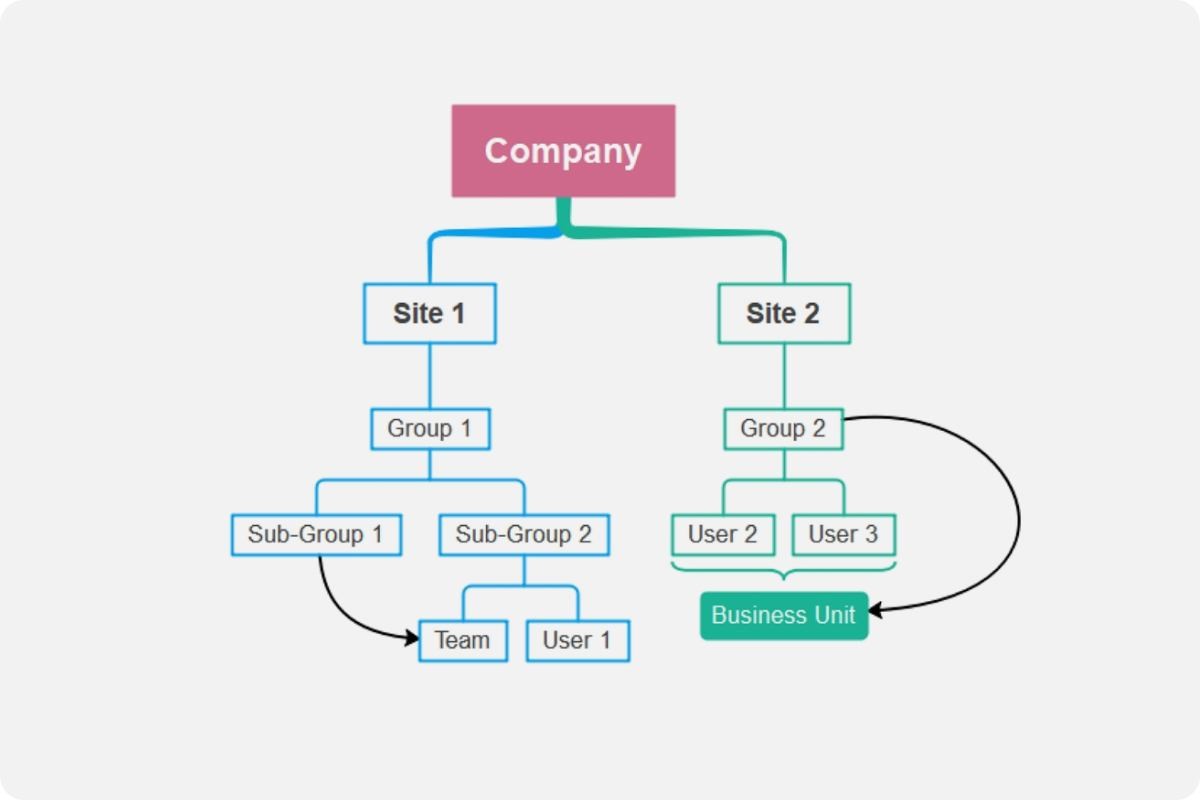 5. Key Takeaways
We hope you have a clear overview of how to properly create a OneNote mind map. Along with introducing a direct option for creating mind maps using OneNote, the article has referred users to an exceptional and simple option for creating mind maps. EdrawMind provides users with a complete dedicated Template Center that can be used to set up mind maps using developed examples of multiple categories.
Along with that, the tool is attenuated with 22 professional layouts for framing the mind maps perfectly. It includes the option of Branch-Free Positioning, which allows users to move their main topics across the canvas. Combined with such options, if you consider using the online version of this platform, you can enjoy real-time collaboration with your team while creating the mind maps.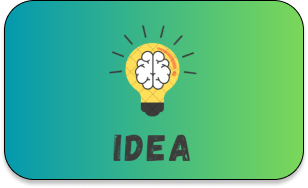 How to Make a Mind Map
Unlock your creativity and enhance your learning with a simple yet effective tool - learn how to make a mind map today!