About the Strategic Planning Templates
Strategy planning addresses the purposes whereas planning highlights the specific steps you will be taking to reach a certain objective. Strategic planning, on the other hand, takes both into account at the same time, resulting in a final output that includes both your broad goals using a strategic planning template. The most common way of building up explicit field-tested strategies, setting them in motion, and surveying the outcomes as far as an organization's more extensive long haul points or aspirations is known as strategic planning.
It's an idea that spotlights on accomplishing an organization's strategic objectives by coordinating a few divisions like bookkeeping and money, showcasing, and HR. "Strategic planning" and "strategic administration" are almost interchangeable ideas. This strategic planning template will walk you through each stage of the planning process so you can develop an executable strategic plan from the ground up.
How to do strategic planning?
Most of those strategic templates used by the companies are based on their working mechanism. The choice of templates would be different for companies who are working with teams or Non-profits etc. However, there are still some of the aspects that are common across all types of strategic templates. If you are confused about choosing the right plan for your business, use the following steps to choose the perfect useful plan as these types of templates will help in planning your business very efficiently in the future.
Step 1: First of all, you need to develop the beginning section where you provide all the basic information on the business developing program, strategies of your work, and participants of the process.
Step 2: Clarify a statement regarding your background. This statement would consist of all the information regarding your business history and relevance.
Step 3: The vision, main goal, and mission statement should be specified and shown as well. This will provide needed help to understand what kind of planning with go perfectly with your company's preferences.
Step 4: Mention the problem statement. Specify the issue, point of hindrance, or urgent problem that needs to be sorted.
Step 5: Provide SWOT analysis, as it will provide all the information of the strengths, weaknesses, opportunities, and threats. This is also very useful while making a business strategy.
Step 6: Clarify the objectives and techniques of evaluations. What outcome do you require? When would the outcome be attained?
Step 7: Write the administrative summary. This can provide the upper view of the strategic scheme that effectively presents major evidence.
Why use a strategic template?
A strategic planning template can assist you in ensuring that you cover all of the key subjects and don't overlook anything. It's also simple to distribute various parts to different persons based on their job or knowledge in the topic area. You may even time box with giving accountable time to them to complete the work on each component if you're using the strategic planning template to guide a planning session.
A very reversed and thought out strategic plan effectively supports corporate growth, goal attainment, and employee happiness while wanting a substantial amount of hours, effort, and money. You may share the strategic planning template with participants and invite them to share their point of view face to face or have a meeting online, whenever it's convenient for them. After everyone has had an opportunity to contribute their views, you may go through the board as a group.
When to use the strategic planning template?
The strategic plan template may be used if you want to match the aims of respective department to company's overall goals. A strategic plan also encourages the whole team and management to communicate with one another. You may use the strategic planning template to encourage and motivate the employees and to work with substantial internal or external changes if you know your organization is experiencing big changes.
You may revisit your template on a regular basis, such as once a quarter or once a year, or you can merely change it in reaction to big events like company or business mergers, IPOs, finance trip rounds, and so on. It can be made according to your planning and usage; this template is completely customizable. Strategic planning will organize your ideas and make them into objectives.
Strategic Planning Examples
The strategic planning is a set of strategic goals accompanied by an action plan to accomplish each one. This is the result of strategy planning, and it can be produced according to your own need, it can be made at the educational, organizational, personal, academic and departmental, or team level. The following are some samples of strategy plans to get you started.
Example: Educational Level Strategic Planning Template
A strategic plan for a university includes all the said departments of the university that deal with student's matters regarding the studies, it might include student's professors', staff's, and community's results. Affordability, efficiency, infrastructure, research department, and the student community. Not only that but also adding the alumni students, all should be considered. Here's an example of what I'm talking about planning an educational strategic plan for a better future.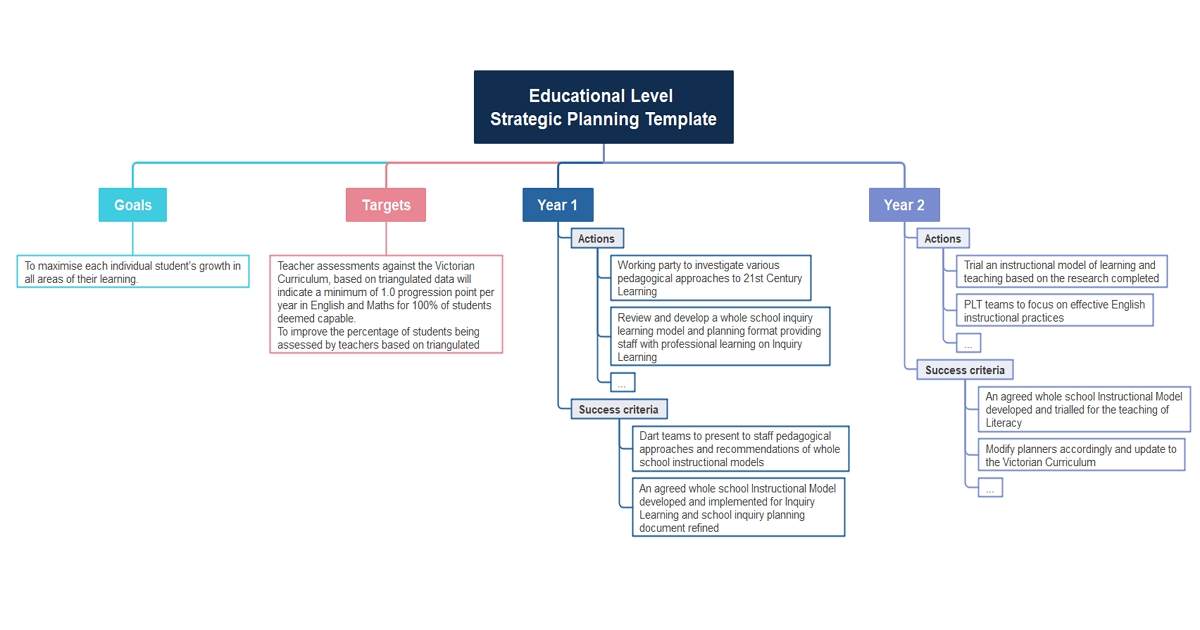 2. Teaching strategic planning Template
Having a strategic planning is the teacher's guide for the students and how the plan will be accomplished productively at the time of the class. You should initially characterize the learning targets for the class meeting before you can arrange your talk. Then, at that point you might make reasonable learning exercises and procedures for getting input on understudy progress. Defining clear learning strategies for students can assist you in determining the kind of teaching and learning activities you will employ in class, as well as how you will assess whether the learning objectives have been met.
3. Marketing Strategic Planning Template
Marketing strategy plans can be established at the organizational, business unit, and product levels. Product creation, experience of the customer, promotion, product or service pricing, places where it will be distributed, sales, are examples of these areas. A marketing strategic planning well helps a business a lot in planning the product and strategizing it in a way that makes it profitable.
4. HR Strategic Planning Template
The human resource department is one of the departments that work the best when the plan is fully strategic. Strategic Planning for HR can help the team become organized and structured.
Why EdrawMind?
EdrawMind is a full-featured collaborative mind mapping and brainstorming tool. It is convenient and helpful for you to use EdrawMind to sort out your thoughts, visualize ideas, take notes, plan projects and more importantly, find solutions to problems.
Users are allowed to insert different kinds of objects into topics and
mind maps
in EdrawMind, including relationship line, boundary, callout, summary, mark, clip art, picture, hyperlink, attachment, note, comment, and tag. EdrawMind offers you a simple way to create mind maps on
Windows
,
macOS
, and
Linux
. Download the desktop version and try the free online version now!
EdrawMind Apps
12 structures & 33 themes & 700+ cliparts
Support Win, Mac, Linux, Android, iOS
Advanced import & export options
On-premises software for business
Enterprise-level data security
EdrawMind Online
12 structures & 33 themes & 700+ cliparts
Access diagrams anywhere, anytime
Team management & Project management