OKR Template
Help your team stay on track and accomplish the goals you set for them with the help of an OKR template.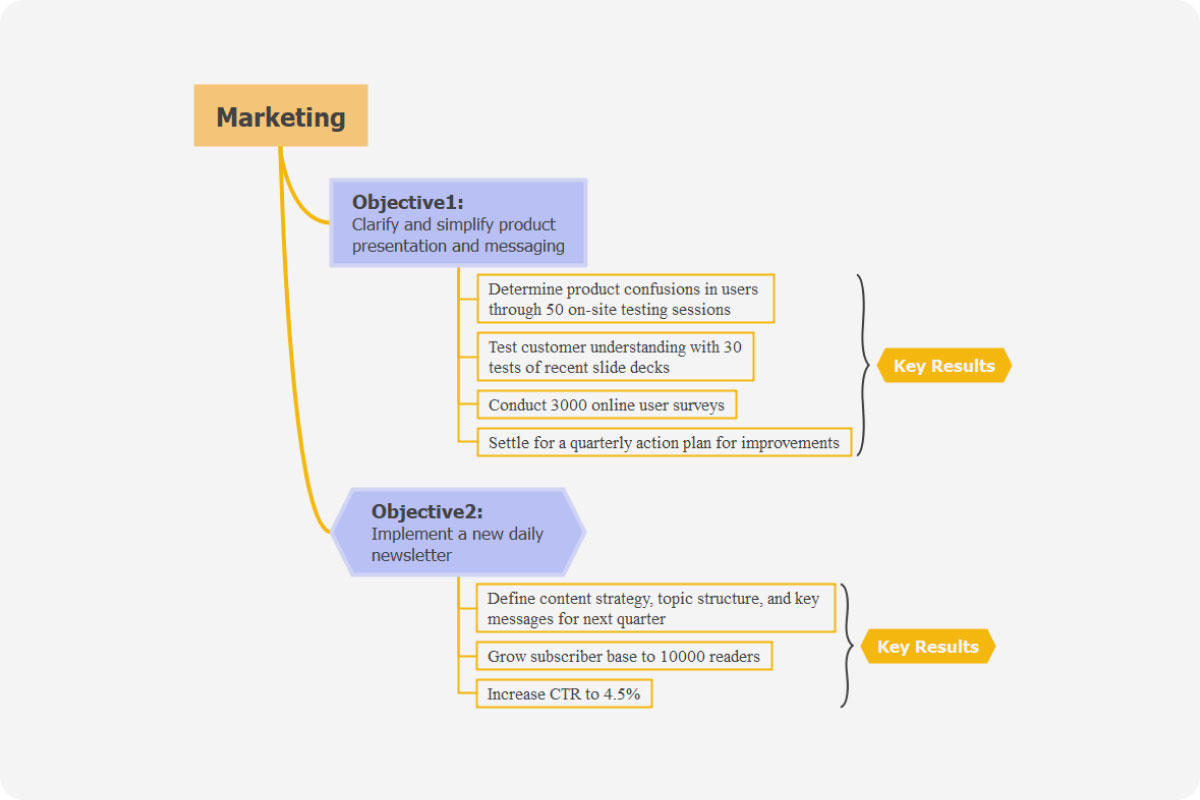 About the OKR Template
What is an OKR?
Companies have goals that need to be reached to meet specified objectives and stay functional. There are daily goals, weekly goals, monthly goals, and annual goals. OKR focuses on the quarterly goals of a company but can also be used for annual objective setting. Goals must be clearly broken down into the required action and timelines. Broken-down goals are a lot more achievable.
OKR works on two levels, strategic and operational. Top-level management works out strategies, which are then communicated to the team leaders. The leaders use the OKR template to carry out the activities which will help the company reach its goals. Everyone will know what is expected of them and have well-laid out guidelines.
Objective Key Results template is a great way to keep employees and management focused on the tasks that need to be completed, garner the necessary progress, and ensure the company stays on track. The OKR template clearly sets out the required goals, the measure of the progress of activities, and the initiatives to keep your team motivated. When people know what they are working towards and how to get there, it is easier to see how their work fits into the bigger picture.
Objective Key Results template a tool to help you and your team focus on the bigger picture. The template helps to streamline the company visually. Using OKR template can help to manage your team more efficiently. Whether you run a small business or a giant conglomeration, an OKR template can help you fulfill goals and objectives. An OKR template is customizable to suit the needs and resources of your own company.
When to use an OKR
An OKR is a helpful tool to help your business grow from strength. The next question is, when do you implement an Objective Key Result template into your company? The simple answer is, as soon as possible. The sooner you implement your OKR, the sooner your company will reach and even surpass its goals. When it comes to staying competitive, being the first to reach your goals can have an enormous impact on your success.
Things are always changing in the local and global marketplace. There is always something new and improved. To stay ahead of the market, you need to be innovative and ahead of the pack all the time. Make your team more focused and more able to do what needs to be done to make sure you lead the race. An OKR can be used for short and long-term goals.
When you start with the Objective Key Result template method in your company, starting small is a good idea. You need to be sure that the template will work for you. The template may not work for every company, although the majority of companies can benefit from the use of the OKR system. The fact that the templates are customizable means that you can start implementing the template at any time. The best time to start would be before the beginning of the next quarter. Though this is a necessity for accurate results, you can start during the current quarter or even near the end in order to set goals for the next period of time. Just adjust the desired results accordingly. Starting early may be a possible way to see if this is a good fit for you and your team.
How to create your own OKR?
Filling an OKR template is a team exercise. To achieve the results the business requires, you must establish what tasks need to be completed. Clear communication on the realistic time frame the tasks can be completed is a must. Every team leader knows exactly what is expected from their team, and it is up to you to make sure they know. Your template needs to be clear and realistic.
The very first thing to do is to determine what your key goals are. To do that, you need to know what it is you want to accomplish in the quarter. Do you want to grow your business, do you want to expand your reach, or do you want to produce a new product? Your main goal is reachable with the right team when they are focused on the tasks that need to be carried out.
Your Objective Key Results template does not have to be complicated. This template can be used to create a simple OKR that helps set and track goals. You need to set out your milestones. Give a timeline for each of these milestones and provide the incentives which will benefit your team if goals are reached on time.
People like to know how the work they do benefits the company they work for in a tangible way. It creates a sense of purpose within the company. That purpose creates new motivation and ownership of their tasks. That has great benefits for the company and reinforces teamwork among the members of the organization. Just make sure you keep your team's abilities and resources in mind when you create your OKR.
Examples of OKR
When you are ready to implement an OKR template to your company, there are different areas of the company that needs to be worked on, for example:
Marketing
Production
Sales
These are all very important aspects of having and maintaining a healthy enterprise.
Successful OKR templates are based on knowledge of your team and their abilities and resources. There is no point in creating an Objective Key Results template for a brand new software program if you do not have an IT team to create the software.
Marketing
Marketing is a good way to expand your business. Gaining new business means reaching new audiences and growing your customer base. That is the overall point of marketing: business growth and sustainability. Your company could be aiming to grow its audience globally. To do that, you need to create an OKR for your marketing team. You need to establish the goal for the quarter, that being global expansions, then you need to break down the tasks required to reach the step-by-step goals. For example, if you do not have a strong social media presence, that would be a good place to start. Facebook, Twitter, Reddit, and so many more platforms can help spread the word about your business.
Sales
Marketing, sales, and production go hand in hand with each other. An increase in one will effectively create an increase in the other two. To make an effective OKR for sales teams, you need to set realistic sales targets for the quarter. The company would benefit from offering incentives for reaching targets. That provides more motivation for the sales team to reach the goals. Well laid out OKRs set realistic goals every step of the way.
Production
Sales of goods cannot happen without the goods. If you do not produce your goods, you still need to make sure you have a stock of products to sell. Production teams need to reach targets to help your sales team have products to sell.
There are many more aspects of business where you can implement an OKR template: customer service, overhead reduction, and employee satisfaction are just a few.