Unilever SWOT Analysis
Learn how Unilever is dominating the marketplace with its in-depth SWOT analysis.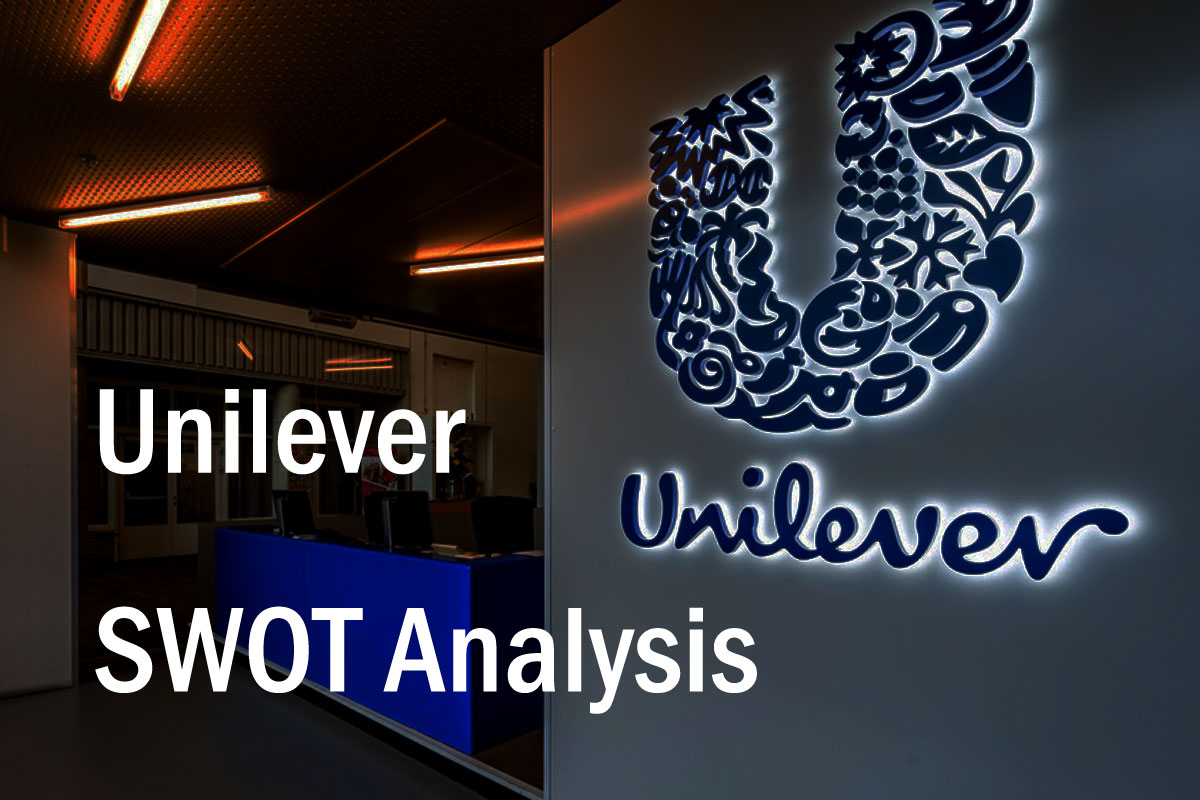 Introduction
Unilever is a global leader in the consumer goods industry. The company's strengths are highlighted in a SWOT analysis, which ensures long-term success. The SWOT Analysis approach reveals key strengths and weaknesses (internal strategic elements), as well as opportunities and threats.
The SWOT analysis of Unilever reveals significant opportunities for the company's major growth and expansion into the international market. The company is well-positioned to resist assaults from its external environment. However, to guide strategic formulation for global operations, Unilever must take into account all of the factors outlined in this SWOT analysis.
Unilever's SWOT analysis depicts the company's current state but also its external environment. Long-term success may be boosted by strategies based on corporate strengths and market possibilities.
Unilever's Strengths
This section of the SWOT analysis identifies Unilever's organizational and business strengths. Human resources, production methods, organizational structure, and investments are examples of internal strategic elements dependent on the company's conditions. In Unilever's consumer goods industry, the following strengths are important:
Strong brands
a diverse range of products
Large-scale economies of scale
Market presence on a global scale
Unilever's brands are among the most powerful in the consumer goods industry. This ability allows the corporation to enter new markets and compete effectively against other businesses. Unilever's vast product mix demonstrates the company's rapid expansion. For example, over years of mergers and acquisitions, the firm has expanded its product offering, resulting in organizational expansion and matching revenue gains. Economies of scale, on the other hand, enhance the manufacturing efficiency required for competitive price tactics, as demonstrated by Unilever's marketing mix.
The company's market presence has grown as a result of years of worldwide expansion, which is a strength that supports the brand appeal. In this section of Unilever's SWOT analysis, the factors contribute to the strong show strengths that the company can use to maintain global survival and prosperity in the consumer market.
Unilever's Weaknesses
Unilever has disadvantages that hinder its future growth, despite its strong market position. The internal strategic elements that obstruct organizational and business growth are presented in this portion of the SWOT analysis. The following flaws must be addressed by Unilever:
Products that are easy to copy
Business diversification is limited
Dependence on merchants
The imitability of Unilever's products is one of the company's flaws. Even though Dove and Rexona invest considerably in their product development procedures, other companies can duplicate their goods. Unilever is also weak due to limited diversification in businesses outside the consumer goods industry, despite its diverse product mix. Furthermore, the corporation has a little direct impact on customers, as merchants are the ones that have the most direct impact on purchasers. Thus, the weaknesses stress the importance of diversification, innovation, and enhanced product offerings related to internal strategic factors in this section of Unilever's SWOT analysis.
Unilever's Opportunities
Unilever needs to take advantage of its potential in global consumer goods markets. This phase of the SWOT analysis examines whether there are any opportunities or external strategic elements that can help the company grow. In Unilever's external environment, the strategy based are significant:
Diversification of the business
Health-related product development
Environmentally-friendly business development
Growth of the market
Unilever can diversify its business by entering industries other than consumer goods. Diversification lowers market-based risks while also increasing business perseverance. Product innovation, on the other hand, can improve Unilever's product attractiveness by meeting the needs of increasingly health-conscious consumers. Similarly, the company has an opportunity to recruit and keep environmentally conscious customers by making its business more sustainable and environmentally friendly.
Furthermore, market development may help Unilever expand its company by generating income from existing items sold in new markets. The corporation might, for example, sell its Lipton goods as health beverages for those on specific diets. Despite its shortcomings, the external strategic elements in this portion of Unilever's SWOT analysis hint at significant chances for the company to expand.
Shares Market: Morgan Stanley forecasts a surge in Southwest Airlines stock if travel restrictions are lifted and air traffic went back to normal. Southwest's European counterpart, Ryanair, might see a similar increase in stock valuation.
Unilever's Threats
Unilever's business success can be limited or harmed by a range of external circumstances. These external elements are viewed as threats in the SWOT Analysis paradigm, which the organization must strategically address. Threats to Unilever's consumer products business include the following:
The rivalry is fierce
imitation of a product
The popularity of retailers' brands is growing.
Unilever is up against the stiff competition, which poses a challenge based on the industry's strengths. Competitors attempt to erode the company's market share and, with it, its profitability. Imitation of Unilever's products is also a serious concern. Local companies, for example, can create items that are quite similar to Unilever's.
Also, by offering their brands, shops pose a challenge. House brands, store brands, and generic brands are examples of these brands. Costco, for example, seems to have its house brand. Strategies to enhance Unilever's market advantage must be based on the external key factors discussed in this section of the SWOT analysis.
Unilever SWOT Analysis Mind Map
We are optimistic that Unilever can weather the current bleak circumstances in the FMCG industry since it has been in the business of customer fulfilment for many decades. Having said that, we finish the piece with a warning not to underestimate the danger posed by Asian FMCG giants, as they have a greater understanding of the region while also mastering the complexities of the global marketplace.
Key Takeaways
Unilever's SWOT analysis reveals several internal and external strategic aspects that managers must consider while developing a strategy. The limitations of restricted company diversity and the imitability of products, for example, are crucial because they affect corporate stability and performance. In this sense, the corporation must diversify its operations by acquiring associated companies that are not in the consumer products market. Unilever should also think about product innovation as a way to improve its bottom line. To combat competition and the fear of imitation, the corporation must leverage its assets, such as economies of scale, for product innovation.
Having a mind map will sort out the information in the right way to make it clear to the people reading the mind map. Mind map provides the key knowledge and facts about the company. Just like the above example of SWOT analysis of Unilever's mind map, you can also make one for yourself with EdrawMind's countless built-in templates that they offer.
References