Apple Mission and Vision Statement Analysis
See how mission, vision, and core values shaped Apple into one of the leading tech companies in the industry today.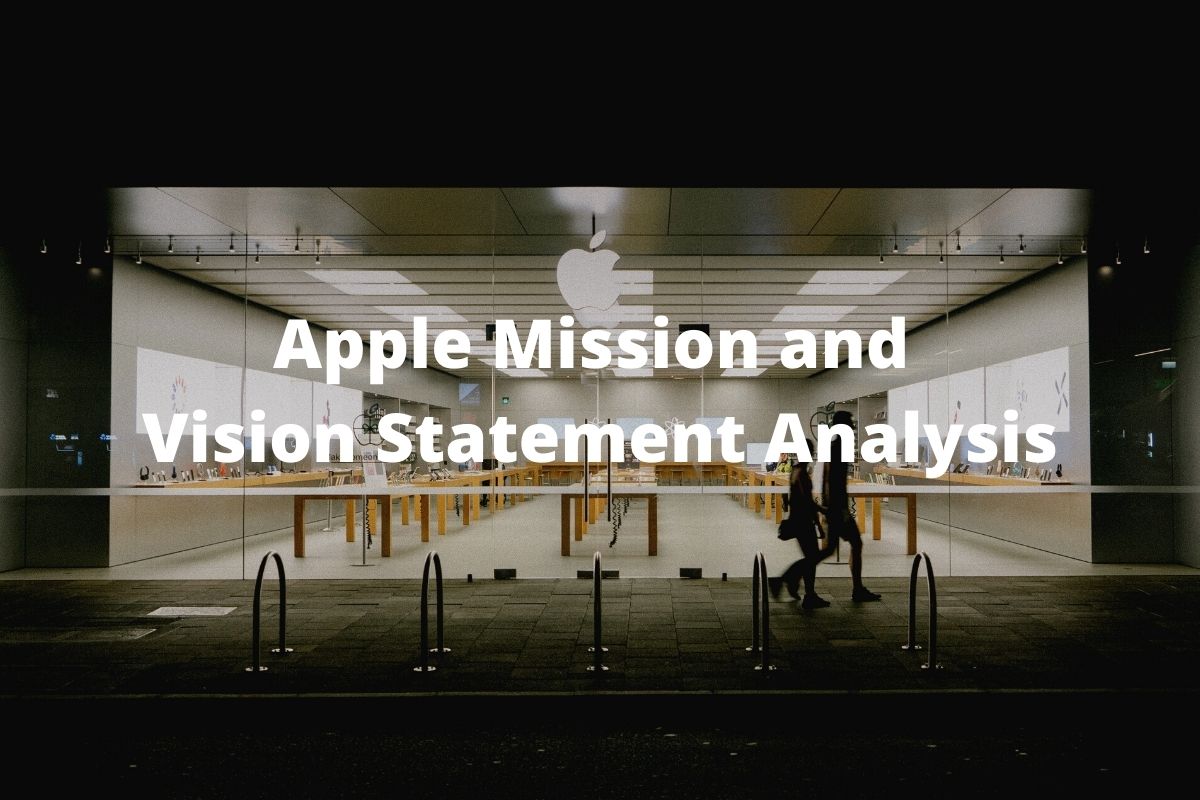 Introduction
In April 1976, Apple was founded by Steve Jobs, Ronald Wayne, and Steve Wozniak. It's an American multinational tech company, which creates, designs, produces, and sells personal computers, consumer software and electronics, and offers other related services. Apple brand is said to be one of the most successful tech brands globally. Besides its ideal marketing strategy, Apple's success can also be credited to its mission, vision statements, and core values.
Understanding these three elements in an organization is the first step to knowing how a firm moves towards short and long-term goals. The mission statement typically focuses on the business objectives and how to achieve them. Meanwhile, the vision deals with how a company sees its brand in the long term. For a firm, it is vital to grasp how mission and vision are created to understand how the company thinks about the future.
Every organization varies in formulating its mission, vision, and core values. However, it can be beneficial to look at how giant companies like Apple create theirs. It can serve as a guide for startups to formulate these three elements in an organization.
Read along as this article will provide a detailed analysis of the Apple mission, vision, and core values.
Mission Statement
As you look closely at Apple, mission statement principles will be one of the variables you have to know first. The brand's mission statement focuses on delivering only the premium quality of products and services to meet the target market's specific needs. It guides Apple to its long-term objectives, which has contributed significantly to its success.
Apple has three components that compose its mission statement. They are as follows:
Best user experience. Apple is typically a household brand in the technology industry with iPads, iPhones, and Macs, among others as its products. The brand ensures a user-friendly interface for an excellent user experience. Apple's products are created with user-friendly and innovative features, offering an outstanding experience to its customers. In 2021, Apple unveiled its iOS 14 ad-tracking feature. Such privacy features from this new operating system help protect users' data and enhance their experiences.
Innovative products. Apple strategically designs all its products to cater to the distinct needs of its target market. The brand has solidified the standard in product design, functionality, and usability. Apple's software and hardware solutions are helpful to several market segments, including business, education, and healthcare. The brand has increased its participation in the healthcare segment with innovative technologies such as Apple watches to detect heart irregularities. Apple Health Records provides access to iPhone users to check their medical data through their mobile phones.
Quality service delivery. Apple is undoubtedly equipped with its customer service - from its tech support, AppleCare, and App Store. It oversees everything from sales and repairs to design and development. Investigative research in 2020 gave Apple a 51/60 rating for online support and 34/40 for its phone support, getting an overall tech service support of 85/100. The score reflects how hands-on the brand is with its customers.
Vision Statement
The vision statement of Apple guides the brand's decision-making processes, operations, and strategic management. It ensures that every decision brings the company closer to achieving its goals and mission. An Apple vision statement can be classified into two aspects. They are as follows:
Product design leadership. Apple never fails to deliver premium quality products in the market. From iPhones, iPods, iPads, microchips, Macs, and more, the brand continuously seeks to sustain its leadership in product development and design by pushing for excellent innovations. One good example of this is Apple's iPad Pro that comes with an ultra-fast 5G and an M1 chip. The M1 chip that the brand designs pushes iPad Pro's performance limits, making it the fastest Apple device of its kind.
Carbon Neutral. Apple looks to achieve no climate impact on all its operations. In 2020, the company revealed its plan highlighting the commitment to ensuring all of Apple's gadgets to be carbon neutral by 2030. It plans to achieve a 75% reduction in emissions and create innovative solutions for complete carbon removal in 2030.
Core Values
Apple's core values dictate how the organization and the employees interact and operate in the workplace and the surrounding environment outside. The following points compose Apple's core values:
Accessibility. Apple provides organizations and its consumers' easy access to services, including software and hardware, and other technologies needed to attain their goals. Developers typically rely heavily on the Apple App Store ecosystem to create and build applications. Apple reduced the App Store commission to 15% to accommodate the access of its products to small developers and provide financial resources to grow their business.
Education support. Apple extends its technologies and expertise to schools that most need them. Since 2014, the brand has been part of an initiative donating more than $100 million worth of learning and teaching solutions to over 100 underserved schools across the United States.
A planet-sized goal. Apple considers itself carbon neutral and works on making all the products with no carbon footprint and clean energy by 2030. In 2021, the company announced its carbon initiative called the Restore Fund. It plans to donate $200 million for forestry projects to remove approximately one million metric tons of carbon dioxide from the atmosphere each year.
We are all in. Inclusivity and justice in the workplace is Apple's commitment among its employees and other stakeholders. In May 2021, the company fired one of its managers, Antonio Garcia Martinez, who promoted racist and sexist views in his book "Chaos Monkeys."
Privacy is also a human right. If you are an Apple user, you acknowledge how this tech company values privacy with all its gadgets. The brand strategically designs its devices to protect consumers' privacy as the people behind Apple are well aware that privacy is a basic human right. The innovation on its iOS protects customers from being tracked by any digital advertisers. This feature ensures that no third-party websites and applications can use users' information to track them online.
Racial justice and equity. Being the global leader in the tech industry, Apple is aware of its responsibility to fight against injustice and systematic racism globally. The brand participates and commits a sum of $00 million to help break racism faced by communities of color.
Supplier Responsibility. With premium-quality products come trusted and reliable suppliers. Apple conducts an extensive supplier performance evaluation process based on health and safety, labor and human rights, and environmental practices standards.
Apple Mission and Vision Statement Analysis Mind Map
Words can be overwhelming for most people; you can classify the Apple mission and vision statements and its core values through a diagram. Refer to the illustration below: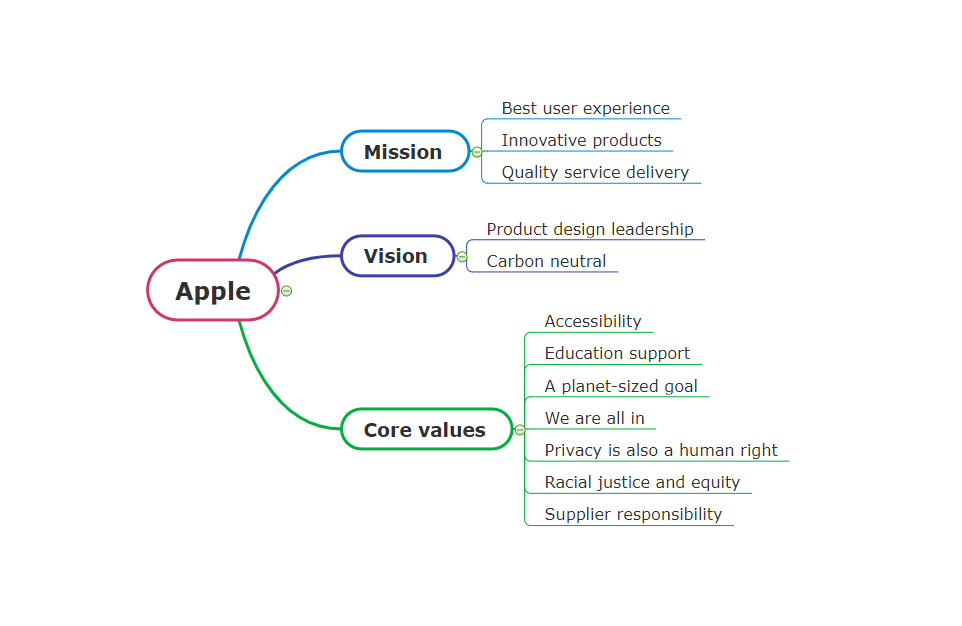 View, edit, and download this template in EdrawMind >>
Key Takeaways
It is evident in Apple's mission, vision, core values statements that it expands its responsibility to social and environmental initiatives. Surely, Apple has never taken its commitment to provide premium quality products and services to its target market for granted. At the same time, it also finds ways to participate and cooperate in several initiatives for environment protection, justice, and inclusivity.
The line-up of the brand's principles surely can be overwhelming at first look. Your brand can take some of Apple's principles and realign them to answer your brand's goals and objectives.
In doing this, you can outline your diagram using a mind mapping tool. EdrawMind is software with expertise in mind mapping, allowing users to navigate and create a simplified diagram in a straightforward interface. The software has pre-built templates on Mission and Vision Statement Analysis to guide you as you go along with mind mapping.
References