Amazon Mission and Vision Statement Analysis
Explore how Amazon's mission and vision statements, and core values paved the way for the company's leadership in the industry.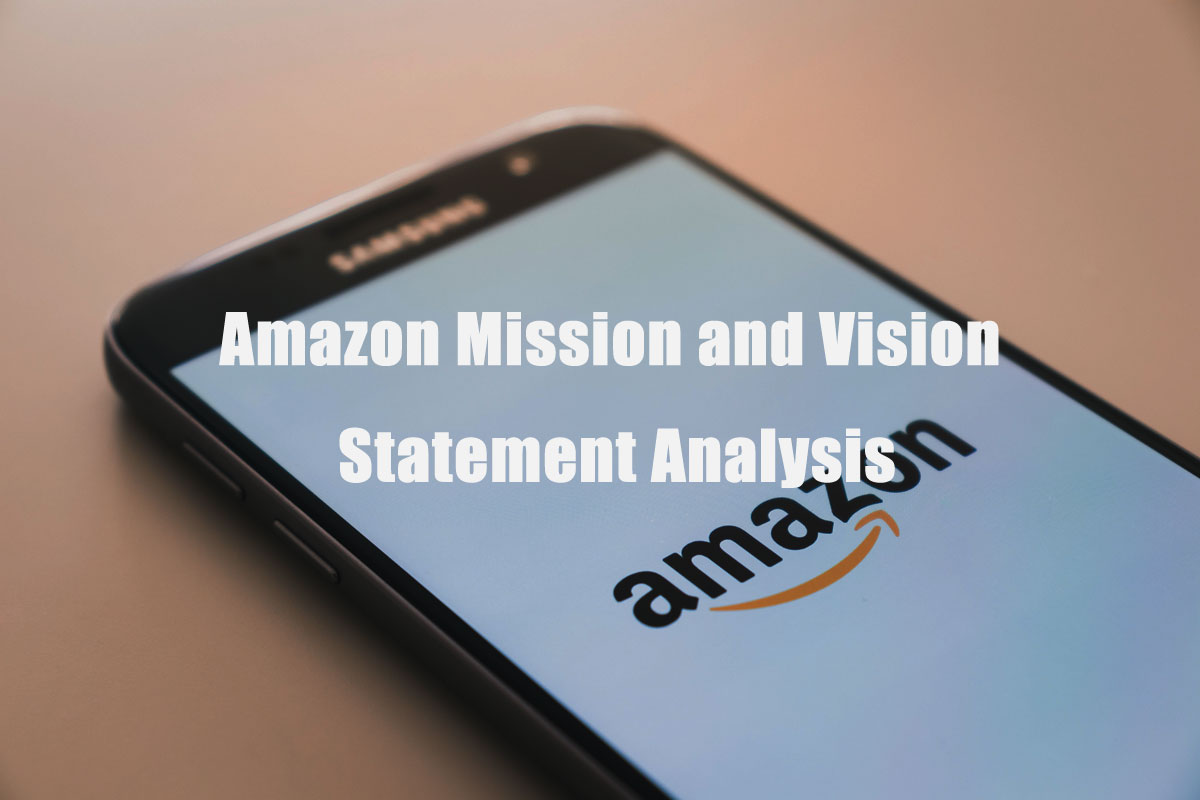 Introduction
The ever-changing landscape has somewhat dictated the success of most online retailing businesses in the industry. However, it has proven to have thrived and preserved with constant progress and growth despite all the odds for Amazon's part. Amazon was launched in 1994, and since then, it has maintained at the helm of its business operations, enticing a vast client base worldwide. This is partly because of Amazon's strategic and well-defined mission and vision statements, and core values. The management is generally keen on keeping everyone in line with the provisions of the company's principles.
Technically, a company's vision shapes the direction that a firm looks to follow and be involved in over a particular duration. The Amazon vision statement targets dominating the global market while providing customers with an excellent shopping experience. The mission technically provides the steps which a firm considers applicable and feasible to achieve its vision. In Amazon's case, the mission statement tackles the attractiveness of the whole service that the company has for all its clients.
Amazon highlights affordability and more customer-friendly elements, making it unique from its competition. Today, the firm's success can partly be attributed to a well-formulated model of the Amazon mission and vision statements, together with its core values. With the vast range of products that the firm deals with, the values can come in handy to ensure the company does not deviate or compromise from the expectations of the mission and vision statements.
Mission Statement
The Amazon mission statement effectively outlines what the target customers must expect from Amazon. It is about the service beyond meeting the target market's needs. As you analyze its mission statement, it primarily focuses on providing customers with the best offers on various shopping factors, including variety, personal satisfaction, and pricing. Explore the components of Amazon's mission statement closely through the following points:
Affordability. One of Amazon's services focused on providing lower prices to customers compared to its competition. The company's wide range of affordable prices accommodates all members of society irrespective of its status. As a result, it increases the company's customer base. The prices, however, do not mean that product quality is compromised. This web-based retail company is known worldwide due to its affordability.
Suppose you want something, but the price is not within your budget, you can always keep shopping without leaving its website. It is a global company, so you can filter the products based on shipping rates and affordability even if you make overseas transactions. Amazon's online marketing framework is designed to generate profits even if it offers competitive pricing in the global market.
A vast range of products. Amazon is a global retailer with almost everything a customer wants and needs. The extensive offering of the company in terms of its products is one of the reasons why people are drawn to its website, thus creating a loyal client base since Amazon's services never disappoint them. Along with the wide selection of products on its website, Amazon also offers promotional sales and discounts to expand the customer base further.
Convenience. Another element of Amazon's mission statement is to provide a user-friendly interface. Its mobile application and website are easy to navigate for customers of any age, geographical location, and background. The company partners with reliable stakeholders for shipping services. Since Amazon can be accessed overseas, shipments will always be in the discussion. Excellent shipping companies will also tell how organized a company is, so they have to be trustworthy to provide complete convenience for customers globally.
Since it runs a retailing website, Amazon is aware that it caters to several customers who do not want the hassle of lining up and prefer shopping at the comforts of their homes. If they are inconvenienced while using the platform, customers surely will switch to another online retailer.
Vision Statement
The Amazon vision statement talks about the desired reputation of the company to be a platform where global customers can feel satisfaction and care in all ways. Similar to the firm's mission, its vision statements can also be digested into the following components:
Customer-centric firm. Amazon acknowledges that once a company offers products to a vast range of customers, the firm's fate highly lies in its hands. If a company provides a 'half-cooked' effort to deliver services to customers, it will likely soon lose its revenue, and profit will never be achievable. As a result, Amazon offers its target market a well-designed interface, various deals, and offers on products.
Amazon also has promotional sales to increase revenue and customer engagement and reward customer loyalty from time to time. All services on the interface are friendly and professional, which sets Amazon apart from its competitors.
Global presence. Being one of the leading online retailers in the industry, Amazon strives to nurture the largest influence on the worldwide market. Most strategic approaches of Amazon lead to continuous expansion efforts, which the firm also considers a priority. The company ensures to include the terms "be Earth's" to remind them of the extent to which the firm opts its impact to be felt.
Core Values
Amazon implements an extensive list of core values for its business processes. The firm which handles multiple companies and offers various services needs to keep on top of the procedures to maintain its leadership. The long list of core values that Amazon has is a testament to the firm's commitment to cater to all business processes.
These values include taking accountability for one's actions, being open to criticisms, acknowledging customer expectations, and making economic decisions to create profits, among others. Below is the complete list of Amazon's core values:
Customer obsession. This requires a complete consideration of customers' actions as the company rolls out its products and services into the market.
Ownership. Being accountable for your actions is an essential professional ethic.
Invent and simplify. Any business always desires inventions and innovations. However, these can only be appreciated and used by the majority. Besides innovations, as a retailer in the competitive e-commerce industry, it's also essential to simplify them for adequate consumption from different customers.
Hire and nurture the best. Amazon knows that the workforce must not be stagnant and needs to be encouraged to reach its full potential from the hiring procedures to onboarding.
Go for the highest standards. The business process and other company stakeholders must perform at the best of their ability to have excellent results. If not, it can create negative consequences for customers and the company.
Think big. This core value of Amazon is a testament to its success today.
Bias for taking action. An idea will remain an idea if one does act on it. There has to be action to experience growth.
Frugality. Having a good grasp of working using only limited resources is vital for the company to spend less and be more profitable.
Vocally self-critical. One of the components of a distinguished company is when its employees can understand and accept failures and be open-minded on criticisms.
Dive deep. Company projects should be taken seriously and not half-heartedly. If the company chooses to take the initiative, it surely will see through the surface of each project or innovation.
Earn trust. Trust is as much a necessity in business as with money. Whether it's among business partners, stakeholders, or customers, genuine trust must always be present.
Have backbone. Standing above public scrutiny, setbacks, and losses need a solid backbone.
Deliver results. No company would be standing firm without aiming for good results.
Disagree and commit. Disagreement is now always bad as it can stir some valuable points and ideas from parties involved. There also has to be a certain level of commitment to your point of disagreement.
Amazon Mission and Vision Statement Analysis Mind Map
Now, putting all these points and components in a structured framework can be beneficial to use a mind map. Here's how it looks.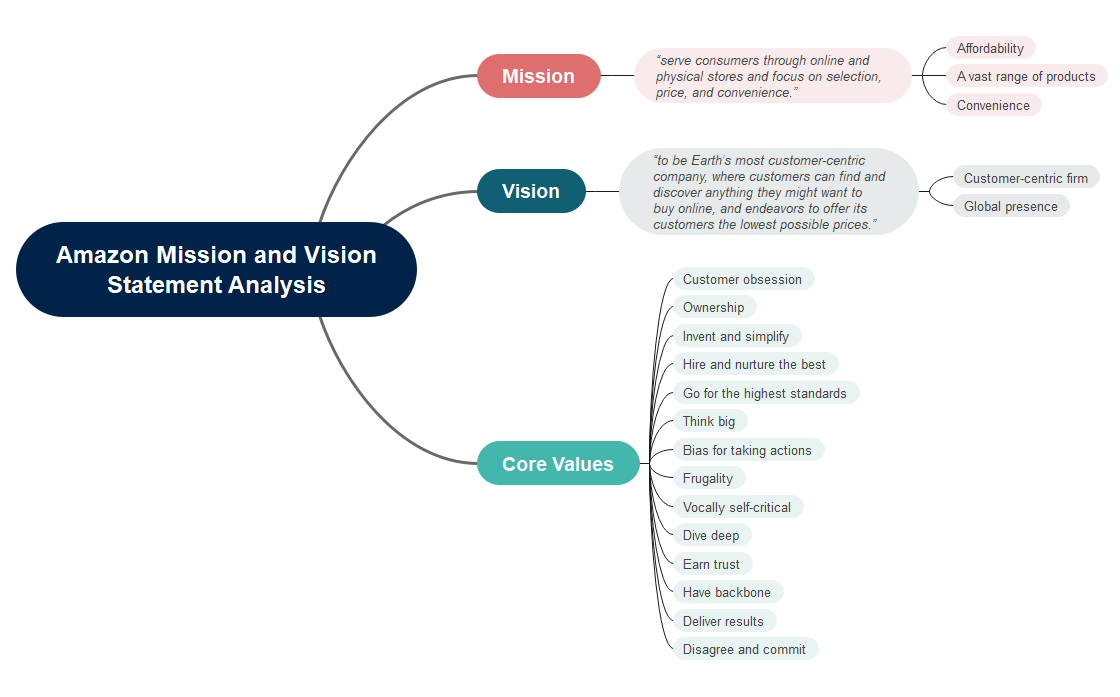 View, edit, and download this template in EdrawMind >>
Mission
Affordability
A vast range of products
Convenience
Vision
Customer-centric firm
Global presence
Core Values
Customer obsession
Ownership
Invent and simplify
Hire and nurture the best
Go for the highest standards
Think big
Bias for taking actions
Frugality
Vocally self-critical
Dive deep
Earn trust
Have backbone
Deliver results
Disagree and commit
Key Takeaways
For any company staying on top and relevant with the changing times is already a challenge. Amazon has successfully sustained its leadership in the industry and keeps staying on top of its competition. It's partially thanks to a compelling mission, vision, and core values components.
Though these principles are not exclusive for Amazon only, other companies, like startups, can take inspiration from the firm in formulating their brand's principles. It is also evident that the principles were classified using a mind map. It's the same for you. You can use a mind mapping tool to structure the mission, vision, and core values. EdrawMind is a straightforward software where users can easily navigate through the interface. You can use the pre-built Mission and Vision Statement Analysis Template if you want to jump from the hassle of creating your skeleton.
References