Market Segmentation, Targeting, Positioning for Starbucks
Take inspiration from Starbucks' marketing strategy and explore how this global coffee chain continues to serve good service to its customers.
Discover More Helpful Information!
Welcome to EdrawMind!
Unleash your creativity and enhance productivity with our intuitive mind mapping software.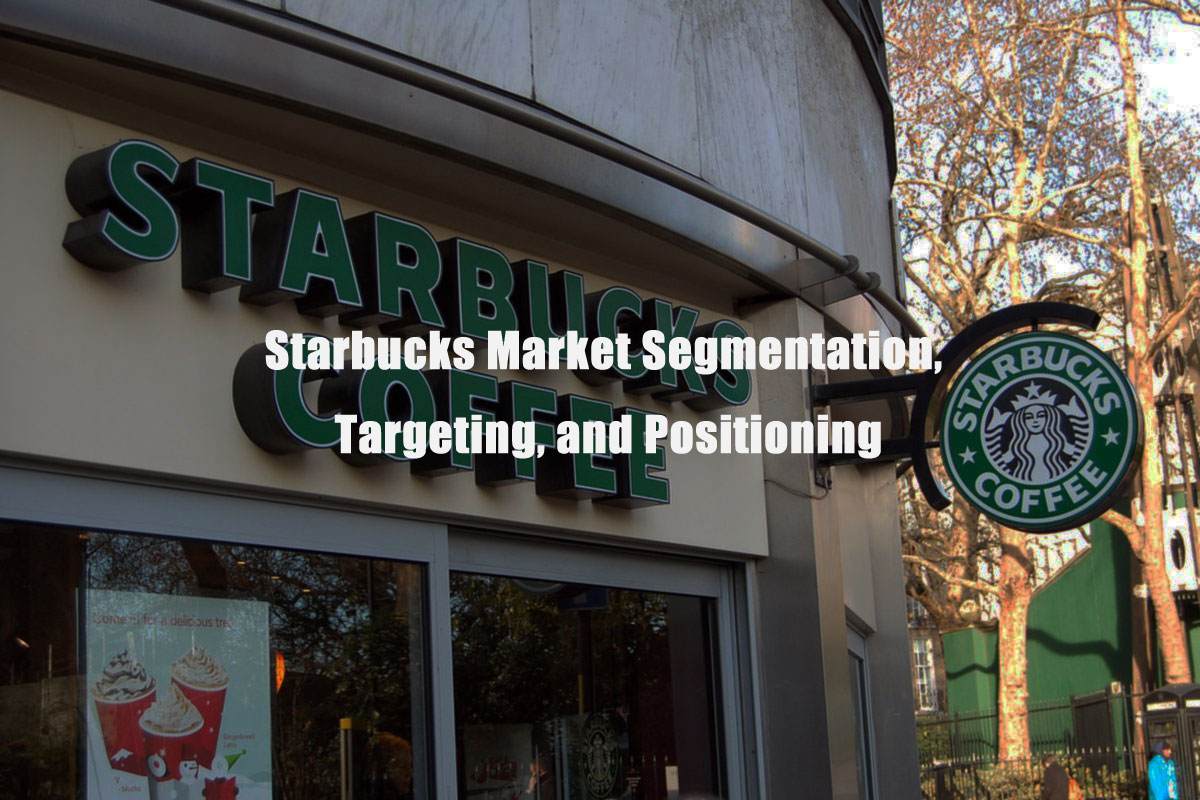 Suppose you love coffee, then you bet one of your go-to coffee houses is Starbucks. Behind the various flavors and products, this coffee chain offers an extensive and comprehensive marketing approach. This includes Starbucks' market segmentation, target, and positioning. And if you are looking for some inspiration on how to navigate through these marketing approaches, you might as well continue reading and take a look at how Starbucks does it.
The three elements in marketing can also be shortened as STP (segmenting, targeting, and positioning), a broad structure that streamlines and simplifies the market segmentation process.
Mind Map: Market Segmentation of Starbucks
The market segmentation of Starbucks is typically divided into four variables - demographic, geographic, behavioral, and psychographic. These variables will be the basis for specifying a company's target market. Every company has various variables for its marketing strategy; however, since Starbucks is a global company, it is proper to tackle several categories with its marketing plan.
The elements under Starbucks' targeting section typically answer and specify the four variables mentioned in the market segmentation section. Starbucks' diverse customers can still be broken down into more specific aspects.
Starbucks focuses on males and females, professional employees, and students for demographics. Professionals and employees can include the older age bracket; hence they target those aged 22-60. Single people, older married couples with children, and youngest children under and over six years old are also included in its targeting approach.
Geography is also one of Starbucks' target considerations since it serves several chains worldwide. Wherever there is a Starbucks chain, it should be included in the geographic aspect of the targeting. This includes Latin America, the US, Canada, the Middle East, Europe, China, Africa, Asia, and the Pacific regions.
Psychographic elements of Starbucks' targeting approach include customers from a specific societal class and different lifestyles of customers.
As has been previously mentioned, the positioning of Starbucks is customer-based, allowing the company to provide the best customer service. Besides its customers, Starbucks also promotes its social commitment by hiring refugees and families of veterans and military and giving career and education opportunities to its employees. It may not be that evident to everyone, but the company also participates in environmental protection initiatives.
EdrawMind Apps
12 structures & 33 themes & 700+ cliparts
Support Win, Mac, Linux, Android, iOS
Advanced import & export options
On-premises software for business
Enterprise-level data security
EdrawMind Online
12 structures & 33 themes & 700+ cliparts
Access diagrams anywhere, anytime
Team management & Project management
Market Segmentation of Starbucks
According to Kotler and Armstrong (2006), Market segmentation means the process of classifying a market into different groups of buyers based on their needs, characteristics, or behaviors that might need marketing initiatives or separate products. Also, companies offering various brands utilize psychotropic variables like lifestyle to categorize a market into several segments.
The early years of Starbucks focused on the well-off market, which was mainly composed of educated customers and those with white-collar jobs. However, they discovered opportunities for growth in the industry, setting strategies to accommodate a broader scope of a market segment.
Starbucks classifies its market based on demographic, geographic, behavioral, and psychographic. They then use a product differentiation approach to satisfy varying customer groups. As with the geographic segmentation, the company has retail outlets in several locations, where each outlet reflects the preferences and tastes of the local market. The outlets might have similar designs but vary in product categories, such as baked food and coffee.
Demographics will include the company's target market's age, occupation, and income level. Meanwhile, the psychotropic variables include customer tastes and styles to provide authentic products for diverse customer needs. The behavioral elements in Starbucks' market segmentation can tackle consumer loyalty and consumption behavior.
Targeting of Starbucks
Targeting is about evaluating all the interests of market segments and choosing one or more segments to enter and focus on (Kotler 2016). A company usually focuses on elements with a higher probability of profit generation and can sustain it over time. To simply put it, targeting refers to the segments or groups a company decides to sell its products to.
Starbucks' target markets focus on middle to high-income office employees looking for premium quality products. Since Starbucks has chains internationally, the company makes local delights showing cultural characteristics among customers. Besides locals trying out local treats offered by Starbucks, tourists traveling to countries and visiting a Starbucks chain can try the country's local food through the products that they have.
As people continue to seek cleaner and sustainable food, Starbucks also aims to provide tables of drink and food nutrition such as fat, calories, fiber, sodium, and protein on its website. Customers who are conscious about calorie intake can refer to this information.
Positioning of Starbucks
Positioning is considered the last stage among the three pillars of marketing strategy. Positioning a product in the market entails a strategic approach that involves marketing a brand to create and nurture an image in the customers' minds within the target market.
In Starbucks' case, the company has created a unique market positioning so that they effectively distinguish their products from the competing brands and provide them with an excellent strategic edge in their target markets. The company's positioning strategy is customer-based, giving more than what the customer needs. Besides producing great coffee, it promotes a good reputation to its target market through excellent store ambiance, environmental protection, and social commitment. As a result, customers will feel that they also contribute to nature and society by using the products Starbucks offers.
Every coffee chain has free Wi-Fi services and a comfortable place where customers can rest or study. Some have 'drive-thru' for those opting not to enter the store. The company also goes out of its way to promote social responsibility as it focuses on the community. Starbucks provides opportunities to hire various people, including military commitment by hiring military and veteran spouses, hiring refugees, and giving career and education for the youth.
In terms of environment protection, Starbucks positions its brand by adapting the LEED (Leadership in Energy and Environmental Design) approach to structure buildings. Starbucks utilizes recycled coffee grounds on their tables and materials low in harmful chemicals for adhesives, paints, coating, and sealants.
Table
Here's what Starbucks' market segmentation, targeting, and positioning look like in a chart.
Segmentation

Targeting

Positioning

Demographic

Age:

22-60 years old

Gender:

Male and Female

Occupation:

Professionals, employees, and students

Life-cycle stage:

Single people, young married couples, older married couples with children, youngest child under and over six

● Excellent store ambiance

● Social commitment

● Environment protection

Geographic

Region:

Latin America, US, Canada, Middle East, Europe, China, Africa, Asia, and the Pacific Region

Density:

Urban

Psychographic

Social Class:

Middle and upper-class markets

Lifestyle:

reformer, aspirer, explorer, achiever, mainstreamer

Behavioral

Benefits sought:

A place conducive for work, formal and informal meetings.

Enjoying a premium quality coffee with a relaxing ambiance.

Degree of loyalty:

'Hard core' loyalty
Bnous: Two Other Starbucks Analyses
Gain insights from Starbucks' effective marketing strategy with the example diagram templates below. Discover how the global coffee chain excels in customer service. Explore the two diagrams and delve into the company's strategic framework.
McKinsey's 7s Framework Anlaysis for Starbucks
The framework below is a template that dissects Starbucks' organizational components. It comprises seven elements: structure, systems, styles, staff, skills, and strategy, with shared values at the core. Each 'S' is color-coded, simplifying comprehension. The framework is accompanied by detailed descriptions of their respective organizational roles.
The diagram is instrumental when assessing Starbucks' internal dynamics. It is useful for pinpointing areas of strength and improvement within the company. By utilizing the diagram, Starbucks can enhance its internal synergy. It ensures the effective execution of its strategy and maintains a strong corporate culture.
Starbucks PESTEL Analysis
The PESTEL analysis below examines the critical external factors shaping Starbucks' business environment. It assesses Political elements related to tax policies and employment laws, Economic factors linked to rising raw material costs, Sociological aspects in people's lifestyles, Technological trends like increased smartphone use, Ecological considerations tied to recyclable packaging initiatives, and Legal components encompass employment regulations and licensing requirements.
The analysis aids in strategic planning and risk assessment. When expanding into new markets, Starbucks can employ this analysis to adapt to those regions' specific conditions and regulations. It ensures its coffeehouses align with local political, economic, social, technological, ecological, and legal nuances.
Key Takeaways
Some may find Starbucks' marketing segmentation, targeting, and positioning unusual; however, the company has been reaping the fruits of that strategy for decades now. The discussion above is an overview of how extensive and comprehensive the coffee chain has conducted its marketing strategies over the years. Starbucks is a global company catering to diverse customers worldwide. It divides the market into geographic and demographic elements. The company can target customers in seasons, cultures, and preferences effectively through segmentation. Starbucks has successfully differentiated its brand from other coffee chains with excellent store ambiance, tasty coffee, giving importance to societal and environmental initiatives, and gaining profits in the process.
As you plan out your marketing analysis, you can use EdrawMind, a mind mapping software that offers a user-friendly interface and tools ideal for both beginners and experienced users. EdrawMind's pre-built templates on Market Segmentation and STP Analysis make it easier for marketing specialists to draw out their charts. You only need to select a template and fill in the necessary information on the diagram. You have two options in using the software - either through a browser or installing it to your computer. Either way, you can still experience the same features from this mind mapping tool.
References