Coca-Cola Marketing Mix (4Ps) Analysis
Get to know how the soda industry works by looking at Coca-Cola's distinct marketing strategies and principles.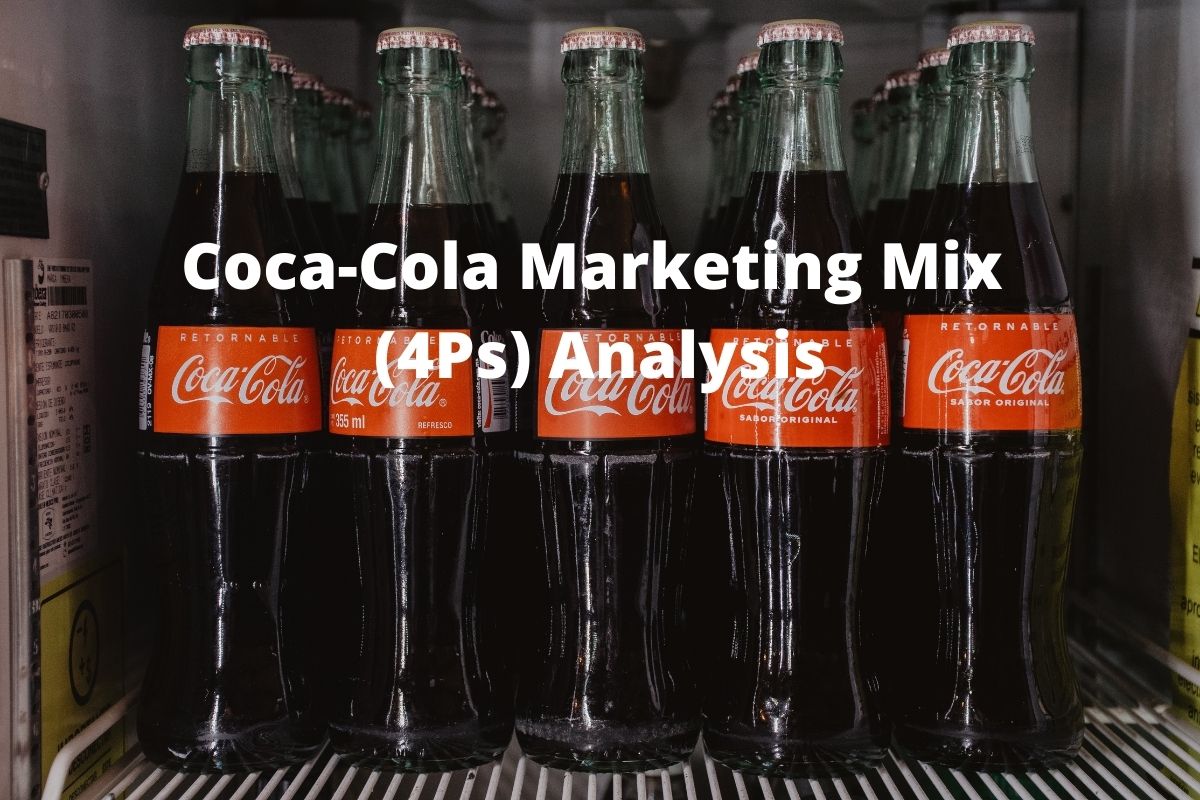 Introduction
Perhaps for once in your life, you sure have tried one of Coca-Cola products. If you love the brand, it's not news to you that they offer a wide selection of beverages for all types of customers. Coca-Cola is one of the leading companies in the soda industry and is also one of the largest brands in the world that offers non-alcoholic beverages. The global empire of Coca-Cola spreads throughout over 200 countries offering an extensive product portfolio of still and sparkling beverages.
While there may be a slight reduction in the popularity of soda drinks due to the growing demand for healthy beverages and other health trends, Coca-Cola has also focused on optimizing the product mix to accommodate the changing tastes of its target market worldwide. Besides its huge market share, the company is known for its high customer loyalty and solid brand image. Coca-Cola invests a huge amount of money every year in promotion and marketing to maintain its growing brand recognition and nurture customer engagement.
Behind the huge funding on marketing and promotions are various principles which guide every marketing initiative of Coca-Cola. Here lies the Coca-Cola marketing mix where it focuses on the four essential elements as parts of a comprehensive marketing strategy. It includes price, product, place, and promotion which will be discussed in the next chapter of this article.
Mind Map for 4Ps of Marketing of Coca-Cola
The 4Ps of marketing of Coca-Cola can surely be overwhelming if you look into the comprehensive discussion above. However, one can simplify the components using a mind map. With this, users can categorize every marketing mix component for better understanding. See the example below, which is made by EdrawMind.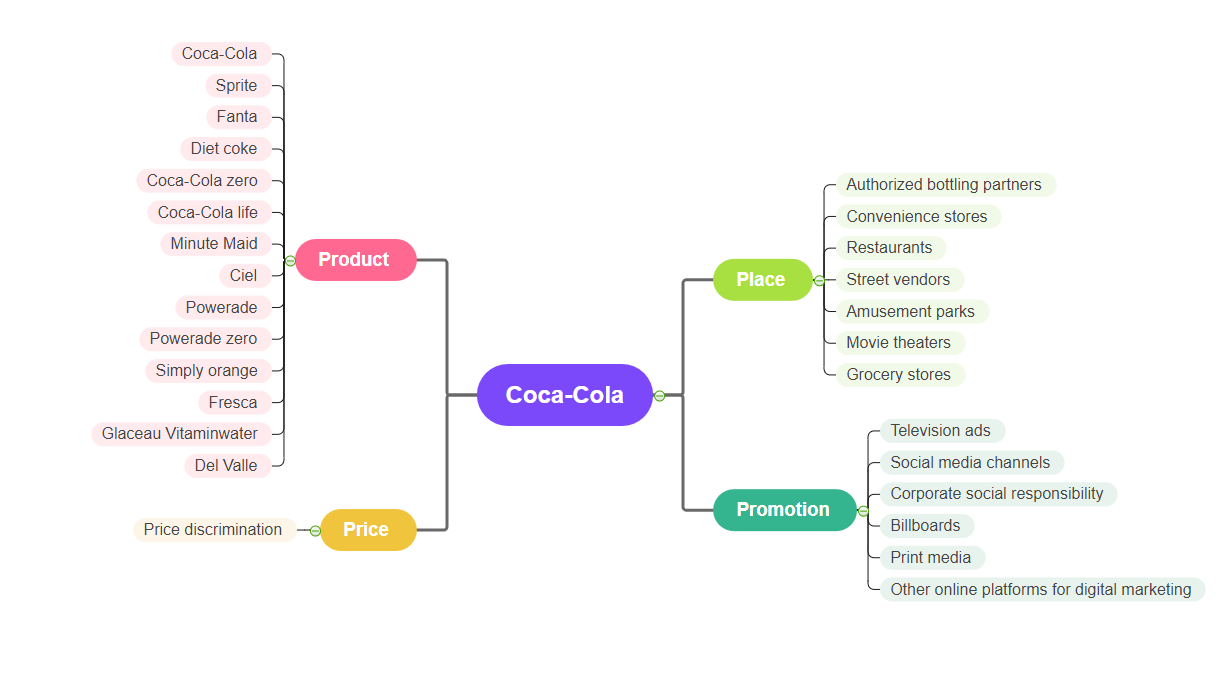 View, edit, and download this template in EdrawMind >>
Coca-Cola Marketing Mix: Product
Product is the first component of the 4Ps of marketing of Coca-Cola. The company boasts an extensive showcase of product portfolio summing up to 500 still and sparkling brands. With this number, it provides more than 3000 beverage options. The company's leading product, Coca-Cola is one of the most popular and valuable brands globally. Some of the most famous brands from the company's portfolio are as follows:
Coca-Cola. One of the most recognized and top-selling soft drinks globally.
Sprite. This is another popular brand from Coca-Cola with a lemon-lime flavor. This was introduced to the market in 1961.
Fanta. This beverage comes in an orange flavor and is the second oldest drink from Coca-Cola that was introduced in 1940.
Diet coke. Those who are health-conscious opt to choose this drink as this is a calorie and sugar-free soft drink first made in 1982. Some call this Coca-Cola light.
Coca-Cola zero. This is the latest addition to the product portfolio of Coca-Cola which contains zero sugar.
Coca-Cola Life. It's a low-calorie beverage containing Stevia leaf extract and cane sugar.
Minute Maid. This is a juice drink by Coca-Cola acquired in 1960.
Ciel. Coca-Cola introduced this non-carbonated purified drinking water in 1960.
Powerade. This is a beverage for hydration and energy which contains electrolytes, carbohydrates, and fluids.
Powerade zero. Fitness and sports drinks contain electrolytes but without calories.
Powerade. This is a beverage for hydration and energy which contains electrolytes, carbohydrates, and fluids.
Simply orange. A 100% premium orange juice is available in six varieties.
Fresca. A soft drink with a distinct citrus taste and caffeine-free.
Glaceau Vitaminwater. This is drinking water enhanced with nutrients and is available in 26 different countries.
Del Valle. A premium line of nectars and juices exclusively sold in Central and Latin America.
Coca-Cola Marketing Mix: Price
Another component of the Coca-Cola marketing mix is the price. The company follows the price discrimination approach to its marketing mix. The approach allows the company to charge varying prices for its products in several segments. Oligopoly is typically a market with a small number of companies realizing that they are independent in terms of output policies and pricing. The beverages industry practices oligopoly having several purchasers but only with limited manufacturers.
The various price points of Coca-Cola are generally driven by the kind of consumption. Hence, the pricing power relies on several components including product usage and location. When Coca-Cola attempts to penetrate a new market, especially those sensitive to pricing, the company usually lowers the prices of its products than its competition. By the time it has solidified its position in the new market, it repositions its strategy as a premium brand using several promotional initiatives.
Coca-Cola Marketing Mix: Place
With the success of Coca-Cola, it is no secret that the company has several global locations where its target market can easily access all its products. It has an extensive and comprehensive distribution system selling about 1.9 billion servings every day. Traditionally, Coca-Cola relied on the company's global bottling partners for packaging and distribution processes. The system operates across multiple channels.
Coca-Cola manufactures and sells syrups, concentrates, beverage bases to bottling operations. The company owns all the brands and is responsible for brand marketing initiatives. Instead of placing various retail stores around the world, Coca-Cola maximizes the capabilities of its authorized bottlers to package, merchandise, and distribute the beverages to the company's vending partners and customers. The authorized bottlers also work closely with restaurants, grocery stores, convenience stores, street vendors, amusement parks, and movie theaters to distribute Coca-Cola products. Together they effectively execute a localized marketing strategy for the company.
Coca-Cola Marketing Mix: Promotion
The competition is tight in the soda industry, thus most companies spend a huge amount of money to fund several advertisements and other promotional initiatives. In 2016, Coca-Cola recorded a marketing expenditure of $4 billion and increased to $4.1 billion in 2018.
It was also in 2016 where the company launched the Taste the Feeling promotional campaign which marks a significant turnaround from its previous marketing approach. Besides televisions and outdoor advertising campaigns, Coca-Cola has expanded its ads across several social media channels. Since digital marketing is one of the more modern ways to promote a product, the company's social media accounts are utilized to connect with followers and fans and for customer engagements. In its official YouTube account, there are over 1, 250 promotional videos where customers can view. As competition gets tougher, Coca-Cola aims to strengthen its reputation in the industry through its social media platforms.
Surely digital marketing has played a significant role in modern marketing, however, over the years, Coca-Cola has also been consistent with its promotional initiatives in marketing strategy. They never deviate from the fundamental and household message to their customers, which is happiness. The company executes diverse campaigns, but never forgets to instill in each ad the underlying theme throughout the company's history.
Besides the fundamental promotional ads, Coca-Cola also invests in corporate social responsibility and sustainability to develop a sustainable manufacturing network and supply chain.
Key Takeaways
Looking into the Coca-Cola marketing mix, it is kind of unusual seeing the company not having several outlets of their brand. That is how the soda industry usually works. Instead of opening up a physical store, which will require a huge sum of money, they partner with global bottlers to package and distribute their products. As a result, those authorized bottlers will be the ones coordinating with their customers to sell Coca-Cola's products to the end-users.
The way Coca-Cola handles its placement and distribution may not be very applicable for all businesses, especially for startups. However, other principles and components in its marketing mix can help formulate one's marketing plan.
Organize your inputs and elements in your marketing plan with a simple mind mapping tool. With EdrawMind, you can navigate through modern diagramming software with a user-friendly interface. Suppose you are new to using mind maps, the pre-built 4Ps of Marketing Template will be your guide as you create your framework. With its flexibility, you can create and edit your diagrams using the browser or install the software on your computer.
Suppose you are working on the marketing plan as a team, EdrawMind also allows collaboration among the team, where members can give suggestions, comments, and even edit the diagram themselves. Team member just needs to have the link to the project to view and some permissions to edit the mind map you created.
References