Adidas Mission and Vision Statement Analysis
Find out how Adidas kept its top position in the sportswear industry through the decades by staying true to its corporate statements.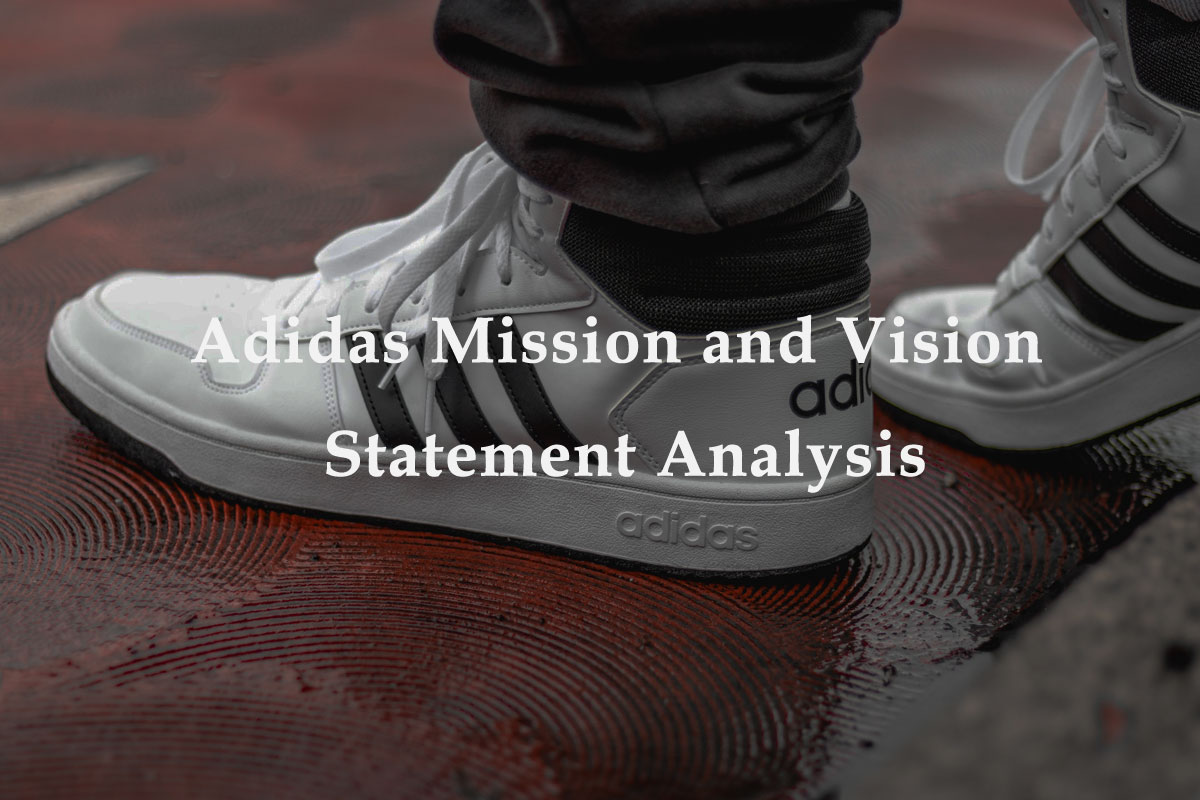 Introduction
Ask a random person to name three brands of sports shoes or apparel off their heads, and we're willing to bet that one of their answers is going to be Adidas. This is not surprising at all considering that Adidas is the second biggest international sportswear company in the world and the biggest one in Europe.
Also known as AG or Adidas Group in the sportswear industry, Adidas is a German-owned global company best known for its athletic footwear, sportswear, and other sporting merchandise. The company began in 1924 when it was founded by Adolf Dassler and his brother Rudolf under the name Dassler Brothers Shoe Factory. However, in 1949, the two brothers had a falling apart and went their separate ways. Both stayed in the footwear industry, though, with Adolf establishing Adidas while Rudolf creating Puma. Even though, Adidas is getting stronger in the World. To know why it becomes successful, look at its mission and vision statement analysis below. 
Adidas Mission and Vision Statement Analysis in Mind Map
Understanding the meaning behind Adida's mission and vision statements can be easier with the help of an organized mind map created by EdrawMind, just like what you can see here:

If you want to download or modify this template, click the link below!  
View, edit, and download this template in EdrawMind >>
Mission
Promoting an Active Lifestyle
Improving Sports
Exceeding Expectations
Creating Innovative Products
Vision
Creating the Best Designs
Maximizing Athlete Performance
Manufacturing Top Quality Products
Reaching the Global Market
Core values
Performance
Passion
Integrity
Diversity
To make your own mind map, try EdrawMind. Download/Try this software without registration!
EdrawMind Apps
12 structures & 33 themes & 700+ cliparts
Support Win, Mac, Linux, Android, iOS
Advanced import & export options
On-premises software for business
Enterprise-level data security
EdrawMind Online
12 structures & 33 themes & 700+ cliparts
Access diagrams anywhere, anytime
Team management & Project management
Adidas's Mission Statement
The Adidas mission statement is "to be the global leader in the sporting goods industry with brands built on a passion for sports and a sporting lifestyle. We are committed to continuously strengthening our brands and products to improve our competitive position."
The statement is very simple and quite self-explanatory, but let us delve a little deeper into what the company means by this statement. We can see that there are some key points in this statement that must be highlighted.
Promoting an Active Lifestyle
Adidas places high esteem on an active lifestyle. It encourages people to get into sports by offering a multitude of superior quality products that are suitable for a very diverse market.
Improving Sports
There is a very sports-focused mindset in the Adidas Group. While Adidas does cater to the fitness needs of all customers, much of its efforts are directed on the athletically inclined market, particularly the youth. Adidas engages in a variety of programs that are geared towards honing the skills of young aspiring athletes and presenting them with the best opportunities and equipment to improve their talents.
Exceeding Expectations
The research and development team of Adidas works tirelessly to constantly improve its products, creating innovative features never before seen in the market. One of the company's goals is always to surpass the expectations of the customers and the competitors.
Creating Innovative Products
Innovation and creativity are two of the most vital points of the Adidas team. They are known for coming up with cutting-edge technology to create extraordinary products. For instance, take the Boost technology that is now the distinguishing feature of Adidas running shoes. It dramatically increased energy return with each stride, making it a precious tool to improve the competitive performance of runners everywhere.
Adidas's Vision Statement
The Adidas vision statement is "to be the design leaders with a focus on getting the best out of the athletes with performance guaranteed products in the sports market globally."
Excellence in product performance is a priority in the long-term vision of the Adidas Group because Adidas wants to enable athletes to perform at maximum capacity. But at the same time, Adidas is just as focused on creating these products in style.
Creating the Best Designs
Adidas's vision statement begins by asserting its goal of becoming the design leader in the sports products industry. Throughout the years, Adidas has maintained an unblemished reputation of providing only the best products, and this is what the company hopes to continue in the future.
Maximizing Athlete Performance
Despite already having many top athletic products worldwide, Adidas never stops trying to improve on its products. The goal is to provide constant motivation for athletes to push beyond their limits and maximize their potential in their chosen sport.
Manufacturing Top Quality Products
Adidas products are known to be quite pricey, and the reason for this is because these products come with unparalleled quality. Every single shoe, shorts, or t-shirt that come out of the Adidas facilities is fit to wear to even the most grueling international sports competitions. When you buy Adidas, you can be sure that you are getting top-quality products.
Reaching the Global Market
Adidas is already a household name wherever you go in the world. The company continues to strengthen its global presence by steadfastly implementing strategic marketing campaigns and partnering with internationally known celebrities in the world of sports and entertainment.
Adidas's Core Values
One of the main reasons why Adidas has come this far is because the company was founded on exemplary core values, and throughout the decades, Adidas has always adhered to these core values in all aspects of the business, and all corporate decisions were made only after taking these values into consideration.
Performance
To ensure that Adidas produces the best-performing sports gear and apparel in the market, Adidas employs engineers, chemists, and experts in clothing technology to guarantee that only the best input goes into the merchandise, from design all the way to production.
Passion
The company is able to maintain a strong collective passion for sports because Adidas only hires sports-minded employees. Adidas is not just a corporation but a team of united individuals sharing the same passion.
Integrity
More than selling products, Adidas is deeply committed to improving people's lives through sports. Furthermore, Adidas is also widely engaged in athletic scholarship programs and other activities that give back to the community.
Diversity
Adidas embraces diversity in all forms. It creates a wide range of products, and there is something in its stores for everyone, regardless of size, age, gender, or athletic skill.
Key Takeaways
One of the indications that a company has achieved its long-term goals is when you take one look at its products, and you can clearly see that it reflects its mission and vision statement, as well as its core values. Adidas is a prime example of such a company. Just take a look at any of its merchandise, and you can immediately see that it is a product of superior quality, modern innovation, and hard work.
The roots of this company are embedded in a deep passion for sports and an active lifestyle, and despite the massive growth of the company over the years, the passion has not only remained but has actually become stronger. Adidas's mission and vision statement has gone through numerous revisions in order to adjust to the changing needs of the industry and the market. This ability to adapt to new circumstances is one of the reasons why Adidas remains to be a company to contend with to this day.
If you are in the process of creating your own corporate goals for your business, the Adidas mission statement and vision statement would be an excellent model. Of course, you would have to make modifications so that the statement will align with your own business objectives.
You can also choose to formulate your own mission and vision statement from scratch. A great way to organize your thoughts for this would be to use a mind mapping tool like EdrawMind. It's a very helpful tool for new entrepreneurs to lay down a framework that would serve as the foundation for their business. You can also get a good start by using the pre-built templates in the software. It's very easy to use, even for beginners. It also provides real-time access to multiple individuals so you and your team can collaborate and share your ideas as you create your mind maps together.
References