Apple Marketing Mix (4Ps) Analysis
Learn how Apple executes its marketing principles so that its target market gets drawn to every product the brand showcases.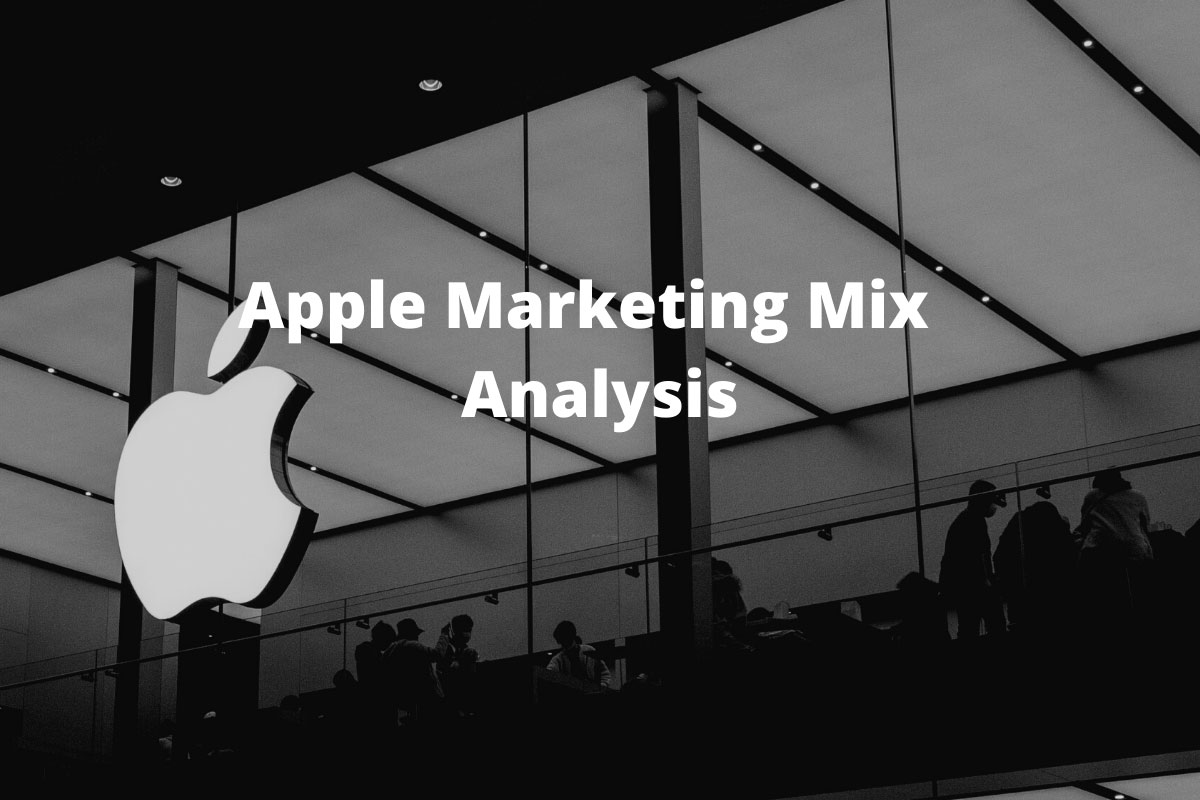 Introduction
Apple's product marketing mix deals with the outputs of the firm. It includes services and goods which are categorized as or involve technology. However, Apple continuously expands its product mix, making it possible to add non-IT-related services in its 4Ps. The following are Apple's main product line and a few explanations of strategy for each product:
Mac. This product was introduced by Steve Jobs in 1984 and is one of the pioneering products of Apple. Mac was the first personal computer introduced to the public with a mouse and a graphical user platform and interface. Mac is still very popular today with various models like iMac, Mac Pro, MacBook Air, MacBook Pro, and MacBook.
iPhone. It's no secret that almost everyone uses an iPhone today. Apple is also one of the pioneering brands that introduced smartphones with a multiple touch feature. It was designed thinking about the combination of an iPod and a smartphone. Apple continues to have several versions of the iPhone until today, with the iPhone 13 being the latest.
iPod. Varied versions of the iPod have been introduced to the market, including iPod touch, iPod Nano, and iPod shuffle, among others. iPods are a portable version of a digital music player.
Apple watches. This is basically a watch where users can monitor their fitness schedules.
iPhone. It's no secret that almost everyone uses an iPhone today. Apple is also one of the pioneering brands that introduced smartphones with a multiple touch feature. It was designed thinking about the combination of an iPod and a smartphone. Apple continues to have several versions of the iPhone until today, with the iPhone 13 being the latest.
Other software and services. Part of Apple's competitive advantage is the MacOs, the brand's software, and operating service.
iPad. iPad came after iPhone and immediately became a hit to Apple users. This innovation has superior functionality and design, allowing users to sync laptops and mobile phones.
Mind Map
The Apple marketing mix can easily be understood by organizing it through a diagram. Below is a mind map example of how Apple's marketing mix: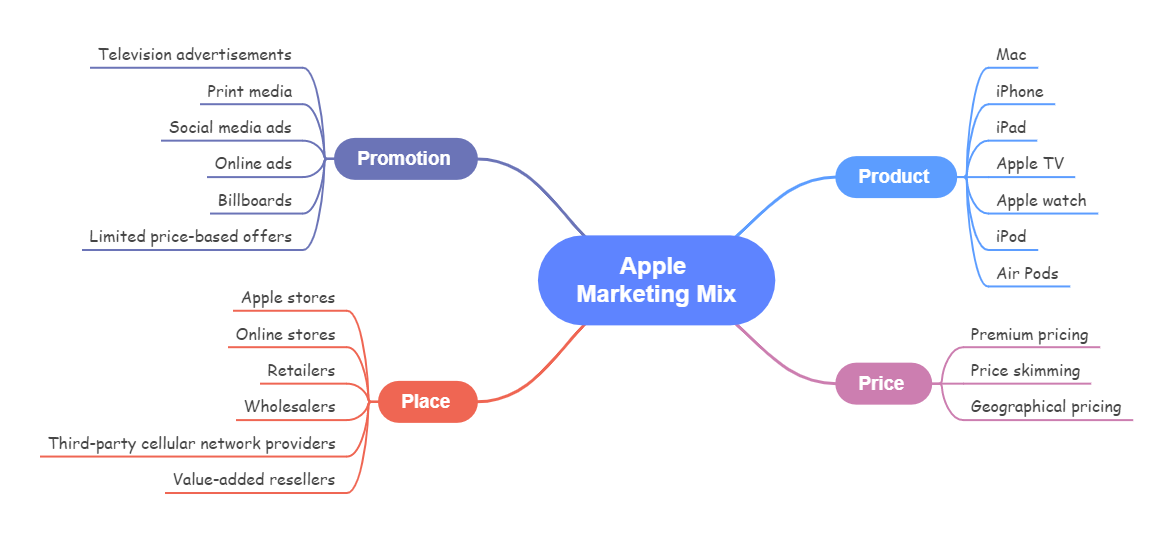 View, edit, and download this template in EdrawMind >>
EdrawMind Apps
12 structures & 33 themes & 700+ cliparts
Support Win, Mac, Linux, Android, iOS
Advanced import & export options
On-premises software for business
Enterprise-level data security
EdrawMind Online
12 structures & 33 themes & 700+ cliparts
Access diagrams anywhere, anytime
Team management & Project management
Apple Marketing Mix: Price
Looking at all the products of Apple, you know that the brand delights its target market with innovative products. They are superior to other brands in the industry, even when they offer premium pricing. One of the justifiable reasons why Apple has premium pricing is its capability to create products with advanced technologies and features. The brand also does not lower its pricing to make it affordable to everyone. Apple creates an impression to its customers by giving an excellent user experience possible, which justifies its premium pricing.
Apple showcases the highest quality possible for all its products by using the outstanding components available and stylish designs. Once customers get hooked on Apple products, there is a higher possibility that they will not be turning to other brands anymore.
Besides premium pricing, Apple also integrates price skimming where they set much higher pricing for newer product models, consequently lowering them later. This has been the trend with iPads, iPhones, and other products in the brand's portfolio. Since Apple is an international brand, it also considers geographic pricing. This involves imposing different prices for its products in various parts of the world. There is a need for geographical pricing for Apple because of exchange rate differences between USD and local currencies.
Apple Marketing Mix: Place
Apple implements an aggressive approach in reaching out to premium target markets. This means that it uses several sales channels for visibility and accessibility of selling its products to a global market. These sales channels are as follows:
Apple stores. Probably the most prominent IT company globally, Apple has more than 500 retail stores in 15 countries worldwide. The brand strategically places its stores at high-traffic locations like urban shopping districts and quality shopping malls. The interiors of every retail store are also strategically designed to be spacious where its customers can use the products and have generous assistance from customer service people.
Online stores. Apple also has provided an official website where customers can access and purchase its products. This is essentially fitting for those customers who do not have access to an Apple physical store.
Wholesalers. Customers of Apples can also go to wholesalers as they can also be the source of essential parts of its services and products.
Retailers. Apple also partners with authorized retailers for its products and services. A few examples of them are T-Mobile and Mobile Guru in New York and Argos and Carphone Warehouse in London.
Third-party cellular network providers. AT&T Inc., Vodafone Group, and Verizon Communications Inc. are a few of the cellular network carriers that sell Apple products which are also part of their packages.
Value-added resellers. These are professionals tasked and authorized by Apple to provide market-specific and customized solutions to target customers.
Apple Marketing Mix: Promotion
Promotion is the last element completing the Apple marketing mix. Apple imposes elegant and intelligent promotions. The brand primarily focuses on the products and their differentiating factors from competitors. Here are some essential points on how Apple effectively handles its promotions:
Elegant promotions. The promotional initiatives of Apple still involve traditional platforms like television and print media. However, one thing that is very notable with Apple is its strategy for promotions to be simple. They mostly do it with a white and elegant background.
Straight to the point. Not everyone has a long attention span to view or read lengthy promotional materials. And Apple clearly understands this aspect, thus making advertisements on point. A single ad aims to relay a unified message to a specific target market.
Limited price-based offers. You rarely see Apple products going on sale. It is understandable, though, as it imposes premium pricing for its products. It goes back to its pricing strategy of implementing higher prices and justifying it with premium quality products.
With the evolution of technology, Apple also evolved in promoting its products. The brand also adopted digital marketing for its promotion, including utilizing social media platforms. Online advertisements allow firms to reach a broader market across the globe.
Key Takeaways
One notable thing about Apple is its pricing strategy and commitment not to lower the prices to match other competitors. It is also noteworthy that Apple justifies its premium pricing by offering advanced features and technologies on its products. Regardless of your brand being a startup or has been in business for so long, you surely can learn from Apple that it will not hurt the company to impose higher prices as long as it meets or even exceeds customers expectations.
Another essential thing about Apple is its ability to continuously deliver premium features to the new models of its products, creating anticipation, excitement, and curiosity from target customers. There are several principles from Apple's marketing mix that can be useful even for startups and non-tech firms.
Organize your brand's marketing mix with a mind mapping tool like EdrawMind, which allows all kinds of users, beginners, and experienced ones, to navigate through a straightforward interface effectively. You can use the pre-built 4Ps of the Marketing template. Pre-built templates take off the user's burden of creating a skeleton for the diagram. You only need to input the information on the spaces in the mind map and add additional sections or elements if necessary. The software is also very accessible as users can edit either through the browser or install it on a computer.
References