H&M Mission and Vision Statement Analysis
An in-depth discussion of the corporate statements and core values of H&M in order to understand its journey to success.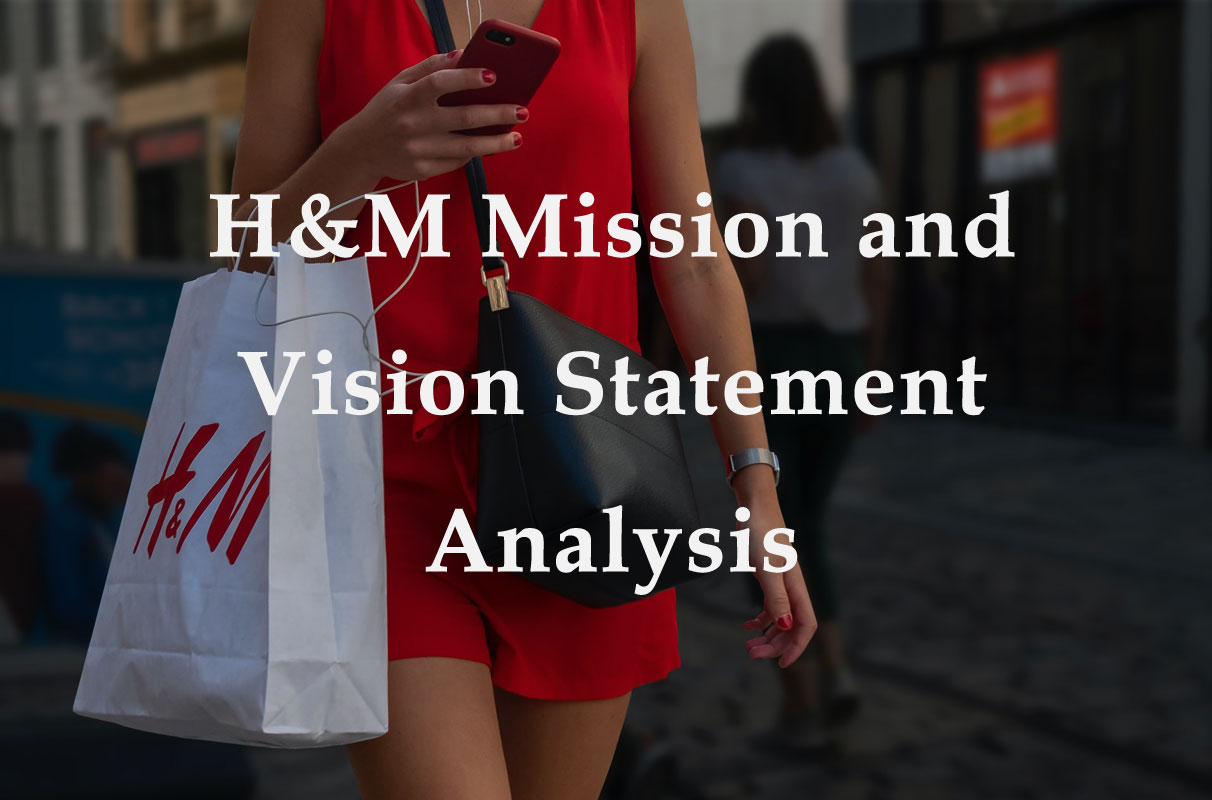 Introduction
The H&M brand is one that is familiar to everyone because of its superior quality clothing for men, women, and children. It was founded in 1947 by Swedish entrepreneurs Hennes & Mauritz, originally as a shop for women's apparel. The product line eventually expanded, and so did the brand's area of coverage. From one store in Vasteras, the multinational company now operates more than 5000 stores worldwide, with multiple outlets in each of the six continents. Most of its stores are in Europe and the United States.
In this article, we will understand how H&M became the massive success it is today by breaking down its mission and vision statement and discussing its core values as its foundation for all business decisions.
Mission Statement
The H&M mission statement is "to make fashion accessible and enjoyable for all."
High fashion used to be something that ordinary people only see on the runways, on the red carpet, or on TV. High fashion is not something that you can find in your own closet or on pedestrians that you encounter on the streets. But as we can see in the H&M mission statement, this global fashion giant hopes to change all that.
Accessible
By utilizing the innovative fast fashion strategy, H&M is able to offer superior apparel at relatively affordable prices, making it more accessible to a wider market. Since it also relies solely on third-party suppliers for the production of its apparel, it can save a considerable amount of money on production costs which it can pass off to the consumers in the form of discounted pricing.
Enjoyable
The target market of H&M appreciates elegance and comfort. H&M likes clothes that make it look good and feel good at the same time. This is exactly the type of clothing that H&M provides and hopes to continue providing for many years to come.
Inclusive
In the last part of the H&M mission statement, it says that fashion is for all. This fashion brand has always been known for embracing diversity, and this is reflected in the kind of products it offers. Although it initially offered only women's apparel, it had quickly branched out to include clothing for men and children as well. Over the years, it has also expanded to include accessories, cosmetics, and footwear. Furthermore, its massive global presence represents it in more than 70 countries around the world, and this makes for a really diverse and inclusive global market.
Vision Statement
The H&M vision statement is "to lead the change towards circular and climate positive fashion while being a fair and equal company."
There are three main components in the H&M vision statement, all of which accurately reflect the long-term goals that this fashion brand hopes to achieve in the future. Let us take a look at these three components one by one.
Leading the Change
The company insinuates that a change is in the works as the fashion industry gears to become more sustainable. H&M hopes to be the driving force behind this campaign for sustainability, setting the bar for other clothing companies to make similar improvements to its manufacturing schemes and promoting constant innovation.
Circular and Climate Positive Fashion
H&M hopes to make the circular approach the new norm in the production of retail apparel. In the past, the fashion industry has been heavily criticized for its lack of effort in the use of environmentally sustainable raw materials and the absence of feasible recycling policies. With its innovative strategies, the Swedish fashion brand hopes to change this reputation.
Fair and Equal
H&M is a strong advocate for diversity and equality. It is always fair in all aspects of business, from employment to the selection of apparel design.
In order to make its vision statement a reality, H&M has launched a change-making program which is the center of its projects and efforts for sustainability. This comprehensive plan spans the entire corporation and has detailed goals, strategies, and standards to guide all the members of the H&M family, which includes business partners, fashion experts, employees, and customers.
Core Values
As an international company with thousands of employees all over the world, H&M is made up of a very diverse group of people from different backgrounds and with varying personalities and opinions. But despite the inevitable differences, H&M is bound together by these core values that represent who H&M is as a fashion brand, and that is reflected in all the company's actions.
Unity in Diversity
Each member of the H&M team brings something unique to the table, and these individual contributions are what make it such a strong team. All members work together in achieving corporate goals, providing the best service to the customers, and helping one another with personal growth as well.
Belief in People
There is a very positive environment in the H&M fashion where it believes that anything is possible. In all its stores and offices, it maintains a culture of trust, integrity, acceptance, and respect. It values people and believes in everyone's capability to contribute greatly to the team.
Entrepreneurial Spirit
H&M is not just a clothing brand. It is a highly creative and innovative group of entrepreneurs constantly seeking new ways to keep the business on the path towards success. Just because it has already reached the pinnacle of success doesn't mean it is resting on its laurels. The entrepreneurial spirit keeps it always on the lookout for new opportunities for growth.
Cost Consciousness
One of the reasons why H&M has consistently earned huge profits is because of its care in spending. It stays away from unnecessary expenses and also has a knack for spotting solutions and ideas that bring worthwhile value to the company.
Open-mindedness
The company is always open to feedback from customers, employees, business partners, and so on. It fosters an environment where everyone is encouraged to speak out and listen attentively, making for a healthy and respectful exchange of ideas that will ultimately lead to growth.
Simplicity
There is no point in overcomplicating matters when the simplest solutions are those that work best. H&M has always kept things simple, and it has worked very well for the company.
H&M Mission and Vision Statement Analysis Mind Map
One of the reasons why H&M is one of the top fashion brands today is because it has well-defined goals, and it always keeps these goals in mind in making business decisions and running the day-to-day operations. Understanding the H&M mission and vision statements will be easier when you utilize a mind map that displays the ideas in an organized format, such as the one below.

View, edit, and download this template in EdrawMind >>
Mission
Accessible
Enjoyable
Inclusive
Vision
Leading the Change
Circular and Climate Positive Fashion
Fair and Equal
Core values
Unity in Diversity
Belief in People
Entrepreneurial Spirit
Cost Consciousness
Open-mindedness
Simplicity
EdrawMind Apps
12 structures & 33 themes & 700+ cliparts
Support Win, Mac, Linux, Android, iOS
Advanced import & export options
On-premises software for business
Enterprise-level data security
EdrawMind Online
12 structures & 33 themes & 700+ cliparts
Access diagrams anywhere, anytime
Team management & Project management
Key Takeaways
The apparel company's journey from being a small clothing store in a Swedish town to becoming one of the world's top brands in high fashion is a testament to the effectiveness of the H&M mission and vision statement. Since the beginning, the company's goals had been very well-defined, and with the guidance of its corporate statements, the company had always stayed true to its corporate principles and core values.
If you are thinking of establishing a company that is similar to that of H&M, you can pattern your own mission and vision statement with theirs, making some necessary adjustments in order to align it with your own values and objectives. In the process of formulating your brand's mission statement, vision statement, and core values, you need to carefully organize your ideas to create a complete and well-written strategy. To do this more effectively, using a mind mapping tool like EdrawMind is highly recommended. It is a software application that utilizes cutting-edge technology to create diagrams and charts for mind mapping. It also has pre-built templates that are specifically designed for the creation of mission and vision statements. By using this tool, you can conveniently come up with a professional corporate statement to represent your business and serve as your guide for continued growth and success.
References