H&M SWOT Analysis
An In-Depth SWOT Analysis of H&M.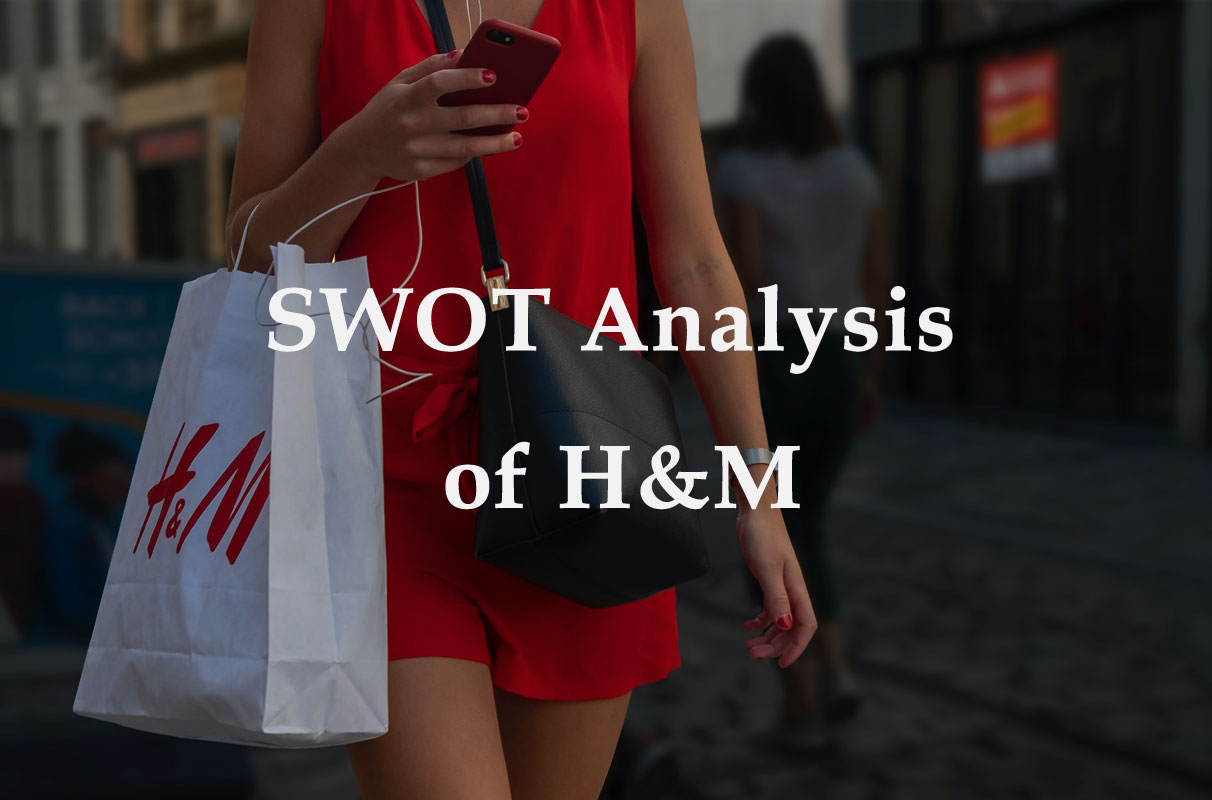 Introduction
Hennes & Mauritz AB, more recognizable in the world of fashion as H&M, is a global company engaged in the manufacture of high-quality apparel and is one of the top brands in fashion today. The company originated in the town of Vasteras in Sweden when it was established by Erling Persson. Today, it still has its head office in Sweden, but it now operates more than 5,000 stores in over 70 countries all over the world.
H&M is known to sell very trendy clothing. Although it has selections for just about anybody, its customer base is made up largely of young, hip millennials. One of the most interesting things about this company that not many people know is that it does not manufacture its clothes. Despite having thousands of stores around the world, H&M does not own any production facility and instead relies on top suppliers from Asia for its products. It's the secret for maintaining a steady stream of products at a rapid pace and relatively affordable prices, also known as the fast-fashion strategy. Now, look at the description for H&M SWOT below. 
H&M SWOT Analysis Mind Map
Understanding the success of H&M as a fashion brand can definitely begin with a simple analysis of its strengths and weaknesses, as well as studying the opportunities and threats that it faces in the industry. Besides reading about these elements in detail, it would also help to have a more visual representation, like a mind map. Take a look at the following example that represents the H&M SWOT analysis in mind map (made by EdrawMind).
Strengths
Fast Fashion Strategy
Global reach
Affordable Pricing
Product Diversity
Well-Organized Supply Chain
Formidable Online Presence
People-Oriented Approach
Weaknesses
Excessive Outsourcing
Fashion Conformity
Controversial Designs
Opportunities
Better eCommerce Strategies
Brand Expansion
Emerging Markets
Threats
Strong Competitors
Fakes and Imitations
Higher Production Costs
H&M's Strengths:
Fast Fashion Strategy
The fast-fashion model is the new thing in the retail clothing industry. It is where the company fast-tracks production and releases a new collection to the market every two weeks or so, giving customers new choices whenever it visit the stores. This is in contrast to the usual method of seasonal production that involves a wait of 4 to 6 months before a brand's new collection comes out.
Wide Global Reach
H&M is not lacking at all in its efforts to reach the global market. With more than 5000 stores in 6 continents, H&M is adequately represented in more than 70 countries. It has a firm hold in the international market and is continuously broadening its reach by tapping new markets.
Affordable Pricing
This Swedish fashion brand does not have its own production facilities. Instead, it works with multiple suppliers that provide H&M with top-quality apparel for a low labor cost. While some may frown on this potential lack of control over production, this system is actually very cost-efficient and allows them to sell its goods at lower prices.
Product Diversity
Initially, H&M focused on selling women's clothes, but it has since expanded its product range and now has something for everyone. Furthermore, it has also gone beyond clothing and accessories. In almost all of its stores, H&M now also offers cosmetics, shoes, linen, and even home décor.
Well-Organized Supply Chain
One of the advantages of partnering with multiple suppliers is that there is very little chance of having low supply issues. H&M keeps all its stores well-stocked with its current offerings, and whatever supply issues it encounters are very quickly resolved.
Formidable Online Presence
H&M has a good eCommerce strategy that sufficiently caters to the online market. Aside from its official website, it also uses third-party platforms to help reach more online shoppers and generate more eCommerce sales.
People-Oriented Approach
Since it was established almost 65 years ago, H&M has always maintained a people-oriented culture, both internally and in dealing with customers. It is quite involved in the community and takes an active stand when there are issues that it feels strongly about.
H&M's Weaknesses:
Excessive Outsourcing
Unlike some of its close rivals in the retail fashion industry, H&M outsources all of its clothing. This strategy does have its advantages, but it also limits the control that the brand actually has over the production process. Problems that arise in the supplier's facilities can also cause drastic damage to the sales and operation of the company.
Fashion Conformity
The clothes sold by H&M are always trendy and of high quality, but they mostly just follow the current fashions. Many of the items are patterned after other designers' products. They do not have original designs that bear a distinctive H&M look.
Controversial Designs
It may be a one-time occurrence, but it is going to be difficult to forget the 2018 incident where H&M produced a hoodie with the words "Coolest Monkey in the Jungle" and used a black child to model it. After being called out for racism and being boycotted worldwide, the fashion company might have learned to be more careful in approving apparel designs.
EdrawMind Apps
12 structures & 33 themes & 700+ cliparts
Support Win, Mac, Linux, Android, iOS
Advanced import & export options
On-premises software for business
Enterprise-level data security
EdrawMind Online
12 structures & 33 themes & 700+ cliparts
Access diagrams anywhere, anytime
Team management & Project management
H&M's Opportunities:
Better eCommerce Strategies
The online market has already been growing at a steady pace, but when the pandemic began, and people were forced to stay home, more consumers discovered the benefits of online shopping. H&M already has a robust online presence, but there is still much room for improvement, especially now that the online market is growing at a faster rate than ever.
Brand Expansion
H&M has built a solid reputation as a high fashion brand. If it suddenly starts selling items outside this sphere, like secondhand clothing or sporting goods, it might confuse customers and even lead to a decrease in sales. But it can still expand through mergers and acquisitions.
Emerging Markets
Fashion retailers like H&M focus mostly on the upper-class market. But there are several emerging markets that show great potential for sales, and it would benefit the company to look into these prospects.
H&M's Threats:
Strong Competitors
The fashion retail industry has plenty of competitive players, and H&M will have to find ways to stay ahead of them.
Fakes and Imitations
There is a growing trade in fakes and imitations in the fashion world. As counterfeiters get better, sales of premium brands like H&M might drop considerably.
Higher Production Costs
The cost of material and labor has been increasing, and even more so in recent years. This is an uncontrollable factor that can reduce the profitability of H&M's products.
Key Takeaways
Over the last 65 years, H&M has carved a name for itself in the retail fashion industry as one of the more reputable and most trusted brands in the business. In this H&M SWOT analysis, we can see that the strengths of the company far surpass the weaknesses. It will not be difficult for the brand to draw on its strengths to seize the opportunities that may be presented to them. Also, the threats that it faces are not that worrisome because these are the same obstacles that stand in the way of most of the other companies in the industry.
Using the same analysis methods that we did above, you can also examine your own corporate strategies and get a clear picture of how your business has been performing. You can build a better and more accurate representation of your own SWOT analysis by using the EdrawMind mind mapping software. It has pre-built templates designed specifically for SWOT analysis that you can use either right on the browser or in a downloadable software application. Either way, you will enjoy the same versatile tools to help you create the most comprehensive analysis possible.
References