SWOT Analysis of Zara
An In-Depth SWOT Analysis of Zara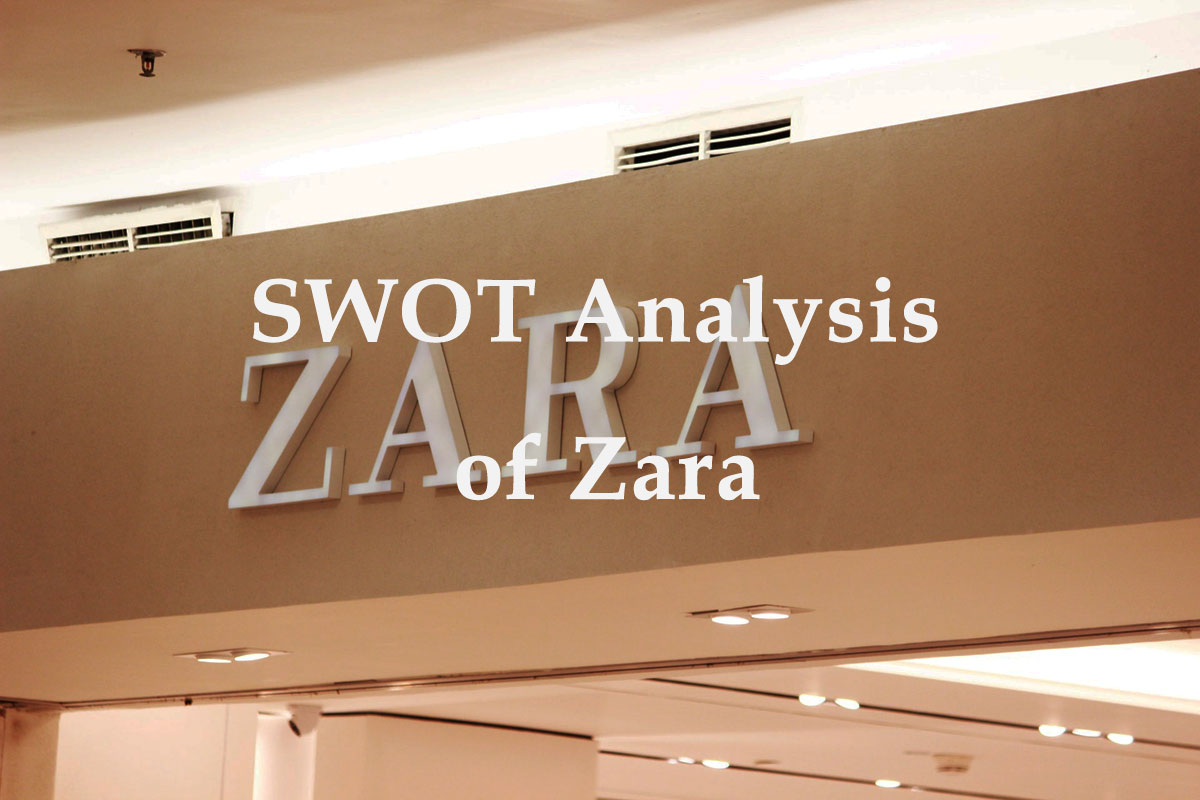 Introduction
Zara is an internationally known brand of high fashion apparel that was established in Galicia, Spain, in 1975. Zara is one of eight brands owned by Inditex Group, which is one of the largest fashion retailers in the world. The brand has made a name for itself not only because of the superior quality of trendy apparel that it offers but also because of its unique sales and marketing approach that has ultimately led to its indomitable success.
Although it is one of the top companies in the fashion industry, Zara is not exempt from the usual issues in the business world. There will always be challenges to conquer and problems to solve. One of the ways that Zara overcomes these difficulties is by regularly doing a SWOT analysis. This helps Zara to identify its weaknesses and build upon its strong areas. It also gives it a fresh perspective of how the company is performing from an external standpoint.
In this Zara SWOT Analysis, we will take an in-depth look at the main internal and external factors that affect the performance of this popular clothing brand in today's market.
1. Zara SWOT Analysis Mind Map
It's very interesting to find out how so many different factors have affected the business performance of Zara, but it can be confusing at the same time. Using a mind map can help a lot in getting a clearer picture of what this company has been facing and what it can do to further improve its performance. Here is an example of a Zara SWOT analysis mind map.
Strengths
Fashionable clothing
Global reach
Brand valuation
Fast and efficient production
Affordable prices
Spacious stores
Visual merchandising
Sustainable manufacturing
Weaknesses
Inadequate supply chain
Limited advertising
Insufficient product information
Opportunities
Wide global market
Online channels
Creating a trademark design
Threats
Fast fashion competition
Imitations
COVID-19 pandemic
EdrawMind Apps
12 structures & 33 themes & 700+ cliparts
Support Win, Mac, Linux, Android, iOS
Advanced import & export options
On-premises software for business
Enterprise-level data security
EdrawMind Online
12 structures & 33 themes & 700+ cliparts
Access diagrams anywhere, anytime
Team management & Project management
2. Zara's Strengths
The marketing and production style used by Zara has been repeatedly commended by experts in the fashion business for the simple reason that it is extremely effective. This success stems from the numerous strong elements incorporated into the company's overall strategies.
Fashionable Clothing
One of the main goals of Zara is to create trendy and distinct clothing for everyone, and it is able to accomplish this through the skills of its team of designers who understand the needs of the target market very well. Zara makes a wide variety of superior quality clothes for all ages, including casual wear, business wear, and even some formal outfits.
Global Reach
Zara stayed close to home for the first few decades of the company's existence, but today, it has already expanded to 96 countries and is currently operating 2270 retail outlets around the world.
Brand Valuation
According to Forbes, Zara is the 53rd biggest company in design and business, and this is largely due to its brand valuation.
Fast and Efficient Production
Every two weeks, Zara releases a new collection that includes as many as 500 different designs. Production is fast, but the quantities per design are limited, which makes for higher exclusivity that is favorable for customers.
Affordable Prices
With the unique marketing style of Zara, it spends very little on advertising. This allows Zara to keep prices low while maintaining the outstanding designs and quality of its clothing.
Spacious Stores
It is very important for customers to have a pleasant shopping experience. This is why Zara makes it a point to build spacious retail outlets in prime locations, allowing customers to have a relaxing time while choosing outfits.
Visual Merchandising
Zara exerts a lot of effort in creating an aesthetically enticing image in all its stores. From the lighting and layout to the mannequin displays and decorations, Zara understands that all these elements play a role in luring customers in to make a purchase.
Sustainable Manufacturing
Sustainability and environmental awareness are issues that are very important to this fashion brand. Its manufacturing process is completely toxic-free, and it strongly supports campaigns for the preservation of our natural resources.
3. Zara's Weaknesses
Finding a weakness in Zara's business strategy is very difficult, but if we have to name an area of vulnerability, it would have to be in advertising and design.
Inadequate Supply Chain
Zara has over 2000 retail outlets worldwide, and it is still relying mostly on its main production facilities to provide the clothing for all these outlets. An increase in regional production might be necessary to prevent problems like delivery delays and customer dissatisfaction.
Limited Advertising
Unlike other clothing brands that spend millions on print and TV ads, Zara relies mostly on social media and word of mouth for its advertising and promotion. It's actually working very well, but maybe if it spent a little more on real ads, it might be able to increase its revenue even further.
Insufficient Product Information
Zara's official website brings in a substantial amount of revenue, but there it also generates a notable volume of product returns. The most commonly cited reason is the lack of information about the products on the website, so clients are not entirely sure of what they are buying.
4. Zara's Opportunities
Wide Global Market
There are still many parts of the world without a Zara store. If the fashion brand is able to harness these untapped markets, it will be able to increase its sales tremendously.
Online Channels
More customers are now buying clothes from online stores. Zara can maximize this market potential by improving its online presence and building a more efficient eCommerce marketing strategy.
Creating a Trademark Design
Many fashion brands have attained longevity and a solid reputation in the business because it have a distinct design or item. Think Vera Wang wedding dresses, Prada handbags, or even Lacoste polo shirts. Zara's clothes are all amazing, but they do not have a trademark design. Creating one just might do wonders for the brand.
5. Zara's Threats
Fast Fashion Competition
A few years ago, Zara was basically dominating the fast fashion scene, but that changed when Chinese fashion brand Shein entered the picture. Shein doesn't have a physical store and operates completely online. Shortly after it launched its app, it got more than 10 million downloads compared to only 2 million for Zara in the same month. Zara might have to up its online game to keep from getting overtaken by this newcomer.
Imitations
As with any popular brand, Zara has to deal with cheap imitations in the market that bear its name or logo. The more discriminating customer will be able to identify these fake items, but others might not, and this might affect the sales of Zara products.
COVID-19 Pandemic
Like most clothing brands, Zara took quite a hit when the pandemic erupted in 2020. It had to close down 88% of its stores, leading to a 44% decrease in revenue compared to the previous year.
6. Key Takeaways
Zara has successfully established itself as a very reputable brand in the fashion industry. One of the secrets to its continued and growing success is that it regularly evaluates its strategies and performance.
In the Zara SWOT analysis that we have done above, we have revealed that although it does have numerous strengths that keep Zara in the lead pack in the fashion industry, like its groundbreaking production process and its unique marketing scheme, this clothing company also has weaknesses that it can improve on, like the absence of facilities for local production in its different countries of operation. Likewise, it can also take advantage of opportunities like the vast global market waiting to be tapped and create workable plans to deal with impending threats like the growing competition and recovering from the pandemic.
You can also do a similar SWOT analysis for your own company to gauge the performance of your business. If this is the first time that you are going to make such an analysis, you can benefit a lot by using a mind mapping tool like EdrawMind. This powerful software has easy-to-use diagramming features for laying out your ideas in a clear and organized format. It also has templates specifically for making a SWOT analysis for any kind of business. By using this tool, you can easily create a visual representation of your business performance and clearly see how you can make improvements for the future.
7. References