PepsiCo Mission and Vision Statement Analysis
Discover how PepsiCo distinguishes its brand from its tough competitors through its mission, vision, and core values.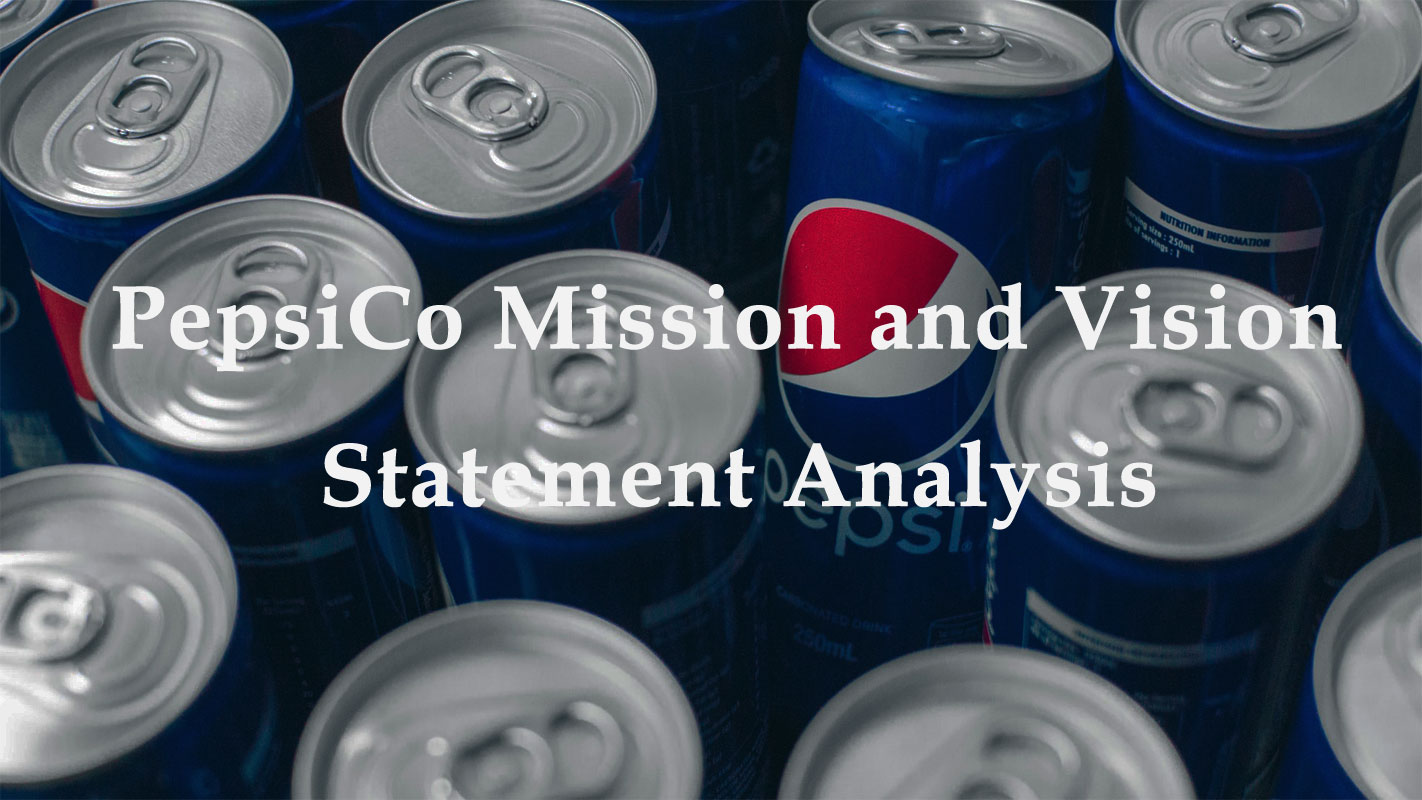 Introduction
PepsiCo is a multinational food and beverage firm based in New York. The company should not be confused with Coca-Cola as they are two different firms operating in almost the same industry. Being one of the world's largest firms in the food and beverage industry, PepsiCo aims to align its mission and vision statements with its current business situations. These situations highlight the firm's diversification in its market and product mix.
The company's mission statement leads PepsiCo to create and develop products suitable for the demand of its target market. It identifies actions in achieving the organization's vision. On the other hand, PepsiCo's vision focuses on the firm's role in the global market. The element on its vision statement reveals the direction of the development and progress of the company.
The PepsiCo mission and vision statements, together with its core values, must align together to push the firm upwards to reach its market leadership.
This article will analyze PepsiCo's three principles - mission, vision, and core values. This can be beneficial if you are looking for inspiration to formulate your brand's principles. It won't hurt if you look up to these kinds of companies that have seen most of the circumstances in the business.
Mission Statement
The PepsiCo mission statement shows the determination to impact significantly everyone, especially its target market, using differentiated products. The statement also reflects the continued efforts of the company to have its workforce, partners, and shareholders have united growth with the firm. The three essential components of its mission statements are as follows:
Improve communities. One of PepsiCo's priorities is to nurture the overall welfare of the global communities by providing excellent products and services to everyone. The company also puts in an excellent effort for sustainability initiatives. PepsiCo acknowledges that adverse effects on the environment constitute an impact on communities. Over the years, the firm has been recognized for initiating several sustainability projects due to its commitment to take care of communities.
Reasonable prices. PepsiCo knows that customer satisfaction is more than just providing the best-tasting food and beverage to its target market. It also involves providing affordable prices for its products. The company implements a creative pricing technique to provide its clients with the best prices for each product. PepsiCo also has promos and offers for specific brands.
Improve health. You might have noticed that PepsiCo has expanded its product portfolio by introducing low-calorie drinks and cereals. This is because the company acknowledges the demands of its customers for healthy product options. The food and beverage sector is a significant influencer of how people value their health. PepsiCo uses restorative raw materials like vegetables, fruits, and grains in its manufacturing process. This component of its mission statement has also been solidified by reducing added sugar, saturated fats, and sodium.
Vision Statement
The company's vision statement is defined through its important goals, objectives, and purpose in the long run. PepsiCo formulates its vision statement while aiming to provide quality financial performance over a significantly vast range of time. It also targets to incorporate sustainability into its business processes, policies, and strategies to solidify its mark in the community and at the same time impart a positive contribution to the environment. Here are the following elements that are evident in the PepsiCo vision statement.
Be a global market leader. PepsiCo launched its brand in the United States but has effectively expanded globally, with various subsidiaries. All this growth and expansion can be attributed to the company's goal to cement leadership in the industry on a global scale. They partner with highly-experienced individuals that have greatly influenced how brands and businesses perform in the industry.
Leave a positive image and impact. PepsiCo justifies its vision to make a positive impact through expanding its product portfolio and beefing up with the expansion of its international businesses. Also, the company leaves a good influence on farming practices and the economy to attain a holistic growth of all the stakeholders the firm interacts with.
Core Values
PepsiCo is a global company that aspires to excellence economically and socially by upholding various values, including sustained growth, trust, responsibility, and empowering people. These values reflect what the firm wants to become, guiding the firm and nurturing a culture that drives PepsiCo towards its vision.
The willingness to nurture sustained growth remains to be PepsiCo's priority. This core value directly relates to the amount of attention they give to employee empowerment for its workforce and the customers. Ideally, PepsiCo sees this as a win-win situation that ensures all needs are met at any given circumstance. PepsiCo's promotions of engagement and diversity components add to the company's efforts to enhance commitment with its customers and other clients worldwide.
PepsiCo Mission and Vision Statement Analysis Mind Map
One can better understand the components of the PepsiCo mission and vision statements and core values using a diagram. See the example below:

View, edit, and download this template in EdrawMind >>
Mission
Improve communities
Reasonable prices
Improve health
Vision
Be a global market leader
Leave a positive image and impact
Core values
Sustained growth
Responsibility
Trust
Empowering people
Key Takeaways
After analyzing PepsiCo's mission statement, it technically tackles the experiences and initiatives the firm is willing to give to its target market while guaranteeing satisfaction with every food and drink product they need. This agrees with how the concept of the mission statement is formulated. The PepsiCo mission statement highlights its approaches to use and execute to achieve its vision.
Meanwhile, the firm's vision statement emphasizes the leadership responsibilities that the company must comply with. PepsiCo's vision clearly coincides with the vision statement's general concept, which is to identify the roadmap a firm must follow for its business growth. The firm's success has more to do with its core values that guide the practices and internal culture that define the company. The presence of these three principles - mission, vision, and core values and how they complement each other- is an excellent boost to its current success. The elements and principles discussed above can be applied to any organization or company. Your brand's mission, vision, and core values don't necessarily have to be ultimately the same as PepsiCo's, but you surely can take one or two essential points from it to formulate yours.
Use a diagramming tool to classify every component of the three principles. EdrawMind is a mind mapping tool that provides an interface ideal for beginners and advanced users. Besides its wide selection of mind mapping tools, there are pre-built templates for your Mission and Vision Statement Analysis that you can use. With these templates, you can free yourself from creating a framework from scratch. You need to use the template and input the information on the diagram. The software is also very flexible as it gives you options on where to edit your mind map. You can either do it through the browser or install the software to your desktop and complete the mind map from there. Whichever you choose, it has the interface, tools, and features, so you will not miss out on anything. Collaboration is also an added value to the software as teams can view, comment, and edit mind maps in real-time.
References