Netflix Mission and Vision Statement Analysis
Learn how Netflix caters to its diverse customer base by looking into the firm's fundamental principles.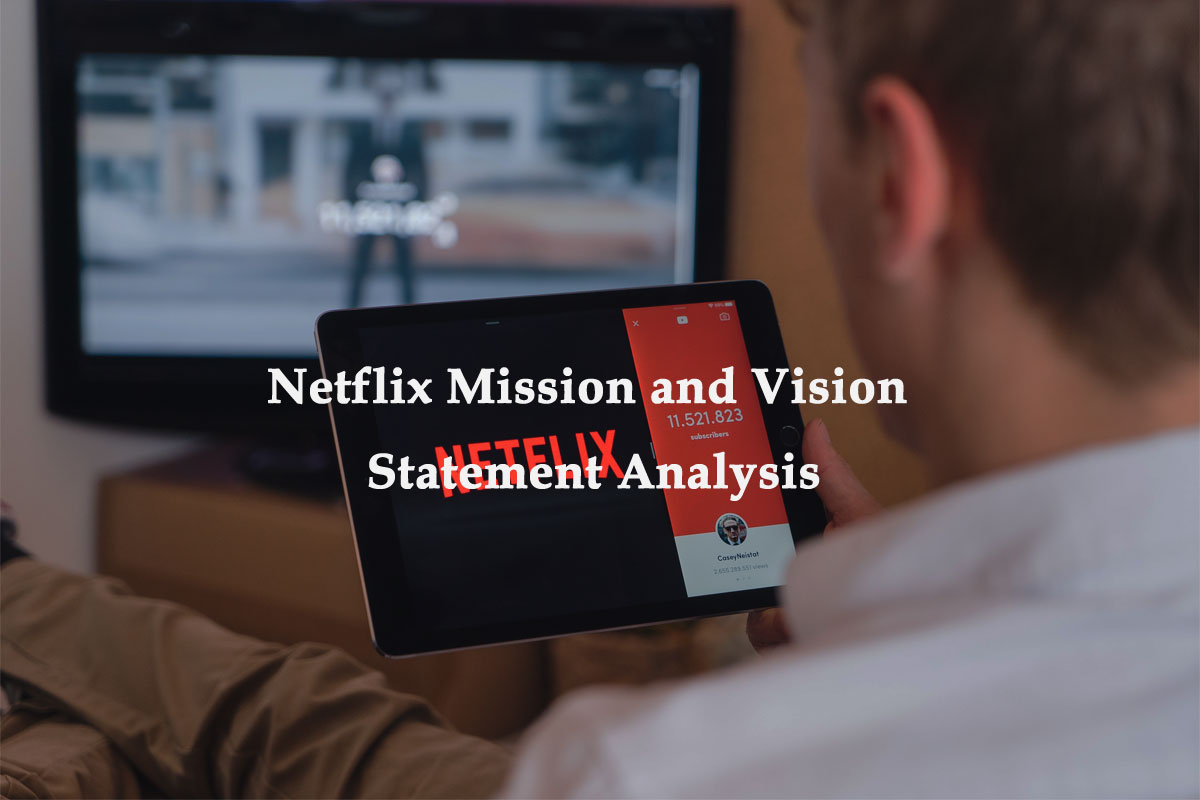 Introduction
Who does not Netflix? You bet everyone does. While some of its subscribers know Netflix now, this streaming platform has been operating since 1997. Netflix is a California-based premium content account streaming platform that allows users to stream content from a collection of movies and television shows and those produced in-house.
As of July 2021, Netflix has 209 million members, including 72 million in Canada and the United States. It expanded its service by introducing broadcast materials in 2007 while keeping the Blu-ray and DVD leasing industry. In 2010, Netflix started to stream in Canada, the Caribbean, and Latin America. House of Cards debuted as its first series in 2013.
After 2012, the company has adopted a more appropriate status of being a retailer and manufacturer for television shows and movies and eventually selected "Netflix Original" materials with its digital catalog.
These strategies are part and parcel of the company's mission and vision statements which primarily target the entertainment industry. Netflix utilizes the corporate vision statement to inform and provide direction. Meanwhile, its mission guides on the attainment of much higher performance. Together with Netflix's core values, these two push for sustained excellent performance in the global market. Over the years, various competitors, including Amazon, Apple, Walmart, Disney, and Google, somehow challenged the company's international growth. This article will tackle the Netflix vision and mission statement, including its core values, to discover how they thrived despite stiff competition.
Mission Statement
The Netflix mission statement focuses on offering unrivaled and outstanding video entertainment choices. It also shows how the firm effectively combines consumer entertainment with monetary requirements. As you explore the company's mission statement, you can find the following elements:
Entertainment assistance. The company has sustained its growth by being one of the sought-after online streaming platforms. They effectively provide a selection of entertainment choices, including documentaries, programs, feature films, and movies in every genre of motion pictures. Netflix does not provide any specifications on its products or services; instead, they let people take a peek at what is in store in the industry.
Improved life. Netflix puts a high value on its commitment to influencing the community and delighting it at the same time. The company's initiatives guarantee that it will fulfill its corporate social responsibility by participating in people's overall welfare, the markets, and the ecosystem. The company provides a vast selection of original films that subscribers can enjoy with a simple membership. It's one of the few streaming platforms that does not place advertisements on its interface. The video content leader effectively aims to offer the people premium quality programming through excellent application support and an interface tailored for children.
Huge crowd. Netflix's strategy showcases how the company provides programs based on an intended audience group. They nurture and pick materials for various age groups and differentiate pieces of information for vast crowds. Netflix also acknowledges the platform's demands from multiple walks of life around the world, hence the idea of organizing huge discounts and offers for those in countries that can't afford it.
Promises that were fulfilled and even surpassed. The dependability and stability of Netflix's platform and its other services are a testament to the value it gives to subscribers. Also, the membership fees that it implements to use its streaming platform do not sacrifice its services' quality.
Vision Statement
Netflix's vision expresses its goals as an organization. It emphasizes the objective of raising the standards in supplying all on-demand video content streaming services. The purpose of Netflix is to be the world's best entertainment production firm. It is a production firm since it also produces original content, besides being a streaming platform for international video content. See the following points below to analyze the Netflix vision statement:
Universal Accessibility. Netflix has cemented its brand in the industry of being a global institution. The company is aware of the diversity of its subscribers, hence the customer-focused approaches in its services. This initiative is the firm's asset in ensuring that all the content and services it creates will fit all ethnic origins.
Leading the pack. The competition in the Over The Top (OTT) industry is getting more challenging, with production firms like HBO, Paramount, and Disney establishing their respective platforms. Netflix had funded approximately $17 billion to develop web series, documentaries, and films to keep its leadership in the entertainment industry. Being on the lead is crucial for any company, especially in a callous industry. If strategies are not well-executed, they can be crushed by competitors.
Developing to be the greatest. With the changing times, Netflix does not see itself as a traditional service provider. To sustain its competitive edge, it continues to innovate by coming up with user-friendly technologies which provide its subscribers the best possible interactions through the materials they enjoy.
Core Values
Netflix's core values promote particular abilities and habits that would not compromise on its principles. The values address everything from judgments to boldness, selflessness, honesty, inclusivity, and inventiveness. The following points below are the fundamental values that Netflix upholds:
Judgment. Since its foundation, Netflix has focused on uncovering the core causes of the challenges in the current industry and providing revolutionary solutions. Its strategic decision to shift from a DVD-rent-through-mail business to a content streaming platform positioned the firm to success.
Communication. Netflix attempts to make a practical speech framework to interact with people worldwide. Non-English speaking materials have been introduced to the global scene; this leads to viewers seeing content, ideas, and history of groups aside from their own.
Inquisitiveness. Netflix does not settle for a single aspect of its business. It targets exploring and going outside of the firm's comfort zone. After all, the way to maintain leadership in the industry is to study its customers and innovate to better cater to and satisfy them.
Boldness. While some may find this value to be quite fundamental, it can also be influential in implementing its beliefs.
Enthusiasm. Netflix's recommender system designs technology to predict subscribers' best documentaries, films, and TV shows. Consumers can feel a particular connection to the platform with the distinct forecast they receive.
Humility. The firm's goal of providing an excellent user experience is evident in how Netflix avoids putting ads on its interface. They are pioneering a trend to develop a valuable business without advertisements.
Creativity. Part of Netflix's creativity is to provide its users with the most recent movies, television shows, and documentaries without leaving their homes.
Impact. Netflix outperforms its competition by highlighting results over the processes. Instead of managing the employees, it provides context to have the best results.
Inclusivity. The firm works with individuals from various cultures and backgrounds to promote several works and perspectives.
Netflix Mission and Vision Statement Analysis Mind Map
Instead of listing all the principles in bullets, you can use a mind map to provide a better and simplified analysis of the Netflix vision, mission statements, and core values. Here are some examples below: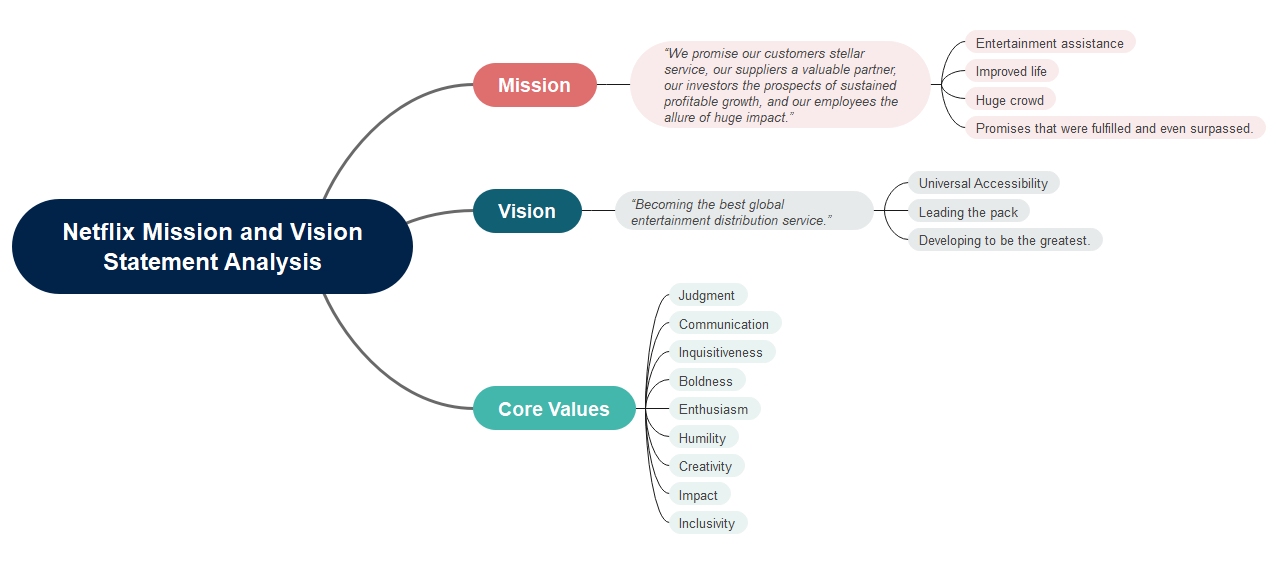 View, edit, and download this template in EdrawMind >>
Mission
Entertainment assistance
Improved life
Huge crowd
Promises that were fulfilled and even surpassed
Vision
Universal Accessibility
Leading the pack
Developing to be the greatest
Core values
Judgment
Communication
Inquisitiveness
Boldness
Enthusiasm
Humility
Creativity
Impact
Inclusivity
Key Takeaways
Netflix is dedicated in its business processes to establishing a conducive atmosphere that contributes to being among the most searched streaming platform and offers significant returns for the company and its shareholders. The specific principles that the company implements on its mission, vision, and core values bring Netflix to the leaderboard in the industry.
The firm can also be an excellent guide to startups in the industry as its principles seem to apply to other organizations. While it may not be ideal to have all the principles in your brand, you can take inspiration from it and formulate your own. It will not hurt to look upon a firm that has seen several innovations in the industry and examine how they handle to sustain its leadership.
Like the mind map above, it can be beneficial to illustrate these principles through a simplified structure using mind map software. It has various pre-built templates on the Mission and Vision Statement Analysis, which users can utilize instead of creating from scratch.
References