Zara Segmentation, Targeting, and Positioning
With its excellent market segmentation, Microsoft is developing quickly in line with the industry's growth and difficulties.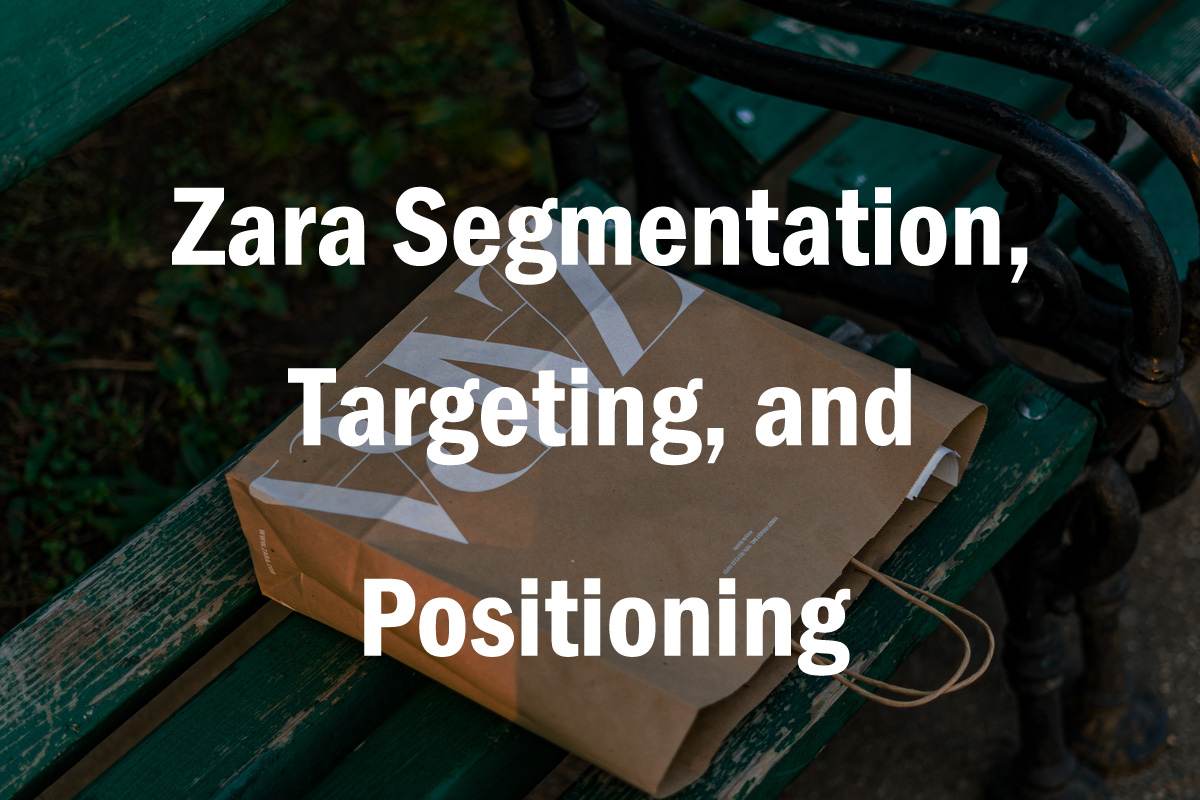 1. Introduction
Market segmentation is an important idea in determining a company's target customers. A company can boost its effectiveness in a certain market segment by carefully selecting the key market sector. It enables businesses to be more efficient and to focus on certain goods that generate the most money. Zara, for example, caters to young people by offering them a steady supply of attractive clothing. Zara has a limited number of outlets throughout the world; thus, it employs selective targeting tactics to make its items available. Zara employs usage-based positioning tactics to emphasize its customer-centric approach to meeting the changing fashion demands of customers all over the world. Zara understands that its clients demand fresh and updated trends; thus, it caters to them completely through its designs.
Zara's marketing strategy aids the brand's/competitive company's positioning in the market as well as the achievement of its company objectives. The practice of segmenting a market into groups based on numerous criteria is known as market segmentation. The segmentation strategy entails identifying market segments of clients who have similar demands and characteristics. Let's begin by looking at the Zara Marketing Strategy & Mix to learn more about the company's product, price, promotion, and distribution methods.
2. Market Segmentation of Zara
Zara is one of the world's most well-known luxury apparel brands. Zara has clothing for men, women, and kids. Jeans, slacks, tops, dresses, knits, T-shirts, footwear, luggage, and accessories are all available. All of them are part of Zara's product strategy in her marketing mix. It is a one-stop shop for anybody looking to purchase formal or casual attire. Zara has a variety of styles to pick from. Every year, it introduces at least 10,000 new designs. Zara items are popular among both high-end fashionistas and the general public. The accessibility of a product line is influenced by the preferences of the target market.
Zara focuses on modern designs and guarantees that its inventory is always refreshed for its clients. Zara is devoted to reducing waste creation and believes in sustainable development. Its hangers and security tags are recycled. Zara distributes their goods in either paper or biodegradable plastic bags. Zara employs organic cotton and other environmentally friendly textiles in the creation of certain of their merchandise. These items feature a special and separate label that can be easily identified.
3. Targeting of Zara
ZARA's target consumer is often between the ages of 18 and 40, with a medium-high income. Furthermore, it targets customers based on their fashion awareness. They are frequently busy individuals, which is taken into account in ZARA's strategy, which aims to get customers to buy on impulse. Individual consumer needs and wants vary tremendously, and what is good for one client may be completely unsuited for another. People that are interested in modern vogue and want to keep up with the newest fashion trends on a budget are the company's target market. To reach this market, ZARA's approach should be to open stores in high-traffic areas and to provide them with a new assortment regularly at an affordable price.
An organization is expected to recognize segment members and establish segment profiles. The compatibility element must be considered, in which the qualities of the chosen part must correlate to the primary aspects of the proposed product or service. It's worth noting that Zara uses an undifferentiated kind of market segmentation the majority of the time. However, the corporation continues to place a premium on young individuals due to their proclivity for replacing clothing at a higher pace. Undifferentiated marketing occurs when a company, such as Zara, decides to ignore segment distinctions and approach the whole market with the same offer at the same time. The business creates a product and a marketing strategy that appeals to as many customers as feasible.
4. Positioning of Zara
Zara's fashion industry tagline is 'cheap quick fashion,' and it caters to a global customer market. Zara has grown into a global brand, but its success isn't due to high-profile designers or Zara's "quick fashion" approach. As a representation of fast fashion, the rapid imitation approach emphasizes fast design, fast manufacturing, and quick sale with the fastest speed in response to market demand. Zara's target demographic is between the ages of 20 and 35, and they are fashion-conscious but unable to afford expensive labels. As a result, to fulfill consumer demand for this client base, Zara develops a quick fashion strategy, which is a huge success in today's market.
Zara spends very little money on marketing. It has a reputation for being press-shy. Its owner, too, never conducts press interviews. It does not engage in any flamboyant campaigns, unlike its competitors. Zara's advertising is not broadcast on television because of this. Its traditional marketing, on the other hand, is eye-catching and concentrates on the fashion trends that young people enjoy. Zara's unique selling offer is its quick turnaround time, wide range of designs, and low prices. Rather than using expensive marketing tactics, it promotes itself through advertisements and social media. Zara has a massive social media following.
5. Mind Map
The practice of segmenting a market into groups based on numerous criteria is known as market segmentation. The segmentation strategy entails identifying market segments of clients who have similar demands and characteristics. Using a segmentation strategy has several benefits. An organization can increase its chances of developing a product or service that satisfies the demands of certain customer groups by recognizing and defining them. Pricing and distribution system decisions are also made with the interests of a certain segment of customers in mind.

View, edit, and download this template in EdrawMind >>
EdrawMind Apps
12 structures & 33 themes & 700+ cliparts
Support Win, Mac, Linux, Android, iOS
Advanced import & export options
On-premises software for business
Enterprise-level data security
EdrawMind Online
12 structures & 33 themes & 700+ cliparts
Access diagrams anywhere, anytime
Team management & Project management
6. Key Takeaways
To summarize, the notion of market segmentation is critical in deciding a company's future strategy. Zara's products cater to the majority of the population, although they specifically target young people. The primary motivation for this activity is that younger people are more likely to update their wardrobes by current fashion trends. To enhance their income stream, Zara uses undifferentiated segmentation with a focus on young people.
It is important to remember, however, that there is no single strategy for market segmentation. To determine the most beneficial strategy to examining the market structure, the market leader, such as Zara, must try out segmentation possibilities based on multiple factors, one or many at a time. There is an effective statistical approach for examining the effects of variables on the outcome in such a case. Zara may simply examine the impact of a factor on the final result with this methodology. You can easily work your way through summarizing everything with EdrawMind's mind map diagram template, just like one down below. EdrawMind have countless pre-made template for you to choose from and work on.
7. References