Microsoft Segmentation, Targeting, and Positioning
With its excellent market segmentation, Microsoft is developing quickly in line with the industry's growth and difficulties.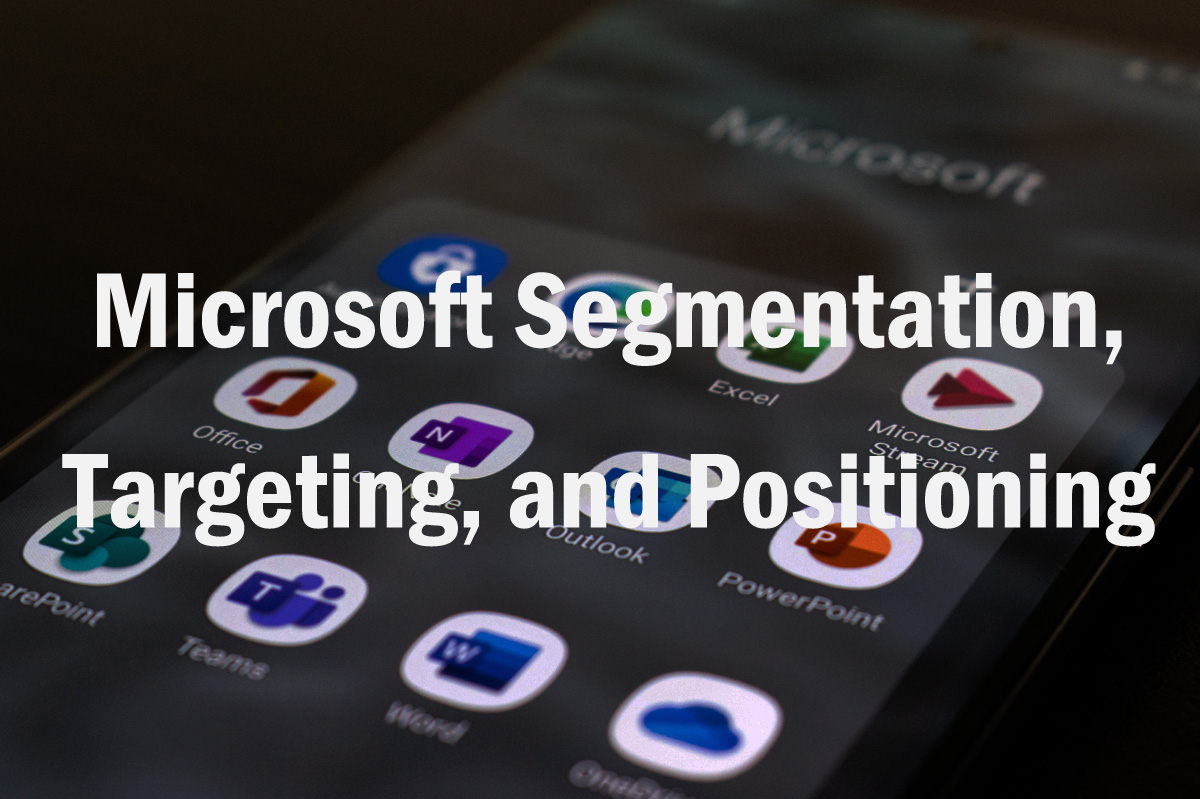 1. Introduction
Microsoft, the American multinational corporation founded in 1975 by Bill Gates, is a technological behemoth that makes people's lives easier, more pleasant, more improved through its diverse offers in personal computers, consumer electronics, and computer software. It develops, produces, licenses, and offers support for the products and services in its portfolio. It is the world's largest and most successful corporation, consistently ranking among Forbes' top 100 global corporations.
Microsoft, a United States multinational firm established by Bill Gates in 1975, is a technical powerhouse that makes people's work easy, more enjoyable, and better by providing a wide range of personal computers, consumer goods, and computer software. It creates, manufactures, licenses, and supports the goods and services it delivers. It routinely ranks among Forbes' top 100 global firms as the world's largest and most successful corporation.
2. Market Segmentation of Microsoft
Microsoft has a competitive advantage because of its diverse product line. When comparing worldwide data, it is the world's largest operating system supplier for computers, and it nearly totally dominates that market, with Windows 10 being the most recent and newest in its series, which was offered as a free update to Windows 7 users. To make the software increasingly available and economical to users, Microsoft has focused on the Total Cost of Ownership.
The organization has increased its recognition by leveraging a wide distribution network and a multi-channel approach to make its goods and services accessible to help the customers. Microsoft sells its products and services through a broad network of retail locations, e-commerce platforms, and exclusive showrooms.
3. Targeting of Microsoft
Microsoft's target demographic includes people aged 16 and above from both urban and rural places across the world. They also target young people who are devoted to the company and are frequently students, employees, or professionals. Microsoft also used the STP strategy, which stands for Market Segmentation, Targeting, and Positioning, to facilitate advertising messages by allowing the organization to prioritize propositions.
Microsoft offers both software and hardware, as well as a variety of services. Because Microsoft's target audience is individuals who do not necessarily have a large salary, everybody in a middle-class family possesses at least one piece of Microsoft gear or software. Microsoft offers a diverse set of goods and services focused on meeting the needs of clients in the software business. Furthermore, to further its competitive edge, the firm has expanded its activities into other areas.
4. Positioning of Microsoft
The selection of acceptable sites or venues by the firm to distribute its products is analyzed by the placement mix. Microsoft strives to expand its market share in both the computer hardware and software industries. The firm distributes its products through its official website as well as Microsoft shops. Brand positioning is critical to a company's success because it creates a perception in the minds of customers that distinguishes them from their competition. Over 20 years ago, Microsoft began to build its brand with the goal of "putting a computer on every desk and in every household." As a result, Microsoft has grown into a multibillion-dollar international corporation with personal computers at its core.
With distinct product and service packages, the corporation addresses many consumer categories at the same time. For example, the Client Engagement Plan for Dynamics 365, a program for developing and sustaining consumer connections, begins at USD 115/month for the budget-conscious customer sector. On either side, the Unified Operations Plan, which starts at USD 190/month, is designed for a different client group that is willing to pay more for a more comprehensive set of activities and capabilities within Dynamics 365.
5. Table
Type of segmentation
Segmentation criteria
Microsoft target customer segment
Geographic
Region
Global
Density
Urban areas and rural areas
Demographic
Age
16 and older
Gender
males and females
Life-cycle stage
Bachelor, youngster and married people
Occupation
Students, employees, professionals
Behavioural
Degree of loyalty
Hard and Softcore loyal
Benefits sought
Efficiency, accuracy, speed
Personality
Determine and ambitious
User status
Nnew users, regulars, potential users and ex-users
Psycho-graphic
Social class
Lower class, working class, middle class and upper class
Lifestyle
Mainstreamer, Successful, adventurous, and Reformer
6. Mind Map
To segment the market into groups with comparable characteristics, the IT giant employs a combination of demographic and behavioral segmentation tactics. Demographic segmentation is utilized for items that are universally applicable, such as operating systems and office software. For products like the Microsoft Windows server operating system or Windows mobile phones, behavioral segmentation is employed. It is involved in a wide range of hardware and software companies, from operating systems to mobile manufacture and distribution.

View, edit, and download this template in EdrawMind >>
7. Key Takeaways
Microsoft has a wide number of goods and services, which offers it an advantage over other corporations throughout the world. It has a Microsoft laptop, Xbox console, and software solutions. To be in the meta-market business aids the organization in maximizing common abilities in its operational enterprises. Microsoft's acquisition strategy is among the most critical competitive benefits it has over its competitors. Microsoft has bought a slew of world-class firms, including Hotmail, Skype, Nokia, Visio Corporation, Navision, and a slew of other small and large businesses.
Microsoft is expanding at a quick pace to keep up with the industry's development and difficulties. Companies in this area are outsourcing services to developing countries to reduce their operating costs. Due to the vast number of enterprises in the market with identical products, customers have negotiating power. Consumer analysis is an important part of Microsoft's marketing strategy since the company provides goods and services for people of all ages and all sorts of customers, whether they are individuals or businesses. You can all sum up in a very nice and strategic by using mind maps just like below. You can use and even make your mind map with EdrawMind and choose from its pre-made template.
8. References