Volkswagen SWOT Analysis
Discover how Volkswagen is staying top of the trend with its SWOT analysis.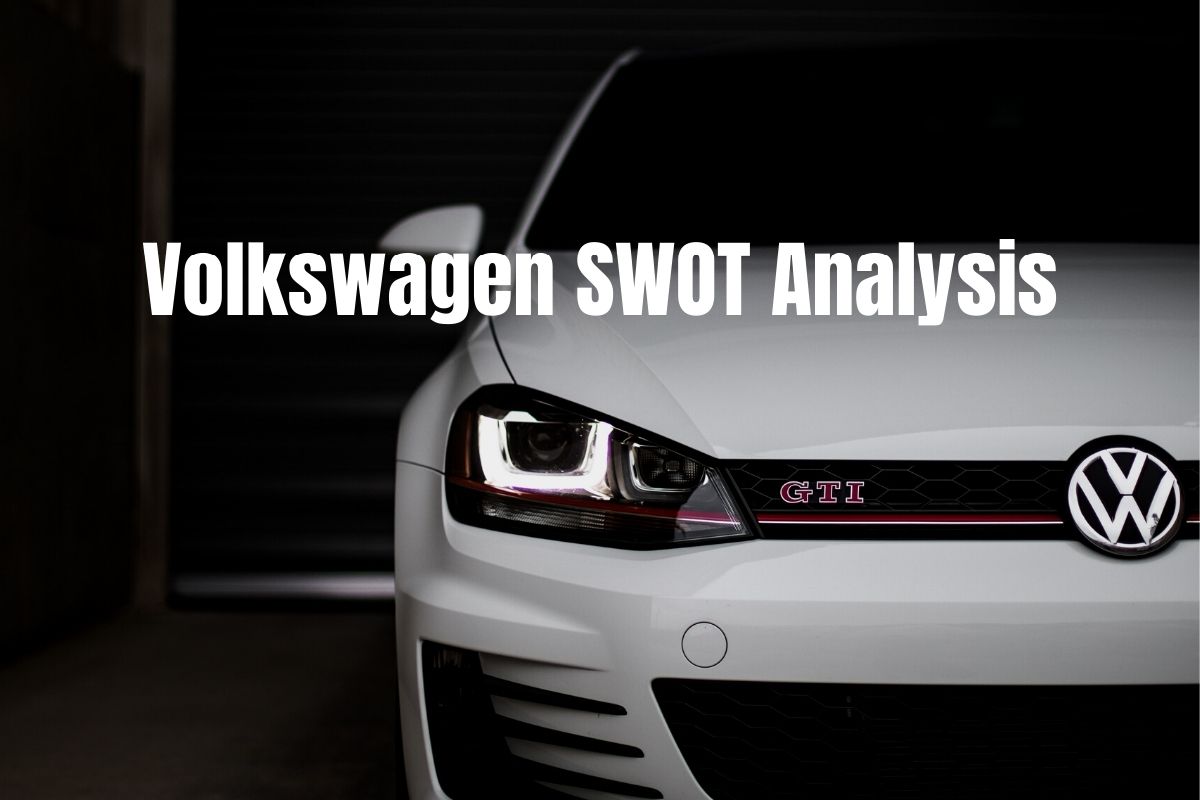 Introduction
Volkswagen is one of the world's major automobile manufacturers, with a nice balance of cost-effective and premium models. The company was formed in Berlin in 1937 and currently has a global revenue of $278 billion and employs more than 302,000 people. It also serves as an umbrella brand for several independent car companies, including Audi, Skoda, Bugatti, Porsche, etc. Volkswagen has grown via a series of acquisitions to become the automotive behemoth it is today.
Volkswagen's performance in the present market is influenced by a variety of things. And we'll break down these aspects in terms of the company's strengths and weaknesses in the present market. We'll also look at the opportunities and risks that Volkswagen represents in today's world.
Volkswagen's SWOT Analysis is shown below.
Volkswagen's Strengths
Volkswagen's advantages are listed below.
Structure of the World
One of Volkswagen's key assets is its worldwide umbrella presence, which provides a high degree of efficiency. It offers a variety of items in addition to automobiles, and all of its activities are constantly running at full capacity. The brand maintains a consistent level of R&D, and most crucially, it guarantees that it communicates with its worldwide market. At the same time, the brand guarantees that it has a significant presence in its native country, where it can employ the whole town.
Capability in Branding
While Volkswagen primarily functions as an umbrella company, it makes every effort to maintain a strong presence in the market. People are becoming aware of Audi and Porsche, but they are also conscious of Volkswagen as the parent company.
Partnerships
Volkswagen has a lot of partners who help it with supply chain, accounting, and other areas. Accenture is the most essential of these, serving as a major consultant as well as handling all system requirements. Such solid collaborations allow the brand to focus on its core competencies, such as R&D and business management. They further guarantee that Volkswagen remains the most popular car brand in the majority of nations.
Presence throughout the world
When it relates to worldwide sales, the Volkswagen Group has 153 countries under its belt. There are 122 manufacturing factories in 20 European nations, as well as 11 manufacturing operations in every continent. In addition, the Volkswagen Group provides both distributors and consumers with a wide range of financial services like insurance, bank, financing, and lending.
Volkswagen's Weaknesses
The following are Volkswagen's biggest flaws.
High Levels of Competition
The luxury automobile sector is a very competitive one. Volkswagen has been having trouble in growing markets as a result of this. Many emerging companies are now able to provide premium features in mid-range automobiles. As a result, consumers with money supply in growing economies are not buying Volkswagen's premium-priced automobiles.
Scandals
Following the emissions crisis, over 11 million automobiles were deemed unsafe and returned to the manufacturer. This has always been a blemish on Volkswagen's otherwise spotless past. The company has put forth a lot of work to promote a new identity, yet this one incident has created a lot of skepticism among customers. Because the present generation is wary of endorsing businesses that contribute to the environmental issue, such a controversy can be fatal.
The Price of Branding
Certain Volkswagen trademarks need an exorbitant degree of branding expenditure. Porsche and Bentley, for example, are rare luxury automobile brands that demand a significant amount of money to maintain. In growing areas, these brands are also unable to compete with names like Maruti and Hyundai. Volkswagen has to re-strategize the sustainability of these brands right now.
Volkswagen's Opportunities
Volkswagen's opportunities are the following two: increased purchasing power and creative designs.
Purchasing Power Increase
The purchasing power of the world is increasing rapidly. Vehicles that were previously beyond of reach for the middle income are now within their reach. This is also an ideal time for Volkswagen to make a significant entry into the semi-luxury car market. This appears to be the preferred vehicle type in most emerging markets, and it may provide significant income for the company. The brand's future will be determined by its ability to capture these market opportunities.
Unique designs
In recent years, the technical environment has vastly improved. Volkswagen should deploy as many creative car designs as feasible. These designs are mostly not fuel-efficient, but they are also good for ecology, which is a hot topic right now. Volkswagen can also enter the self-driving car market with the aid of strategic agreements with the right tech companies. For most of these businesses, combining high-performance technology with premium automobiles is the way to go.
Volkswagen's Threats
The hazards to Volkswagen's external environment are listed below.
Market Expansion Isn't Happening
Volkswagen has struggled to advertise itself to the millennials and Gen Z generations. As a consequence, the company's character is being regarded as a relic of the past. Volkswagen needs to upgrade itself as soon as possible to reach out to newer people. If the brand is unable to do so, it may be unable to stay ahead of its competition.
Concerns about the environment
The present climate issue has had a significant impact on automobile manufacturers. Because automobiles are responsible for a significant degree of environmental destruction, Volkswagen's greener vehicles are an immediate requirement. And, given their long-standing environmental difficulties as a result of the emissions scandal, this would be a novel approach to sell the brand.
Volkswagen SWOT Analysis Mind Map
Volkswagen has the most diverse brand that's makes a wide range of cars. Volkswagen is the world's largest car producing company. The corporation was engaged in the "diesel gate" controversy, which rocked the company and the whole automobile industry, resulting in the ruined brand name, massive penalties, and lost sales.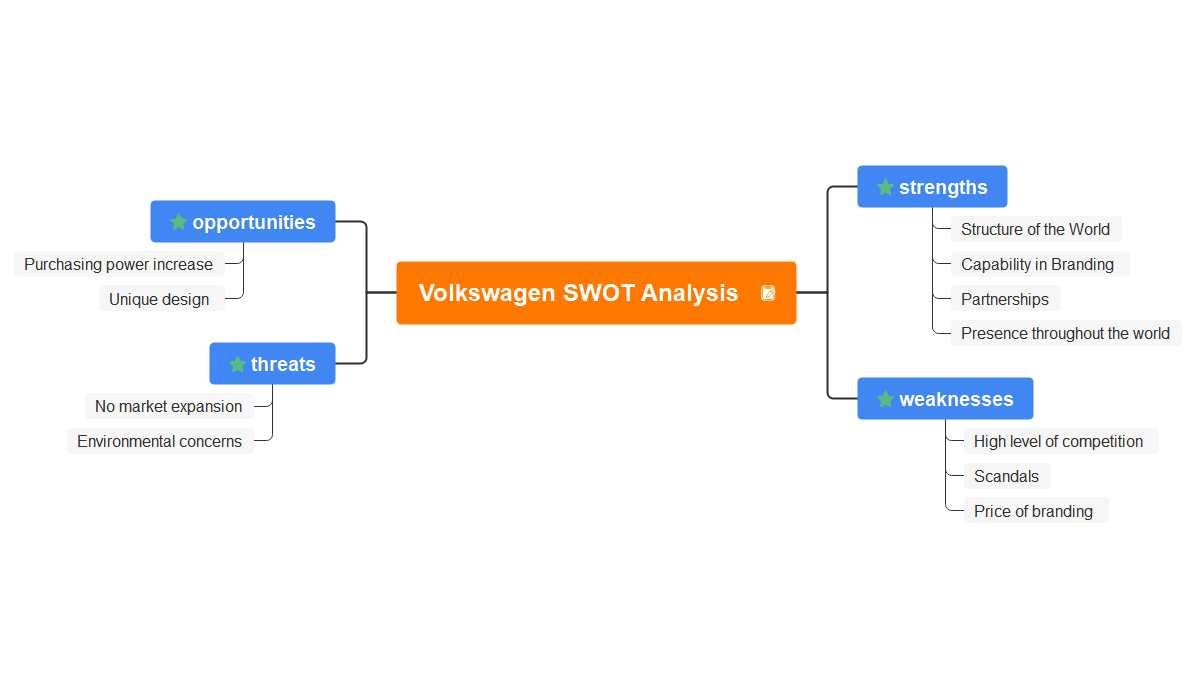 View, edit, and download this template in EdrawMind >>
Key Takeaways
So, these are the main strengths, weaknesses, opportunities, and dangers that the global auto manufacturing behemoth is dealing with right now. This essay should provide you with a better understanding of the Volkswagen brand and how it will function in the potential market. The company's outstanding organizing abilities and branding capacity are two of the most important things that will propel it ahead.
While dealing with the emissions crisis will need a significant rebranding effort. It is realistic to assume that Volkswagen's future depends on extending its markets and incorporating technical developments into its automobiles. According to the analysis, Volkswagen is making the correct decision by switching from internal combustion and human drivers to electric vehicles and self-driving cars. However, the corporation must show the leadership and managerial skills necessary to achieve this transition while keeping its position as a leader in the conventional car manufacturing industry.
A mind map is a perfect way to go if you want a SWOT analysis for your work too but are a beginner. Then EdrawMind is the perfect solution as they have so many pre-built templates that are completely customizable.
References