Facebook Mission and Vision Statement Analysis
See how Facebook is still the major social network by having a look at its mission and vision statement analysis.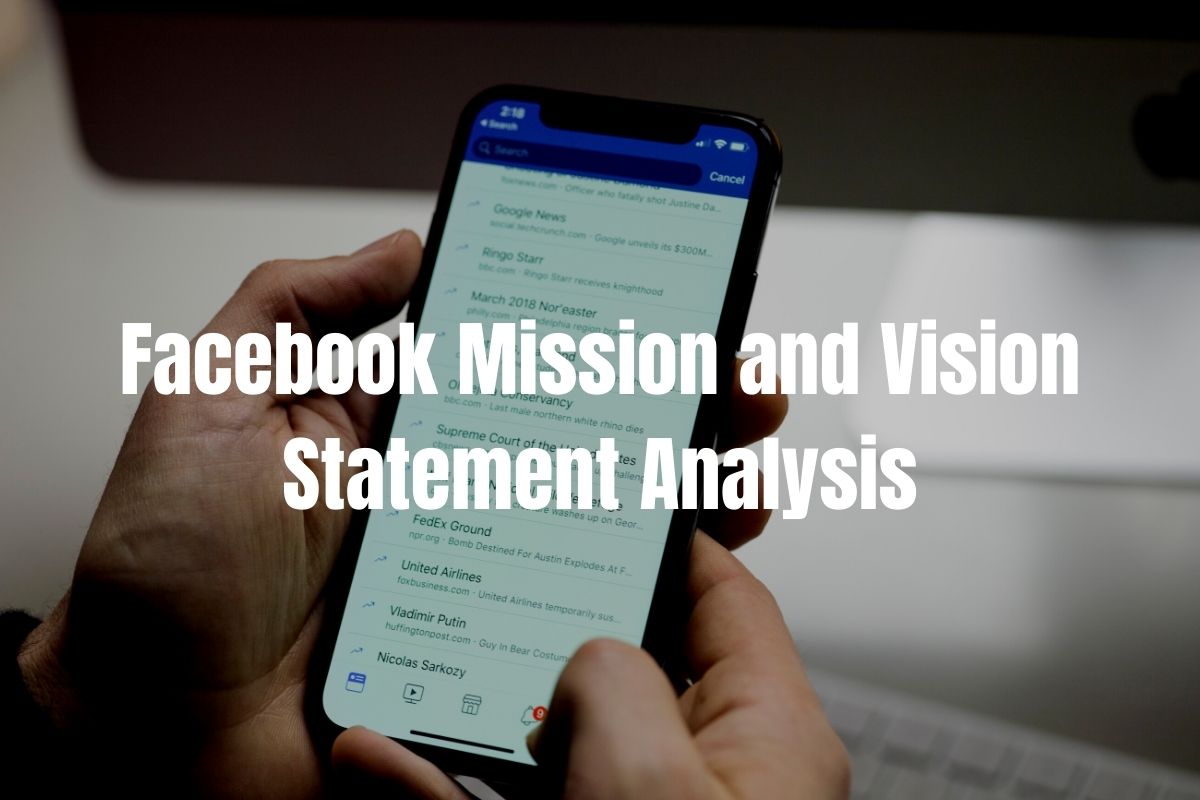 Introduction
Facebook Inc. is among the world's major social networks. This market position is consistent with the company's goal and vision statements, which emphasizes the leadership in influencing global social connections. The corporate vision statement of a corporation expresses the state in which the organization aspires to be. In this situation, Facebook's vision statement directs employees' efforts to assist the company's effectiveness in expanding abroad.
A company's corporate mission statement, on the other hand, specifies the major goals and activities required to achieve the vision. The mission statement of Facebook defines the company's growth and development plans and techniques. The corporation exploits its strengths (see Facebook Inc.'s SWOT Analysis) to promote business leadership in the worldwide market for online social networking and associated Internet advertising services by maintaining a continual focus on the company mission and vision statements.
The corporate mission statement of Facebook Inc. explains what the firm plans to do as a major online social media corporation. Facebook company's vision statement, on the other hand, necessitates specification to create a roadmap for the company's human resources to support worldwide commercial development and diversification. Effective purpose and vision execution may help the organization compete in the international market for online advertising services against companies like Google, Instagram, Snapchat, and Twitter.
Mission Statement
"Give people the capacity to form communities and bring the globe closer together," says Facebook's business purpose. This new mission statement was established in the middle of the Cambridge Analytical and other parties' data privacy and security problems. "To offer individuals the capacity to share and make the world more open and connected," the company's business objective said in early 2017. In this sense, the company's new corporate objective demonstrates that it is now focusing on making its tools such as Facebook an integral element of community development. The primary components of Facebook's mission statement are as follows:
People's empowerment
Providing opportunities for community development
Bringing the planet closer together
Facebook's mission statement includes the phrase "empowering people," which refers to the company's objective of making its online social networking service a tool for making users more competent online. Furthermore, the objective demonstrates that this competence is manifested in the form of community development.
People can utilize social media to enhance communication and information exchange among community members, for example. Communities, charities, able to share the same interest groups, and a range of virtual communities are among these communities. In line with the corporate vision, Facebook Inc.'s mission statement states that the company's purpose is to connect the globe. When users converse through the social media website and its phone applications, connections are made. In this regard, the organization makes it possible for businesses to communicate with their consumers.
Vision Statement
"People use Facebook to remain in contact with loved ones, to learn what's going on in the world, and to communicate and convey what is important to them," says Facebook's company's vision statement, which is based on the company's social media service offerings. This company vision demonstrates that the company is more than just a social networking sites service. Instead, the firm aids in the acquisition of knowledge and the exchange of useful information among a single user. The following are the major parts of Facebook's vision statement:
Market scope on a global scale
Communication device
A discovery tool
Tool for expressing oneself
Facebook's "international industry scope" component is founded on the company's definition of "humans" as users, which refers to everyone on the planet. The firm sees itself as a mediator of communication amongst family members and friends, according to the corporate vision. Furthermore, Facebook Inc. aspires to be a global knowledge-finding tool. Furthermore, the corporation wants to turn its online social network into a global platform for self-expression. To preserve its dominant position in the transnational social media industry, Facebook must develop internationally, according to these aspects of its vision statement.
While Facebook has added several unique features to its system, the company's prime objective remains to establish an atmosphere where users can overcome physical obstacles to sustain relationships. To do this, the form cleverly incorporates other social media platforms, such as Instagram, to guarantee that individuals can keep in touch at all times. The warmth and simplicity of its texting and video calling features contribute to its satisfaction with this aspect of its vision statement.
Core Values
"Focus on impact, act quickly, be brave, be transparent, and produce value in society," according to Facebook's fundamental values. These principles work together to ensure that the local industries are held to a high level.
Facebook places a great priority on being a force for good in the world, and it encourages its employees to strive toward that goal. The company's steady success can be traced back to the importance it places on not only acting realistically in implementing its goals but also being bold and committed to the social value expected by its mission and vision.
Facebook is a lively corporation whose goal and vision are driven directly by its basic beliefs. The concepts that guarantee that just about everything inside a corporation functions according to specified standards are known as core values. Facebook places a premium on being daring, creating social value, and having an influence, among other things. The corporation has used these concepts to not only keep its business alive but also to propel it to new heights.
Facebook Mission and Vision Statement Analysis Mind Map
Facebook is a popular social networking site that has built a name for itself in terms of bringing the globe closer together. Since its inception in 2004 by long-time CEO Mark Zuckerberg, the firm has been regarded as the most dependable, vibrant, and most importantly innovative social network on the planet. What has set Facebook apart from the competition is the management's innovation and strategic mentality in adapting the company's mission and vision statements to the changing reality. A company's vision statement appears to be a depiction of where it intends to go in a specific period or a road map.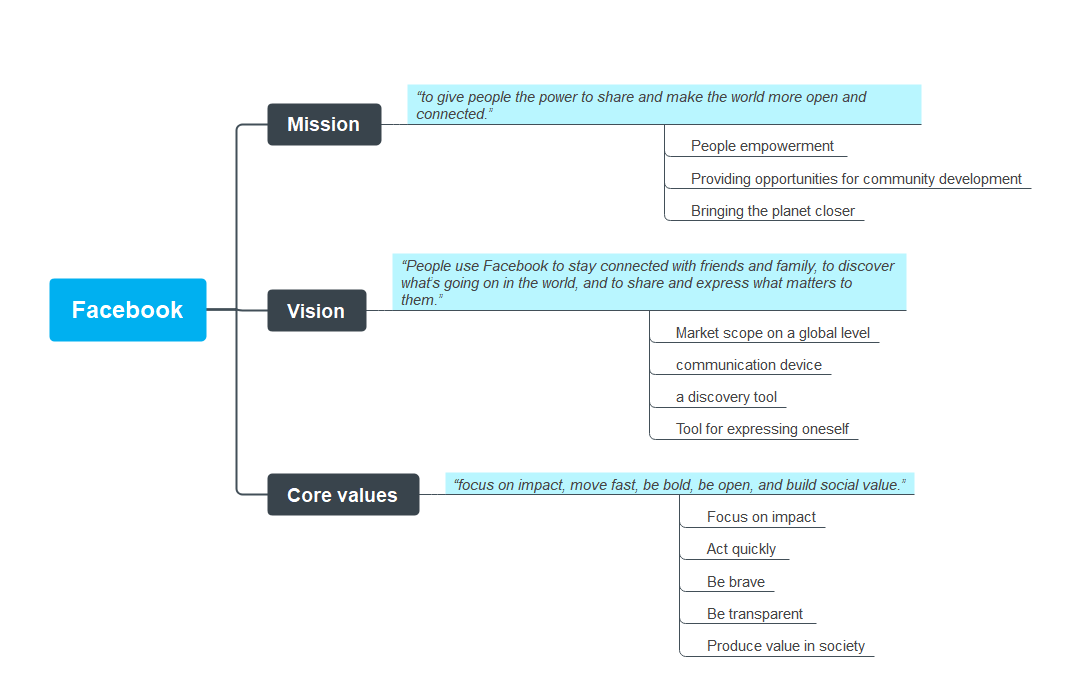 View, edit, and download this template in EdrawMind >>
Key Takeaways
Facebook's company mission and vision incorporate some of the norms on the ideal corporate statement qualities. The firm's mission statement, for example, explains what the organization performs and who the desired target market is. A good company mission statement, on the other hand, incorporates information about the services provided, lengthy goals, ideology, and self-concept. The corporate objective of Facebook is missing these facts. In addition, the company's vision statement is succinct yet unclear in terms of the company's long-term goals.
Facebook must make its company's vision and mission simpler, more succinct, motivating, and long-run to meet the goals of corporate vision statement development. In a single formal statement, Facebook Inc. offers its business vision and purpose statements. Separating these remarks is suggested to help investors, leadership, and other workers understand the organization's current direction and goals.
The goals and objectives are always defined clearly in a mind map and can be shared and forwarded with no problems. As people tend to gravitate more towards short material compared to heavy content. Everyone can make a mind map with EdrawMind because of their pre-made templates that make everything easy for you.
References