SpaceX Mission and Vision Statement Analysis
Discover how SpaceX differentiates its brand from its competition in the marketplace through its mission, vision statement, and core values.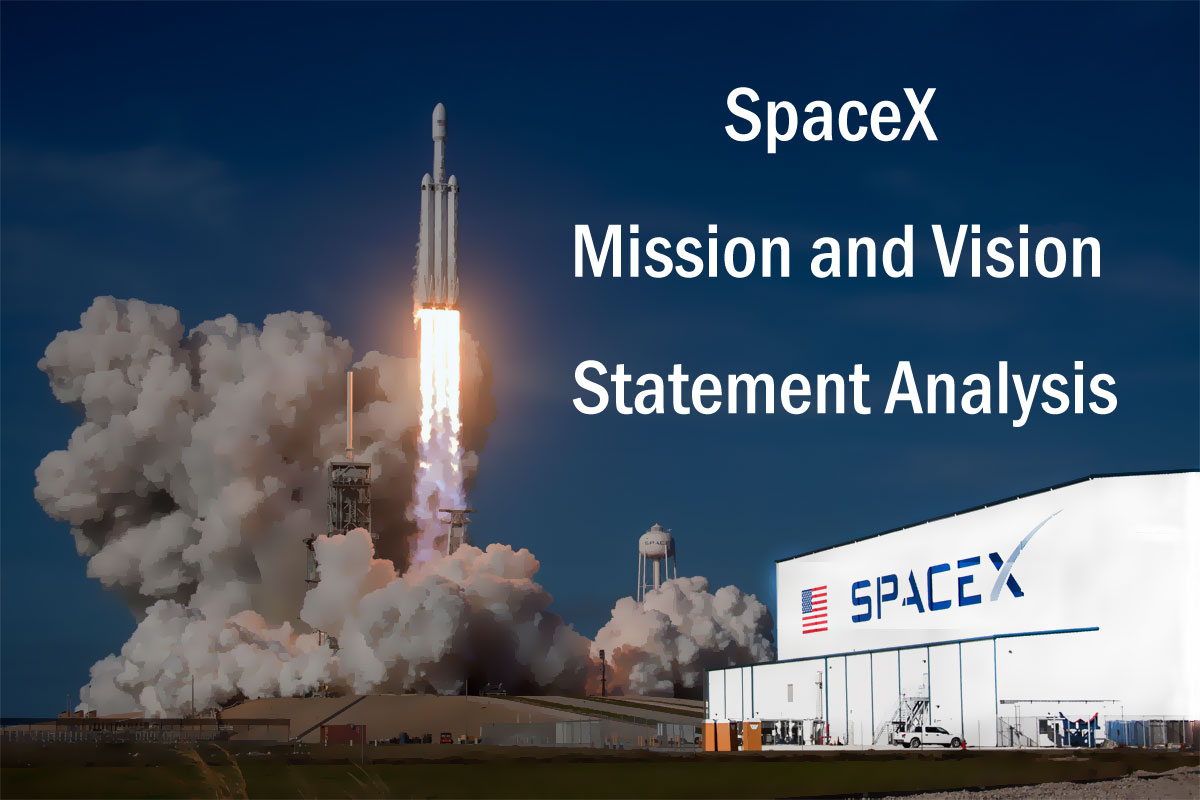 Introduction
SpaceX was established on May 6, 2002, and is headquartered in Hawthorne, California. The mission statement's phrasing demonstrates how the organization wishes for its essence to be perceived by everyone who interacts with it. It focused on life beyond Earth in particular, using a variety of well-organized and illustrated ways. There is no ambiguity.
SpaceX's statement of purpose resembles what one could expect from a corporate statement of purpose from any company. It discusses how the administration will lead the business and the methods they will use to comprehend the corporation's aims and goals.
Even though SpaceX has not stated its mission on its website, the collection of experiences and constant plaudits for which the company is recognized provides a wealth of information about its fundamental purpose.
Mission Statement
The mission of SpaceX is also backed up by the company's core values. The company views these, as well as having a forward-thinking mindset and being a bold individual, to be the key thrusts that have brought the organization to fruition thus far. Positively, they have played a key role in the organization's excellence, as depicted in its purpose and vision statements. The mission statement clarifies the organization's purpose. When everything is said and done, it also demonstrates a decisive influence SpaceX aspires to have on humanity. The following focuses correspond to SpaceX's mission statement:
Improving people's lives
SpaceX is involved in creating natural environments that people may choose from. It looks beyond what is now available to the potential that exists in the space for persons when a need arises. Such a goal needs massive resources as well as heavy punishment.
Exceeding expectations
Unlike other benefit-oriented businesses, SpaceX is committed to bringing about a change in space exploration via innovation. A glance at the organization's plan of action, for example, demonstrates that the organization spends the great majority of its time planning how to come up with the finest plans for space exploration.
Revolutionary space invention
While space technology was already present for a long time, there had been few notable advancements before the arrival of SpaceX. With its continued commitment to the sector since 2002, SpaceX has demonstrated that it is a dependable growth.
Mission statements are a tested strategy for increasing morale, productivity, pleasure, and profit in the workplace. Employees might also have a feeling of direction when working on projects with them. "To create our community" or "to be the premier professional network" are examples of strong mission statements. It is adaptable and easy enough for everyone to understand. This introduction explains why having a well-defined mission statement is crucial in the digital era, as well as how it may help businesses boost morale, efficiency, joy, and profits.
Vision Statement
In any event, this isn't the organization's official vision statement but rather an inferred one based on the organization's main destinations and formative pattern. Essentially, this release emphasizes SpaceX's authoritative position in all it does.
Advancements
SpaceX's primary function is to design advanced and cutting-edge space designs. It competes with other state-owned firms in the area as an exclusive space inventive organization. Indeed, SpaceX has provided amazing advancements, making it a beloved company in modern times because of the hope it has instilled in humanity.
Providing the impetus for what's to come
SpaceX satisfies this element of its inferred vision articulation by focusing all of its systems on figuring out how to enable people to live on other planets.
Its goal is to make progress in the future. This vision is not an official statement, but it is based on previous accomplishments. The company's pattern demonstrates SpaceX's focused vision. It considers not just how to go to space but also how to do it efficiently. Other individuals in the area are having a hard time competing with their inventions. It is gaining popularity because SpaceX prioritizes humanity. It instills in every one of us the desire to live on a planet other than Earth. As a private space station, SpaceX competes fiercely with other space agencies. Its inventions spawned a world-class corporation among humans.
Core Values
"Innovative, taking risks, inclusion, and diversity"are among SpaceX's fundamental principles. These are the common ideals that may be discerned from SpaceX's activities. They play a critical role in the company's overall performance and consistent success.
An examination of these qualities demonstrates beyond a shadow of a doubt that SpaceX is a corporation with a strong innovation culture. Even the company's recruiting strategy aims to bring on the most inventive professionals to help it develop its technological capabilities through new designs. They accomplish this by taking calculated risks as a group when it comes to thinking outside the box to come up with disruptive ideas that will help the firm fulfill its numerous purposes. SpaceX's capacity to succeed is based on the fact that the corporation values inclusivity and diversity above all else.
SpaceX Mission and Vision Statement Analysis Mind Map
SpaceX is undoubtedly one of the most well-known companies whose mission and vision statements are all about progress, as well as the authority statements that characterize the company. Since the organization was founded in 2002 by Ellon Musk, who also serves as its only CEO, the practices at SpaceX have demonstrated how real the organization plays its compelling role in the mechanical specialization and the future of mankind.