SWOT Analysis for Restaurant: Examples & Guide
Learn how to start your restaurant without making major mistakes with the help of this SWOT analysis and in-depth guide.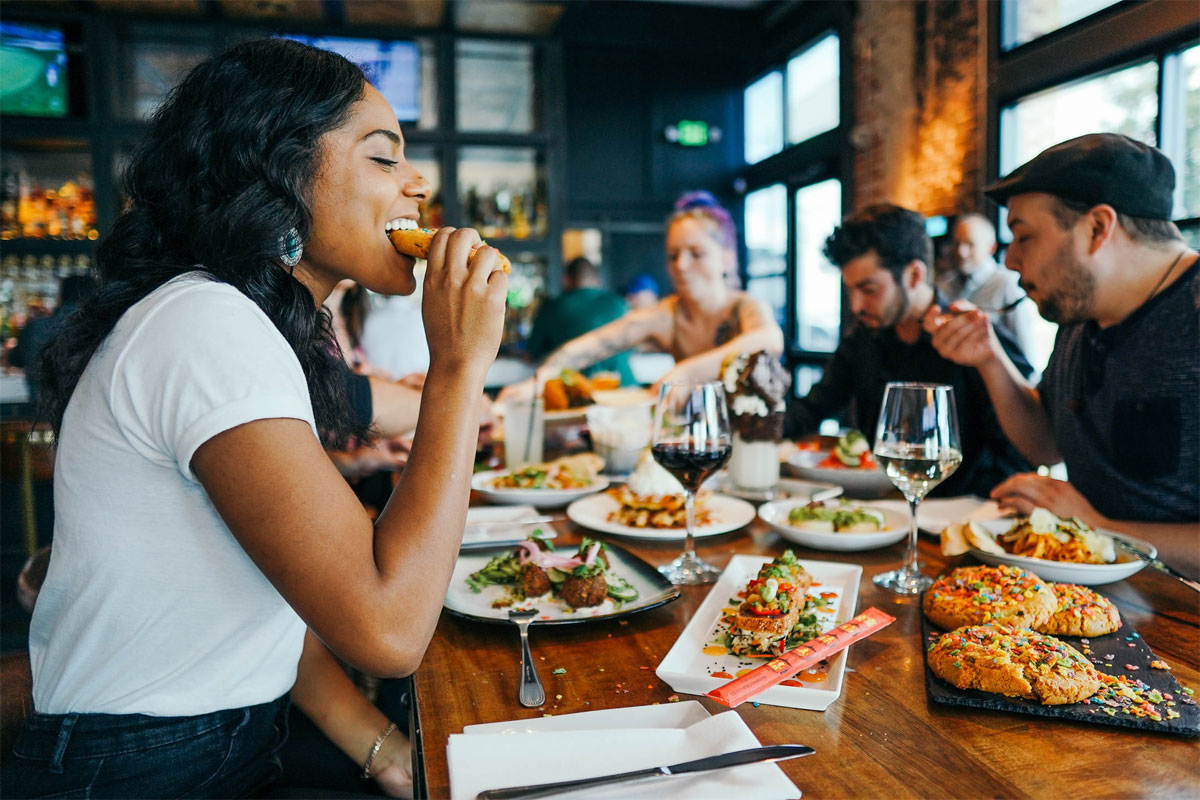 Introduction
If you were to conduct a SWOT analysis for a restaurant, the approach would be substantially the same. The main difference is that you won't be able to harvest information from reviews and existing clients.
However, don't let it deter you.
Competitive research is likely included in your restaurant business plan, which is highly valuable for a SWOT analysis. And you, your shareholders, and your management group are probably well aware of your capabilities. You wouldn't bother attempting to bring your vision to reality if you didn't.
The SWOT analysis is a restaurant situation analysis all in one. It's one side of a comprehensive restaurant evaluation. It's the half with the right brain. A SWOT analysis for a restaurant does not go into statistics or crunch figures. It's a high-level look at big, common-sense problems.
What is a SWOT analysis?
By identifying several external and internal elements, restaurant owners utilize the SWOT analysis approach to evaluate their performance in comparison to the entire market. Strengths, Weaknesses, Opportunities, and Threats (SWOT) are acronyms for strengths, weaknesses, opportunities, and threats. SWOC stands for "Strengths, Weaknesses, Opportunities, and Challenges," with the "C" standing for challenges rather than threats.
The aspects that restaurants can manage are represented by the strengths and weaknesses parts, whilst the opportunities and dangers are out of their control. All of the factors, however, can have a substantial influence on a restaurant. Establishments may get a comprehensive picture of their performance by looking at all of the categories. Establishments may evaluate how they stack up against their competitors, as well as their most successful restaurant marketing initiatives and risk-mitigation practices.
How to conduct a SWOT analysis for a restaurant?
The following are the key advantages of a local restaurant.
Strengths
Clean and orderly
Any large restaurant would have such traits as neatness and cleanliness. If your facility is tidy and clean, it will draw a lot of people's attention. Typically, hotels and restaurants are filthy, stinky, and infested with flies. That is why the wealthy and upper-middle classes avoid staying in hotels. Locals will want to visit and bring their guests to your restaurant if it provides a clean and tidy environment with a nice vibe.
Low-cost options
Large five-star hotels and restaurants are usually prohibitively expensive for upper-middle-class individuals. If you offered the same service at a lower cost, you would attract people from the upper and middle classes to your restaurant.
Better Customer Service
A clean atmosphere, clean and tidy rooms, a quiet and well-lit environment, separate parking spaces, adequate security, spotless kitchens, well-dressed waiters and cooks, and educated employees are all examples of better service. All of these things help relieve stress and ease because a quiet and pleasant environment has a significant influence on our minds and spirits. It makes you feel as though you've arrived in heaven. As a result of the mental delight, your product improves.
A wide range of products
One of the things that people dislike about hotels is the restricted and small menu. Customers will have a positive view of your menu if it comprises a variety of goods and meals. It would give customers the impression that the restaurant has a well-trained crew capable of preparing a wide range of foods.
Weaknesses
The flaws of a restaurant company may be found here.
A new business venture
As previously said, the new restaurant appeals to a wide range of people. However, a sizable portion of the group remains loyal to the former brand. They are unlikely to be persuaded by the concept of a particular entrant or restaurant. They don't only want a new name. If you want to amaze them and entice them to stay at your hotel, you must provide them with a novel and unforgettable experience. They won't even come if you're selling the same services under a different brand.
Limited Resources
When it comes to providing clients with a one-of-a-kind experience when visiting your location, a significant investment in several service areas is required, like an excellent location, well-kept grass, a lovely garden on the hotel grounds, and well-trained employees.
There isn't any distinction.
The hotel's one-of-a-kind experience is of such high quality that guests will return time and time. Due to a shortage of resources, your restaurant currently lacks this unique experience element. You would indeed draw disgruntled consumers from your rivals if you didn't have this functionality, not new customers.
The location is located outside of the city.
Your restaurant's structure is located outside of the city and market, and you're providing the same services as your rivals. Then you should ask yourself why your customers/tourists would travel to your restaurant in the first place. Even if you're not offering anything fresh or unusual, you'll get nothing but your rivals' leftovers. In such conditions, a company's existence becomes extremely challenging.
Opportunities
The following are some of a restaurant's most essential advantages.
The premises now have a new market.
Although the restaurant is located outside of the city, a new market is emerging on the grounds of your hotel. People from this market will not travel to the city; instead, they will stay at your hotel since it is closer.
Nearby, there is a new residential development.
In the vicinity of your property, work on a new residential neighborhood and housing society is ongoing. The new market, the business area, the building society, and the growth of residential sections all point to the formation of a new town. Because these items take time, the procedure would be slower. However, when it does, your eateries will be the town's longest and only establishment. Others would be brand new to the market.
There are no competitors.
The market and the residential area are both growing, and you have the potential to grow alongside them. You'd find no place to stand much of a chance in the marketplace once it's evolved. There are presently no rivals in this emerging market that can compete with you.
Extension
When the market and the residential neighborhood have been built, you will have gained experience. As a result, if new market conditions change, you'll be in a position to develop your business and force the newcomers out.
Threats
Discover the most serious challenges to a restaurant's success.
The area's big brands
In the neighborhood, there are several well-known and well-established restaurant chains. As a result, meeting costs with existing revenue is quite challenging. Of certainly, one day, it will be a thriving business. However, given the existing conditions, getting to that point will be extremely difficult.
Operational costs have increased.
The restaurant's income is being hampered by various operating expenditures such as personnel pay, building rent, supply costs, and performing maintenance charges. It is easy to open a good restaurant, but it is far more difficult to retain that position over time. It's because you have a lot of variable and fixed costs on your income statement, especially if your company isn't profitable enough.
Competitors are lowering their pricing.
Rich and successful businesses are decreasing prices to force out a new rival (our restaurant). As a result, you'll need a lot of backup assets to get through this challenging period and compete. One thing seems certain: rivals will not continue to provide low pricing indefinitely. They'll stop bothering you after they've established that you'll stay in the market.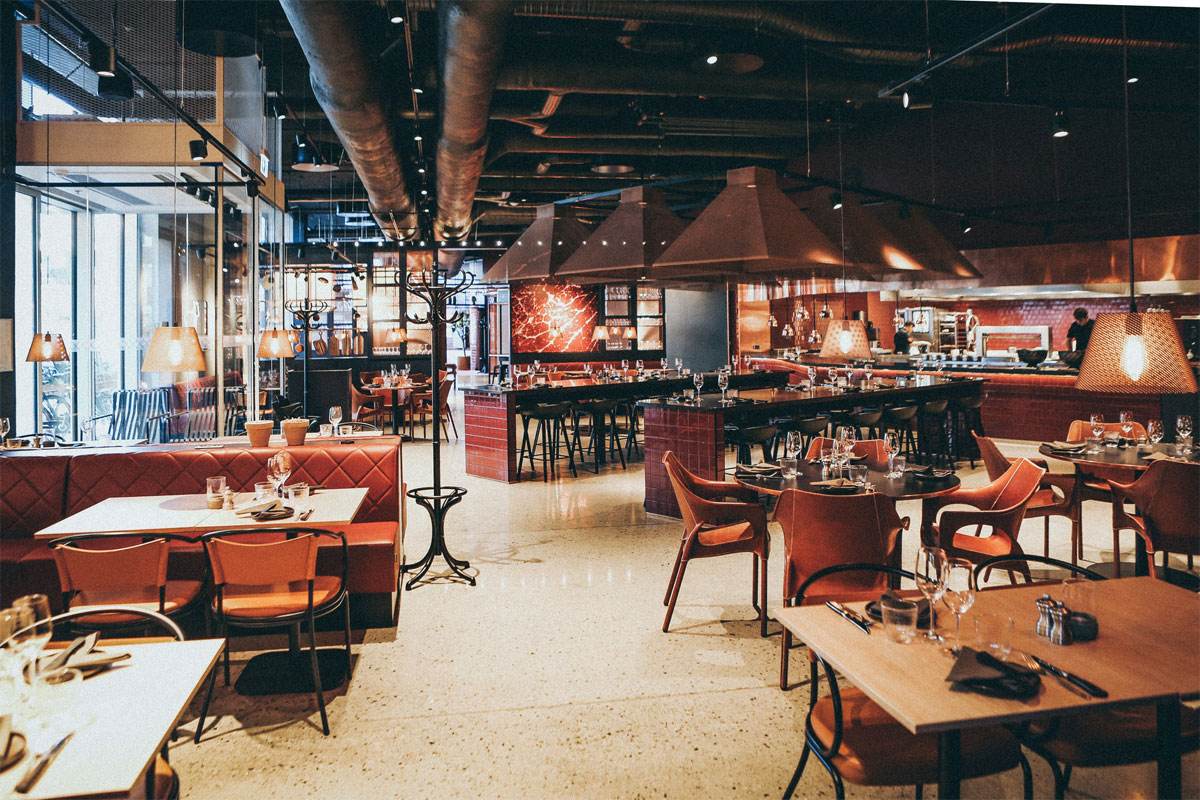 Restaurant SWOT Analysis Examples
Example 1. SWOT analysis for a fast-food restaurant
Fast food establishments cater to consumers who want cuisine that is quick to prepare and are less expensive than a casual dining facility. As a result, fast food restaurants provide high-quality cuisine, counter service, and a more informal, contemporary atmosphere.

View, edit, and download this template in EdrawMind >>
Example 2. SWOT analysis for a casual dining restaurant
The following are common characteristics of casual dining restaurants: Services are provided at their tables, and the menu items are reasonably priced. The decor is generally distinctive and depends on the sort of food offered, therefore the ambiance is low-key. Casual dining establishments, in general, sit somewhere between fine dining and quick informal on the "fancy" scale.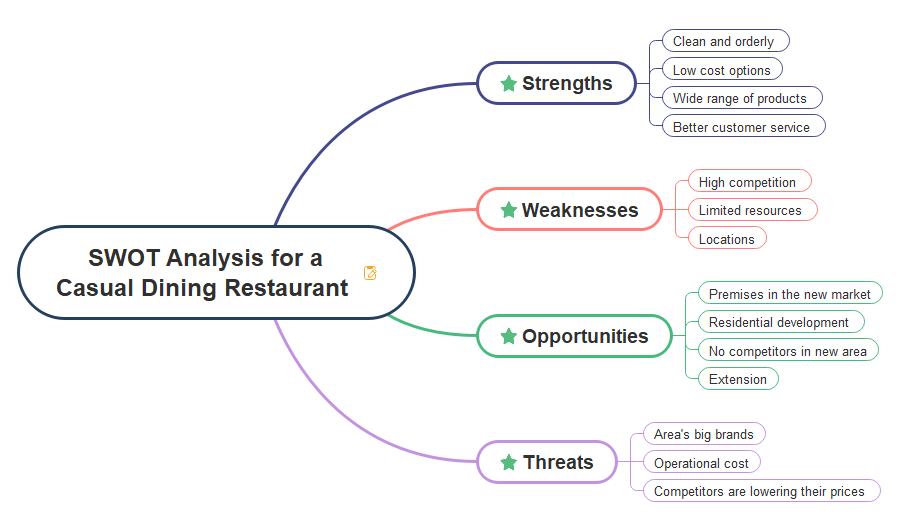 View, edit, and download this template in EdrawMind >>
Example 3. SWOT analysis for a café / coffee shop
While keeping a coffee focus, many sit-down restaurants feature quite a substantial morning, brunch, and even supper menus. While selling sandwiches, sandwiches, salads, meals, and sweets, a coffee-centric café is known for its high-quality coffee. Customers come here alone or with a company for a typical dining experience, and you can read the details in "SWOT Analysis of Coffee Shop: Examples & Guide."

View, edit, and download this template in EdrawMind >>
Example 4. SWOT analysis for a food truck
Customers are served at their tables, and the menu items are reasonably priced. Food trucks, carts, and stands are one-of-a-kind contemporary enterprises that specialize in a specific type of food and provide a restricted menu centered around those items.
View, edit, and download this template in EdrawMind >>
Example 5. SWOT analysis for a pub/bar
Pubs have a long history of being the go-to spot for unwinding and enjoying a beer or other alcoholic drink at the end of a hard day. They started as little more than bars. Pubs have extended their menu in recent years to include food and entire meals, as well as wine, liquor, and non-alcoholic drinks.

View, edit, and download this template in EdrawMind >>
EdrawMind Apps
12 structures & 33 themes & 700+ cliparts
Support Win, Mac, Linux, Android, iOS
Advanced import & export options
On-premises software for business
Enterprise-level data security
EdrawMind Online
12 structures & 33 themes & 700+ cliparts
Access diagrams anywhere, anytime
Team management & Project management
Key Takeaways
Hotels and restaurants are undeniably profitable businesses, but they require significant investment and support capabilities to compete in today's market. You'll be the only large brand and restaurant in the rapidly growing town once you've made it through this challenging time.
A restaurant SWOT analysis will assist you in figuring out where you thrive and where you need to focus your efforts. It may lead you to a hitherto undiscovered market or assist you in identifying potential productivity barriers. Use your reaffirmation of industry positioning to establish a solid basis on which the rest will fall into place. Especially if a mind map is concerned because it provides clarity and preciseness to the content. Making a mind map will aid you in your learning and work, but if you are short on time, then Edraw Mind is the best way to go, as it has a lot of pre-made templates for you to choose from.