McDonald's Mission and Vision Statement Analysis
Discover how McDonald's has built an atmosphere and kept its top place by applying the demands of its target market with those of the company's mission and vision statement.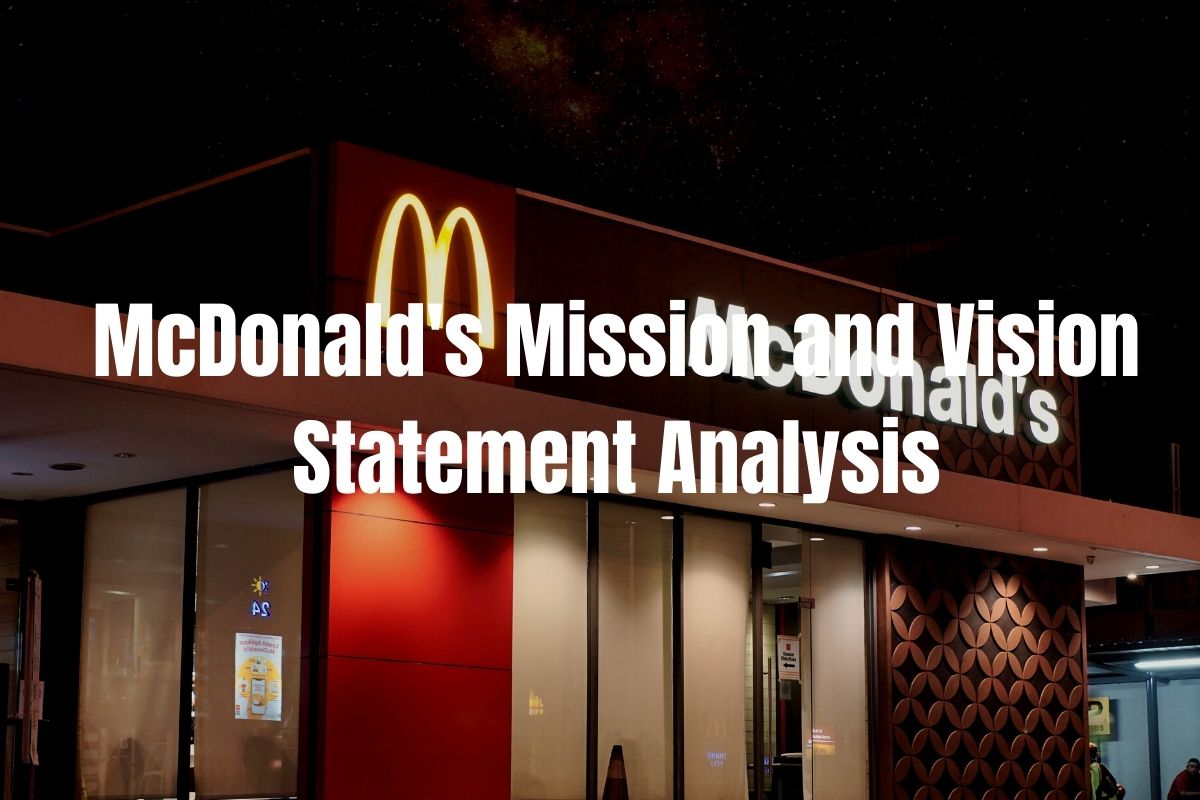 Introduction
McDonald's Corporation updates its business mission and vision statements to reflect developments in the worldwide foodservice business. As the world's largest fast-food chain, the Corporation views its business vision and mission statements as critical policy and strategic management instruments for ensuring long-term success. The corporate mission statement of a company defines the company's purpose and associated operations.
McDonald's mission statement identifies the Corporation as a popular favored food service place in this situation. The corporate vision statement of a company establishes the company's long-term goals. McDonald's has a vision statement that encourages the firm to develop and improve. With big global competitors such as Burger King, Wendy's, Subway, Starbucks, and Dunkin' Donuts, as well as smaller regional or local firms, McDonald's must develop the skills to deliver services the effects of competition and improve business performance predicated on the company's mission and vision.
McDonald's Corporation enhances its key capabilities through executing its business purpose and vision statements. This type of strengthening is a strategy to defend the company from the powerful force of competitive competition. McDonald's Corporation's Porter's Five Forces study reveals that competition is a powerful factor working against the company and its business environment. The company's corporate vision and purpose statements are a direct reaction to the competition's aggressive and inventive food service practices. In this way, McDonald's thinks that, despite economic concerns and competition-related obstacles, its existing mission and vision will be acceptable in its ever-expanding worldwide operations.
Mission Statement
"To be our customers' preferred location and manner to dine and drink," says McDonald's mission statement. The essential messages are conveyed by the mission statement:
Becoming a favored hangout spot for its customers
Customers' preferred method of eating and drinking
The customer-centricity of McDonald's is reflected in the company's mission statement. The company's objective is to become the favorite of its clients, as stated in the mission statement. McDonald's policy and management focus on their target customer group, which is predominantly comprised of young children, parents with children, and early teenagers, as seen by the usage of the words "our consumers."
McDonald's goal should become the customer's favorite restaurant. The fast-food company aspires to deliver a pleasant experience for its consumers, not only good food but a full-rounded experience in the shop as well. To become a customer's favorite destination, you must have a welcoming atmosphere, as well as structural and architectural aspects that enhance the customer experience.
The second part of McDonald's mission statement is to become the consumers' preferred method of eating and drinking. It demonstrates that McDonald's wants to be more than simply another fast-food company; it wants to stand out with its aesthetic. It aspires to form such a bond with its clients that dining and drinking at McDonald's becomes a unique experience.
Vision Statement
"To evolve with speed to generate profitable growth and be an even superior McDonald's delivering more people wonderful meals every day all over the world," says McDonald's vision statement. The statement demonstrates the company's potential for development. It maintains the company's earlier aim, which is to gradually develop while providing the finest client experience, as mentioned in the latter vision. The present statement, on the other hand, is far more detailed. It contains the following elements:
1.Make a move to help your business thrive
The firm demonstrates its desire to expand into a huge organization in this section. Only by becoming more strategic while growing and broadening its activities will the Corporation be able to attain this goal. McDonald's has been moving into new industries while retaining its business brand to guarantee the Corporation gets more lucrative to progress this element.
2.Better at customer service
McDonald's has never been satisfied with its product quality. The organization, with its staff of professionals, is continually on the lookout for innovative methods to improve its services. Furthermore, the company's continual development of marketing techniques and inclusion of professionals, as well as progressive training, contribute to the expected perfection. As a result of this aim, the Corporation has set standards in the food industry sector, giving it the largest and most powerful.
3.Throughout the world
This factor is related to the first since McDonald's presence in every worldwide location contributes to the company's profitability and growth. Lately, the Corporation has demonstrated its determination to dominate the sector by steadily opening additional locations throughout the world.
Core Values
"We put the customer experience at the heart of everything we do," McDonald's says. "We are devoted to our employees, we invest in the McDonald's system, we ethically conduct our business, we give back to the communities, we expand our business financially, and we aim to improve constantly." The company's key beliefs generate an ideal growth culture.
McDonald's places a great focus on recognizing the relevance of consumers' demands and preferences. Appreciation for individuals, the organization's brand, and a call always to conduct reasonably is also promoted by the company. McDonald's has built an atmosphere where all partners prosper by integrating the demands of the community with those of the company.
McDonald's Mission and Vision Statement Analysis Mind Map
McDonald's is a corporation that embodies the genuineness and old-school Fastfood cuisines of America, such as hamburgers, milkshakes, and French fries. They have made the majority of their income as a result of the differences in these notions. However, their commercial stroke of genius is acquiring real estate and opening more restaurants on that land to expand their business even further. This approach of acquiring land and constructing additional restaurants has helped them build a firm basis for their business.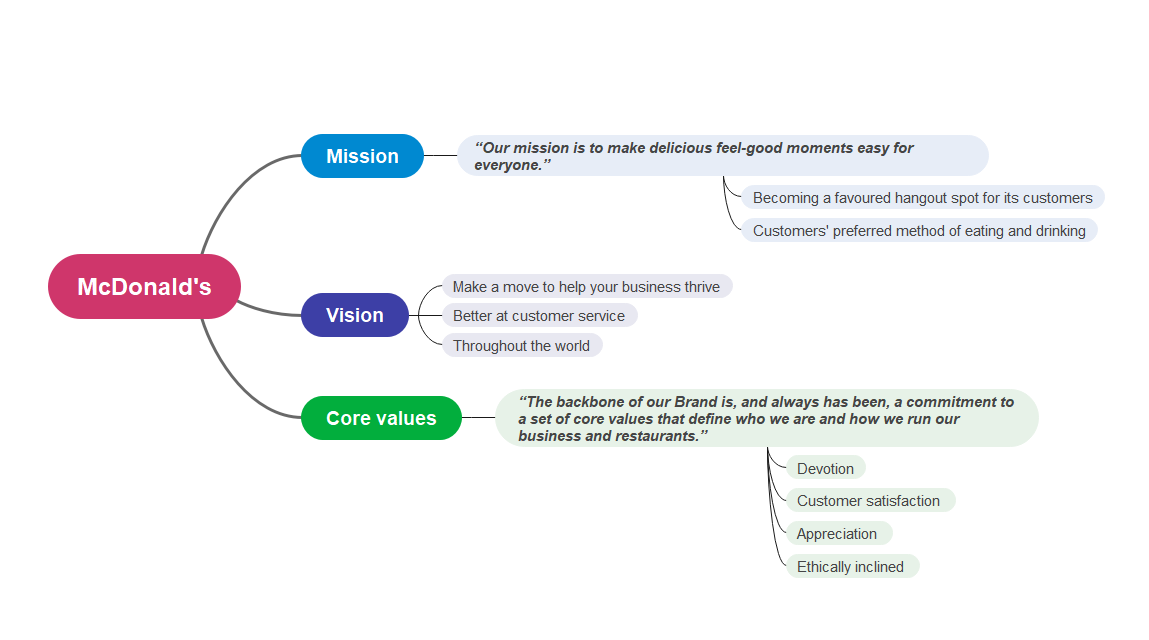 View, edit, and download this template in EdrawMind >>
Key Takeaways
Many, but not all, of the requirements for generating excellent mission statements are met by McDonald's mission statement. For example, the company's corporate purpose incorporates items (food and beverage) as well as a component of its corporate philosophy and self-concept (being the favored location and manner). McDonald's, on the other hand, excludes data on its targeted customers (every consumer), marketing efforts (global), and partners (employees and others). By including such extra information, the organization may boost its corporate mission.
This attempts to make the corporate mission statement more easily implemented throughout all departments and parts of McDonald's business organization and franchisee locations. McDonald's vision statement meets all of the requirements for creating perfect vision statements. The company's vision statement is also challenging and inspirational because of the emphasis on creating an even greater McDonald's. These attributes contribute to the organization's overall vision of becoming successful is to make a mind map. You can easily make one with EdrawMinds pre-built template.
References