McDonald's Marketing Mix (4Ps) Analysis
McDonald's success in applying its marketing mix contributed to it becoming the largest fast-food restaurant in the food industry's top ranking.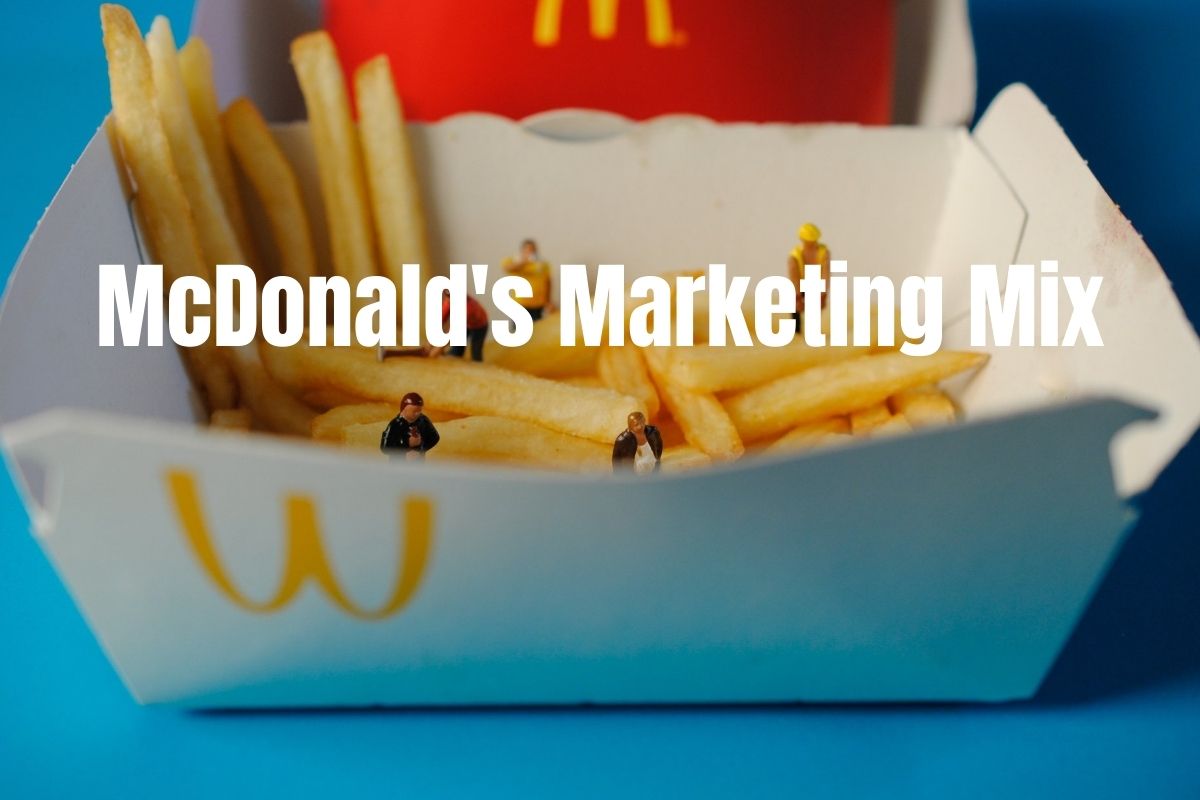 Introduction
McDonald's marketing mix strategy examines the company using the marketing mix paradigm, which includes the four Ps (Product, Price, Place, Promotion). Product development, price strategy, promotion planning, and so on are all examples of marketing tactics. These business methods, which are based on McDonald's marketing mix, aid in the success of the brand.
McDonald's marketing strategy aids the brand's/competitive company's position in the marketplace as well as the achievement of its overall business goals. To begin, let's look at McDonald's Marketing Strategy & Mix to learn about the company and its products, price, marketing, and sales channels:
Product Strategy of McDonald's
McDonald's has a product mix that is mostly made up of food and beverage items as a restaurant service company. The different organizational outputs (goods and services) that the firm delivers to its market segments are covered by this component of the marketing mix. McDonald's has the following primary product lines in their product mix:
Ice cream
Fries
Burgers
Meals
Coffees and Shakes
McCafe
Desserts
McDonald's brand and business reputation are largely determined by its products, which constitute one of the four Ps. Burgers are the company's most well-known product. The company, on the other hand, steadily extends its product variety. Customers may now order other items such as chicken and fish, desserts, and morning meals. The product lines featured in this section of the marketing mix are influenced by McDonald's generic competitive strategy and intense expansion initiatives.
The corporation meets market demand, increases revenues, and spreads risk in its business by diversifying its product lines. A broader product mix decreases the brand's reliance only on one or a few sectors of the economy in terms of risk. This component of McDonald's marketing mix denotes that the company develops new goods to gain more customers and strengthen its financial stability.
Price Strategy of McDonald's
McDonald's relies on psychological pricing methods in its marketing mix that look reasonable to customers to ensure that they buy more things. In India, they dropped rates by over 25%, so that people prefer McDonald's for mealtimes. KFC, Subway, Domino's, are its major rivals. McDonald's offers discounts or bundles on particular goods and combinations of different menu items as part of its promotional pricing strategy. Their price approach has also been tweaked to appeal to the lower middle class. McDonald's' target market consists primarily of young teens who are brand savvy and seek convenience. With the rise of home delivery, numerous reductions are now available on the overall bill amount.
Place Strategy of McDonald's
Accessibility
McDonald's has a large number of locations in city centers and commercial malls, making it very accessible. While McDonald's is best known for its restaurants, the company also offers additional services such as dessert shops, McCafe, and even McDelivery in various areas. Some McDonald's locations are also open 24 hours a day, seven days a week, to serve customers.
Facilities
Free internet is available at many McDonald's locations, making it handier and appealing to teens, business people, and even freelancers searching for a place to work. On the premises of some locales, there may even be a playground. This provides a fun space for kids to play after they've eaten, which is appealing to both kids and families.
McDonald's operates a hybrid structure of franchised and company-owned restaurants. McDonald's has more than 37,000 locations in more than 100 countries. Customers may either visit these locations to eat hamburgers or purchase items online and have them delivered to their homes. McDonald's offers customers the option of ordering food online through their website to keep up with the digital era. Customers may also order via these meal ordering applications because the firm has connected with other top food ordering providers.
Promotion Strategy of McDonald's
The strategies that the company helps to convey with customers are defined by this component of the marketing mix. This variable refers to marketing communications with target consumers among the 4Ps. To entice customers to buy new items, the corporation, for example, gives fresh information. In its promotional mix, McDonald's employs the following methods, which are listed in order of importance to the company:
Advertisement (most significant)
Promotions for sales
Direct marketing
Media relations
Among McDonald's advertising strategies, advertisements are the most well-known. Advertisements are broadcast on television, radio, newspapers, and the internet. Sales, on the other side, are utilized to attract more consumers to the company's eateries. McDonald's tailors their marketing plan to accommodate for the wide range of cultural and other differences that each country has to offer. In this context, the food business looks at consumer perceptions of its goods, consumption habits, ethnic, moral, and religious considerations, among other things.
McDonald's has several marketing campaigns in place in various countries. They recently teamed with BTS, a Korean boy band, to create a unique month-long BTS food marketing ad campaign.
McDonald's Marketing Mix (4Ps) Analysis Mind Map
Following is the mind map of the McDonald's marketing mix with the 4 P's for better understanding and visually pleasing takeaway. McDonald's has always worked along with the trends and constantly changing with the market and time. This makes McDonald's one of the best fast-food serving places all around the world.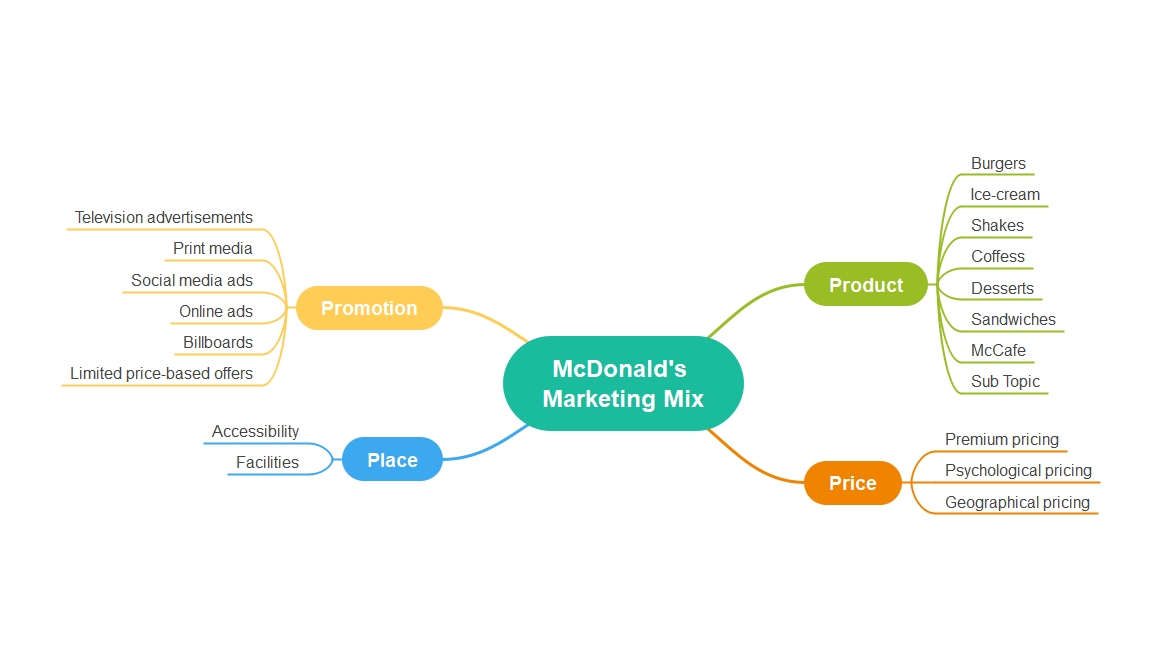 View, edit, and download this template in EdrawMind >>
Key Takeaways
McDonald's has marketed itself as the go-to best and fastest chain for the majority of the population. Their menu is intended to attract persons of different ages, tastes, and interests. It's no wonder that McDonald's has evolved to become the world's biggest firm, thanks to its meticulously planned business strategy and marketing methods that cater to a country's interests.
EdrawMind offers the best built-in mind map templates for making the marketing mix for your job. Presentation, school work, or even your own company. A perfect and visually pleasing mind map can offer you a better understanding and learning experience. All you need to do is choose your template, edit your details, save it, and you are good to go without any fuss and time-consuming, difficult tools.
References