Uber SWOT Analysis
Learn how Uber overcomes and works with its strengths, weaknesses, opportunities, and threats and stays valid in the market.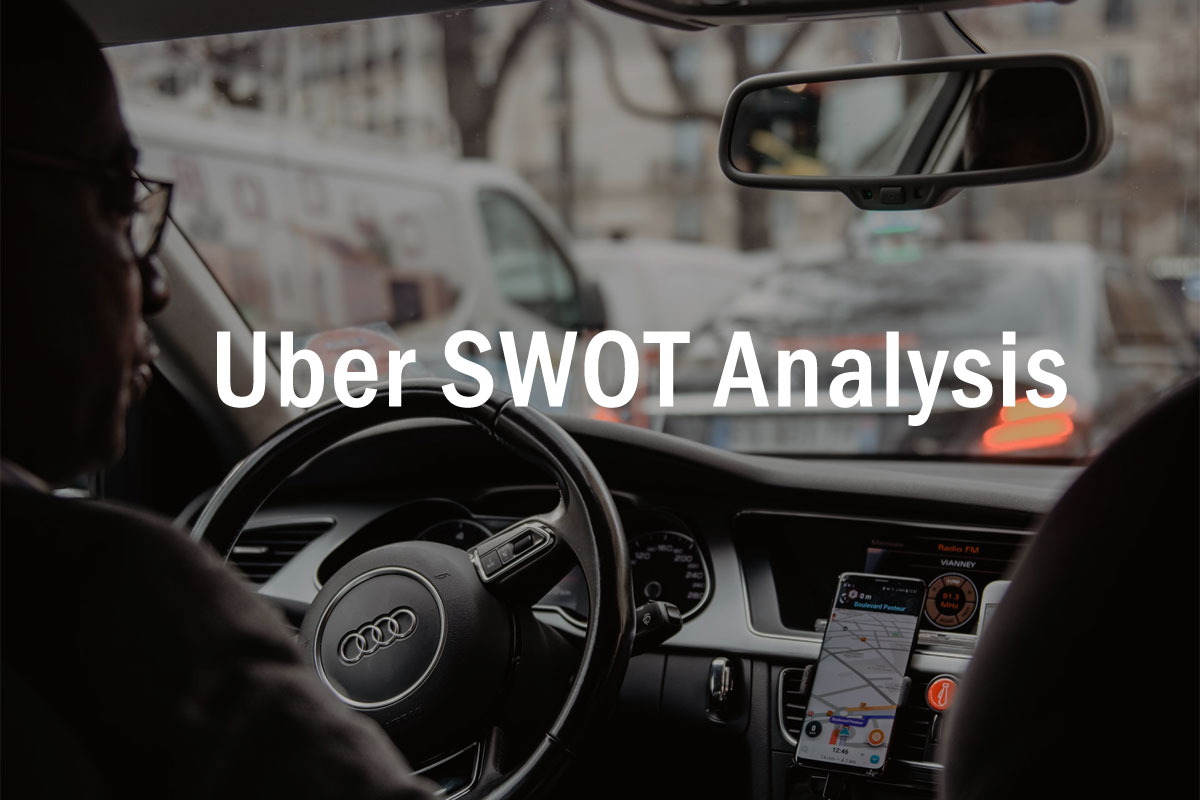 Introduction
Uber is a high-tech firm that began operations in 2009. Its journey to the application perfectly integrates the transportation business with technology. It was named the most valuable venture-backed firm in 2014. By 2014, Uber has expanded to over 200 cities in 53 countries.
Uber is worth more than $40 billion in the United States. This implies it is worth more than the whole taxi and limousine sector in the United States. By 2015, the firm is predicted to generate $10 billion in annual sales. Uber is popular for a variety of reasons. It enables a more convenient, simpler, and less expensive method of getting to a site. The company, on the other hand, elicits a range of feelings. The local authorities, conventional taxi drivers, and a tiny number of Uber drivers are all opposed to the company's business tactics.
Uber should make some modifications as a result of these divergent viewpoints. Many people doubt the company's potential to dominate the transportation business in 2015. In this scenario, a SWOT analysis appears to be the ideal alternative. It will assist you in determining the company's potential prospects and risks. It will also aid in the investigation of Uber's strengths and flaws.
Uber's Strengths
1. One of Uber's greatest assets is the enormous brand name it has established. They are virtually interchangeable with the term "ride-sharing." They serve as a baseline by which all similar businesses are measured. They have already expanded to more than 50 nations and are continuing to expand. They are the largest ride-sharing corporation in the world, with over 80 million active users.
2. In comparison to all other modes of transportation, our pricing is lower. This was Uber's main strength when it first debuted, and it remains the company's ace now. When taking a cab, customers typically pay double or even quadruple the cost for the same journey, depending on the state, time of day, and other factors. Furthermore, they must wait even longer for the cab to come.
3. Methodology for pricing. Uber has kept its drivers satisfied by employing a mechanism that adjusts the pricing of a trip based on demand. When a driver works Saturday night shifts, the cost of each trip he takes will be much greater.
4. Finally, Uber users may rate their journey as well as the driver. As a result, the service has always been of the highest quality, as drivers always are striving to enhance their ratings.
Uber's Weaknesses
1. Because the app's premise is so basic, the competition is heating up. There are no large upfront expenditures, such as those associated with purchasing a car fleet or running stations.
2. Drivers are dissatisfied with their pay. In certain circumstances, the running expenditures they must cover are so enormous that there is very little potential for profit.
3. Uber relies significantly on its drivers. They are essentially Uber's brand ambassadors 24 hours a day, 7 days a week. However, their conduct is unpredictable, and every time a new scandal makes the press, the company's reputation suffers. Several drivers have been convicted of harassing and abusing passengers.
4. Last but not least, Uber is primarily highly dependent on the internet. When all of the other uncontrollable variables are factored in, the entire company model is doomed to fail. Investors have no assurance that the firm will not be overtaken by a competition next week or next year.
Uber's Opportunities
1. Uber has several advantages over traditional taxi and transportation services, including lower wait times. They can treble their strength and reduce waiting times even more by employing even more drivers.
2. They can encourage the usage of automobiles with reduced operating costs. As a result, the revenue of the drivers will increase, and they will be happier.
3. Uber has the potential to expand into developing economies like Asia and the middle east, especially India.
4. They might also broaden their offerings by focusing on new modes of mobility.
5. Transport of animals and pets is an excellent example.
6. Uber has the potential to raise its worth. This may entice additional investors. As a consequence, Uber will be able to operate with more funds.
7. Less expensive Electric vehicles can be used. It will lower the cost and boost the profitability for the driver.
8. Additional services such as carrying elderly people to hospitals, children to school, and pets to the veterinarian can be provided.
Uber's Threats
1. The most serious challenge to Uber is that each country's rules and regulations are constantly changing. Uber could be outlawed across the country with a simple change in the legislation.
2. Simultaneously, traditional taxi communities are putting a lot of pressure on the government to implement some kind of control. In terms of pricing, they simply cannot compete with Uber.
3. Disgruntled drivers are posing a danger to the firm, as they band together and launch lawsuits against it. This results in financial losses as well as a tarnished brand image.
4. Finally, the ferocious competition is catching up. Riders and drivers do indeed have a range of systems to choose from, resulting in cheaper pricing. Uber must work hard to be competitive and maintain a competitive advantage over competing products.
5. Fines might be imposed if you have issues with the local government. It will also have a poor reputation.
6. Increased competition will eventually result in lower pricing. Drivers will be deterred from joining the company in new areas as a result of this. Customers will be lost as a result of this. Uber's profits will dwindle.
7. Fraud and scandals are on the rise as new markets and drivers enter the industry. It's bad for the company's image.
Uber SWOT Analysis Mind Map
Uber was the first to provide a ride-hailing service. It did away with the necessity for people to hail a cab outside the premises. Uber has been a popular choice among travelers, and it has several smartphone apps. People may now call an Uber and have the driver meet them at their front door at any point throughout the reservation process for the first time. Many other ride-hailing services have followed Uber's lead as a consequence of its revolutionary features.

View, edit, and download this template in EdrawMind >>
Key Takeaways
There's no denying that Uber's clients adore it. They can make use of the service's advantages. They enjoy how Uber helps them save time and money, in addition to being handy. Authorities and drivers, on the other hand, frequently despise Uber. The organization charges a relatively cheap fee to maintain its customer-centric strategy. This is why the drivers don't make a lot of money. Uber is exempt from many of the rules that apply to regular drivers.
Uber's long-term prospects are unknown. The success of Google Cars is jeopardized, and in doubt because of it, Uber should keep its advantages. It should address the SWOT analysis's flaws. The goal should be to transform vulnerabilities into assets. The team must work together to take advantage of chances while avoiding flaws.
To keep up with the strengths, opportunities, weaknesses, and threats, one needs a mind map for it. To make an effective mind map, you don't need to be an expert. Because EdrawMind has countless pre-made templates for you to customize properly.
References