Zara Mission and Vision Statement Analysis
Take a thorough look at the corporate statements of fashion giant Zara and see how these statements have guided it toward success.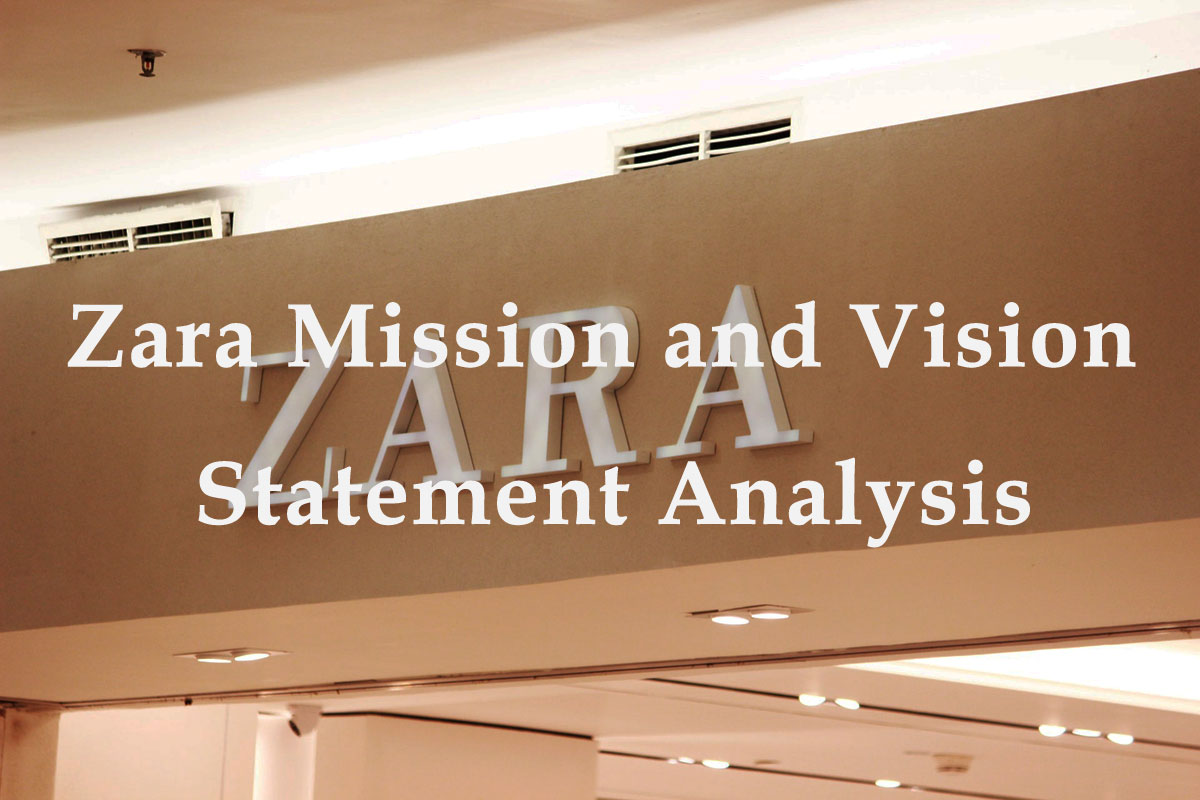 Introduction
The last decade had been quite eventful for Zara, a fashion retail brand born in Galicia, Spain, more than 45 years ago. The company began as a small clothing shop in Arteixo, Spain. It was started by Amancio Ortega and Rosalia Mera and eventually became a subsidiary of INDITEX, the biggest fashion retailer in the world that was also owned by the Ortega family.
Zara has been in existence since 1975, but it was only in the last ten years that it ventured out into the international world of fashion retail. Its global expansion happened quite fast, with new outlets being launched practically every day. Today, Zara operates more than 2000 stores in 88 countries around the world.
Mission Statement
The Zara mission statement is "to give customers what they want, and get it to them faster than anyone else."
An effective mission statement is something that is clear and concise, and the Zara mission statement definitely gets a check-in both these criteria. Quite interestingly, the simplicity and directness of the statement are an accurate reflection of why Zara has been so successful in the apparel industry. It isn't dilly dally and just does what needs to be done.
Upon closer examination of the Zara mission statement, we can see that there are two main components. Let us now analyze these components.
Identifying Market Preferences
Zara declares in the first part of its mission statement that it intends to give customers what they want, and Zara definitely means it. Other high fashion brands do not really make an effort to identify the preferences of the target market. This has actually been the culture in high fashion for decades. The designers simply come up with apparel that matches their own tastes and styles and expect that people will buy it simply because it is high fashion.
The approach of Zara is exactly the opposite. While Zara does have a strong team of designers with impeccable talent, it also listens carefully to what the customers want. Zara has a very interactive social media presence, and it utilizes this to reach out to its client base, communicating with it to get a feel of what the market is going to buy. Even in physical stores, Zara staff take note of what customers like and do not like. The information is relayed to the design team, who makes sure that the clients' requests and suggestions are incorporated in the brand's next collections.
Fast Fashion Strategy
In the second part of the Zara mission statement, the company aims for the speedy delivery of the market's demand. In other words, it does not waste any time in its production process. On average, it takes only two weeks for the Zara team to complete a collection that includes 500 or so designs. This includes everything from design conceptualization to delivering the clothing to the stores. This is what is now known in the retail industry as the fast fashion strategy.
Vision Statement
The Zara vision statement is "to contribute to the sustainable development of society and that of the environment with which we interact."
A company's vision statement reflects its long-term goals and how it sees itself in the distant future. Like its mission statement, the Zara vision statement is clear and concise, and it also reveals a side of the fashion brand that we don't easily see while we are buying its clothes. The statement shows how the company puts a priority on society and the environment more than it does on sales and profits.
Societal Development
Zara takes its corporate social responsibility very seriously. It is constantly involved in campaigns for the improvement of people's lives and actively supports programs that give back to the community. In the light of recent criticisms received by the fashion industry regarding the use of inappropriate labor practices in its third-world country facilities, brands like Zara are taking the extra effort to declare their support for societal development and sustainability.
Environmental Sustainability
The environment is also very important to the Zara brand. It is quite known for its active stance in environmental campaigns. It has long denounced the use of plastic and does not include unnecessary labels with its clothing. Its manufacturing process is also completely toxic-free.
Core Values
There are plenty of things that are important to the Zara fashion company, but these are the core values that it has always used to guide it in making business decisions and in running the day-to-day operations of the business.
Beauty
Being in the fashion industry, it only follows that there should be an appreciation and upholding of aesthetics in all aspects of the business and life in general.
Clarity
Clarity is very important in a fast-paced environment like the fashion industry. The clarity in communication, to be precise, is something that Zara always upholds, both within the company and out in public.
Functionality
In all its products, Zara sticks to a high standard of functionality. It may be high fashion, but its clothes are totally wearable and not only for the runway.
Sustainability
Zara fully supports sustainability in all aspects, and this can be seen from its Join Life collection and the increasing number of eco-stores that it has around the world.
Zara Mission and Vision Statement Analysis Mind Map
In order to fully appreciate how Zara has achieved the level of success that the brand has today, there needs to be a thorough understanding of the Zara mission and vision statements, as well as its core values, since these elements are the foundations of everything that the company does and stands for. To better visualize these statements, it would help a lot to use a mind mapping tool, like in the example below:

View, edit, and download this template in EdrawMind >>
Mission
Identifying market preferences
Fast fashion strategy
Vision
Societal development
Environmental sustainability
Core values
Creativity
Adaptability
Leadership
Passion
Quality above Quantity
Creativity above everything else
Key Takeaways
The Zara mission and vision statements both meet the criteria that businesses follow for formulating their corporate goals. The two statements also complement each other perfectly and clearly indicate the path that Zara intends to take as one of the top companies in the retail fashion industry.
If there were a company that you would like to emulate in terms of creating the mission and vision statements for your own business, Zara would be the ideal choice. However, you would also have to incorporate your own goals and strategies in the creation of these statements. This can be a challenge, especially for new business owners, which is why tools like mind mapping software EdrawMind would really be of great help.
If you go to the EdrawMind website, you will easily see a large selection of templates that you can choose from so that you can create your own diagrams and charts to make your business planning process much simpler. It even has a pre-built template specifically for mission and vision statement analysis. By using this tool, you will be able to create better statements to keep you on the right track while running your business.
References