KFC SWOT Analysis
Discover how KFC is still one of the most popular fast-food restaurants with its in-depth SWOT analysis.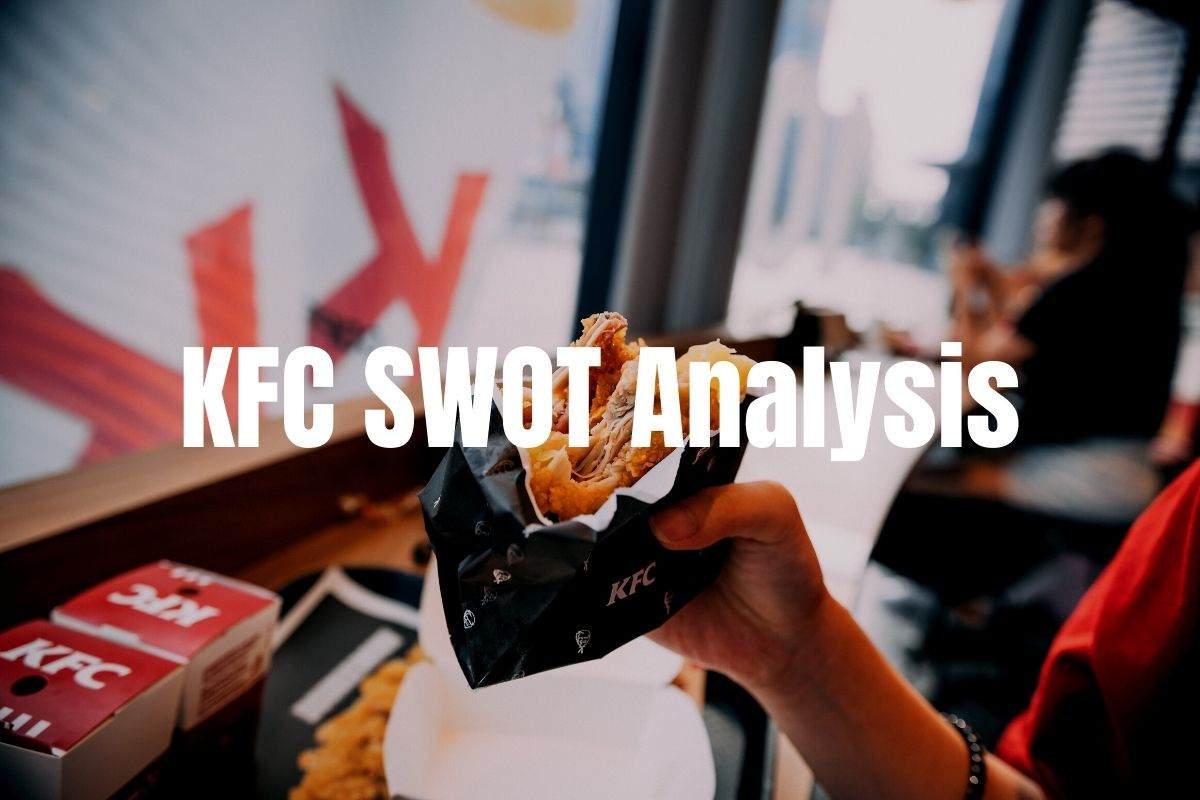 Do you have a craving for Kentucky Fried Chicken's crispy chicken? You're not the only one who feels this way. The finger-licking delicious chicken at this fast-food joint made it popular all around the globe. Despite its numerous strengths, the corporation faces several vulnerabilities and challenges, all of which may be handled with the right timing and opportunities. KFC, or Kentucky Fried Chicken, is a well-known brand in the United States today. It is one of the largest quick-service restaurant chains, and it rose to prominence thanks to a trade secret formula containing eleven spices and herbs.
This restaurant chain is the second largest in the world. The brand has developed dramatically over time, and its different franchisees in multiple countries have produced a significant amount of cash. KFC franchisees are independent business owners who follow the company's operating procedures. KFC is a globally famous restaurant chain with over 15,000 locations in 120 countries. Remarkably, KFC's vegetarian menu selections have more influence in many of these nations.
KFC's Strengths
The KFC brand is owned by a large firm.
Yum! Brands, the same company that owns Taco Bell, and Pizza Hut, also owns Kentucky Fried Chicken. Yum! Brands have the influence, power, and resources to enhance KFC as a restaurant since they control so many other fast-food businesses.
KFC distinguishes out between Yum! Brands from other eateries. Although the attraction of KFC's finger-licking chicken, many individuals, notably vegetarians and vegans, are embracing KFC's vegetarian offerings. Many other companies are failing to recognize this health-conscious customer base, providing KFC with a competitive advantage in this industry.
Good Financial Situation
On a worldwide scale, KFC has had higher profitability. The business made a $16 billion profit in 2015. In Europe and Russia, the brand has performed exceptionally well, which is a significant asset for the corporation.
Secrets of the Trade
Kentucky Fried Chicken has a trade secret that may be observed in the way it is prepared. The eleven herbs and spices formula is the company's trade secret behind its wonderful crispy chicken meals. The recipe is unique and unknown to the general population.
Customer Satisfaction
KFC has a big and loyal following. It's due to their high-end and unique merchandise. KFC's crispy chicken is one of the company's best-selling items, and with such a large fan following, it's easy to forecast the company's growth and advantages.
KFC's Weaknesses
A menu with flaws.
KFC suffers from many of the same problems as other fast-food restaurants. The menu is heavy in oil and calories, so if you would like to go over your weekly calorie limit, eat a few portions of chicken and fries. Greasy chicken isn't going to cut it these days, given how health-conscious the population is.
Dubious franchise system.
KFC has a franchise management system, which means that each location is run independently. It's very uncommon for one KFC to receive positive feedback while another, just down the main road, receives negative feedback. Such a volatile system is prone to bad operation, manufacturing, and management qualities, all of which have an impact on how the general public perceives the joint in question, as well as the entire brand.
Vegetarian Options are Limited
Vegetarians are important consumers for any food company nowadays. However, many KFC locations currently cater solely to non-vegetarian clientele. This is a huge brand vulnerability that competitors such as McDonald's and Pizza Hut are exploiting.
KFC's Opportunities
Changing the Menu for the Health-Aware Community.
With a rising number of fitness-conscious people, KFC has a big chance to change and adjust to their demands. This includes introducing reduced-fat and low-calorie meals, baked goods, and other healthy options and foods to their menu. In the next years, altering the menu to encourage a healthy lifestyle will undoubtedly prove to be a big opportunity and essential driving element.
Meals are delivered to your home.
KFC may take full use of this opportunity (it is now testing delivery services) and connect to more customers.
Opportunities for Market Penetration.
KFC has a lot of potentials to expand its number of locations and boost its presence as many regions rapidly transition to an urbanized lifestyle. Rapidly shifting global performance, population growth, and urbanization are all important elements influencing the food sector today.
New items are being added to the company's sole chicken line.
KFC might add new dishes to its menus, such as pork, steak, or just vegetarian meals, to appeal to a broader audience and attract more customers.
KFC's Threats
Competition.
KFC might add new dishes to its menus, such as pork, steak, or just vegetarian meals, to appeal to a broader audience and attract more customers.
Franchisee management is a disaster.
With the franchise structure, it is just a matter of time until one location ruins the brand's general reputation. In the long term, this might represent a big threat to the brand's success.
Consciousness of Health.
Many individuals have abandoned conventional fast-food establishments as a result of health-awareness initiatives and advertisements. With a rising number of people choosing healthy foods to fast food, this is a danger in the future years.
Food of Good Quality.
Low-quality food is a big danger to the brand, especially with rising raw material costs and distribution and supply issues.
KFC SWOT Analysis Mind Map
This is a comprehensive SWOT analysis of the fast-food powerhouse KFC. KFC has a large empire all over the world that it can profit from, despite various weaknesses and threats that hinder its expansion. It can easily flourish and establish itself as the number one name in the fast-food sector with just a few adjustments and alterations.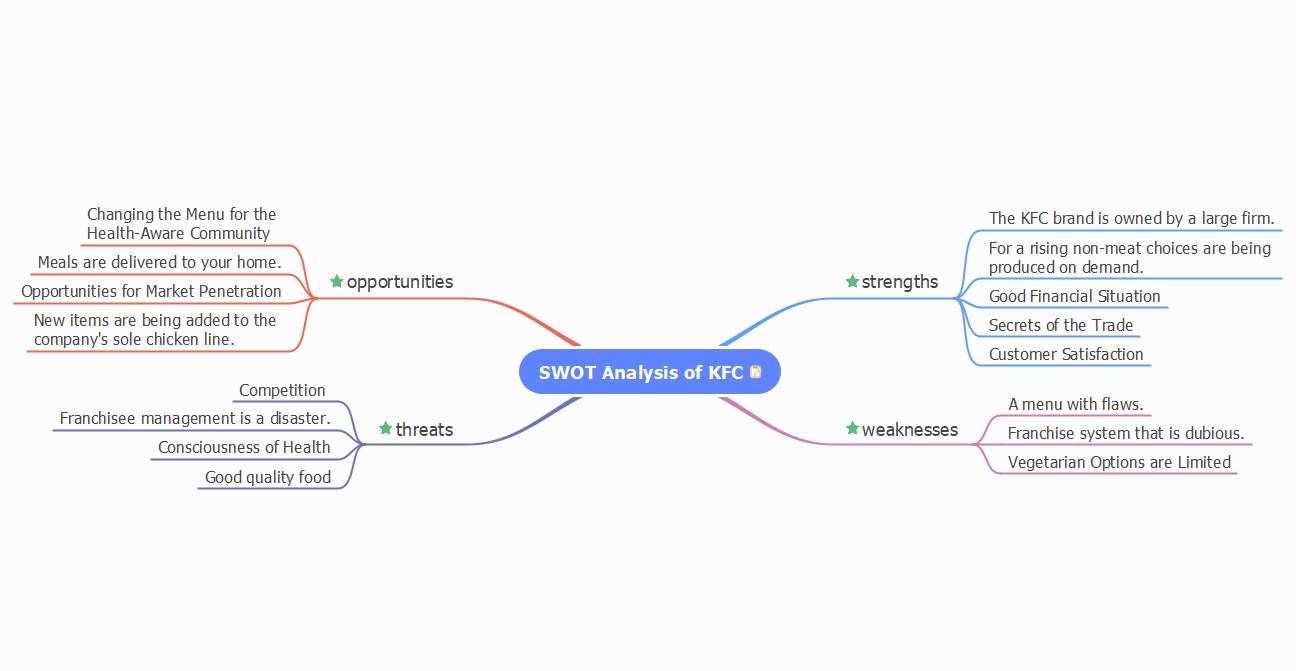 View, edit, and download this template in EdrawMind >>
EdrawMind Apps
12 structures & 33 themes & 700+ cliparts
Support Win, Mac, Linux, Android, iOS
Advanced import & export options
On-premises software for business
Enterprise-level data security
EdrawMind Online
12 structures & 33 themes & 700+ cliparts
Access diagrams anywhere, anytime
Team management & Project management
Key Takeaways
This was the KFC SWOT analysis, and we saw the many situations that a business must grow and be mindful of.
One of KFC's main strengths is that it has a large market presence and has been growing fast and continues to do so. It also has its signature recipes and offers a variety of items.
We've also witnessed KFC's weaknesses, such as people's changing attitudes toward healthy eating and the criticism it received for its focus on environmental protection and animal cruelty.
Some ways that KFC may take advantage of people's geographical choices include bringing new meals designed specifically for that place. Customers are growing more price-conscious as the market changes. KFC can deliver food to consumers that are on a budget.
The threats that KFC may encounter include fierce rivalry from regional and worldwide companies, as well as rising raw material costs, which will ultimately lead to higher product prices.
You can also make a SWOT analysis template for your own business, just like KFC's. You can make a SWOT analysis from scratch or have a pre-made template from EdrawMind. All you need to do is add your details, and you are good to go, just like the following template.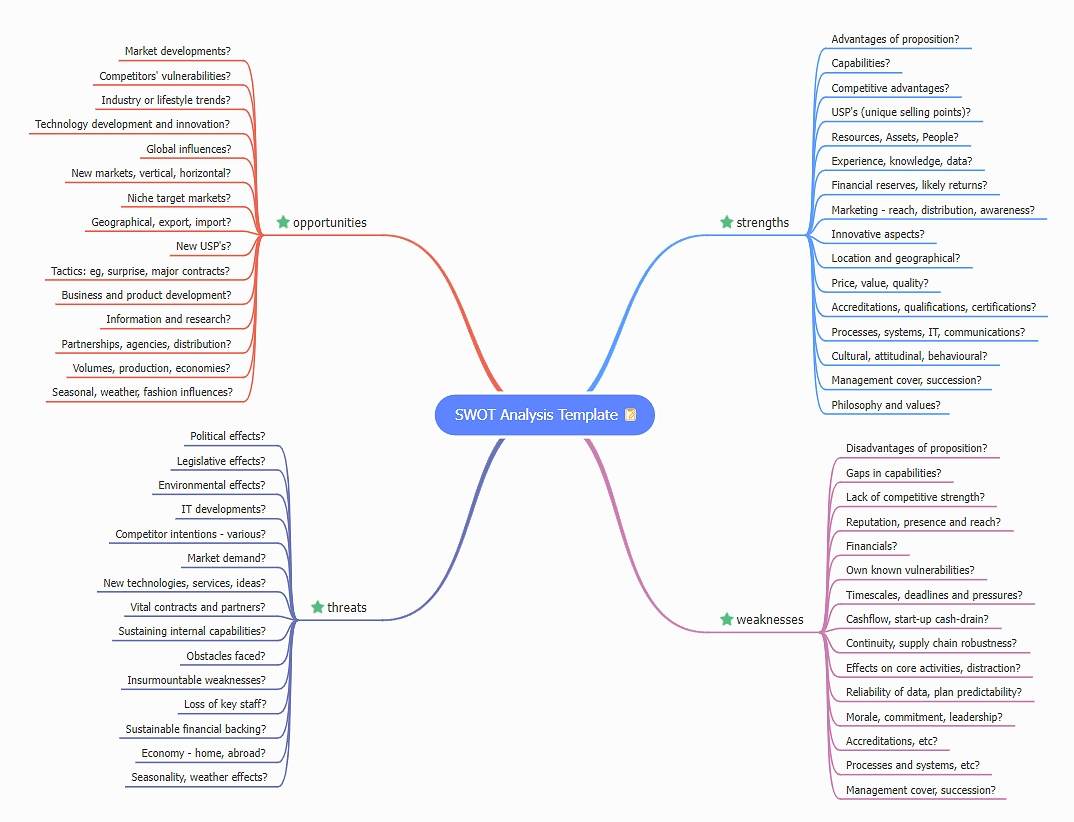 View, edit, and download this template in EdrawMind >>
References