PepsiCo Marketing Mix (4Ps) Analysis
PepsiCo has thrived over the years despite the tight competition in the industry. Explore how they formulate their marketing mix.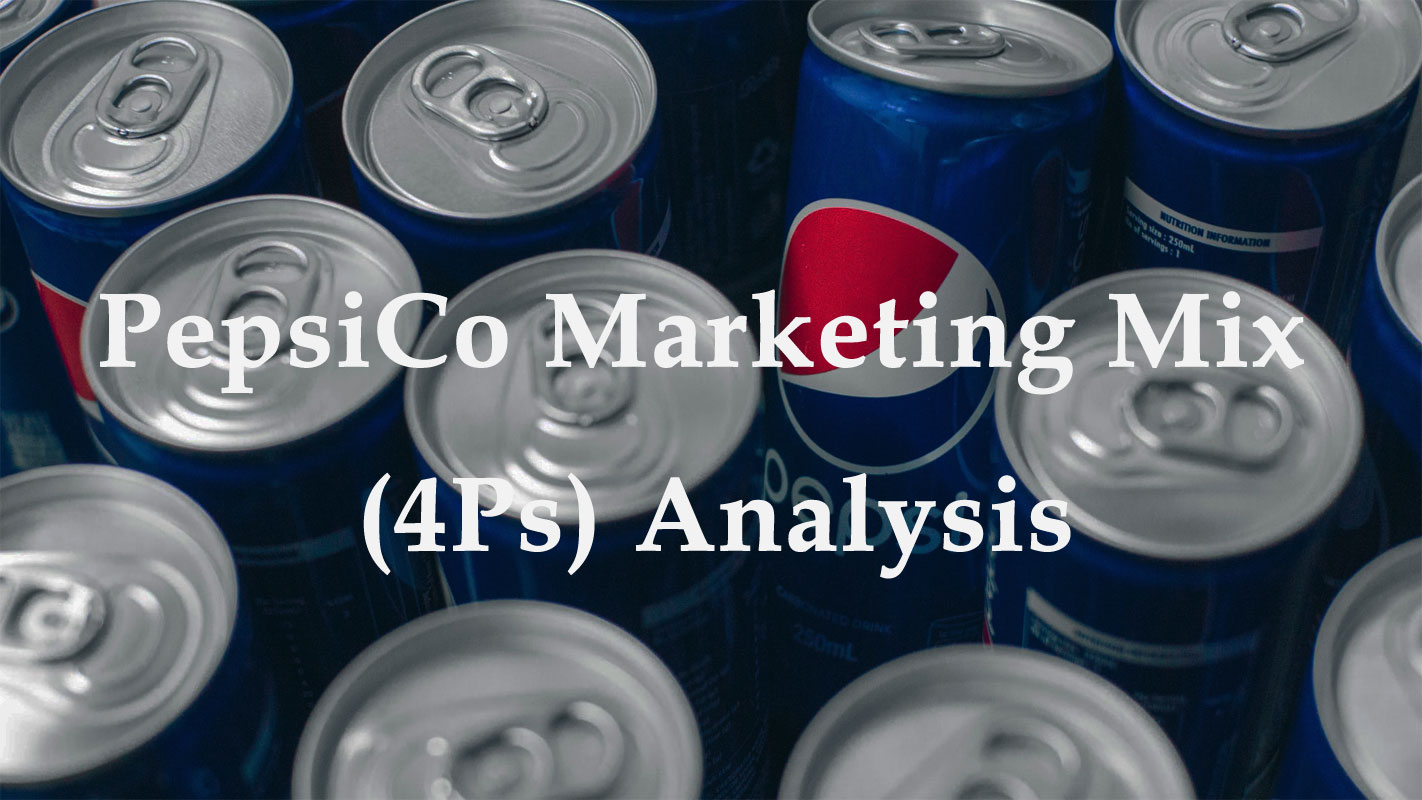 Introduction
PepsiCo is one of the top firms in the food and beverage sector. It has now operated in more than 200 countries worldwide since it was founded in 1965. The company prides itself with 23 brands accounting for more than $1 billion each year. You sure would know that this firm intensely competes with another company, Coca-Cola. However, PepsiCo provides its customers with a vast range of specific products and implements a differentiated marketing strategy in every country it operates.
The competition is surely tight in the food and beverage industry; hence a company that thrives in it must have an excellent marketing approach to keep their customers and explore innovations. This article will be a thorough analysis of the PepsiCo marketing mix. It includes the 4Ps of marketing: product, price, place, and promotion.
Product Strategy of PepsiCo
As discussed previously, PepsiCo boasts a vast range of product portfolios available for its customers worldwide. The company also expanded its portfolio by selling snacks. The product strategy in the PepsiCo marketing mix showcases its different brands that can be distinguished from its competition. Here are some of the more popular brands that the firm has:
Pepsi Cola. This is probably the most popular brand from PepsiCo. The soft drink was created and introduced by pharmacist Caleb Bradham in 1898.
Lay's. You bet you have tried this snack or have seen it on grocery shelves.
Mountain Dew. This is a flavored soft drink and is also one of the more popular brands.
Gatorade. It is considered to be the leading sports drink in the United States.
Tropicana. This is a fruit juice which is usually in orange flavor.
Diet Pepsi. For health-conscious consumers, they can have this low-calorie soft drink.
7up. This brand is generally popular in countries outside the United States.
Quaker oats. This is a brand of breakfast cereal.
Mirinda. This is a carbonated drink with an orange flavor.
Ruffles. Another snack brand which is made from fresh potatoes.
Cheetos and Tostitos. A selection of gluten-free food by Frito lays.
Aquafina. A purified drinking water that underwent a seven-step procedure.
Pepsi Max. A fast-growing product outside the United States which contains zero calories.
Mist Twist. A soda with a lemon-lime flavor and a twist of real juice.
Diet Mountain Dew. This is a low-calorie version of the Mountain Dew drink.
Price Strategy of PepsiCo
Pricing is another element in the marketing mix where PepsiCo puts in a lot of effort in its strategies. In the non-alcoholic beverage industry, the company's great competition is Coca-Cola, and PepsiCo acknowledges the need to implement the price of the products competitively. PepsiCo supplies its products in different sizes, while the most significant size will have a relatively lower price.
This will psychologically push its customers to purchase the bigger bottles and end up buying in bulk amounts. However, some brands, such as Tropicana, target customers in much wealthier sections. That is why people will find Tropicana to be pricier than other drinks from PepsiCo.
This discount also applies to the company's distributors depending on the number of orders and the payment method. Suppose a distributor orders in bulk and the payment method aligns with what the company wants; they can avail huge discounts, which keeps them motivated.
Place Strategy of PepsiCo
Placement is another essential element in the marketing mix since it can make or break a product or a brand. Any marketing strategy will not be effective if the target market fails to find the company's brands at the nearest possible place. This especially applies to domestic products.
PepsiCo, on its part, has a vast network of distributors worldwide. It uses the direct store delivery system (DSD), ensuring maximum supply availability in any circumstance. The company's mentality is not to make customers leave a store with a replacement as they could not find its beverages and snacks.
This company owns famous global restaurant chains, including KFC and KFC. The third-party distributor framework has done wonders for PepsiCo regarding product visibility. While other restaurants partner with international bottlers to package and distribute products, PepsiCo maximizes its food chains to market its drinks and other goods.
Promotional Strategy of PepsiCo
Promotional strategy is what completes the PepsiCo marketing mix. Strategically placing products for easy access to the target market is essential; however, promoting them can make the company stand out from competitors. PepsiCo targets to have a long-lasting impression from their customers in a different way than its tough competitor, Coca-Cola. Looking at its promotional approach, it uses a youthful vibe instead of using emotional appeal.
With this, the company taps sports industries and handles promotions there. It even has its selection of sports drinks in Gatorade, which has been a success so far. PepsiCo, similar to other companies, also uses social media to promote its brands and create customer engagement.
The promotion has been one of PepsiCo's vital factors, making them one of those food and beverage providers worldwide. Besides the conventional advertising and promotional strategies, it taps various brand ambassadors. Since it considers the younger generation as the primary target market, they include celebrities and sports personalities in their promotion as the youth is mainly drawn to sports and celebrities.
PepsiCo Marketing Mix (4Ps) Analysis Mind Map
It can also be handy if the elements discussed above are categorized using a diagram. Here is an example of it that uses a mind map.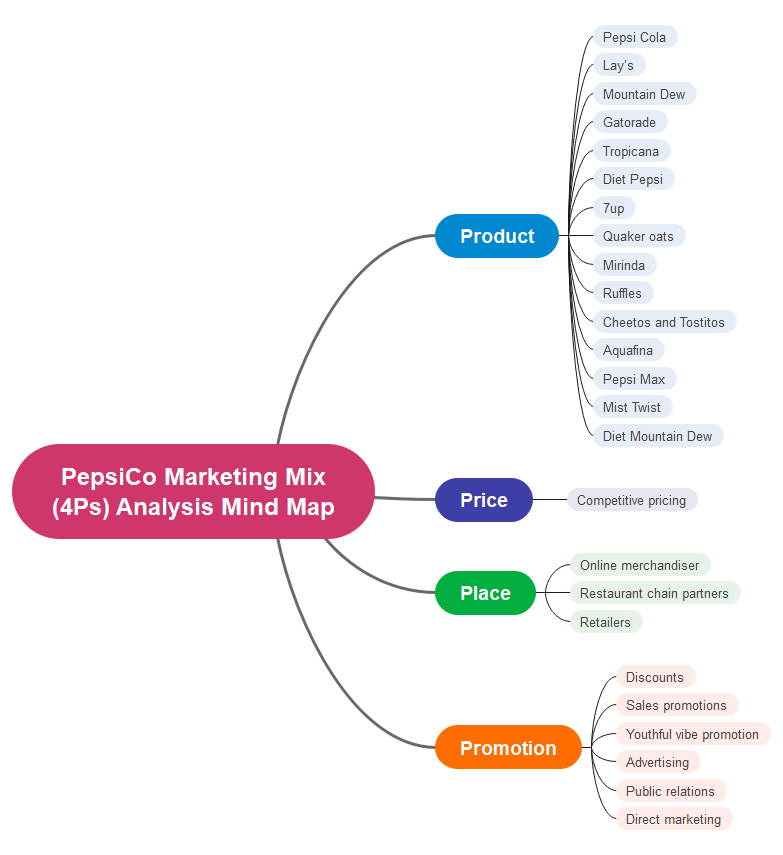 View, edit, and download this template in EdrawMind >>
Product
Pepsi Cola
Lay's
Mountain Dew
Gatorade
Tropicana
Diet Pepsi
7up
Quaker oats
Mirinda
Ruffles
Cheetos and Tostitos
Aquafina
Pepsi Max
Mist Twist
Diet Mountain Dew
Price
Place
Online merchandiser
Restaurant chain partners
Retailers
Promotion
Discounts
Sales promotions
Youthful vibe promotion
Advertising
Public relations
Direct marketing
EdrawMind Apps
12 structures & 33 themes & 700+ cliparts
Support Win, Mac, Linux, Android, iOS
Advanced import & export options
On-premises software for business
Enterprise-level data security
EdrawMind Online
12 structures & 33 themes & 700+ cliparts
Access diagrams anywhere, anytime
Team management & Project management
Key Takeaways
In a very tough industry such as food and beverage, you can imagine PepsiCo, and it's usually associated with the Coca-Cola Company. Just thinking about it gives you an idea of how PepsiCo should take a marketing approach that sets them apart from its competition. It finds a way to have a distinct brand recall of being a food and beverage provider that promotes a youthful vibe. The approach is very strategic and can even be emulated by other companies.
It is interesting to take inspiration from PepsiCo's marketing approach since most have hundreds of similar products today. Still, how they market their brands can be a game-changer for their business.
As you formulate your brand's marketing mix, you can use a straightforward diagramming tool to help you categorize every element in your marketing strategy. EdrawMind is a mind mapping software that can be accessed using your browser or desktop. The pre-built 4Ps of Marketing Template will help provide you with a framework, and all you need to do is input all the information on the mind map.
The interface is complete with mind mapping tools and user-friendly, especially to beginners. Suppose you wish to collaborate with other employees in your company, the collaboration feature of EdrawMind allows members to give comments, suggestions and even edit the project. All they need to have is the link to the project to make the necessary changes in real-time. The software even supports different formats when you export your mind maps. This flexibility allows users to structure mind maps creatively and freely.
References