4 Ps of Marketing
As your company prepares to launch a new product or service to the market, it is essential to have a "Going to Market Strategy" which will serve as a roadmap to execute a successful product launch.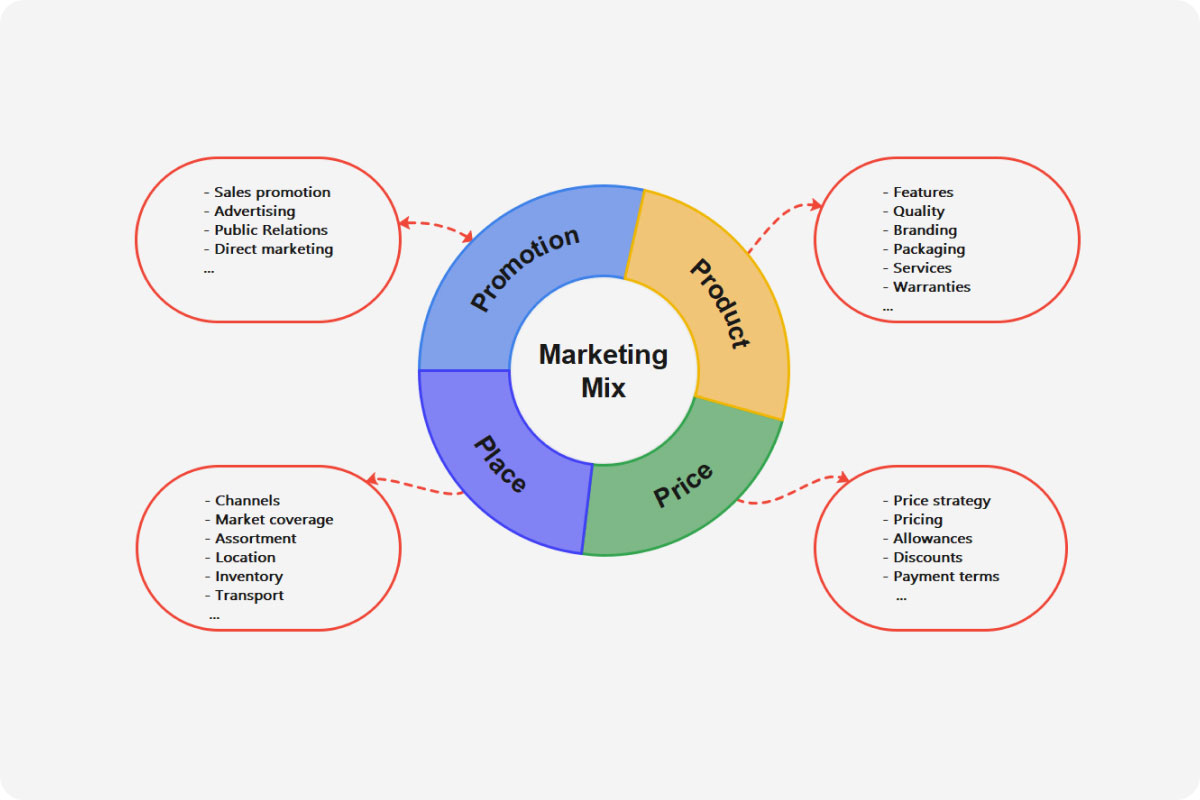 More 4 Ps of Marketing Templates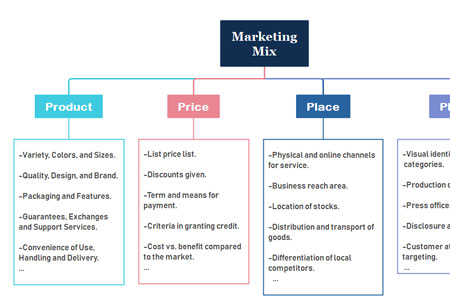 About the 4 Ps of Marketing Template
As your company prepares to launch a new product or service to the market, it is essential to have a "Going to Market Strategy" which will serve as a roadmap to execute a successful product launch.
Product
List everything you offer to a customer, whether it is a product or a service. If it is a product, clearly identify the product itself and list the variations of the product, whether there is a size, shape, weight, or color differential. Identify what makes the product unique. Recognize the key features and selling points of the product. Pinpoint the characteristic you are offering that your competitors are not. Decide on any services that come with the product. Describe the product from a sensory point of view, what it looks like, feels like, smells like, tastes like, or sounds like. The company could benefit from patenting the product. Establish the vision you have for your brand with regard to this product. Identifying where the product fits into the market, for example, health and wellness, sport and fitness, luxury, necessity, investment, or lifestyle. Patent your product to establish rights of ownership if applicable, such as in the case of an invention.
Packaging of the product should stand out more than that of your competitors. Visually attractive packaging sells products quicker than verbal taglines. Packaging with unique visuals and graphics provides an instant appeal. Choose packaging that is eye-catching while keeping it true to the colors of your brand. Add something extra to spark an element of interest and intrigue, such as a "signature" note, which sets it apart from the rest and gives it an element of exclusivity.
If your product is providing a service, establish the terms and policies of the service and ascertain how the service can uniquely meet a client's requirements. Offering the service online only has many benefits, including being available as a webinar in different time zones, which would also save on the budget of an employee or trainer's travel and accommodation costs. There will be an overall higher number of sales with the online option.
Adequate market research will enable you to find out what product or service your competitors have that is similar. Pitching your product differently and noting its unique features will give you the edge in a competitive market.
Price
Price it Right. While your product or service might be amazing, it will not sell if the launching price is not right. Consider a tier or value system to determine whether the product or service is mid or top-of-the-range, affordable, or luxury value. Price the product correctly by establishing where in the market it fits. Obtain data relating to the spending habits of your customer base.
By deciding on the lowest price that you are willing to sell for and the highest price your customers are prepared to pay for a product, this will assist you to narrow down the correct price range for your product.
Determine whether the service you are selling will include: an upfront payment for subscriptions, possible discounts for customers paying on an annual basis, possible discounts for companies or corporates who want to pay for multiple services or fixed usage subscription over a set time-frame, a "pay-as-you-go" subscription, or a multiple user subscription. Decide on which payment options best suit your company's needs.
Promotion
Decide on your budget for promoting your product. Research can assist in locating the focus of your target market. Where does your audience shop? This will enable you to maximize your audience and connect with potential customers. Promote the product on the correct forums after identifying a list of possible influencers. These channels could include radio shows and podcasts, television, talk shows, magazines and newspapers, digital influencers with a social media following (athletes, designers, chefs, or other celebrities), and search engine marketing. Consider the frequency and timing of communication, whether daily, weekly, or monthly and at what time of the day is your target audience available. This can make a substantial difference in the success of which marketing communication you are investing in. Consider the possibility that your target market could find you easier if you were offline. Would a combination of online and offline marketing work best for your company?
Stay true to your brand vision and set reasonable expectations. Use the tried and tested "under-promise and over-deliver" strategy to estimate the time for product delivery.
Placement
Select where to sell your product or service, will it be a specific demographic area. Will you focus on domestic or international markets as well? Discuss and decide on whether to use resellers or other partners in the process of selling your product or service. Will the product require distribution, and if so, which courier or delivery service would you sign up for this? Obtain quotes from reputable and reliable companies that offer this service. Will you need to store the product in a warehouse before distribution and obtain costs for this?
Why use the 4 Ps of the marketing template?
Using the 4 Ps of Marketing Template allows marketing departments to plan a marketing strategy to maximize profit by accurately identifying key factors for their business. These include: how their product or service meets a customers' needs, what a customer wants and expects from them, how and if their product or service meets or fails to meet the above needs, how the company compares to its competitors and how effectively they interact with their customers. You only have one first time to launch a product; therefore, ideally, you want it to be successful.
The key intention when creating the right marketing strategy and developing a marketing plan is to interest your target audience. It is essential to understand your product completely and strive for a multi-dimensional pricing and advertising plan. In doing so, ensure the product or service is clearly identified, know where your target market shops, establish a price, analyze how your product would meet customers' needs, and create marketing messages for promoting the product or service.
How to use the 4 Ps of marketing template
A marketing team can use the 4 Ps of marketing template, being Product, Price, Place, and Promotion, by analyzing each of the 4 Ps separately. Once the 4 individual entities have been entered and the template fully completed, the marketing department can combine them into a comprehensive marketing mix or strategy before launching the product or service to the market.
4 Ps of marketing examples
Product
Create an internal knowledge base within the company regarding the product or service, hosted in the cloud, a user-friendly interface, connecting to teams' tools, it is Smart and alerts the company when the info isn't being used anymore, a Slack integration allows for product differentiation.
Pricing
A subscription product allows for payment upfront, with various payment options, per month, or annually and a discount offered for the annual payments. A credit card is the first choice for payment, but EFT is also provided. Invoices are generated and sent to clients.
Promotion
The product is promoted online only. Well-trained high-performance teams enable the brand voice to be easily heard.
Placement
National or International marketing is offered, and cloud services can be used for the storage of data. A company will need to decide if distribution channels are needed.
The 4 Ps of Marketing are summarised as follows:
Product – What you sell
Price – How much you charge
Promote – How do your customers find out about you
Place – Where you promote your product
This model helps define marketing options to meet a specific target market customer's needs and helps identify key factors for the success of the marketing. The efficient use and integration of the 4 Ps of Marketing link the consumer to the organization and, in addition, can increase the brand value of a company.
It will evaluate the success or failure in meeting the customer's needs, assessing market share against the competition, the buying trends of the consumer, and interaction with customers. These elements will evolve over time. To quote Heraclitus' wise words, "The only constant in life is change". The same applies to companies that must adapt to changing markets and trends.