User Persona Template
Develop main users' profiles for having a clear view on selling products to them.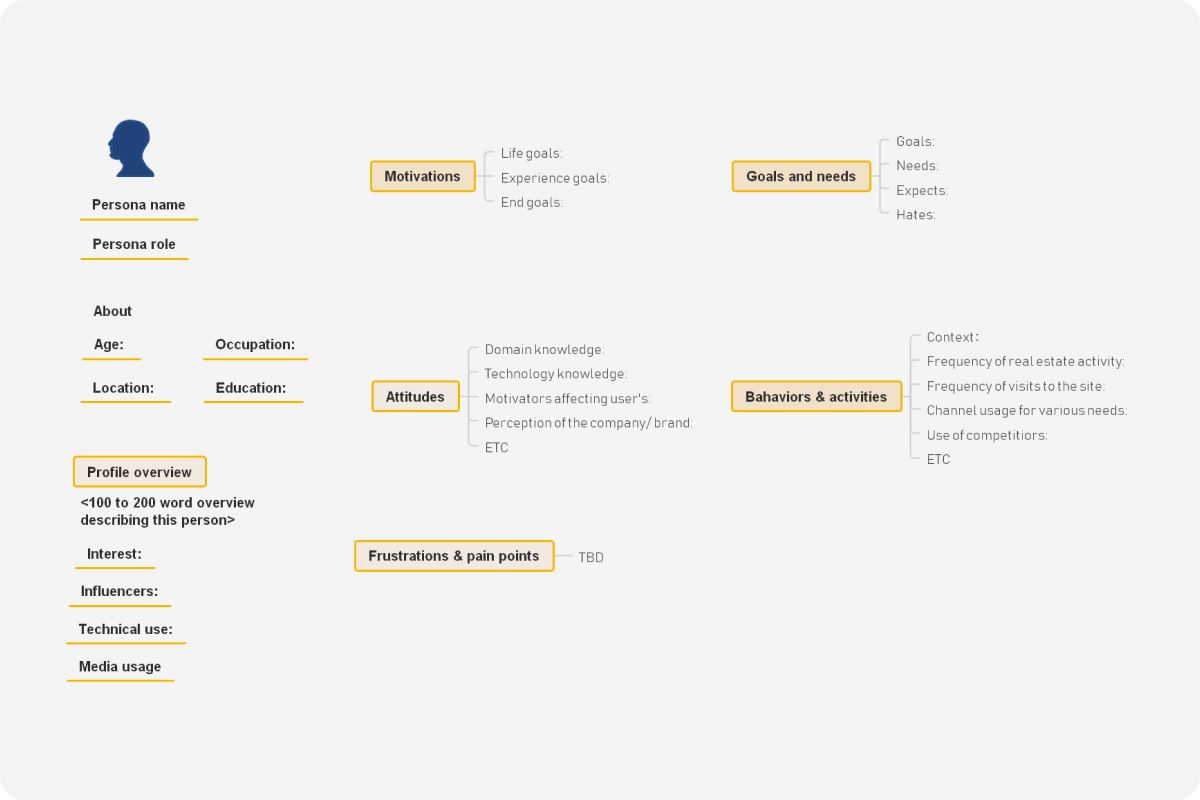 About the User Persona Template
It is a tool that assists to show and summarize the main focal audience regarding the products and service through research and analysis. Every business works on a mechanism that is based on the target audience, no matter whether you are a part of the corporate market or finances. It can be anything That provides advantages for your customer, a product, or any additional service. By enhancing your information regarding the users, you can come up with a strategy that works well with your type of audience. This is known as a persona.
Suppose the product that you are working on is an application that is used for music streaming. After you do your research, you come to know that the target audience of your application is late teens to adults around the age of 30 to 35. according to this research, you can build up the personas regarding that age group and their similar interests.
4 basic user persona types
There are four basic types of persona according to a variety of stages and user perspectives. here are the four types:
1. Goal-based user persona
This persona is mainly focused on what outcome the specific user wants from the product. In case you are working on a website, this tool will assist you in creating a perfect flow of work and processing schemes that will lead your way to the desired output of the client or the user.
2. Role-based user persona
This type of persona is mainly focused on knowing the data of users through their roles. This assists the team to have an open and clear knowledge about the users and their behaviors on the roles basis. Due to clarity of work, most enterprises and corporations use this persona type.
3. User engagement persona
This type of persona is based on experiences through the engagement of various characters, which is why the personas are very real-looking and relatable. This way, the whole team can work on it exactly according to the demand of the focal audience.
4. Fictional user personas
This type of persona is designed on the experiences of the old users—the old experience and interactions with the product work as research data. The fictional user persona is a clear estimation of how the users would use a certain product. This can be useful in the first drafting to clarify the requirement of the users.
When to use the user personas
It is impossible to find what the target users want without the knowledge of who they are. This is why you can generate user personas that will help you have a clear mindset on your vocal audience. This way, you can improve your working models and create better products and services. Following are the scenarios when you can use user personas:
Marketing
In order to market a product or service in the right way, most corporate companies and enterprises tend to use the buyer persona to get the insights of the target audience. The buyer persona will help the corporation to come up with suitable channels and ways to advertise their specific products to their specific range of audiences.
Sales
Most salesmen tend to capture main buyers or potential buyers through these user personas. This is known to be a well effective working strategy to enhance the sales of any product or service.
User experience
User personas are very popular as they help to critically analyze the experiences of the old users to improve the current products. This helps in plotting the perfect scheme for introducing new services and products into the market through understanding the pain points of the user through old interactions which similar products. This can also be very beneficial for future product launches as well.
Advantages of creating user personas
User personas can be very beneficial to gain insights regarding the audience. This provides a fuller view of understanding between the product manufacturing companies and their consumers. Following are some of the advantages of user personas.
Knowing the customers
This is the main benefit of user personas as it provides the clear demographics of the consumers and helps the companies to interact with the target audience to enhance the experience of the users.
Noticing potential issues
With the knowledge of the consumers, you can easily notice potential issues and can prepare for them in advance. This ultimately enhances the quality of your product. These user personas help to create a unique path for companies and manufacturers to know the pain points of the situations.
Enhances alignment of mission
Last but not least, the creation of personas helps in building teams and creating a clear communication channel between them so the teams can understand each other end fulfill the goals provided by the company. User personas can be added into anything from marketing to sales for developing better products at the team.
How to create a user persona?
If you are new to this concept following points will help you to create a user persona.
1. Initiate through inspiration
As there are plenty of different designs and templates, you can choose whatever you want. Initially, you are given a blank canvas to paint on according to the mood and theme of your work. There are plenty of things you can add, such as color inspirations and shapes. After finding the perfect things to add, start editing your documents.
2. Personalize it
A user persona template can easily be changed according to the taste of the person. You can start by altering the fonts and changing the sizes or colors. You can also spice up things with images and cliparts, as there are plenty of options within the EdrawMind. You can invest well-needed time in the graphics of the project.
3. Add up some flair
Unique designs and execution are well-preferred so that you can opt for added flair through various advanced features of the abode. Following are some ideas.
Add stickers
Add gifs
Add animations
Add video content
Most of the time, you don't have to worry about other deep stuff and formatting as there are auto options available for that. There is also a possibility of group work so more people can add up thing to the user persona and amp it up.
4. Resize to expand your content
Now you do not have to know all the sizing of your images on a variety of platforms. All you need to do is choose whatever design suits your document, and it can easily be resized and changed according to your preferences through the auto options of EdrawMind. The auto-sizing feature helps to create personalized content easily. Just specify the platform, and AI will assist you with the additional settings, and your content will be done.
5. Store and share the user persona
Now that you are done with your user persona design, you can easily publish it on the platform of choice. If you want to print your design, you can easily do that through your normal local printer; whether you are at home or the office, you can also download the digital form of the file and upload it on your channel. Don't worry because adult saves a copy of your work as well.
User Persona Examples
Following are some of the examples of user persona:
User Persona Example
The user persona example is one of the widely used user personas. It is basically a collection of tools regarding illustration and other styles. There are lots of options regarding colors and innovative illustrations, such as making avatars and carbonized forms. There are pre-made packs that you can easily use as well. If you want to have your own personalized user persona, then this is the right way to go.
User Persona UX Research
User persona UX research is also another example of the user persona that provides personal insights, background details, desired outcomes, requirements, issues, frequent brands of services and products, etc. This is the best example for those who have jobs around user personas and marketing and sales.
Woman User Persona UX
Woman using persona UX is the third example in the list. This example provides templates regarding various designs of the interior, such as houses and offices. This works as an application based on artificial reality and MR technologies. It is very easy to use and provides easy-to-understand layouts. The visuals are very attractive, which lowers a lot of readers towards it.
Persona
This is the best example that uses minimalized features and provides easy-to-understand illustration layouts and styles. With this user persona, you can easily put down the insights, suggest personal details and other added information. This keeps a lot of information while making sure that it does not look clustered.
In addition to the above-mentioned examples of personas, there are more personas available in the market, such as board game persona, psychographic persona, and user persona card, etc.