About the Competitive Analysis Template
In this capitalist era, growing competition in the market is a major driving force for businessmen. However, this competition may demotivate you by highlighting your weaknesses in the market. To tackle this problem, professionals and business owners make competitive analyses. Through competitive analysis, you can learn the marketing strategies, tactics, pricing, and distribution of the resources among your competitors.
This article will use
EdrawMind
as a powerful tool to create precise competitive analysis. You can also learn about multiple competitive analysis templates distinguished by their uses and applications.
Free Competitive Analysis Templates
To make a competitive analysis, you can explore its different and various templates. Each template has its unique use that can help you to learn about your strengths and weaknesses proficiently. This section will address the commonly used competitive analysis templates that can help you in various aspects.
1. Editable Competitive Analysis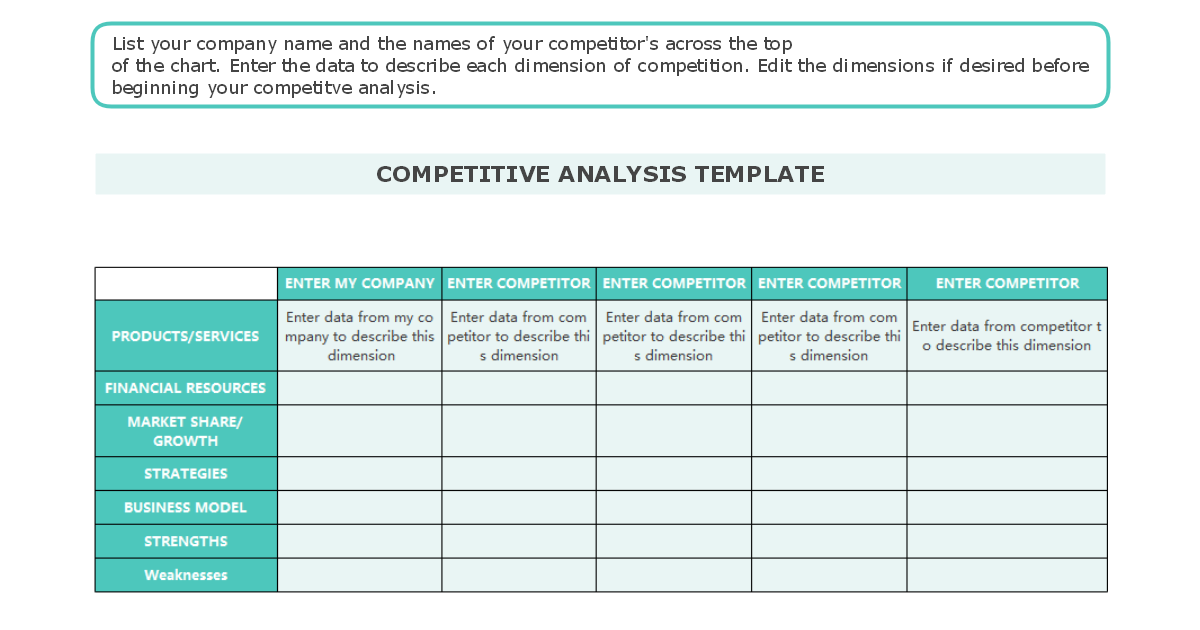 An editable
competitive analysis template
can help you in writing the details of your competitors easily. You can add the financial resources, business models, strategies, and generated products of your competitors in an organized manner. It will assist you in learning the strengths and weaknesses of your competitors effectively. Thus, you can make benefit by targeting the weaknesses of your competitors through this competitive analysis template.
2. Social Media Competitive Analysis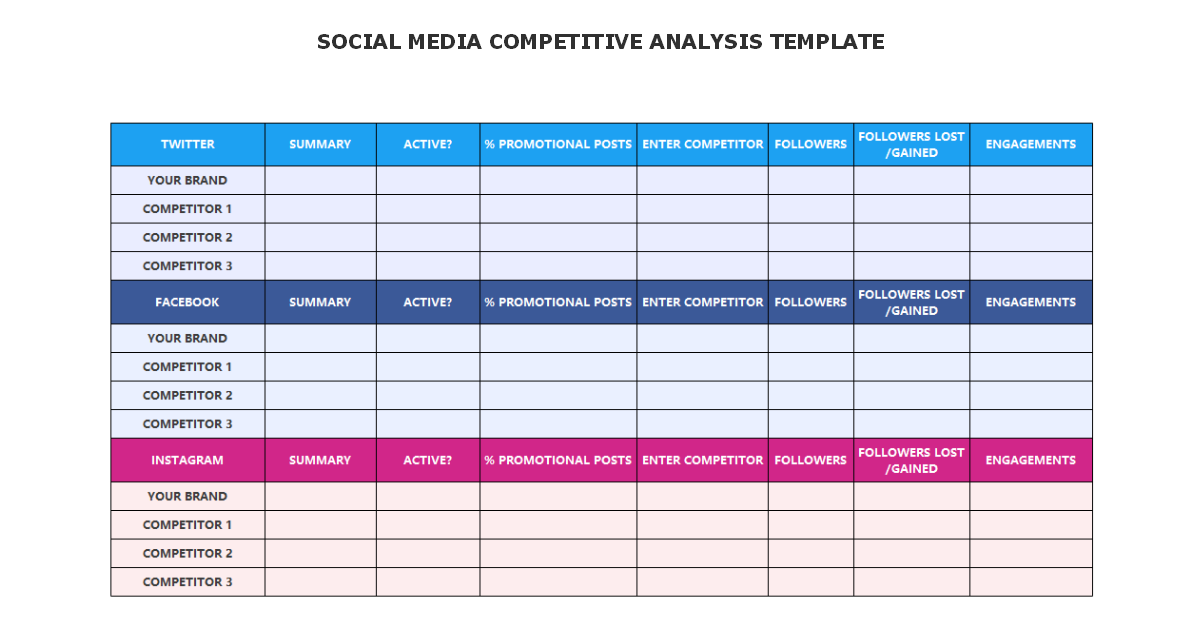 Social media is a new reality in this age as people can earn revenue from this platform efficiently. If you are running a social media campaign and want to analyze the ongoing activities of your competitors, this template will help you. In the social media competitive analysis template, you can compare the promotional posts, followers, and engagements of your competitors easily.
Moreover, you can check the number of followers lost or gained by your competitors in a specific period. Thus, it can help you to improve your social media campaigns and activities efficiently.
3. Product Competitive Analysis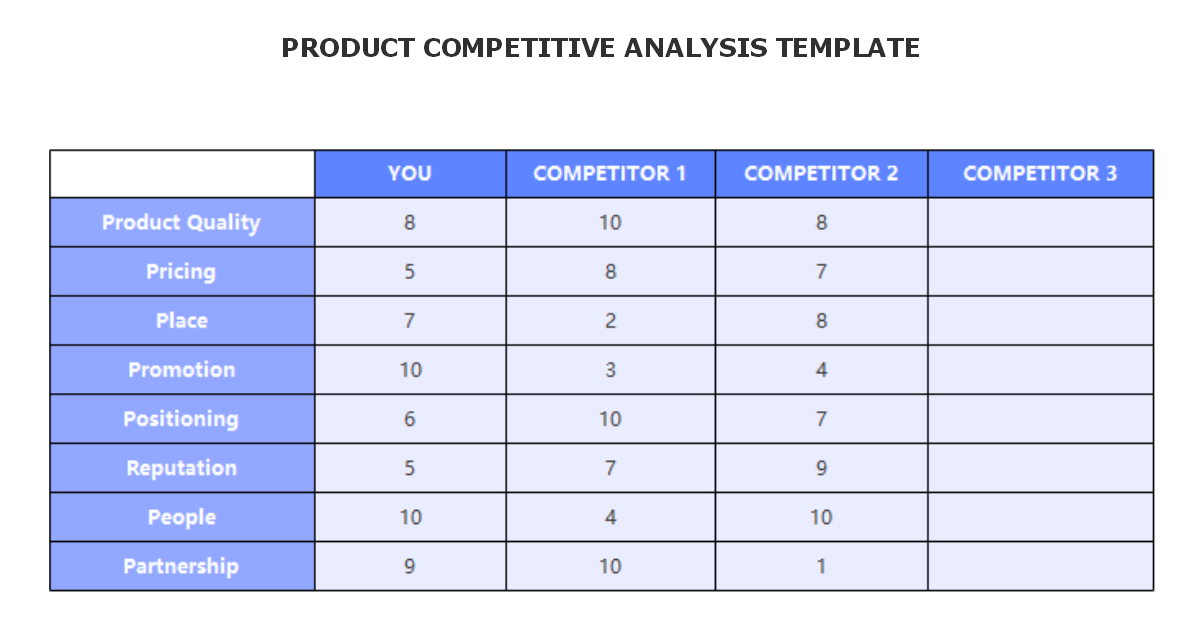 If you have launched a product in the market, you must compare its progress and growth with your competitors. In the product competitive analysis template, you can compare the product quality and pricing with your competitors. Furthermore, you can add important elements such as reputation, positioning, and promotion of the competitor's products in this template. It will help you enhance your product quality and reach by learning the tactics used by competitors.
4. Marketing Competitive Analysis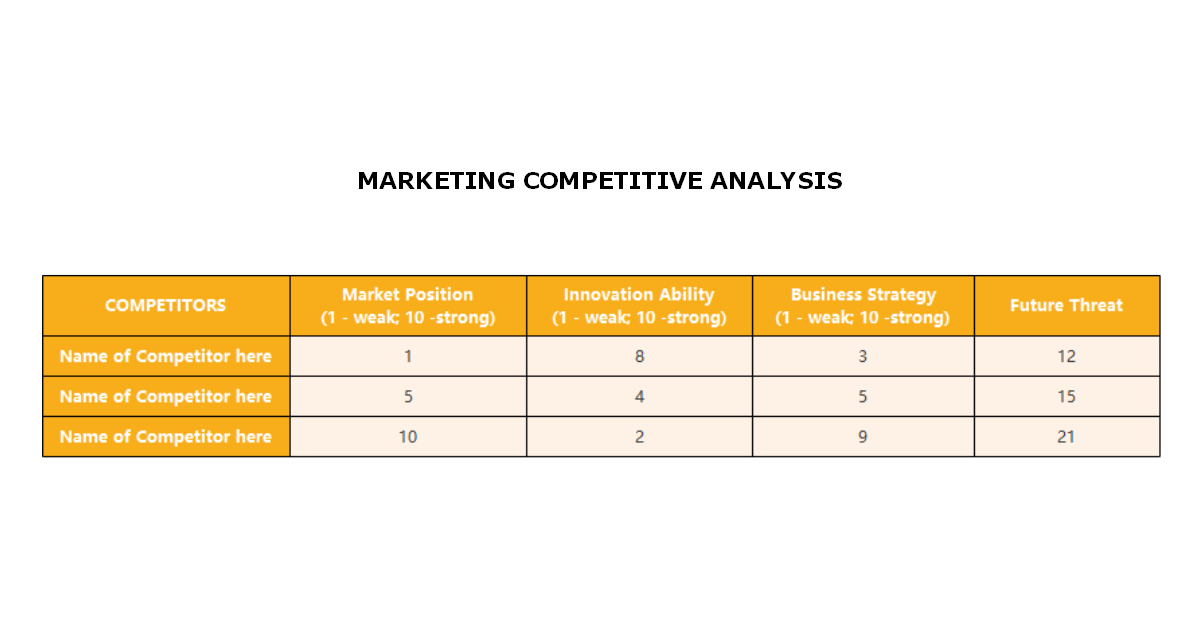 To enhance your marketing strategies, you can utilize the marketing competitive analysis template. By using this template, you can compare the trends in different areas of marketing smoothly. You can also learn about the applied strategies and innovative skills used by your competitors that are helping them to reach the target audience. By analyzing and comparing these essential marketing factors, you can expand your reach effortlessly.