The brand identity prism, also known as the Kapferer Brand Identity Prism, is a technique that characterizes a brand's identity throughout its attributes. It was initially proposed by J. Kapferer in 1986. The prism diagram's a powerful tool for visualizing not only a company's main features but also how they interact. According to brand identity prism, the brand name smoothly combines all six parts into a unified brand identity and statement, with all six characteristics about the company's basic essence.
What is a brand identity prism?
Every business requires a better brand identity since it will define anything they do, from how their logo appears to their vocabulary when communicating with the audience through multiple platforms. The Brand Identity Prism is a well-known framework for determining what your brand is. This strategy pushes you to consider all of the aspects that go into creating a brand identity, focusing on the people who matter the most - your consumers. Brand Identity Prism organizes the real (physical) and intellectual (intangible) parts of your brand's identity.
Why is brand identity prism important?
The brand identity prism, while not a new idea but is two decades old, is still a regularly utilized tool, despite the emergence of fresh brand identity frameworks throughout time. The brand identity prism requires companies to think about the numerous qualities that consistently define their brand identity. Simply going through a phase of making your own brand identity prism diagram may help you see how different aspects of your brand are complementing or detracting from your key brand principles.
Moreover, the brand identity prism depicts the junction of your brand's identity and your brand's appearance clearly and understandably. If your brand identity and appearance aren't in synchronization, it's time to review the brand aspects in your prism and pinpoints places where your message and other brand aspects may be fine-tuned to produce a smoother, coherent identity.
To customers, these powerful, consistent brands are most remembered. Creating a powerful brand that nurtures client loyalty and produces lifetime fans requires aligning your business's physical qualities, organizational values, and brand language with your target demographic, ideal customer expectations, and perfect buyer goals.
When to use the brand identity prism template?
Corporate brand managers and marketing departments typically in charge of establishing your brand image and influencing how your organization looks to the outside world will love the Brand Identity Prism template. Your brand identity will guide whatever you do as a business and should be used in the planning stage of the branding. Your clients will be able to recognize your interactions if this is clearly defined, and you will be able to craft messages that connect with them and demand their interest.
By placing yourself in the thoughts of the consumer, you can use the Brand Identity Prism template to explain exactly what your brand is and communicate the proper messaging to your target audience. Your target audience will be more likely to remain faithful to you if your company's broad mission and beliefs align with their own.
When working with a firm to rebrand or reinforce its current brand identity, an external branding agency can profit from employing this basic structure. You can verify that everyone is on the same page at every step of the project and that you are providing the outcomes your customer wants by having your customers fill out the Brand Identity Prism and distributing it with them.
Elements of the brand identity prism template
A brand identity prism is a six-sided prism with six traits or components, three on each side. The advertiser is shown at the top of the prism, while the customer is represented at the bottom. The amount of internalization or externalization of the trait is represented by the left and right sides of the prism.
The Physical: A brand's tangible physical attributes. Logos, colors, forms, and other brand assets are closely connected with your brand and make up these brand connections with its audience and target audience.
Brand personality: Qualities like this of the brand, such as fun-loving, joyful and lively, truthful kindhearted, and so on. This is generally communicated through the brand's voice, but a brand's design elements are as crucial.
Culture: A company's internal culture is also an important aspect of a brand's identity. All the famous companies have gotten famous for their workplace cultures because they have for their goods and services, for better or worse.
Relationship: This is a significant one, referring to a brand's relationship with its clients or customers. Aside from the company's products and services, what does a client expect from it? Just a few examples include outstanding customer service, unforgettable experiences, and incredible quality that will last you years and years.
Customer Reflection: Who is the brand's ideal buyer, or who is the target audience? Most businesses have several different buyer profiles, but there is generally one that stands out as the brand's go-to winner – followers. Brands should communicate with this target customer since this persona is more likely to become an advocate for the brand than other profiles.
Customer Self-image: The customer identity represents the customer's ideal self, rather than the customer's image. What are the aims, objectives, and desired appearance and behaviour of the primary audience? To connect with their audiences, brands need to focus on the strategy of messaging that nurtures this concept of the customer's best image.
Event brief templates
Example 1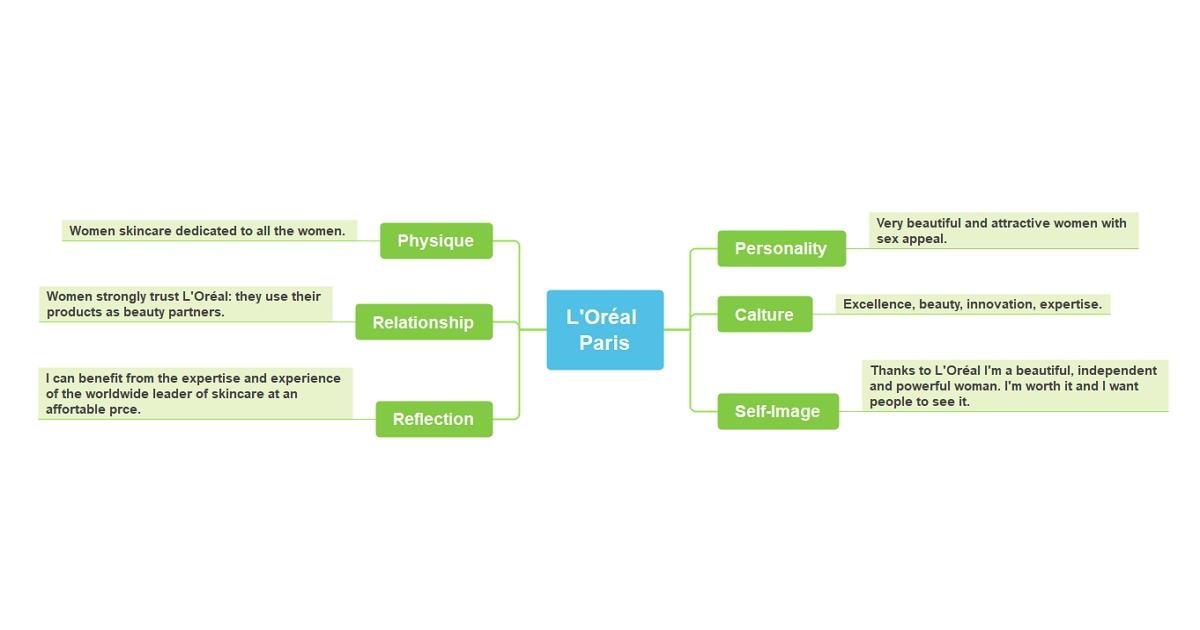 Example 2
Each component is an area in which the business must expand. The prism's objective once completed is to act as the company's branding guideline. The prism will be used by everyone who works on corporate branding to ensure consistent quality. The Brand Identity Prism shows how a business like Starbucks might see its brand. The prism develops a brand standard by recognizing the target segment, culture, and customer interaction.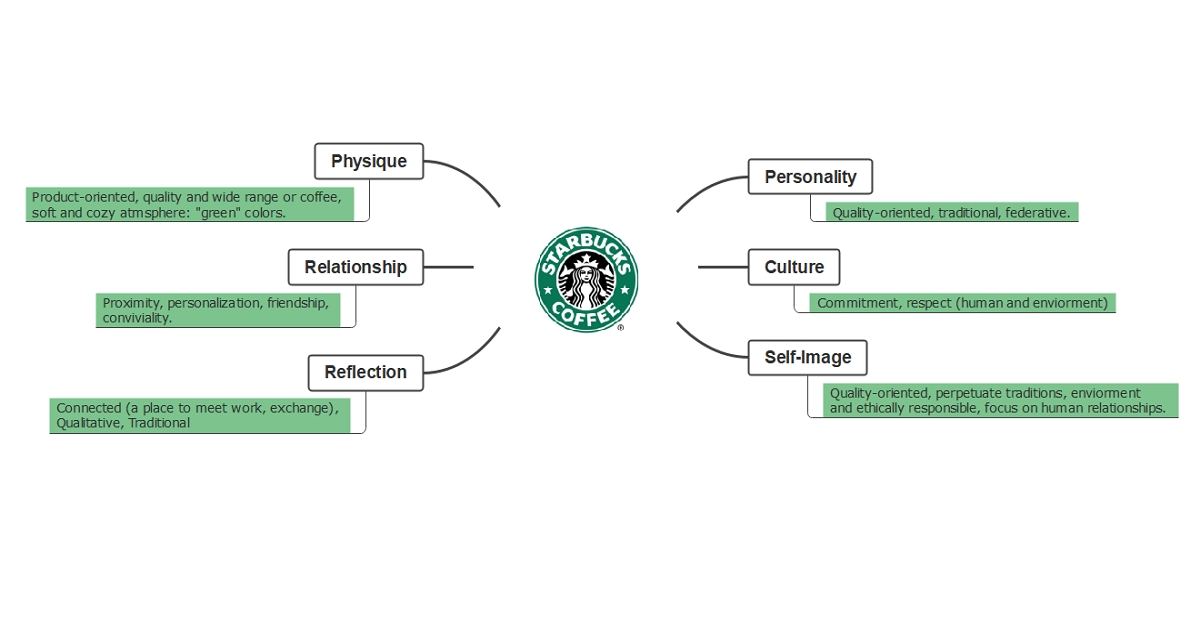 Example 3
This is a basic example of the brand prism template for beginners. You can always start with a premade template and add your personalization's and you are good to go with your brand identity prism without making a lot of effort on the graphics. But this is how a brand identity prism should look like and always make sure you know all the 6 elements for your brand identity.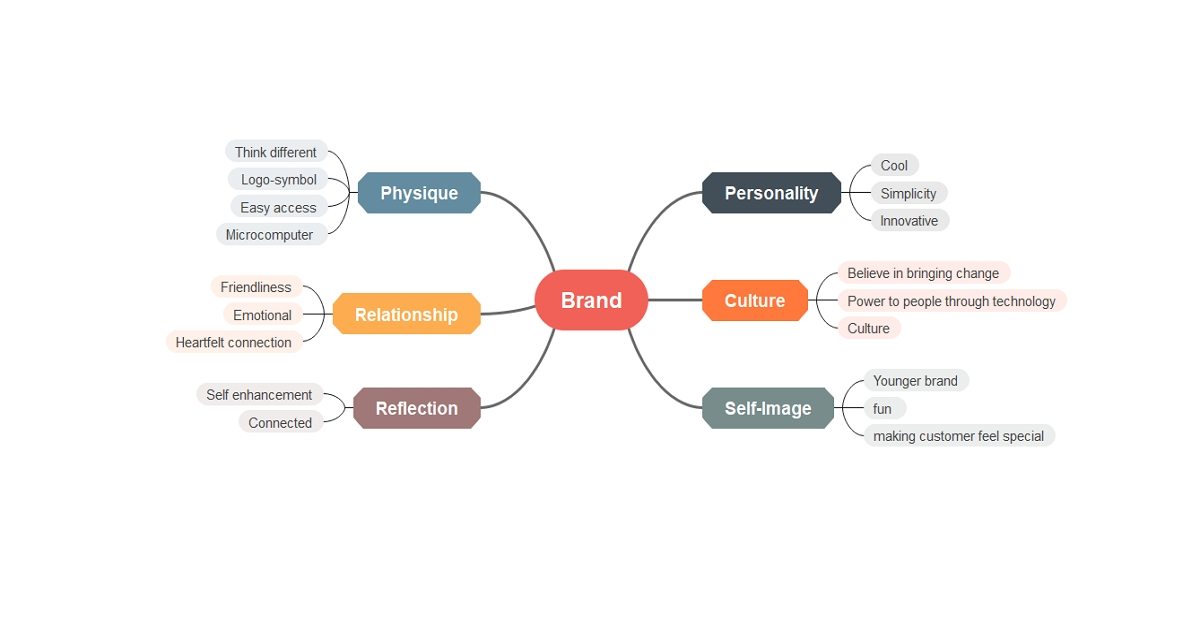 Why EdrawMind?
EdrawMind is a full-featured collaborative mind mapping and brainstorming tool. It is convenient and helpful for you to use EdrawMind to sort out your thoughts, visualize ideas, take notes, plan projects and more importantly, find solutions to problems.
Users are allowed to insert different kinds of objects into topics and
mind maps
in EdrawMind, including relationship line, boundary, callout, summary, mark, clip art, picture, hyperlink, attachment, note, comment, and tag. EdrawMind offers you a simple way to create mind maps on
Windows
,
macOS
, and
Linux
. Download the desktop version and try the free online version now!
EdrawMind Apps
12 structures & 33 themes & 700+ cliparts
Support Win, Mac, Linux, Android, iOS
Advanced import & export options
On-premises software for business
Enterprise-level data security
EdrawMind Online
12 structures & 33 themes & 700+ cliparts
Access diagrams anywhere, anytime
Team management & Project management