Nike Marketing Mix (4Ps) Analysis
Take inspiration from Nike's marketing strategy to effectively cater to diverse target audiences and create product attachment from its customers.
Discover More Helpful Information!
Effortlessly brainstorm ideas using a mind mapping tool, seamlessly collaborate across all your devices - EdrawMind is your solution for streamlined creativity and teamwork.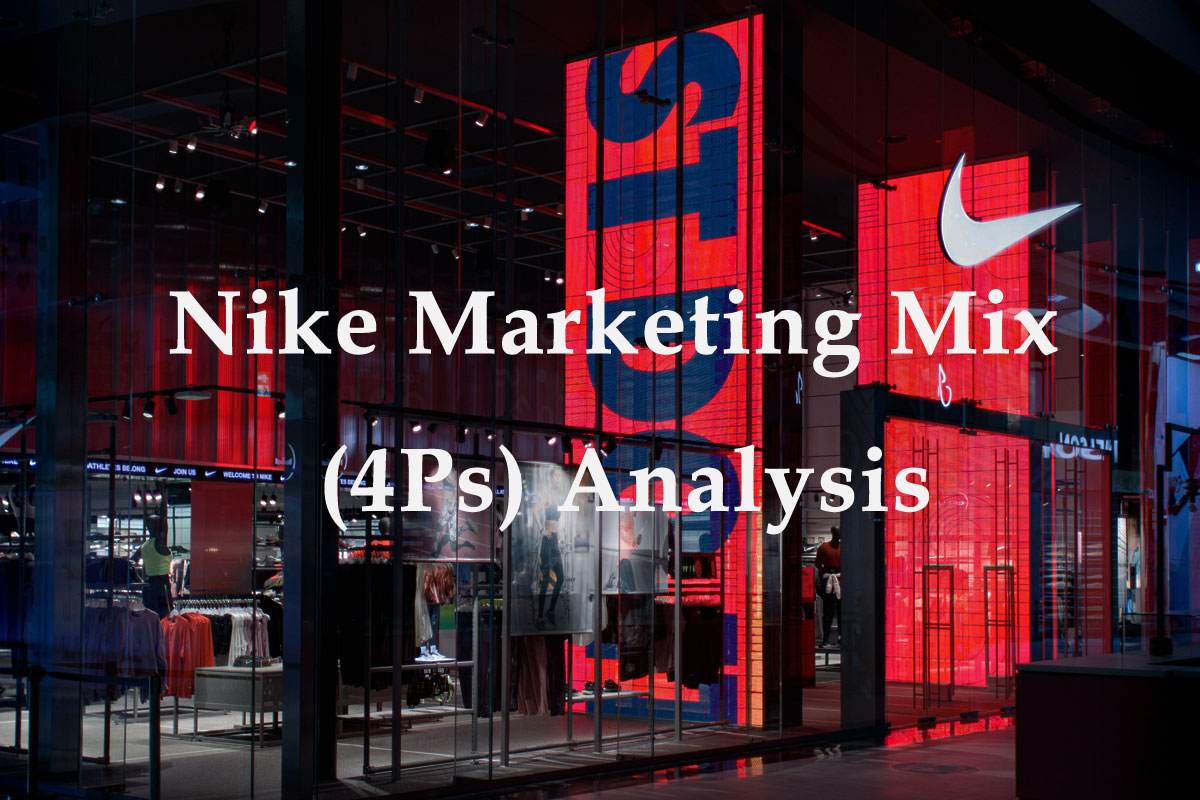 1. Introduction
Nike is an American multinational company spanning from manufacturing, development, design, marketing sales and apparel, equipment, footwear, services, and accessories. The firm is one of the largest suppliers and manufacturers of sportswear, athletic shoes and a top maker of sports equipment.
With its success since it was founded in 1964, there must be some secret on how Nike made it this far. The company's marketing strategies and efforts paved the way for Nike to accommodate better and satisfy its global target market. This includes the Nike marketing mix. Marketers generally classify their marketing mix into four - product, price, place, and promotion, or what they call 4Ps. These are strategies and techniques used for executing marketing campaigns based on the four elements.
The company's marketing mix includes offering fitness products and is specialized in shoes dedicated to accommodating professional soccer and basketball athletes' requirements. Over the years, the variables under each marketing mix principle have evolved according to the industry's dynamics. These innovations are vital factors in the company's success in adapting to the market dynamics and changes that affect international, regional, and local consumer demands.
2. Nike Marketing Mix (4Ps) Analysis Mind Map
To better understand how these four principles in the Nike marketing mix work, you can classify them using a diagram. See the Nike marketing mix (4Ps) analysis below.
Free Mind Map Maker - EdrawMind

Whether for personal use, educational purposes, or project planning, a statement analysis template breathes life into your concepts! 🌱 Regardless of your intent or project's complexity, business analysis templates render intricate ideas and processes clearer and more manageable. Commence your path to brilliance today with EdrawMind! 🦸
3. Product Strategy of Nike
Nike offers a vast selection of products, including apparel, shoes, and equipment. Its products are generally focused on premium quality and a wide range of goods for every sports enthusiast from its marketing mix. It leads the sportswear industry and gets its maximum revenue from selling sports shoes.
You might notice that Nike has unique shoe designs for several sports, including basketball, football, and cricket, among others. Surely as the company expands, its product portfolio also gets its corresponding expansion. However, looking closely, one will discover that shoes are generally the most popular products of Nike.
Besides sports shoes, Nike also has casual footwear in vibrant colors that usually attract the younger generation and other sneaker designs for kids, men, and women. Some of the most recognizable shoes from Nike are as follows:
The Nike Cortez. It is a retro-looking shoe that was initially designed and made for running.
The Nike Air Max. This shoe is considered the jewel of Nike's sneaker crown and is the first shoe from Nike that features a visible air unit.
The Air Huarache. It is a high-tech and lightweight running shoe popular for customers under 18 years old.
The Nike Blazer. This Nike shoe presents a casual look and can also be used in skateboarding.
The Nike Air Force 1. It is considered the most iconic basketball shoe and is famous as a sports shoe or a casual street sneaker.
The Nike Air Jordan. Another iconic sneaker from Nike assures comfort for whoever uses it.
4. Price Strategy of Nike
Nike utilizes premium and value-based pricing strategies for all its products. Value-based pricing refers to the company's consideration of the current price in the market while setting the prices for its products. Before they implement the pricing on products, they assess the overall response of the customers, if they are willing to pay for the items. This type of pricing strategy allows Nike to boost its profit over time. On the other hand, premium-based pricing refers to providing prices on higher-quality products than the value of Nike's competing products. As the company gradually increases the cost of its premium products, higher revenue and sales will be enjoyed.
Part of the Nike marketing mix is advertisements involving prominent celebrities, which can also be associated with its premium branding.
In some cases, Nike also has discounts and promos, such as the "Easter sales" on its physical stores and website. This strategy will help retain existing customers and attract new ones. The investments of Nike in technology can be evident in how it offers premium pricing on its products. However, the company still considers the current market situations in implementing its products' price points and ranges.
5. Place Strategy of Nike
Nike owns over a thousand stores and offices in forty-five various countries outside the United States. Most Nike products are available and sold in retail stores since most customers prefer to choose products by trying them on physically. Nike strategically positions its retail stores in areas where they are accessible for customers to find its products.
The company has an outlet store called Niketown composed of huge stores occupying four floors offering premium experiences with varied services. Inside this huge building are fancy stores where new products are available. It provides an excellent customer shopping experience with a customization booth and professional zone where representatives can advise on certain products. This store sends a message to its customers that they are valued.
As the dynamics of the industry change, Nike also has to keep up. While physical stores can be beneficial for most customers who prefer to try the product before buying them, some also want to avoid long lines in stores. Hence, the Online Nike Store's emergence and other online stores like Myntra, Amazon, and Flipkart. With people opting to shop from the comforts of their homes, online stores will always be their place to go.
6. Promotion Strategy of Nike
Nike's primary sources of promotion are sponsorships and advertisements. It does ads that involve prominent celebrities and high-profile athletes from different countries. Nike partners with sports personalities such as Serena Williams, Mo Farah, Cristiano Ronaldo, Lebron James, Rafael Nadal, and Kunal Rajput, to name a few. It also holds sponsorships on sports like cricket, the NFL, and the NBA.
The company's promotion strategy expands from conventional ads and other promos. It does direct marketing through personal communication with schools, colleges, organizations, and local sports teams. To strengthen its public relations, they provide financial support to Non-government organizations (NGOs). They can also promote their brand through these initiatives.
Its sales promotions strategies include giving great offers and discounts to customers. As broad as Nike's target market is, one can classify its target audience as the younger generation, fitness and sports enthusiast, and the elite class.
Since younger people consume social media more, the company promotes its products through customer interaction and engagement using its social media channels like Facebook, Twitter, Instagram, and YouTube. And who would not recognize Nike's iconic "Just Do It" slogan? This campaign was first launched in 1988 to motivate everyone to do their tasks efficiently. Another trademark of Nike is the hashtag #YouCantStopUs sending a message to the public that each sports field is unique and equal. These are Nike's inspiring campaigns with different themes gaining emotional attachment from its customers.
7. Key Takeaways
There's going to be tight competition when you are in a business. And the way to stand out and take leadership in a particular industry is to create a unique and effective marketing strategy. Nike's marketing mix, besides the usual advertising, community relations, partnerships with sports leagues, and celebrities, the company uses a slogan relatable for people from all walks of life. It somehow creates a personal and emotional attachment to its target market.
As you take inspiration from the Nike marketing mix, you can use a mind mapping tool to help organize your ideas. EdrawMind is a mind mapping tool to create various mind map structures. If you are new to using this software, there are pre-built templates on the 4Ps of marketing which can be helpful and take off the hassle of creating your structure. You only need to input your information on the mind map. The interface of EdrawMind is user-friendly, and even beginners will immediately get the hang of using the software.
You can choose to edit your mind maps either through the browser or install the software on your computer and edit from your desktop. Either way, you will have the same user experience and use similar tools. In terms of collaboration, you only need to provide project links to your team members so they can view, comment, give suggestions, or even edit the mind map in real-time.
EdrawMind Apps
12 structures & 33 themes & 700+ cliparts
Support Win, Mac, Linux, Android, iOS
Advanced import & export options
On-premises software for business
Enterprise-level data security
EdrawMind Online
12 structures & 33 themes & 700+ cliparts
Access diagrams anywhere, anytime
Team management & Project management
8. References