KFC Marketing Mix (4Ps) Analysis
Find out how KFC is still on the top of its game by understanding the 4Ps of KFC's marketing mix analysis.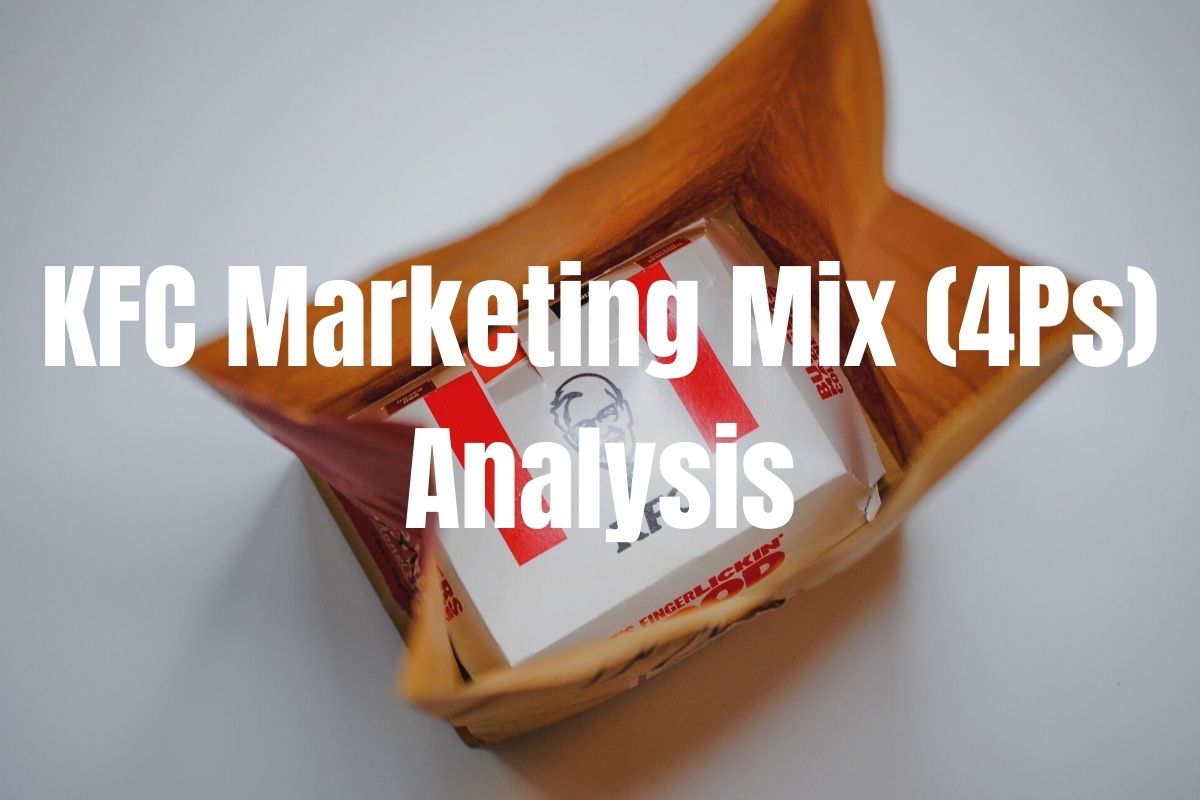 Kentucky Fried Chicken, or KFC, is a popular fast food brand around the globe and especially in the United States of America. The corporation has a strong marketing mix that has yet to be matched by its competition. KFC's marketing strategy examines the brand using the marketing mix concept, which includes the four Ps (Product, Price, Place, Promotion). A company's marketing mix refers to the approaches and strategies it employs to reach out to its target market and advertise itself.
The 4Ps of KFC's marketing mix are product, promotion, price, and place tactics. As a result, we can conclude that a marketing mix is a tool that aids us in a deeper understanding of a company and its impact. These KFC marketing mix-based business techniques aid the brand's success. The KFC marketing strategy assists the brand/company in establishing a competitive market position and achieving its business goals. In this post, we'll go through the 4Ps of KFC's Marketing Mix, which is as below.
Product Strategy of KFC
A product strategy is a summary of the items that a company needs to sell and provide to its consumers. Fried chicken is the specialty of KFC, an American fast-food restaurant brand. KFC's initial product is pressure-fried chicken pieces seasoned with eleven different blends of spices according to Sanders' formula. KFC modifies its menus to match regional tastes throughout the world, with almost 300 menu choices available. The fact that KFC continues to add new things to its menu aids in the development of a solid product strategy, which helps promote marketing.
Price Strategy of KFC
On a worldwide scale, KFC has had higher profitability. The business made a $16 billion profit in 2015. In Europe and Russia, the brand has performed exceptionally well, which is a significant asset for the corporation.
Burgers cost around $5, while a combination lunch with a beverage costs around $15. Bundles are less expensive than buying all of the things separately. It is particularly profitable in price-sensitive countries such as Asia and Africa. The brand generates more than $25 billion in annual revenue throughout the world.
Place Strategy of KFC
This approach focuses on determining where the company can locate prospective consumers for its products. KFC's marketing staff follows a strict set of guidelines when it comes to laying up the grounds of its locations around the country. KFC's current status as a global behemoth is due to its audience-winning strategies. KFC and its restaurants have over 15000 locations in over 100 countries.
KFC locations have all been deliberately placed near schools, universities, workplaces, and other educational institutions. This is due to the fact that the youth consume considerably more fast-food goods than the country's older population.
Promotion Strategy of KFC
The manner in which a company's products can be promoted in the market is referred to as a promotion strategy. KFC, being among the largest food corporations, markets itself aggressively. The majority of the advertising is done through television commercials, papers, journals, and billboards. KFC has sponsored the Australian Big Bash League (BBL) as well as other cricket matches.
To persuade its customers of its mouthwatering culinary products and delicacies, KFC uses the tagline 'Its Finger-Lickin' Good.' Because KFC has a powerful social profile, it will be able to communicate and interact with its consumers while also learning more about its goods and services. KFC also makes extensive use of their restaurants to market new products.
Mind Map
KFC's marketing strategy evaluates the brand using the marketing mix concept, which includes the four Ps (Product, Price, Place, Promotion). Product innovation, price strategy, promotion planning, and so on are all examples of marketing tactics. These KFC marketing mix-based business strategies aid the brand's success. Following is the mind map for KFC's marketing mix analysis.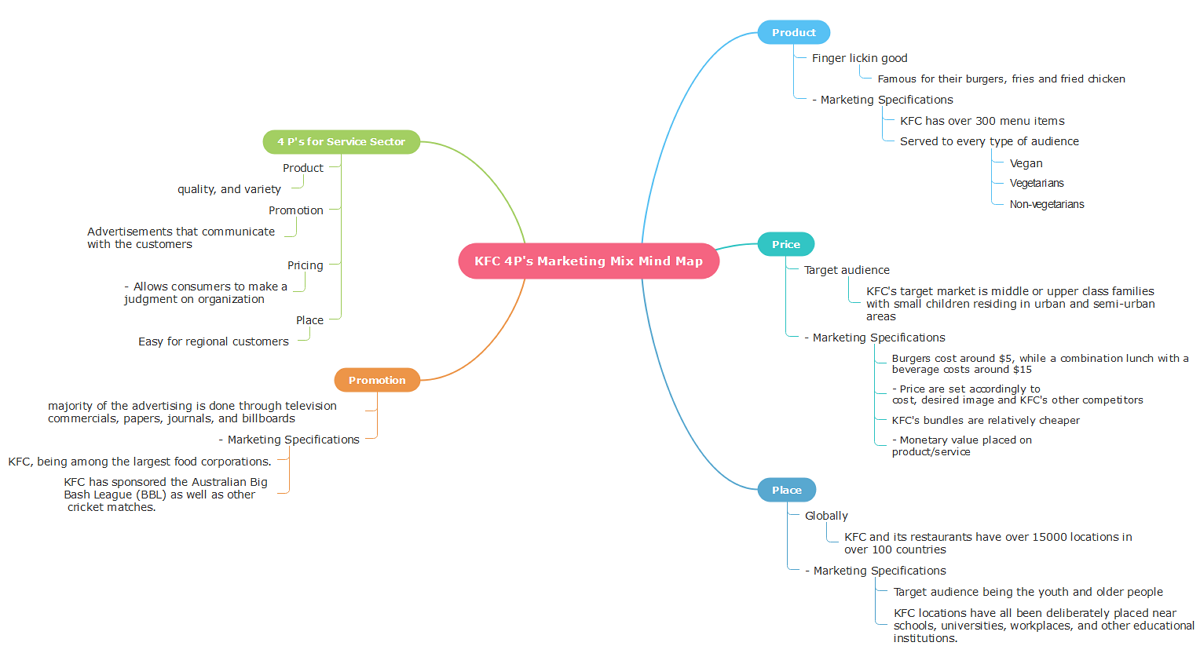 View, edit, and download this template in EdrawMind >>
Key Takeaways
KFC is a prominent restaurant business that has a presence in practically every market on the planet. It provides high-quality items at low rates and delights its customers with fast delivery of its specialties.
We can observe that KFC's ideology and methods are well planned and practiced in the above case-based study on the 4Ps of the marketing mix. KFC has become what it wants to be regarded all over the world as a result of these techniques. The positioning of the eateries is a brilliant concept that has succeeded in attracting visitors from all over the world.
So, we hope you have all the information regarding the 4P's marketing mix strategy of KFC and how to analyze your own business or company. Making a mind map for the marketing mix strategy is the best way to go. You can easily make your own with EdrawMind, as it offers a lot of tools and options to make a very aesthetic and knowledgeable mind map. You can also just have a pre-made template of the marketing mix and edit it according to your own preference for a faster job, just like the following template, that you can edit in any way you prefer. You can add brighter colors and different stickers that are also available in EdrawMind to make it eye-catching and interactive.

View, edit, and download this template in EdrawMind >>
References