Coca-Cola Mission and Vision Statement Analysis
Have a simplified analysis of Coca-Cola's principles through a straightforward diagramming software.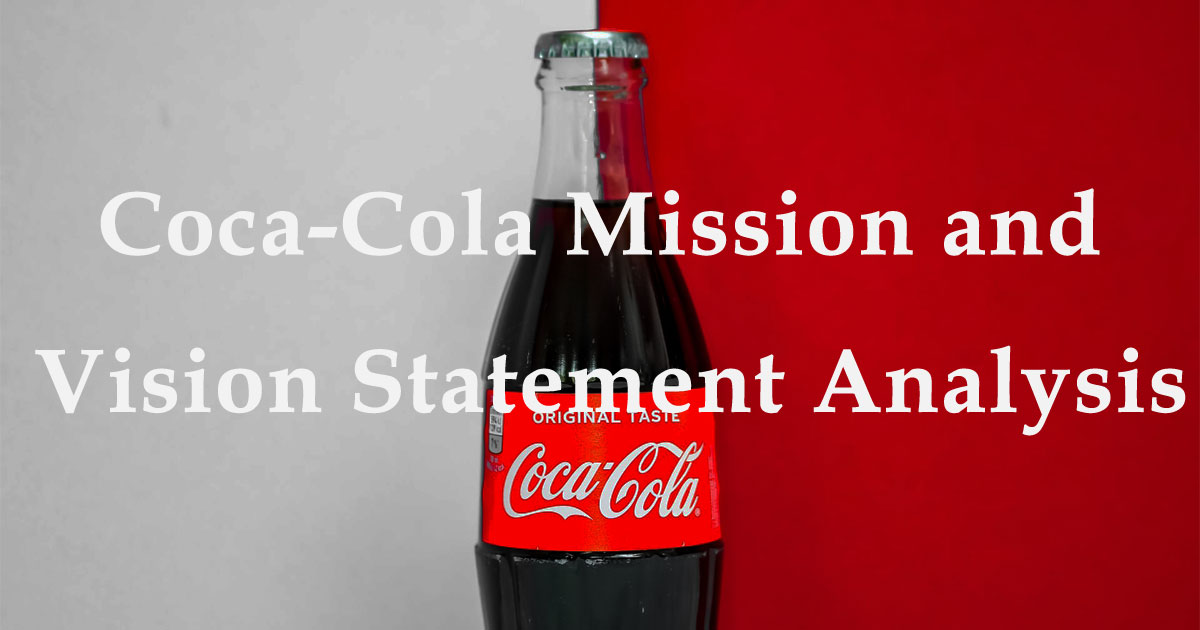 Introduction
Coca-Cola is a famous global multinational company with mission and vision statements that guided the company in sustaining leadership amidst the tough competition in the nonalcoholic industry for more than a century. Since its foundation a century ago, Coca-Cola has continued to remodel and redefine the beverage industry using its adaptive strategies, which helped the brand maintain its top performance despite several economic crises over the years.
Today, one can describe Coca-Cola as a mega-company with a global scope, owning several subsidiaries, and is one of the leading brands globally. All its accomplishments and accolades can be attributed to the Coca-Cola mission, vision statements, and core values.
A company's mission statement deals with the experiences and benefits executed and extended for the brand. Coca-Cola incorporates its core values to achieve the mission statement fully effectively. Meanwhile, the vision statement tackles how leadership can influence the company and its changes to the industry and the target market in general.
Almost all companies see the three principles as guides in streamlining the interests and operations of all organization members and other stakeholders to align with their overall goals and aspirations effectively.
The mission and vision statements and core values are essential contributors to a company's success. While they may vary from company to company, they can be ideal for taking inspiration from recognizable organizations that have been in operation for longer years. The following chapters of this article will tackle the different variables that compose the Coca-Cola mission and vision statements, including its core values.
Mission Statement
Coca-Cola ensures to sustain and incorporate its legacy in all its business processes. The company highly regards making a difference in communities in their scope and the individuals. In the process, it allows its customers to experience and enjoy the taste of its products. Looking into the company's mission statement, you categorize them by the following points below:
Improving lives. The company acknowledges that life's quality also means quality and brand initiatives of the product. To address this realization, Coca-Cola created a trend that values a customer's health more than the profits made from the business. As you explore the hundreds of products by Coca-Cola, you can see that it uses natural sweeteners and similar extracts to enhance the naturality of some of its beverages. And by the time the drink reaches the customer's hands, it nurtures refreshment while keeping one's body healthy.
Make a difference in communities. Profit is always going to be one of the end goals of a business. However, Coca-Cola ensures that the company goes beyond gaining billions from its products. It supports its partner communities to nurture development through infrastructure, healthcare, and education. Coca-Cola also initiates to gather its partners and stakeholders in donation drives for the community's growth. It never neglects its social responsibility and the company's participation in environmental protection initiatives.
Exceeding expectations. Coca-Cola is such a recognizable brand that everyone patronizes its products. The brand's dynamics have created worldwide opportunities for making people's lives better.
The Coca-Cola mission statement also focuses on bringing happiness, positivity, and significant difference through its product portfolio.
Vision Statement
The Coca-Cola vision statement focuses on inspiring people and promoting excellence to nurture a harmonious environment in the workplace. It reveals the company's goal for development and change in the industry. And here lies Coca-Cola's definition of leadership. Also, its vision statement strives to:
Inspire others. Coca-Cola strives to be an organization that practices harmonious relationships among employees and stakeholders by uplifting each other. It works with various communities and investors to spread its benefits through best practices that promote positivity.
To be the best. As Coca-Cola expands its market reach, it needs to keep its growth trend. Indeed, you can count on Coca-Cola to innovate new products for its market and, in the process, conduct outreach initiatives for the community. With all these at hand, Coca-Cola is setting the bar higher for excellence and its commitment to inspire customers, communities, stakeholders, employees, and its other companies in the soda industry.
Nurturing a great workplace. A company can never be successful without excellence from its employees. The third variable on Coca-Cola's vision statement reflects the company's uniqueness as an international brand. It creates an environment that embraces everyone despite their differences and promotes professional growth and unity. This is one of Coca-Cola's primary goals, making it an ideal workplace for employees across the globe.
Core Values
A company's core values also serve as a front that helps the alignment of organizational behavior. Coca-Cola prides itself on a set of core values that guides the behavior of every aspect of the company. Its values serve as the compass for the company's actions and define how Coca-Cola behaves in the industry and the world.
Its core values comprise leadership, integrity, collaboration, passion, accountability, quality, and diversity. These values will be Coca-Cola's guide on interacting with its main stakeholders during service deliveries. Generally, the company values address the needs of its primary stakeholders, including employees, company shareholders, customers, and the community as a whole.
For a company that caters to the global market, it is not all about survival but also about thriving to stay at the top in a global spectrum. Here lies the need for a solid cultural value within the organization.
Coca-Cola Mission and Vision Statement Analysis Mind Map
Your analysis does not need to be very long to be comprehensive. The Coca-Cola mission and vision statements and core values can be drawn out using a diagram and still illustrate a comprehensive yet simplified analysis of the three principles of this multinational beverage company. Here is an example below:

View, edit, and download this template in EdrawMind >>
Mission
Improving lives
Making a difference in communities
Exceeding expectations
Vision
Inspire others
To be the best
Nurture a great workplace
Core values
Leadership
Integrity
Collaboration
Passion
Accountability
Quality
Diversity
Key Takeaways
Coca-cola's three principles that were discussed above give motivation to all its employees. Surely everyone working in the company is getting paid. However, apart from this, you can also credit the company's principles of employee performance at the workplace. Looking back at the Coca-Cola vision statement, it emphasizes a harmonious workplace for employees. And if you are an employee, you sure would want to be in a company that looks after your welfare.
Coca-Cola is a huge company, and looking at its mission and vision might be overwhelming. However, the two essential components can also be applicable to other companies since its mission and vision statements are the basics a company must possess. Whether you are a startup brand or striving to grow your business, you always need to ensure a harmonious workplace, promote excellence, teamwork, efficiency, growth, and expansion. All these can be seen from the Coca-Cola mission and vision statements and core values.
Whether you are bound to create your company's mission, vision, and core values or analyze a firm's principles, it can be ideal to do it using a diagram, specifically a mind map. EdrawMind is a mind mapping software that offers an excellent experience for beginners and experienced users. It showcases various pre-built templates on mission and vision statement analysis where you can choose if you do not want the hassle of creating your framework.
It offers a user-friendly interface with straightforward tools. Besides that, you can play with your mind map by using stickers, images, colors, and shapes. EdrawMind is also a flexible software as it allows users to either edit their diagrams using browsers or have the software installed on computers and edit from their desktop. Regardless, both provide similar features. Collaboration is also vital among teams. As you work on your mind map, you can invite team members to view, comment, give suggestions, or edit the diagram by giving them the link to the project.
References