Uber Mission and Vision Statement Analysis
Learn how Uber distinguishes its services and company from its tough competition through its mission, vision statement, and core values.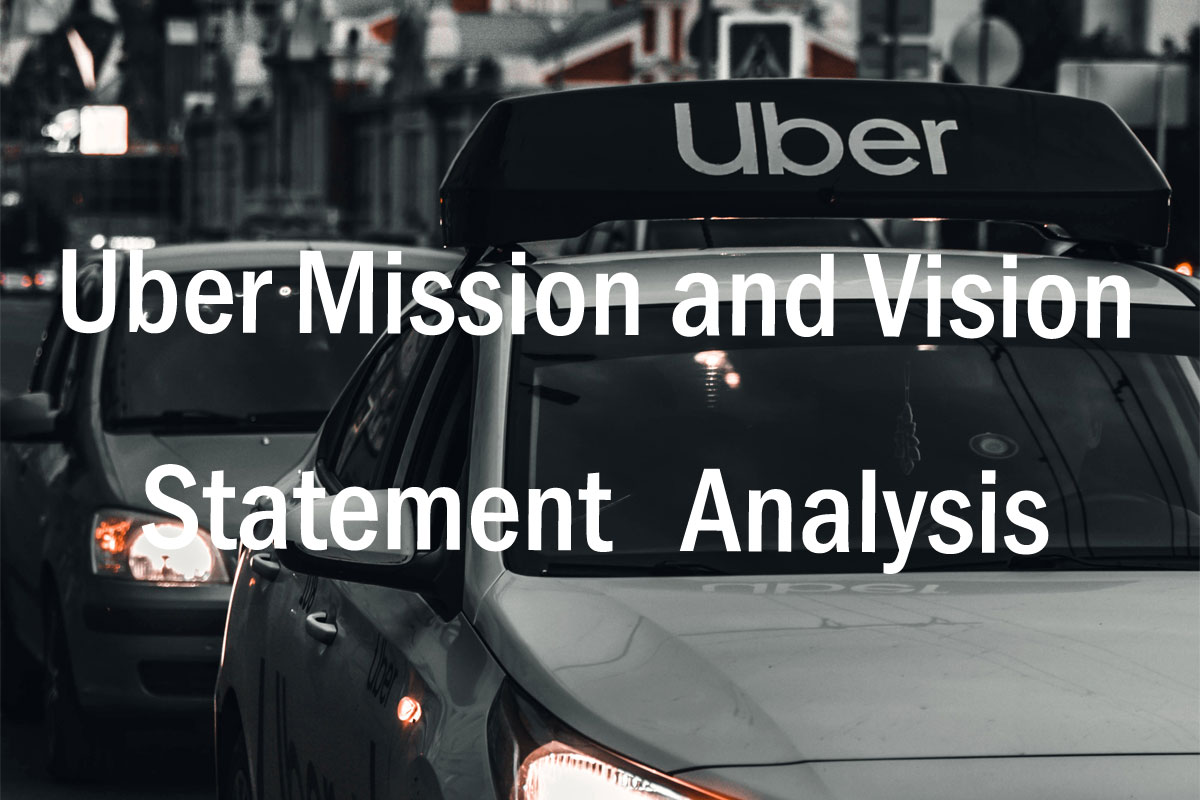 Introduction
Uber is well-known for its services all over the world. Vehicles for rent, food delivery, delivering packages, couriers, and transportation of goods are among the company's services. The firm was launched in 2009 and now operates in more than 900 cities throughout the world. Uber's headquarters are in San Francisco. It has a global user base of 70 million people. According to the survey, Uber controls 67% of the US ride-sharing business and 24% of the food delivery market. Uberisation is a term that has transformed the business.
Garrett Camp and Travis Kalanick established Uber as a private firm in 2009. With a market price of $68 billion, it has subsequently been one of the biggest and most successful firms. Uber delivers on-demand trips to customers in need of transportation anywhere on the planet. Complaints about the company's labor standards and the self-driving vehicles it has been developing have sparked several debates. It was seen as a cost-cutting platform that allowed automobile owners to transport people to the same location without having to ride in an empty vehicle. It has also been blamed for causing traffic gridlock in cities.
Mission Statement
Uber's mission statement is among the most insightful and profound sentences ever written. This is a simple yet precise statement. When we look at the Uber mission statement, we find the following:
Providing Opportunities: Uber is a platform that provides chances for both riders and drivers. It creates jobs for drivers who want to make money, seats empty that can be shared to the same places, and it saves money for riders. Uber is assisting millions of people throughout the world in becoming financially self-sufficient by offering work opportunities, particularly in third-world nations. Simultaneously, it presented a chance for anybody who has a car or has a companion to have a chat and gossip while traveling to the same location to make extra money.
Worldwide trusted transportation: it is critical to have security when sharing a journey. Uber has made this possible for its users all around the world. Uber is a company that operates not just in affluent nations like the United States but also in emerging and underdeveloped countries. It ensured vetted drivers and helped Uber enhance its service using its customer rating system.
The importance of motion: To move forward, you must be in motion. We shall fall behind if the world becomes stagnant. Uber is attempting to keep the world moving by ensuring that no one is left behind or wasting time traveling to a location due to traffic congestion or car shortages. To keep the world moving, the term "motion" is crucial. Anything's progress is influenced by its rate.
Vision Statement
We may deduce a few key aspects from the vision statement if we read between the lines. As an example:
Dependable transport.
Transportation is available everywhere.
Everyone has access to transportation.
Uber wants to establish itself as the most dependable mode of transportation in the world. It is dependable in terms of service, security, and pricing.
Everyone's transportation: uber's aim is to provide transportation services to everyone in the world, from San Francisco to Africa. No one will be denied the chance to travel on low-cost carriers.
4. Last but not least, Uber is primarily highly dependent on the internet. When all of the other uncontrollable variables are factored in, the entire company model is doomed to fail. Investors have no assurance that the firm will not be overtaken by a competition next week or next year.
Core Values
Uber's company culture is shaped by the following core values:
We construct on a global scale while living on a local scale.
We are completely devoted to our customers.
We are proud of our differences.
We follow the rules.
We act as though we are the proprietors.
We are persistent, and we place a high value on suggestions for hierarchy.
We place large, risky wagers.
Uber aims to apply the aforementioned ideals into the organizational culture, and by doing so, it has already established a name for itself. This company's breadth of operation demonstrates that it has grown its reach to a worldwide level in such a way that travel seems local. Its capacities to fulfill the demands of individuals from all backgrounds, customize services to the preferences of consumers, and go above and beyond to be the best are what propelled the firm to its current position. These are backed up by Uber's prioritization of ideas and recognition of the client as an important part of the business.
Uber Mission and Vision Statement Analysis Mind Map
Intending to establish a "Uberized world," the organization thinks that innovation can and should be utilized to fix any problem it encounters. Uber issued a statement which stated that there will be a truly united transportation system in which people will no longer require public transportation. Because they will have direct connections to Uber, which will provide them with all the services they require, including booking on-demand rides and even food delivery. While the firm has successfully brought its vision to life — it now has more than 66 million active users throughout the world - its objectives remain unmet.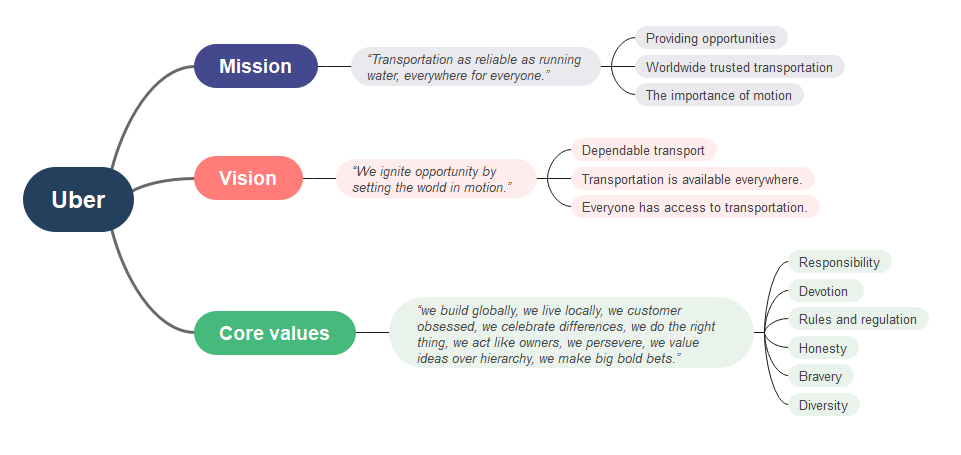 View, edit, and download this template in EdrawMind >>
Key Takeaways
These are the numerous mission, vision, and values statements that Uber has made public to date; as a result, they have distinguished themselves from their competitors. Uber has also developed a global image as a trustworthy business that has always encouraged people and their workers in their goals. Travis Kalanick and Garrett Camp started the startup to make transportation accessible to everyone. They intended to make it easier for people to travel about without having to buy a vehicle or rely on cabs all of the time.
Uber's Mission Statement is one of the factors that sets them unique from other firms. The firm includes a detailed mission statement that describes the organization's main aims, and that is something that most businesses lack. To not have anything that is lacking and probably not seen as a threat can be avoided if you make a mind map. But sometimes, making a mind map can be extensive and not beginner-friendly but because of EdrawMind and its pre-built templates. Making a mind map has become way easier and less time-consuming, and visually pleasing.
References