Nestlé SWOT Analysis
Discover Nestlé's strengths, weaknesses, opportunities, and threats and how it stays valid and top of the market even after that.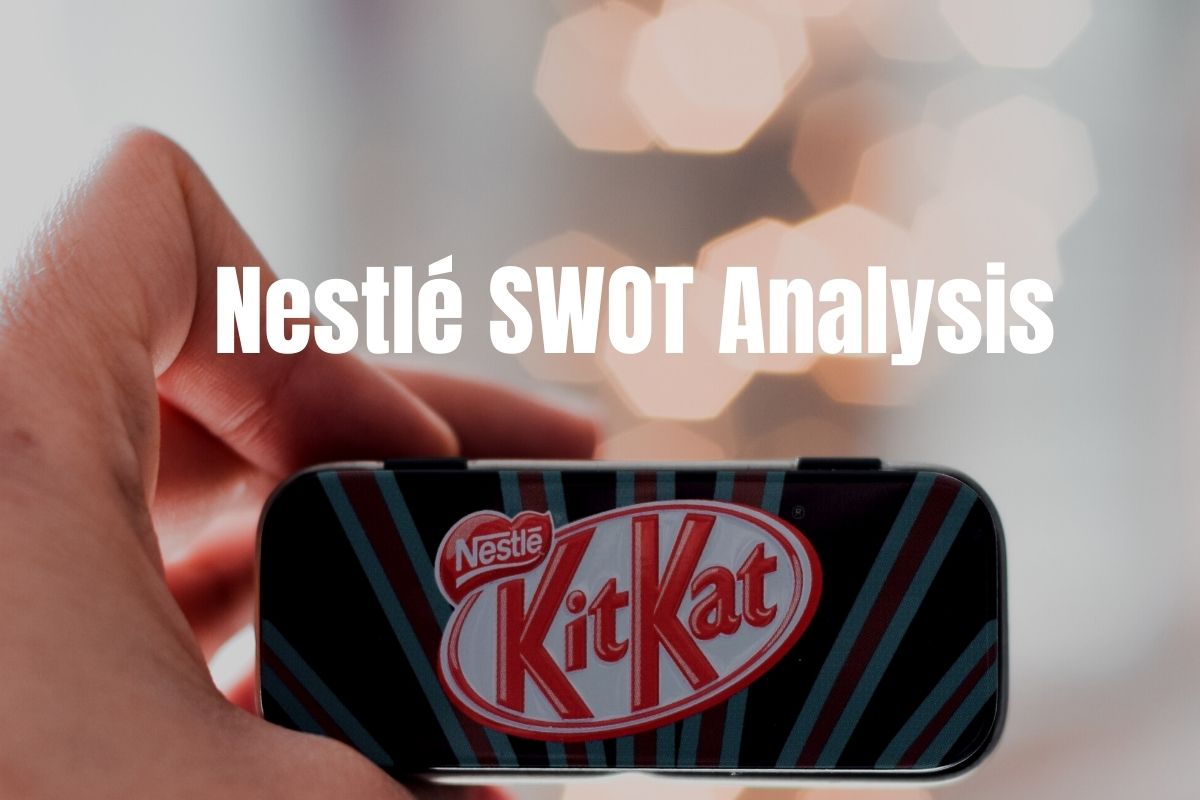 Introduction
We're quite confident you're familiar with Nestlé. Nestlé has been present globally for more than sixty years. Sixty-five years of age of continually serving the world with high-quality food items. Nestlé has earned the confidence and respect of people from all walks of life in the United States. In this article, we'll look at Nestlé's SWOT Analysis. The regions where the business should indeed develop in the future.
Nestlé S.A., established in Switzerland, is the world's largest nutrition, health, and wellness firm. It is the world's largest food and beverage firm, garnering CHF88.785 billion (US$89.772 billion) in sales alone in 2015. Nestlé has a total of 2000 brands throughout seven food and beverage categories. Powdered and liquid drinks, milk products, ice cream, confectionery, and pet care items are the firm's main products. It owns several well-known consumer brands, including Nescafé, KitKat, Vittel, Nestea, and Nestlé, Purina, among others.
Every important strategic choice is based on a thorough examination of one's skills and position in the context in which the decision will have a substantial influence. The evaluation aids in making an educated decision and being better equipped for any eventualities.
The SWOT is more convenient to apply to everything that is impacted by internal and external forces because of its simplicity. Circumstances, sectors, events, goods, enterprises, strategies, services, and even individuals may all benefit from it. Strengths and opportunities have a favorable influence on one's core abilities and assist in their expansion. On the other side, weaknesses and dangers are harmful to one's development.
Nestlé's Strengths
Strengths describe what a company specializes in and what distinguishes itself apart from competitors, such as a great reputation, a loyal customer population, a solid financial position, or unique technology.
1.Persons, society, beliefs, and attitudes are all factors to consider.
Nestlé's unmatched success, per Harvard University, is due to its multi-cultural mentality. This multi-cultural mindset contributes to the product's and value chain's added value.
2.Geographical reach unrivaled
This organization, which has been around for over 160 years, offers a wide variety of food and beverage alternatives to its clients. Nestlé is a multinational corporation with operations in 190 nations, 500 facilities, and 400,000 employees.
3.Capability in research and development that is unrivaled
Nestlé invests 1.6 billion dollars in research and development each year and boasts the food industry's most comprehensive scientific and innovation network. Nestlé has a staff of 4000 scientists and professionals guiding them via scientific research to achievement.
4.Portfolio of products and brands that is unrivaled
Nestlé boasts the world's greatest assortment of food and beverage goods. Nestlé goods are consumed by people of all ages, from infants to the elderly. Nestlé goods have a strong track record of generating high levels of consumer loyalty.
5.Decentralization
Nestlé is a firm believer in sourcing local raw resources for their goods. It not only benefits the town's local farmers but also promotes the economy, leading to the area's general growth.
6.Strong supply chain operations
The Nestlé group fosters local creativity, integrates technology, and is working to improve the transparency of the raw materials used in its products. As a result, the company can generate significant operating savings.
7.Digital Transformation
Nestlé's commitment to digital transformation in areas such as marketing, social networking sites, e-commerce, production, and supply-chain management has enabled them to become data-driven. This allows them to cater to the specific demands of their customers and enhance customer satisfaction. Nestlé used artificial intelligence to alter 70 ecosystems in 2019 and customize 20% of their customer interactions.
Nestlé's Weaknesses
The shortcomings of a firm prevent it from reaching its full potential. A poor brand, elevated turnover, excessive debt levels, an insufficient supply chain, or a lack of cash are all areas where the firm must develop to remain competitive.
Has been chastised for selling tainted food, wasting a lot of water, and other unethical methods.
Nestlé has recently received a lot of unfavorable press. They have lately been chastised for utilizing lead in the making of Maggi. The following are some of the claims leveled against Nestlé:
Unfair infant formula marketing
Supports water privatization
Demands debt payback from a famine-stricken nation
Deceptive Labeling
Sourcing components from vendors that use child and forced labor
1.Recalls of tainted foods
Nestlé has had cases of tainted food being sold despite taking stringent precautions to maintain the highest quality of food. This does not assist the corporation's public image, and the company has already faced public outrage.
2.Organizational Structure
Nestlé's current organizational structure is split by product portfolio rather than regional activities. When it comes to decision-making, this generates a huge power gap and limits operational agility. This is usually a huge stumbling block when it comes to growing its activities.
3.High reliance on advertising
Nestlé relies heavily on advertising to promote its products, which raises marketing expenses and, as a result, raises the risk affiliated with returns. With upcoming upheavals, this strategy will not be able to keep Nestlé afloat in the long run.
Nestlé's Opportunities
Opportunities are the path of opportunity or chances for something wonderful to occur, but they must be seized by the firm!
1.Clear Labeling and accurate, noting any potentially dangerous items
Almost 62 percent of customers prefer to choose items that are devoid of dangerous ingredients. Today's customers are health-conscious, and Nestlé can capitalize on this trend by positioning itself as the healthiest alternative on the market.
2.Material sourcing transparency
Customers increasingly base their purchasing decisions on whether an item is ethical and whether it has negative environmental consequences. Nestlé's brand image may be improved by being upfront about material sourcing.
3.Tea and coffee ready-to-drink (RTD) markets
There are no RTD tea or coffee products available from Nestlé. Small businesses dominate this industry. Nestlé can take advantage of its assets to enter into this underserved sector.
4.Integration and functioning sustainably.
It will aid the organization in lowering expenses, increasing efficiency, and effectively using workers. Local integration and production will streamline processes, lowering long-term costs.
5.Increasing disposable income
Nestlé sees a great potential to develop its operations in Asia, Oceania, and Sub-Saharan Africa as the average family income rises. New or current items can be introduced to expand the company's product line, resulting in improved visibility and profitability.
Nestlé's Threats
A threat is something that might hurt your company from the outside, such as supply chain concerns, market upheavals, or a recruiting deficit. Before becoming a victim and slowing your progress, it's vital to anticipate risks and take action.
1.In the beverage and food industries, there is fierce rivalry.
Nestlé is under pressure from rising competition in the food and beverage business. This is one of the most successful and profitable manufacturers in the country.
2.Climate change will have an impact on coffee production.
Coffee output has suffered as a result of climate changes and global warming, and Nestlé must find a way out. In addition to those considerations, price competitiveness has exacerbated the situation even further.
3.Product Quality and Safety.
In the old days, Nestlé's image and customer confidence suffered greatly as a result of non-compliance with food safety regulations. The finest example is Maggi in India, which failed one of the lab tests and lost a significant amount of market share.
4.Rivals
Nestlé's product portfolio is up against a slew of multinational competitors as well as a slew of local entrepreneurs. Nestlé is constantly at risk of losing its present customer base as technology advances, and the business undergoes ongoing changes.
Nestlé SWOT Analysis Mind Map
Nestlé still controls several well and successful food brands in the world. Regrettably, it must contend with a rapidly changing supermarket industry in which old brands are rapidly losing their effectiveness. Nestlé may face a stronger challenge from changing consumer behavior, such as the demand for more organic produce in Europe and the United States, as well as rising expenditure on take-out and restaurant meals. To achieve competitive advantages, it may have to develop new items or refurbish existing brands.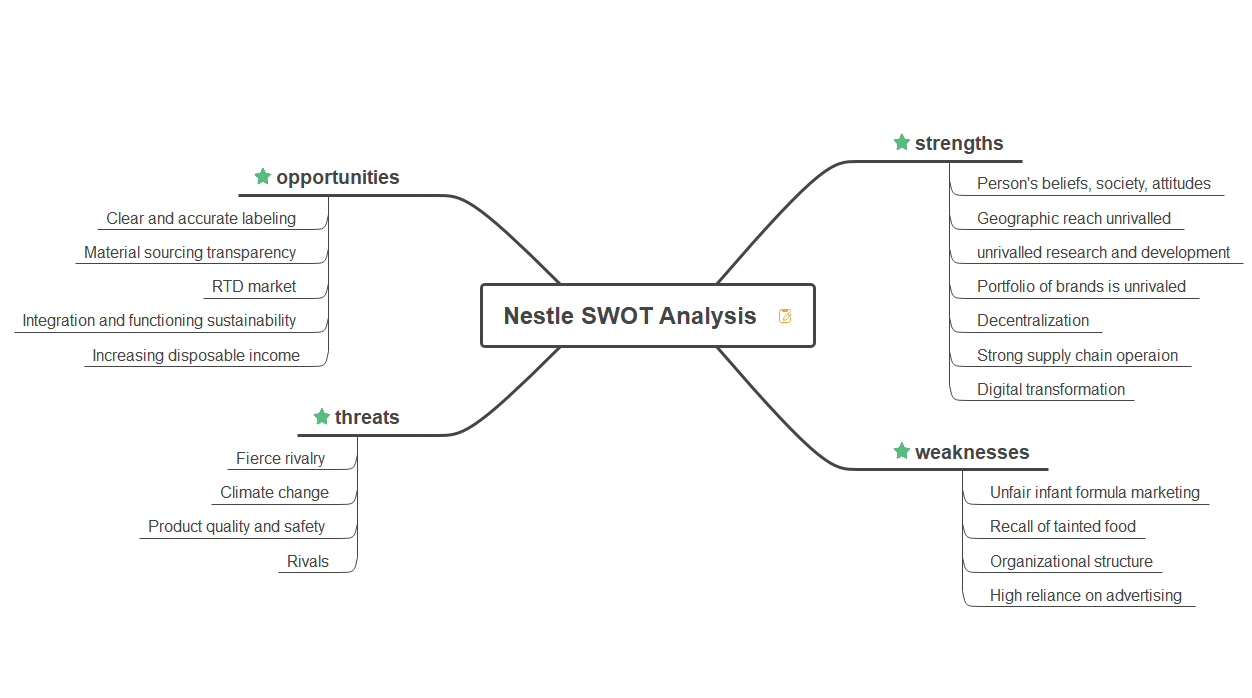 View, edit, and download this template in EdrawMind >>
Key Takeaways
Nestlé has made great strides and is now one of the most well-known brands on the planet. Nestlé has indeed been effective in establishing brand loyalty and trust among consumers. Nestlé has evolved in response to the ever-changing interests and choices of people all around the world. Nestlé does have some challenges to overcome, but there are many prospects for growth. We are certain that Nestlé will overcome these challenges and preserve its position as one of the world's greatest corporations.
Nestlé's ever-expanding product selection and worldwide presence may be ascribed to the company's concentration on its fundamental competencies and alignment with available possibilities. Nestlé, on the other hand, is focused on dangers and must address its vulnerabilities to deal with any changes in the environment.
To stay on the line for the company's strengths, weaknesses, threats, and opportunities, having a lucrative mind map is important. It helps the company recognize its potential and stay forward in the line of opportunities. But making a mind map can be an extensive procedure if you do not know what you are doing, and the process is very time-consuming too. But EdrawMind has the solution for you because it provides you with built-in pre-made templates to choose from and edit according to your preferences. It works best even if you are a beginner and do not know what you are doing.
References