Samsung Mission and Vision Statement Analysis
Find out how Samsung has become the world's leading smartphone brand and has kept its top position in the industry through the competition by staying true to its statement and core values.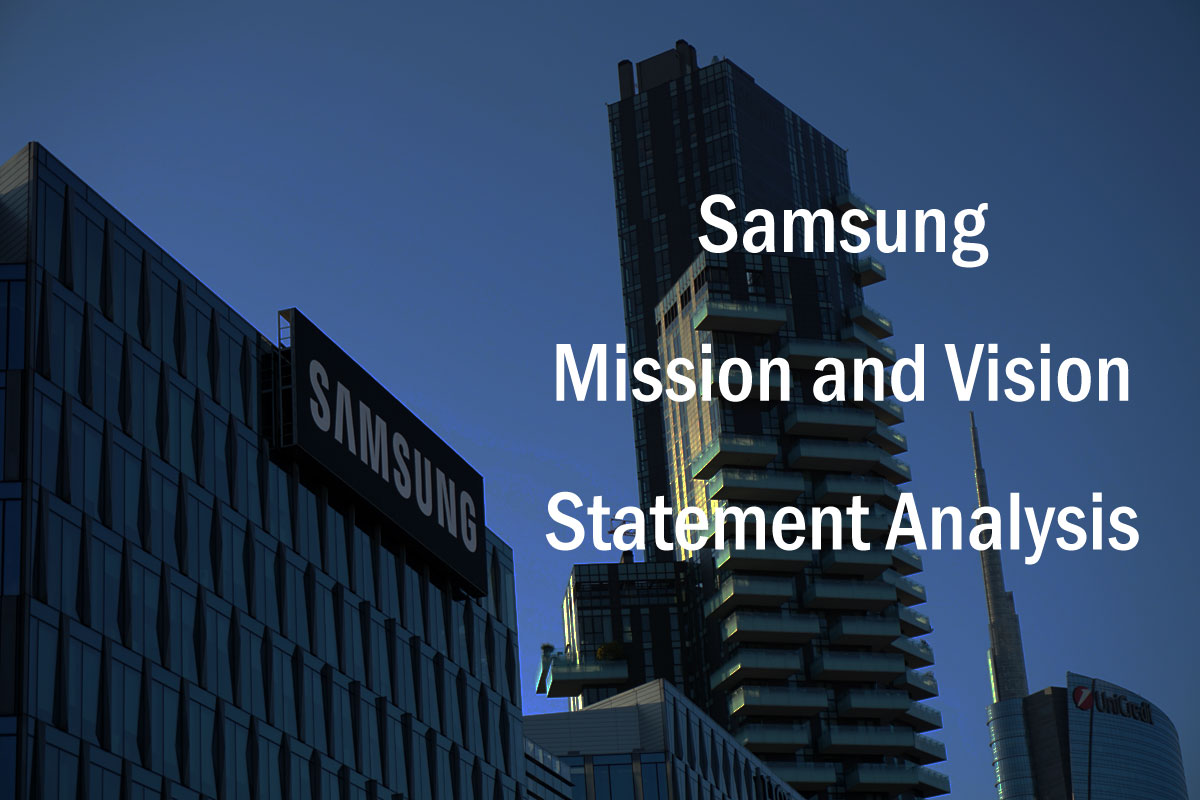 Introduction
Samsung is a technology giant whose business goal and vision statements emphasize technical innovation for worldwide societal betterment. In semiconductors, electronics, and other businesses, the company's mission statement symbolizes supremacy, which implies excellence and leadership. Samsung, on the other hand, supports an inspiration-focused strategic purpose that positions the company as a global influencer amongst people and civilizations.
As a result of the merger of the corporate vision and mission statements, the concept of a technology corporation pursuing industry leadership and worldwide influence emerges. Samsung's business organization must maintain competitive advantages against key technological firms such as Apple, Sony, Intel, Microsoft, and LG to meet the company's corporate goal and vision. This competitive environment places tremendous forces and competitive strategy on Samsung's operations, technological design and development, and design, necessitating high rates of innovation and high-quality standards.
Samsung Electronics Co., Ltd. and its corporate statements are analyzed for this business study based on the Samsung Group's corporate mission and vision statements. Samsung Electronics does not even have a corporate vision and mission statements, instead of adhering to the purpose and vision of its parent business, the Samsung Group. It is considered that the company's overall vision and goal are carried out consistently throughout all of its companies and subsidiaries, including Samsung Electronics Co., Ltd.
Mission Statement
"We will commit our people resources and technology to develop quality effective goods and services, therefore contributing to a better global community," says Samsung's mission statement. This business objective, at a time when the corporation was growing very fast worldwide in semiconductors, electronics, and technological areas that are somehow related. Samsung focuses on the following components in its corporate purpose, based on its business operations and present international industry positioning:
Resources (both technical and human)
Product and service superiority
The advancement of the global society
Samsung recognizes human resources and technology as the two key assets it employs to fulfill its purpose and strategic objectives in its worldwide businesses in its mission statement. To compete against the biggest technology companies.
Samsung's corporate objective, given the importance of people resources. The excellence of products and services, on the other hand, is at the heart of a consumer electronics company's business objective. Such dominance shows the important aspect of the communication skills at Samsung's headquarters, which steers choices toward operational effectiveness and high-quality organizational outputs across a variety of technological industries.
Vision Statement
"Inspiring globally with our breakthrough tech gadgets, products, and innovation that improve people's lives by building a new time," Samsung's business goal states. This vision statement guides the company's technological business activities, which contribute to the betterment of people's lives. Samsung regularly uses the phrase "Ambition 2020: Inspire the World, Create the Future" to describe its business vision. This statement is widely implemented throughout the activities of the company's subsidiaries in the consumer electronics, computing technology, and semiconductors industries. Samsung's vision statement includes the following elements:
Innovation based on global inspiration
Bettering people's lives and ensuring future social prosperity
Samsung's strategic objectives, according to its vision statement, include the production of goods that inspire. This inspiring feature necessitates the corporation taking into account local and regional economic conditions to ensure that its technology goods truly excite consumers, notwithstanding cultural variances.
Samsung's business goal encourages a high level of innovation as well. The company's goods, like smartphones and laptops, are known for their technological ingenuity. Furthermore, Samsung's corporate responsibility plan for enhancing people's lives and contributing to societal prosperity is included in the vision statement. The firm sees itself as a movement and major provider to the development of the world through consumer electronics, semiconductors, and other goods that bring value to people's communities and society, according to its corporate vision. In some ways, this is connected to the mission statement.
Core Values
"People, excellence, change, honesty, and co-prosperity" are among Samsung's fundamental principles. Samsung has a rich culture that can be found in all of its locations across the world, and they all follow similar and comparable traditions. This is because they all function under the same set of values as previously explained.
Everyone who has a direct or indirect relationship with Samsung is at the core of the firm, and the company holds them in high regard and encourages others to do the same. One approach to achieve this is to sustain high-quality performance at all levels and in all activities while always seeking to inspire positive change. While delivering is vital, according to Samsung, honor must come first. Most importantly, Samsung advocates policies and procedures that ensure that benefits are distributed equally and that no particular organization profits solely. Instead, everyone receives a slice of cake, guaranteeing that everyone prospers.
Samsung focuses on quality via creativity, continues to invest in people to attain prosperity, and be flexible and able to adapt to change to reach the pinnacle of success. Samsung Electronics prioritizes the environment from the starting of production planning through the end of the product distribution and disposal and reclamation of a product. Its eco-design technique looks at a product's environmental effect throughout its life cycle. From conserving natural resources to recycling, they do whatever they can to make the items as environmentally friendly as they are practical.
Samsung Mission and Vision Statement Analysis Mind Map
Samsung is a worldwide conglomerate that has established itself as one of the world's most successful enterprises, coming in second only to Apple in terms of sales. While it began as a trading firm in 1983, it has grown and expanded dramatically over the years as a result of its purpose and vision statements, which emphasize creating significant social benefits through quality goods. Perhaps the most differentiating feature that has made the firm a favorite for many people throughout the world is its attention on how it affects consumers and communities where they reside.

View, edit, and download this template in EdrawMind >>
Key Takeaways
Samsung's business vision is translated into strategic goals for high-quality goods and corporate social responsibility. The term "technological innovation" is used in this mission statement. The inclusion of human resources in the mission statement also highlights the importance of organizational culture and how Samsung's corporate structure is built to foster innovation and organizational effectiveness for global progress. Based on the company mission's components.
Samsung's corporate ambition is to be a firm that contributes significantly to meeting the requirements of the global community. For example, the corporation views its technical goods as life enrichers and social participants. To realize this business goal, the corporate strategy should push the company to new heights by giving situation product offerings, introducing new items, and enhancing existing strengths. In a mind map, you can all note it down in a mannerly and concise way to remember it easily. You can make one in the EdrawMind as they give countless options for choosing pre-made templates.
References