Ford Mission and Vision Statement Analysis
Ford is still one of the leading automobile brands globally even after a decade by staying true to its mission and vision statements.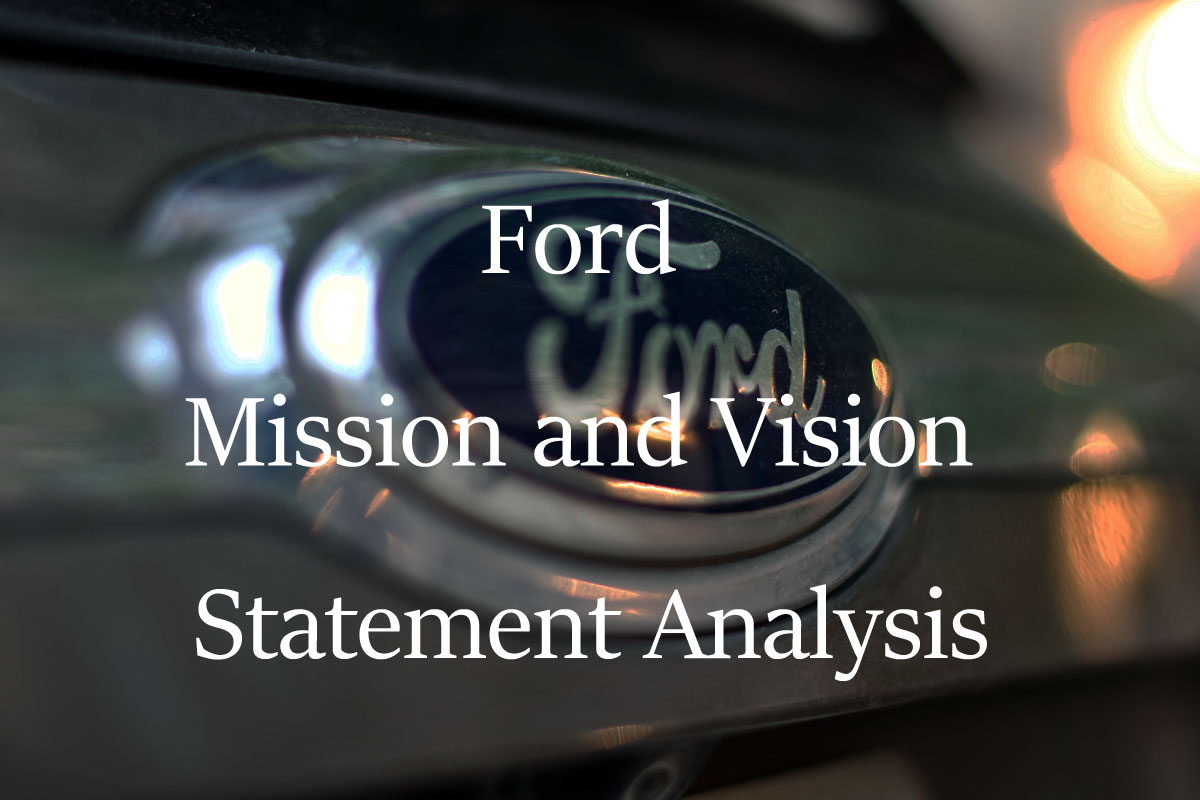 Introduction
The purpose and vision statements of Ford Motor Company are centered on product effectiveness and business leadership in the automotive sector. The achievement of the corporate goal and vision is tied to the company's strategic position as a leading participant in the global vehicle industry. Ford's corporate objective is to provide mobility to its target consumers. The company's solutions are intended to meet transportation-related mobility demands and difficulties. Ford, on the other hand, has a corporate strategy that focuses on attaining industry-leading performance while taking into account competition and other factors.
Toyota, General Motors, Tesla, Volkswagen, Lexus, Nissan, Ford, and other automakers are among the company's competitors. As seen in Porter's Five Forces Analysis of Ford Motor Company, this market state creates intense competitive competition. Despite the hurdles in the automotive sector, the company's corporate vision and purpose statements affect strategic management decisions for improving business success.
Mission Statement
"Making someone's life better by making movement available and cheap" is Ford's company objective. This mission statement emphasizes the movement of people, which is a core role of vehicles and the transportation industry. The importance of mobility in Ford's company reveals the company's social mission. The firm seeks to make people's transportation more efficient as one of the largest participants on the international market. The primary components of Ford's corporate mission statement are as follows:
Improve the quality of people's lives
Make mobility easier to get
Make mobility more accessible
The first component of the mission statement (improve people's lives) is a part of Ford Motor Company's value offer to its target consumers. The company's objectives, for example, are geared toward enhancing people's lives. The other two components are included in Ford's business purpose statement that makes such progress more precise. To improve people's lives, the company's strategic plans target mobility that is accessible and also affordable. As a result, accessibility and cost are factors to consider when evaluating Ford's ability to deliver on its value offer.
The automobile industry sees its function as a contributor to the advancement of transportation to improve quality of life with this corporate mission statement. When it comes to strategic management goals, the corporate mission statement's affordability component is determined by selling prices and manufacturing costs, which are connected to Ford's generic strategic edge and intense growth initiatives.
Vision Statement
"Becoming the world's most trusted and respected corporation, developing smart vehicles for a smart world," Ford's corporate goal states. The international corporation's strategic aim of being a leader in the automobile sector is reflected in this vision statement. Ford's focus on smart vehicles is in line with market trends and customer expectations. The corporation wants to increase its profitability and relevance in a market that favours more efficient technology. The primary elements of the vision statement are as follows:
On a global scale
The most dependable business
Smart vehicle design
The first component of the vision statement (global scale) specifies Ford's target audience, that is in the global vehicle market. The corporate vision, on the other hand, is related to the company that determines the performance and profitability of the company's vehicles through the second unit. Customers' trust in and choice for Ford electric cars, for example, are influenced by how these vehicles' brand value is viewed. In this regard, the company's vision statement emphasizes that smart cars are a priority.
Core Values
"The company believes that its employees' backgrounds, experiences, and views not only identify them as individuals but also help them provide automobiles that better people's lives in every way. Ford has constructed a set of "truths," or ideals, that drive the company's living, doing, and communicating. They keep them concentrated on the most essential aspects of their lives.
Putting customers first: Ford is concerned with what people require or what propels human growth. Customers, workers, partners, and neighbourhoods are all examples of people.
Doing the Right: People are committed to operating with honesty and openness because they associate with the company. They promote safe and inclusive environments that allow employees to work to their full potential.
Be curious: It means looking at the world and one another with awe and curiosity. They are willing to learn from any scenario, think critically, and constantly question to have a better understanding.
Create Tomorrow: They try to make positive changes in the present to enhance the future. They tackle challenges by being innovative, taking chances, and exploring.
Rough Bulit of Ford: it is about accepting and overcoming problems with confidence, bravery, and enthusiasm. They are looking for a way to cause havoc.
Play to win: Ford is in the business of creating value by emphasizing competitive fitness, efficiency, and agility. They make excellent selections to provide exceptional service.
One Ford: This fundamental principle relates to forming cross-border networks and partnerships. They are open to suggestions and collaborate as a unit. They prefer to refer to it as a family.
Ford Mission and Vision Statement Analysis Mind Map
The Ford Motor Company reaffirms its commitment to assisting the community in moving toward a brighter and more prosperous future. It participates in a variety of pro bono and non-profit initiatives to alleviate the problems that individuals face. The company's various donations to social activities demonstrate the "help make people's lives better" part of its mission statement.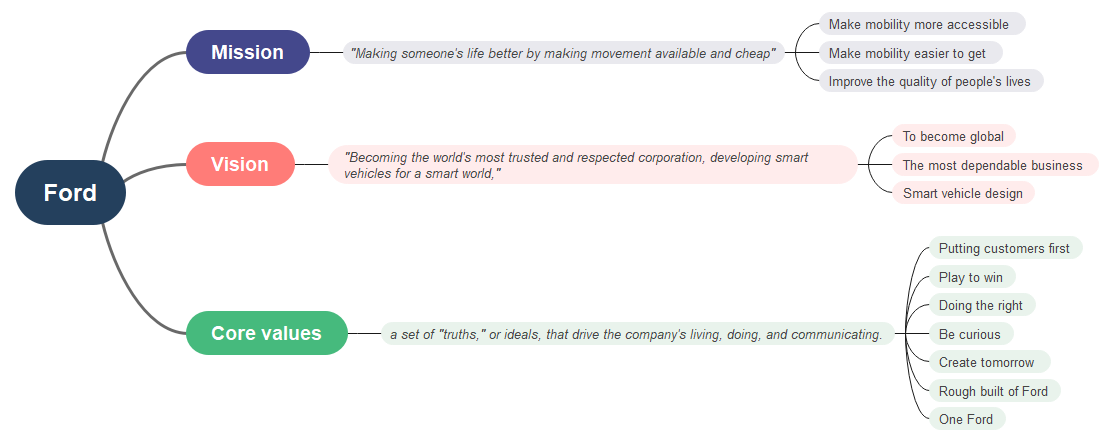 View, edit, and download this template in EdrawMind >>
Key Takeaways
Ford Motor Company's corporate mission statement is succinct and provides a broad overview of the company. For example, the company's objective is to make transportation, including autos, more accessible and inexpensive. The mission is sufficiently detailed to guide strategic management in terms of what Ford's business does and should accomplish, and it is consistent with the company's vision statement. The company's vision statement is succinct, forward-thinking, and inspiring, characterizing the company as a smart car developer. The specification of smart cars in the vision statement by offering a more thorough picture of the company's operations.
Ford's corporate strategy is also ambitious and abstract enough to motivate the company to achieve high performance. To attain the goal of being the world's most trusted corporation, this corporate vision must be realized. Better to make a mind map when it comes to extensive knowledge to make it short and memorable. To make a mind map, you can easily go through the countless pre-built templates present in EdrawMind.
References