Burger King Mission and Vision Statement Analysis
Find out how Burger King becomes one of the most popular fast-food restaurant chains by analyzing its mission and vision statements and core values.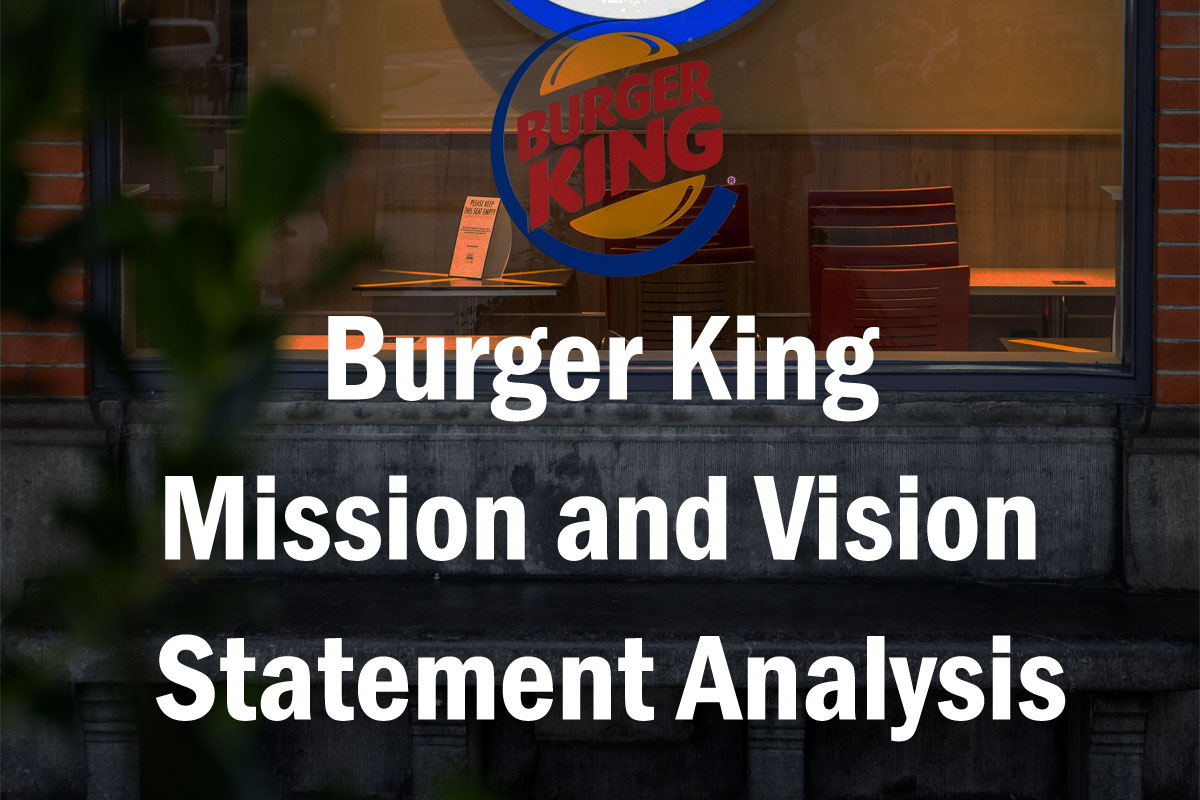 Introduction
The purpose and vision statements of Burger King emphasize the necessity of effectively planning business with important factors to ensure long-term success. This company has fought its way through the hurdles that come with operating during one of the most competitive industries, the service industry, to become a leading brand for over half of a century. A mission statement aims to outline the task that a company must do to achieve its long-term objectives.
Burger King's mission statement focuses on providing consumers with the good best value for money through competitive prices and quality service. The vision statement, which provides a company's road map to a planned future, is closely connected. In this scenario, Burger king's vision statement displays the company's desire to become a high-quality service provider in the industry.
Mission Statement
"Offer fairly priced excellent cuisine, served fast, in beautiful, clean settings," says Burger King's goal statement. This mission statement outlines the types of outcomes that may be expected from the company. The following are the primary components of this mission statement in terms of Burger King's business:
Reasonable prices
Food of high quality
Service that is quick
Aesthetically pleasing and spotless surroundings
Burger King must adhere to the elements in its mission statement to attain the top position specified in its vision statement. The statement of vision demonstrates that it employs market-based rates to attract clients. Burger King's key selling feature, on the other hand, is the quality of its cuisine and its delivery. Customers return to Burger King restaurants because of the ambiance created by the settings. These qualities may be seen in nearly every one of the company's restaurants across the world. As a result, Burger King's mission statement forms the foundation for the company's price, quality, and facility design.
Vision Statement
"To be the most lucrative QSR business, with a strong franchise structure and wonderful employees, offering the tastiest burgers in the world," says Burger King's vision statement. The statement stresses the firm's position of leadership as a role model to follow of the industry due to its globally recognized excellence. Burger king's vision statement indicates that the firm aspires to be the market leader in fast-casual (fast food) restaurants
Burger King employs a franchise structure to expand, according to the goal statement. As a result, Burger King's vision statement describes the character of the company and its goal of worldwide market domination.
Core Values
"Teamwork and families, competence and tolerance" are among Burger King's key principles. The following are the aspects of the core values.
Excellence
Respect
Competency
Creating a society of 'talented individuals,' as Burger King calls it, can only happen in the context of collaboration and excellent relationships. In all of its activities, the corporation also prioritizes achieving all criteria as a symbol of quality. Burger King's ideals, when combined with respect, ensure that the company is well-positioned to be the finest in the world. Burger King places a high priority on teamwork and family since they want their staff to feel like they are part of a team working collaboratively with a group. They achieve this by organizing entertaining activities for their team to attend.
Burger King Mission and Vision Statement Analysis Mind Map
Burger King's vision and mission statements indicate that the corporation aspires to be the market leader in fast service restaurants. McDonald's now retains the #1 spot. Burger King employs a franchise structure to expand, according to the vision and mission statement. To attract one of the largest market shares in the business, Burger King has been appointing excellent staff and are serving the best quality burgers. As a result, Burger King's vision and mission define the company's essence and its path to worldwide market supremacy.

View, edit, and download this template in EdrawMind >>
Key Takeaways
The mission statement of Burger King is an example of a basic business mission statement based on fundamental principles. One of the key distinctions between a company's mission statement and an individual's mission statement is that a company will be focusing on individual values and then provide actions and accomplish those values, whereas an employee's mission statement will typically focus solely on beliefs or feelings.
Burger King prioritizes cooperation and family as core principles to foster a good work environment for its workers. Throughout its existence, Burger King has been involved in several disputes. That most of these disputes have erupted as a consequence of unfavorable publicity or worries about food safety. Just like this mind map, you can easily make the Mission and Vision Statement Analysis Template without much effort and aesthetically pleasing. All you need to do is pick up the template and edit it according to your details, and you'll be good to go.
The best way to show what your company stands for is a mind map. A well-made mind map can capture people's attention. Just like the example above, you can also make your own company's mind map with EdrawMind. They provide one of the best services and pre-built templates for you to choose from and have your mind map ready without any hustles and effort.
References