Pizza Hut SWOT Analysis
Discover the facts behind Pizza Hat's fast-growing with this in-depth SWOT analysis.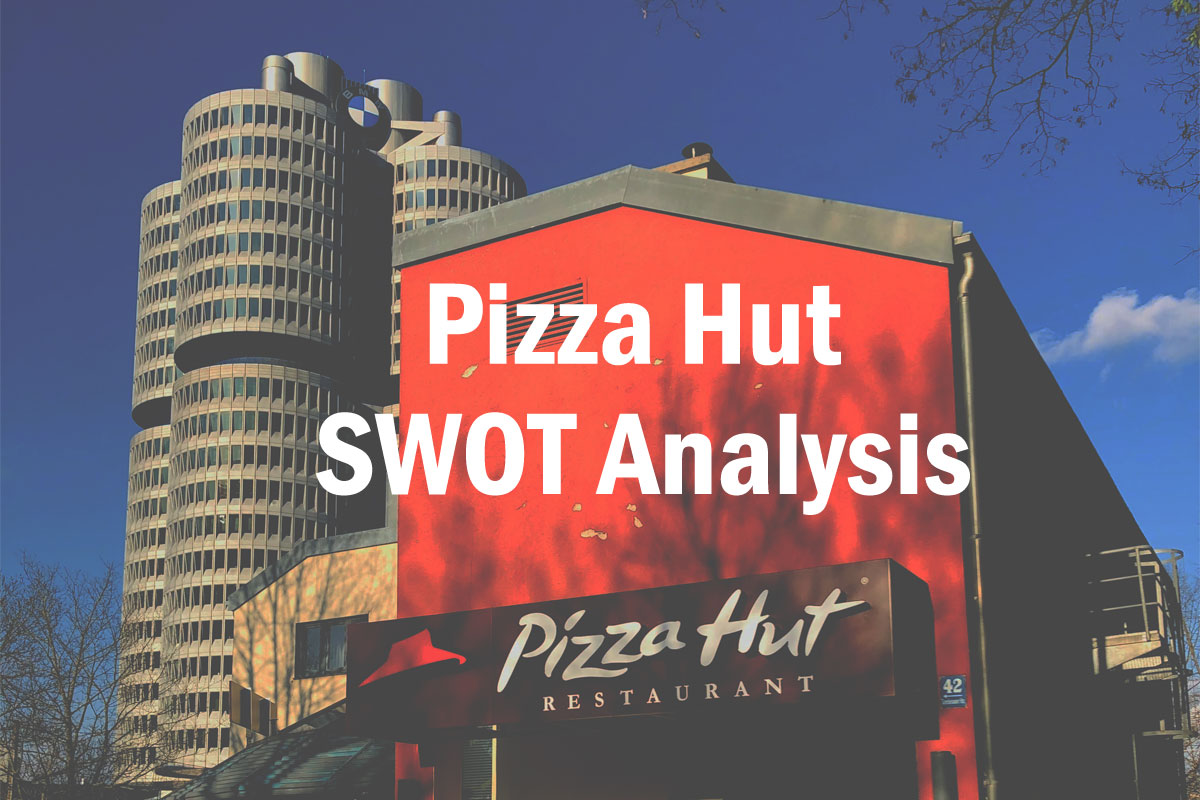 Introduction
Pizza Hut's SWOT analysis examines the brand's strengths, weaknesses, opportunities, and threats. The internal variables of a Pizza Hut SWOT Analysis include strengths and weaknesses, while the exterior aspects are opportunities and threats. SWOT Analysis is a tried-and-true management paradigm that allows a company like Pizza Hut to compare its company and success against those of its rivals. Pizza Hut is a well-known brand in the food and beverage industry. Pizza Hut is India's most popular Italian fast-food brand. The SWOT analysis of Pizza Hut is discussed in this article. The food and beverage industry in India is ripe since numerous food franchisees have set up shop in the country, and Indians have more discretionary cash.
Pizza Hut is a multinational Corporation food business that has garnered widespread popularity and has been developing at a rapid pace for the past decade in America. They're usually buzzing with the right crowd, a good atmosphere, and tasty cuisine. It's the best there is. If you want pizza, you simply can't say no. The promotional strategies of Pizza Hut have been effective in implementing them. Marketing changes with time in response to the current population's wants and preferences. The majority of successful campaigns have now moved to digital content.
Pizza Hut's Strengths
Customization:Because it was the first entry to open a pizza franchise in India, Pizza Hut has a Leading market position in the minds of customers. Pizza Hut has greater marketing and brand image than its competitors. Another asset of Pizza Hut is its extensive menu of Italian cuisine. Pizza hut succeeds in its claim of a wonderful Italian lunch with its superb pizza and pasta selection. In every Pizza Hut restaurant, the food is of excellent quality, as is the environment. Pizza Hut has a strong long-term competitive edge due to its higher prices and large profits. The brand has a strong online and offline presence, with Pizza Hut Delivery providing home delivery and Pizza Hut starting an online delivery service for its pizza.
Pizza Hut's Weaknesses
Pizza Hut's major flaw is that, while keeping its brand image, it is the decrease in the revenue that is represented in towns that are mostly graded as B may produce. If not a fast-food franchise, then at the very minimum, Pizza Hut Delivery, which is Pizza Hut's home delivery business, should be available in such locations. This will ensure that Pizza Hut can have a high turning point while also being widely distributed. Another drawback of Pizza Hut is that they have maintained the same old taste, and that has remained consistent throughout time, and recent surveys have revealed that customers are dissatisfied with the same variety of pizza flavors and are more interested in a wider variety of pizzas. As a result, Pizza Hut must continue to innovate.
Pizza Hut's Opportunities
The biggest chance for Pizza Hut is to expand its menu selection. I'm looking forward to Pizza Hut serving a McSpicy-style pizza. Customers will be able to choose from a wide range of spicy options. McDonald's has had great success using the same method. Another option is to expand out in a few B towns and make their delicious pizza available there. Pizza Hut will have to do it probably eventually. Pizza hut delivery may be begun in the same way, if not for the eating experience, so that Pizza hut can compete with Dominos.
Pizza Hut's Threats
When it comes to pizza or Italian food, Dominos is a big competitor to Pizza Hut. Dominos somehow doesn't offer the same high-quality cuisine as Pizza Hut, but it is available in most locations where Pizza Hut is not. Another concern is the variety of cuisines offered to customers nowadays through numerous food franchisees. McDonald's, KFC, and some other fast-food restaurants are the main competitors that often steal consumers from Pizza Hut. Pizza demand may decline as individuals become more vulnerable to health problems and fitness.
Pizza Hut SWOT Analysis Mind Map
SWOT Analysis supports the simple administration of the organization by allowing it to recognize its strengths and weaknesses. This also aids in assessing the company's business and the performance of its rivals. Pizza Hut's SWOT analysis focuses on its strengths, weaknesses, opportunities, and threats. Internal elements include strengths and weaknesses, whereas external ones include opportunities and threats. SWOT Analysis may be used to develop plans based on the results.

View, edit, and download this template in EdrawMind >>
Key Takeaways
Pizza Hut is one of the most well-known Italian restaurant franchises in the world. Some of the major challenges are rising costs, competition, brand switching, healthy diet trends, and restrictions. To address these difficulties, Pizza Hut should increase its reach and serve nutritious meals, according to the statistics above. Because the farmers who cultivated the ingredients cared about quality, all of its goods were the best in town. Pizza Hut is an Italian fast-food restaurant brand with a presence in India. Because several food retail chains have set up shop in India, the market climate for food and drinks is ideal. India's consumers have increasing discretionary incomes and, at the same time, have developed a desire for luxury and variety. Fast food franchises such as Pizza Hut are rapidly gaining popularity and growing.
It has a global reach that goes beyond its limits, not just in its native nation but also geographically. The brand's marketing strategy, which includes control over manufacturing and distribution, has a significant presence both online and offline. Pizza Hut's sponsorship path, as we saw, attracted a lot of attention. They also employ digital marketing channels like SEO, mailing, and content creation to advertise and update their customers about new items and forthcoming deals.
Having a mind map for the SWOT analysis can always come in handy as it defines the analysis in a better and summarized way. A mind map helps in visual learning and can stimulate better understanding. To make your mind map can be very difficult as a beginner but using EdrawMind that has a pre-built SWOT Analysis Template can make your life easier.
References