Subway Mission and Vision Statement Analysis
Subway advocates a strategy of prioritizing nutritional content and sanitation above quantity in its meal selections.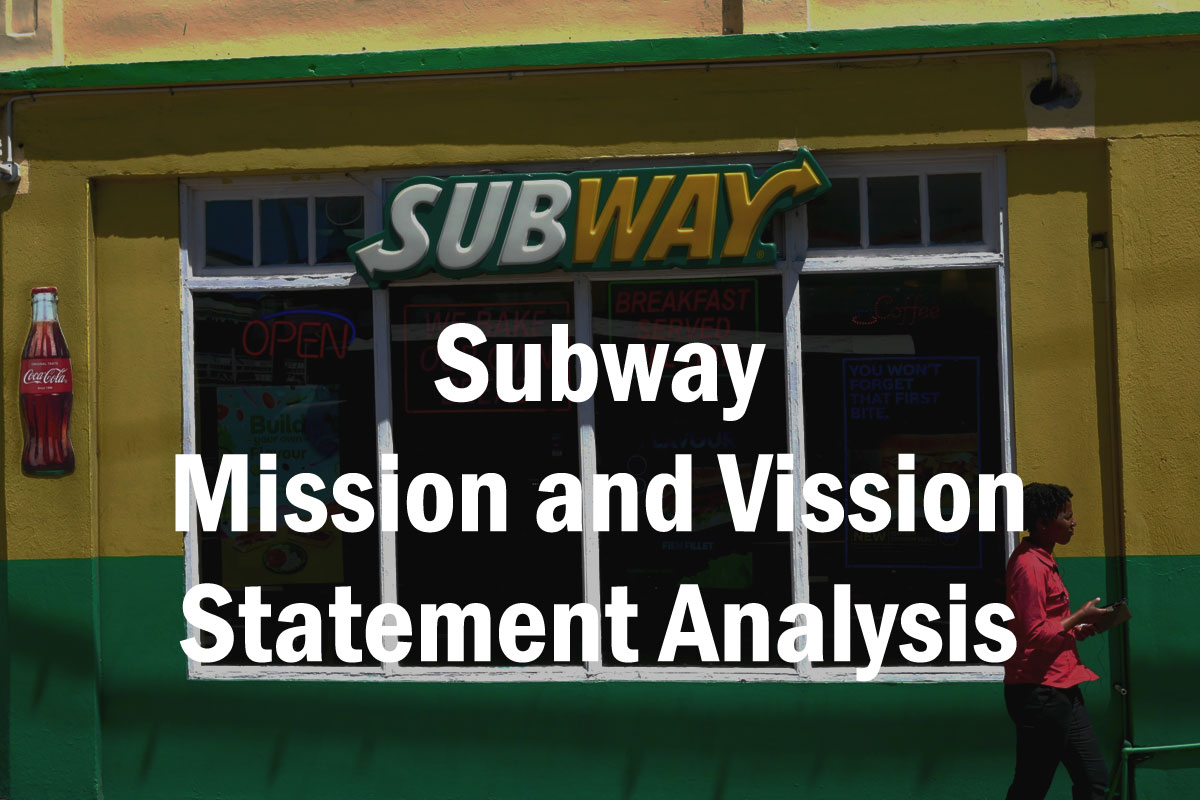 Introduction
"Being the world's preferred spot for discovering the excellent value and unusual choices," says Subway's mission statement. The mission statement demonstrates Subway's determination to go above and beyond to gain recognition that gets customers coming back for more. The following are recommended points of the statement:
Enhancing health
Reasonable prices
A distinct selection
To meet the first need, Subway encourages a practice in which the nutritional benefits and hygiene of its food items are prioritized above quantity. The corporation sees this as a big commercial strategy that will make Subway a household name. It connects to the second issue, where Subway delivers all of its salads and sandwiches at the best and most appealing rates to guarantee that they are not only reasonable but also provide customers with a feeling of value given the nutritional quality.
Mission Statement
"To thrill every customer because they want to share with their friends-with excellent value through fresh, tasty, manufactured sandwiches and an extraordinary experience," says Subway's mission statement. This mission statement gives the impression that the organization is concerned about their well-being and wishes to make them feel good. The firm also expresses its desire to produce a high-quality product at an affordable cost.
By evaluating certain important terms in the mission statement, we will be able to understand how the organization achieves its aim of "pleasing every client so that they wish to tell their friends regarding our product" in this article.
Vision Statement
"Be the #1 Quick Service Restaurants (QSR) franchise in the world, while offering fresh, tasty sandwiches and an excellent experience," says Subway's vision statement. The focus is on the company's ability to leave an impact on the business. It consists of the following components:
The world's number one quick-service restaurant
Sandwiches that are both fresh and tasty, as well as an unforgettable experience
At Subway, being ahead of the rankings is a need for becoming the greatest not just locally in the United States but also globally. The firm adds to this effort by guaranteeing that only the greatest foods are served. It also takes things a step further by pairing its products and user services for a wonderful experience.
Core Values
Analysis Subway's fundamental values include family, teamwork, and opportunity. Subway has a well-defined set of values. They place a premium on family, collaboration, and possibility, and these principles are at the heart of their operations. This is the basis upon which the company's success has been built.
"Family, teamwork, and opportunity" are among the subway's basic principles. Subway's principles drive the company closer to its goal and vision. Subway's success is undeniably due to the company's cohesiveness and corporate culture, which allows it to seize each opportunity that presents itself. Subway fosters a favorable atmosphere for success and advancement by adhering to these ideals. Because it understands the need for variety within the business, teamwork is a vital value.
The company understands it can accomplish more if various experiences can work together toward a common objective with ownership for each task. The potential component demonstrates Subway's desire to engage each franchisee's entrepreneurial mindset. Subway grew through one of the world's largest franchises by adhering to its goal and vision statements. Sticking to these key beliefs, the company thinks, would help it maintain its position as a worldwide leader inside the fast business.
Subway Mission and Vision Statement Analysis Mind Map
Subway, a fast-food business, offers a mission statement that might help you understand how to create a work-life balance-friendly corporate culture. Subway's mission statement guarantees that its personnel will be "totally devoted" to delivering consumers with an "ever fun and new" experience. This is an excellent illustration of how businesses might implement work-life rules.

View, edit, and download this template in EdrawMind >>
Key Takeaways
The Subway Company is an American sandwich shop recognized for its unusual menu items that aren't seen in many other places. Through deliberate market segmentation and a distinct branding approach, the firm has been able to establish itself in the market. Subway's purpose and vision statements reflect the creativity that has gone into building it a worldwide restaurant franchise with one of the highest growth rates in the last 50 years. While a corporate vision statement identifies the direction in which a company wishes to go, a mission statement focuses on the actions that will help the organization get there.
You can also strengthen the company's values and mission by making a mind map in EdrawMind with built-in templates for the Mission and Vision Statement Analysis Template. This way, you will not only save time and effort but will also end up with a visually pleasing mind map.
References