Samsung Marketing Mix (4Ps) Analysis
Samsung's marketing mix, which will act as a roadmap to execute a successful product launch, is critical as the company prepares to debut a new product or service to the market.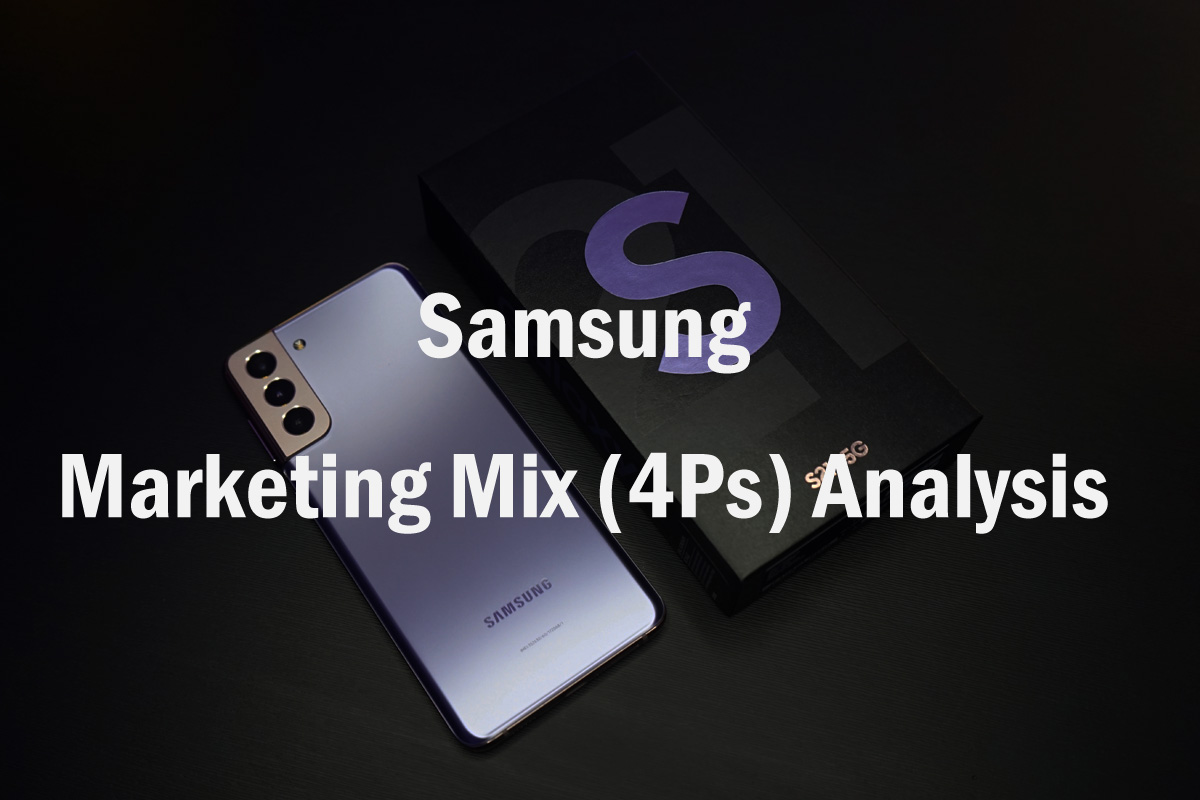 1. Introduction
Samsung is a successful international electronics corporation that thrives beautifully in the market despite fierce competition. Samsung began at the bottom and worked my way to the top. In this case study, we'll look at Samsung's marketing mix and how it become one of the industry's top brands. Samsung is the eighth-most valuable brand in the world as of 2020. It is regarded as one of the top brands, alongside Apple, Panasonic, and others. This article will take you through Samsung's successful marketing mix.
This is a comprehensive examination of Samsung's marketing mix. It is made up of the 4Ps (product, pricing, location, and promotion), which are considered as a single entity and are extremely beneficial for integrated marketing communications. One of the most important aspects of Samsung's success is its marketing mix. In reality, the firm would be unable to function without these mixed components. Samsung's goods are created and manufactured all over the world in global design centres. The corporation has a global network of research and development facilities that work on new product development.
2. Samsung Product Strategy
Samsung, as a major electronic brand, must keep up with the fast-paced industrial developments to satisfy customers. Constantly evolving innovations, better features, and increased performance might help give opponents a rough time. Samsung makes money by selling cellphones, home appliances, and audio equipment, among other things, and it excels in all areas of product variety. Samsung is a company that makes a wide range of items. Smartphones, tablets, audio-visual equipment, mobile phones things, TV, sound devices, watches, Fridge, washers, kitchen equipment, cameras, printing machines, vacuum cleaner's memory cards, Flash drives, computers, and air conditioners are among them.
Samsung's goods are created and manufactured all over the world in global design centres. The corporation has a global network of research and development facilities that work on new product development. When a corporation introduces a new product, it invites a select group of consumers to try it and provide comments. This helps create sales since they know the product is one they would suggest to others.
3. Samsung Price/Pricing Strategy
Samsung uses the price skimming strategy when releasing a new mobile phone with cutting-edge technology. This allows it to generate a substantial profit. When rivals create similar products, the price of that specific product is dropped to gain market value and increase sales. Other Samsung products, such as fridges, televisions, and air conditioners, are priced similarly. This is because there is a lot of competitive markets from several other brands offering similar products. Competitive pricing, on the other hand, may result in lower profits on occasion.
The items are priced higher in a skimming pricing approach so that fewer sales are necessary to meet the aim. Skimming the market is selling a product at a high price while sacrificing high sales to make a large profit. The skimming price approach is primarily for the product's early users.
Samsung releases a variety of smartphones and other items on the market regularly, in addition to its flagship devices. Samsung employs competitive pricing for these goods, competing with other major brands like LG, Hitachi, and others based on brand value, features, and price.
4. Samsung Place & Distribution Strategy
Samsung is available in the market through a variety of outlets. It operates based on a three-part channel marketing strategy. Dealers in sales and service, modern retailing, and wholesalers. Samsung's sales and service dealers are in charge of critical accounts and corporate sales. These dealers may also open Samsung showrooms that are exclusive to them.
Large retailers like Croma and others who operate in the contemporary electronic retail chain are included in the modern retail section. Because Samsung is such a well-known brand, shops are obligated to provide it as an alternate or main product to their clients.
5. Samsung Promotion & Advertising Strategy
Samsung uses a range of methods to promote its products. Samsung, as a company, believes in enticing consumers via advertising and using aggressive marketing strategies to push items to customers via sales promotion. Samsung, on the one hand, uses several marketing vehicles throughout the year, including within and outside of the festive season. On either side, it offers a variety of incentives and discounts to its business associates to persuade them to sell Samsung over the competitors.
As a result of this approach, Samsung's image is growing, and both the push and pull methods are working at Samsung simultaneously. Samsung markets new products using print, social media platforms, and digital media. The brand has recruited various celebrities to serve as brand ambassadors and sell the product, which has proven to be quite effective, to take advantage of celebrities' big followings.
6. Mind Map
The marketing mix is the mixture of activities and tactics used by a firm to promote its brand or product in the marketplace. The four Ps of a traditional marketing mix is price, product, promotion, and location. These revolve around the product's price strategy, which focuses on how the product is priced, the product strategy, which focuses on how the products are differentiated for product diversification and quality, the promotion strategy, which focuses on how the brand chooses to highlight their products by raising awareness of the brand, and the positioning strategies, which concentrates on the product's channels of distribution and placing.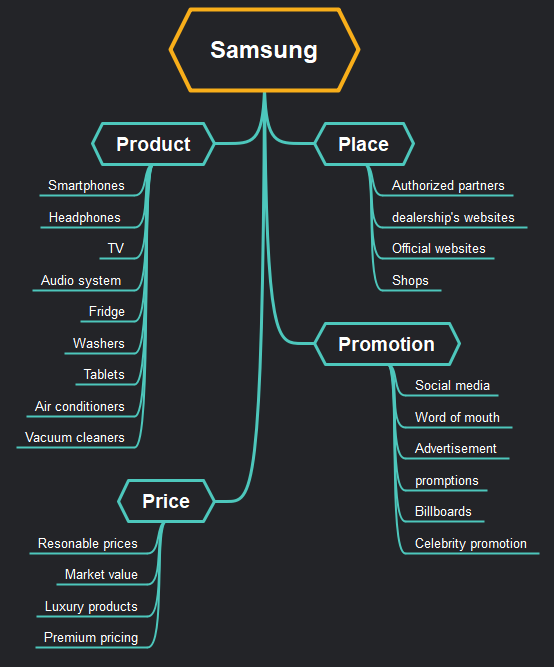 View, edit, and download this template in EdrawMind >>
7. Key Takeaways
Samsung's marketing mix has worked well for them and has shown to be quite useful. Constant product diversification and the addition of innovative features have helped them establish themselves as industry leaders. Their consumer happiness helped them get a long way with product differentiation. Their environmentally sustainable initiatives, in addition to innovation and newer technology, have helped them stand out from the crowd.
Samsung's marketing mix is instructive for marketers in various ways. First, having numerous items at the same time can help your business expand since each of these products may become an income generator. Second, while the Pull technique is costlier, it is significantly more advantageous in the long run. You can easily describe it with a mind map just like the example below. With mind maps, it gets easier to define the topic at hand, and you can make it without a fuss. As EdrawMind offers a lot of free pre-made templates for you to choose from.
8. References