Reimagining the Future of Mind Mapping Using Whimsical AI
Whimsical AI is an innovative approach to creating mind maps. It utilizes AI technology to help designers create more imaginative and engaging user experiences.
Create Mind Maps Today!
EdrawMind is a mind mapping tool equipped with 700+ cliparts. This article presents a step-by-step guide to creating a creative mind map to present your idea elegantly. Try EdrawMind and create hundreds of mind maps today!
AI-assisted tools have revolutionized various aspects of our lives. They simplify tasks and enhance productivity. One such tool that holds immense potential is Whimsical . While "Whimsical" refers to something playful, fanciful, and imaginative, it combines the power of AI with creativity and imagination.
In the context of AI, Whimsical AI harnesses the ability to understand and generate content imaginatively. This page will explore how Whimsical's AI tool transforms how we approach mind mapping. Explore the page below to learn more.
1. Understanding Whimsical AI
Whimsical offers a fresh and innovative approach to mind-mapping. This tool presents exciting opportunities for various creative processes. Its AI-assisted algorithms automatically organize and connect ideas to create a clear, structured mind map. It easily brings a touch of whimsy, imagination, and intelligence to mind mapping.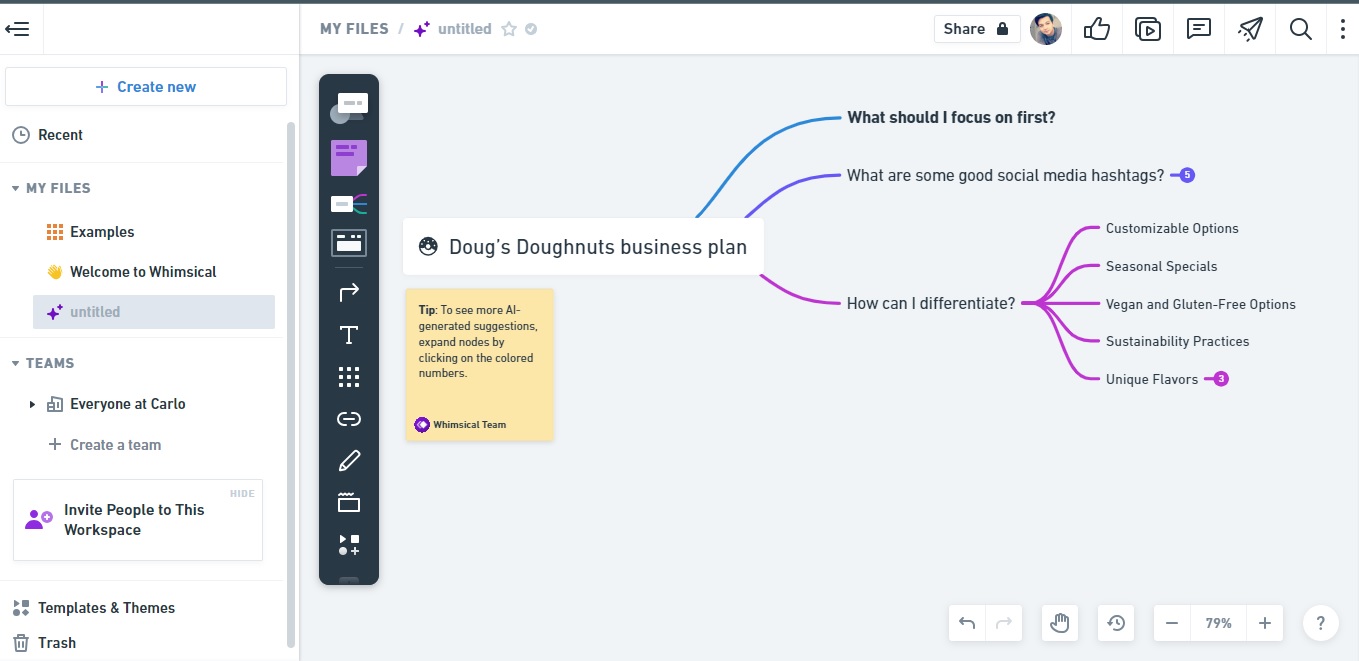 Key Features
Aside from generating visually appealing mind maps, here are Whimsical AI's key features.
AI-assisted content creation: Whimsical automatically organizes and connects ideas in seconds.
Customization options: Choose from various themes, fonts, and colors to create visually appealing and personalized mind maps.
Intelligent suggestions: Take advantage of AI-powered prompts to uncover new connections between ideas.
Pros and Cons
Whimsical brings innovative mind-mapping features. However, it also considers the balance between automation and human creativity. Here are its pros and cons.
Pros
Whimsical can automate mind map creations. It saves you time and effort compared to manual methods.

The tool is completely online and doesn't require any installation.

It has a wide range of mind map templates to get started immediately
Cons
The free version is limited to 3 collaborative boards and 100 AI prompts.
2. How To Use Whimsical AI for Mind Maps
Whimsical allows you to generate mind maps in an instant. Here are the steps below.
Step 1A: Visit Whimsical and log in or sign up for an account. Once logged in, click the Create new button and select Doc, Board, or Folder.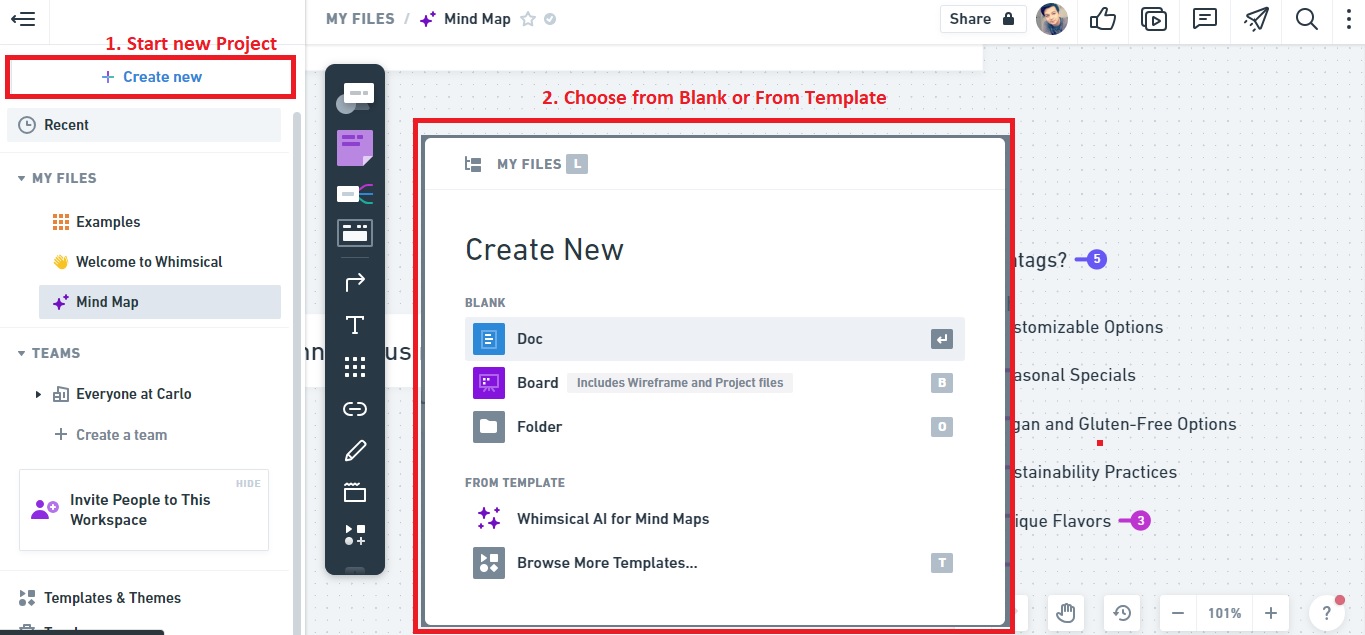 Step 1B: Alternatively, choose Browse More Templates to immediately use Whimisical's AI-powered suggestion tool to edit your mind map. In the board creation window, Look for the Mind Map template and select it. This will provide you with a pre-designed mind map structure to get started.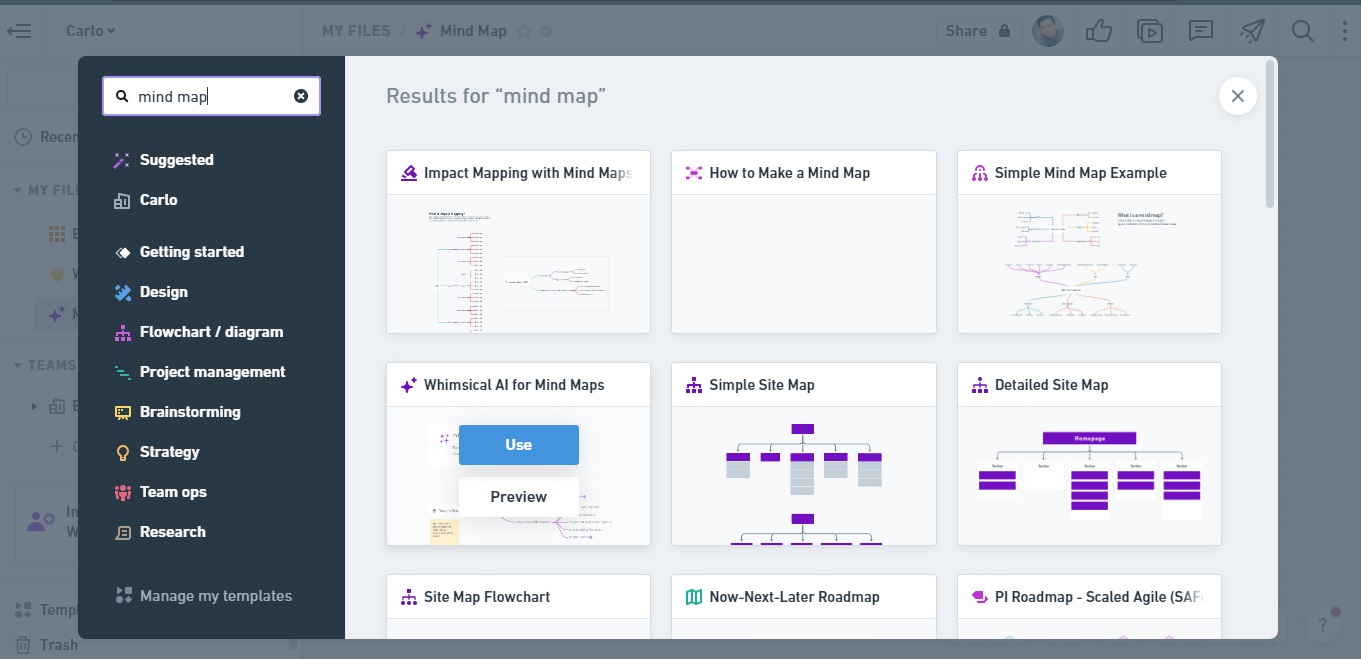 Step 2: Once a blank canvas or a mind map template is loaded, you can customize it according to your needs. Double-click on a node to edit its text or add new nodes. Next, press the Generate additional ideas button to let Whimsical's AI handle the editing for you. The AI tool will automatically generate your mind maps based on the text on your nodes.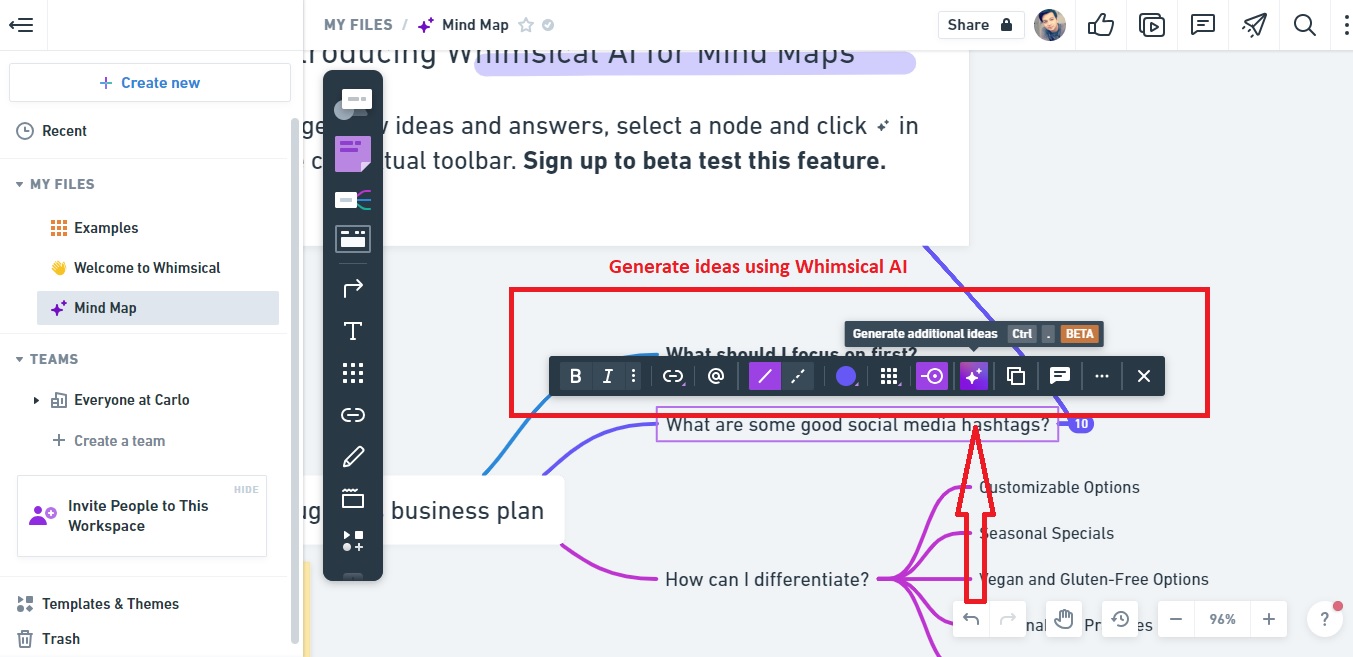 Step 3: When you finish creating your mind map, click the Export button in the toolbar. You can export it as an image, PDF, or shareable link. Share your mind maps with others by providing them with the shareable link. You can also use the Whimsical AI presentation mode to present your mind map more engagingly.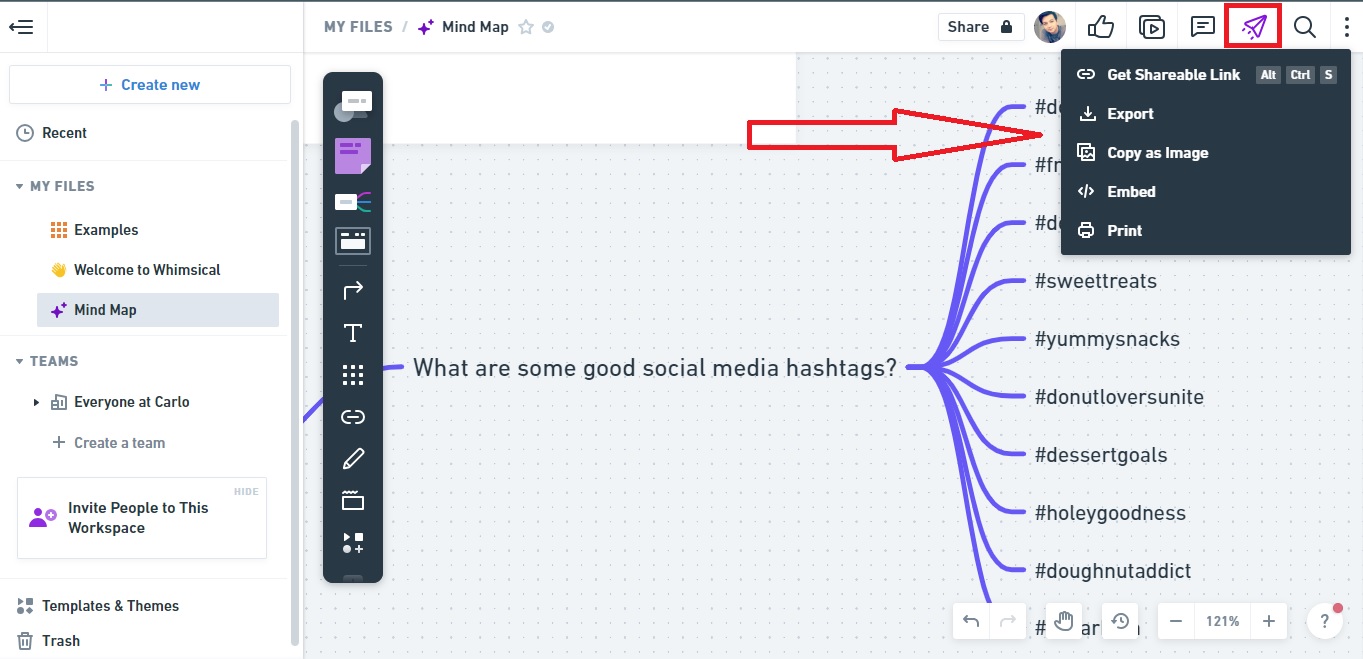 Review of Whimsical's AI Tool
We tested Whimsical's AI tool for mind map generation, and the experience was fantastic. The pre-designed templates are a great starting point. The customization options and generation of AI ideas make for a quick and effective mind map creation. While the free version is limited in advanced features, it's still a convenient choice if you're looking for a tool to make a mind map in minutes.
Below are a couple of G2 reviews from users of Whimsical:
"What I like most about Whimsical is the ease of use, simplicity and the ability to share and collaborate. With Whimsical, I can create diagrams, mind maps, workflows and more quickly and intuitively." - From Samuel Z. on G2
"Limited free plan: Whimsical's free plan is limited to three documents, which might not be sufficient for some users." - From Megha S. on G2
3. The Top Alternative for AI-Assisted Mind Maps: Wondershare EdrawMind
Regarding AI-assisted mind maps, Wondershare EdrawMind is a powerful and versatile tool that stands out as a great alternative to Whimsical AI. EdrawMind offers an excellent solution for instantly creating dynamic and visually appealing mind maps.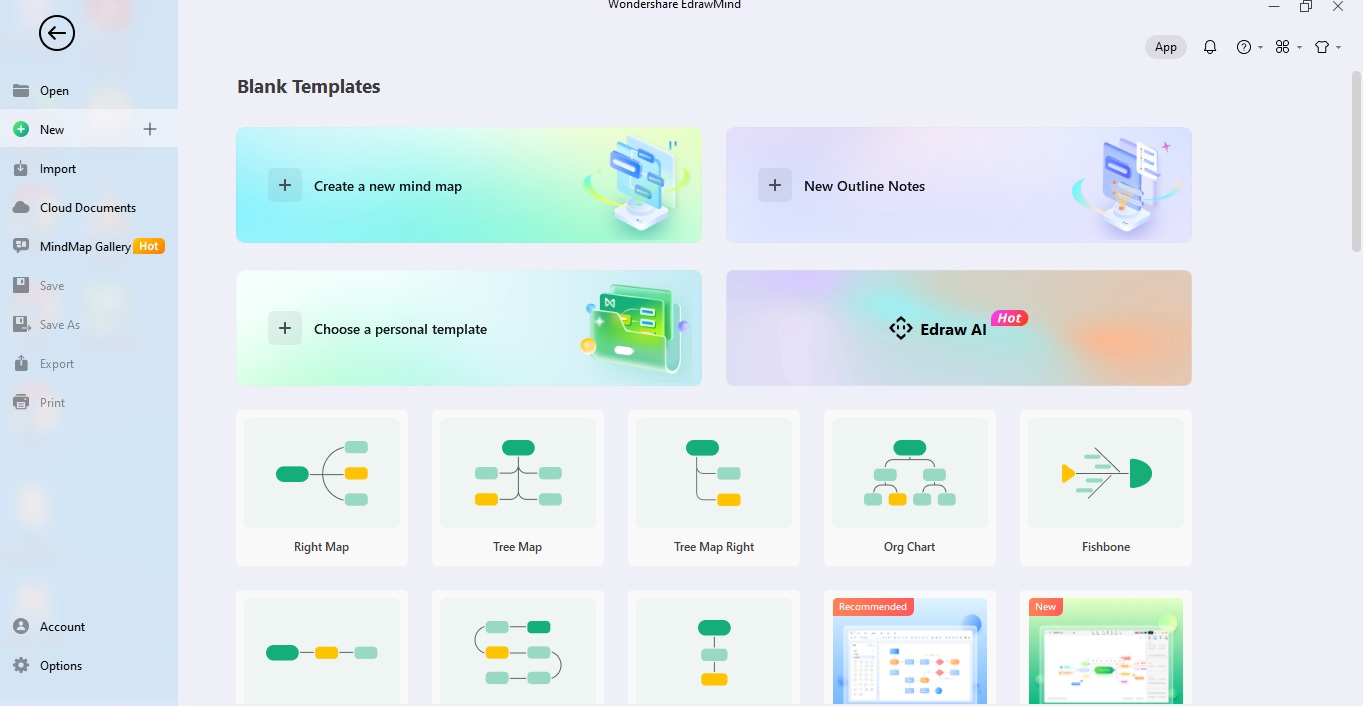 Learn More about EdrawMind AI✨ Brainstorm Intelligently, Mind Map Inspirationally. Empower Your Creativity Now>>
Key Features
Let's explore the features and benefits that make EdrawMind a top choice for AI-assisted mind mapping. Here are its key features.
Intelligent Topic Suggestions. EdrawMind leverages AI technology to provide intelligent topic suggestions while creating mind maps. It offers relevant and insightful topic suggestions by analyzing the keywords and context of your mind map.
Smart Layouts and Auto-Branching. Edraw AI automatically arranges and optimizes the layout of your mind map. With a single click, you can generate well-structured mind maps that are visually appealing and easy to navigate. This saves you the hassle of manually adjusting and reorganizing your mind map, allowing you to focus on the content.
Mind Map Presentation: EdrawMind provides a seamless experience for presenting your mind maps. It offers a built-in presentation mode that allows you to showcase your mind maps in a visually engaging and interactive manner. This versatility lets you easily share your mind maps with others or incorporate them into presentations, reports, or other documents.
What Can You Do With Edraw AI?
Edraw AI offers a wide range of intelligent creations at the touch of a button. Here are some samples.
AI SWOT Analysis
Below is a SWOT analysis generated by Edraw AI about tech-giant Apple. It explains Apple's strong brand recognition providing an advantage. However, it needs to address challenges related to pricing and evolving consumer preferences to maintain its competitive edge in the market.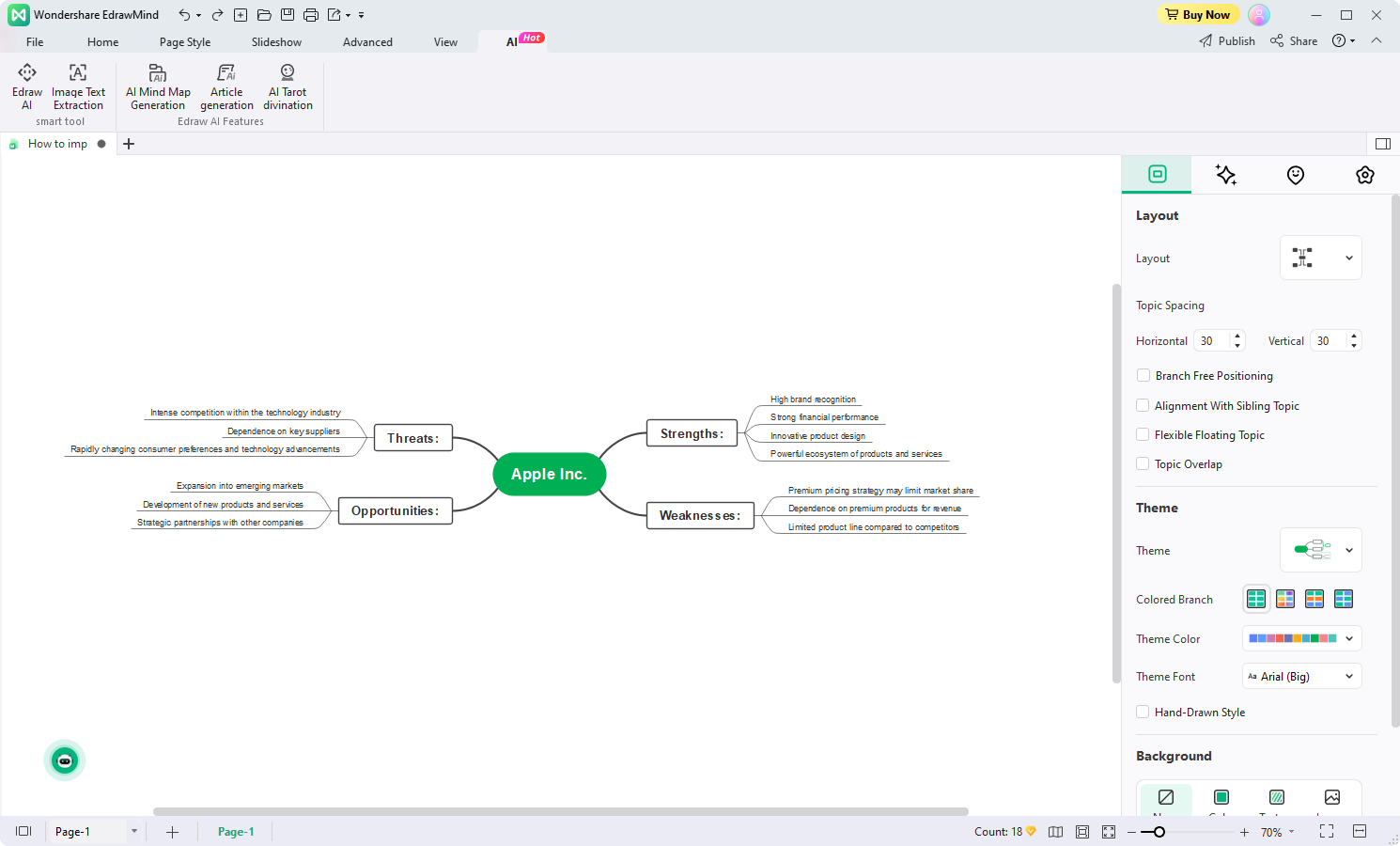 AI Copywriting
The Copywriting feature utilizes the power of AI to refine written content on your mind map. In this example, Edraw AI generated a prompt on a topic based on rapid self-improvement. This feature enhances your organization of mind maps in seconds.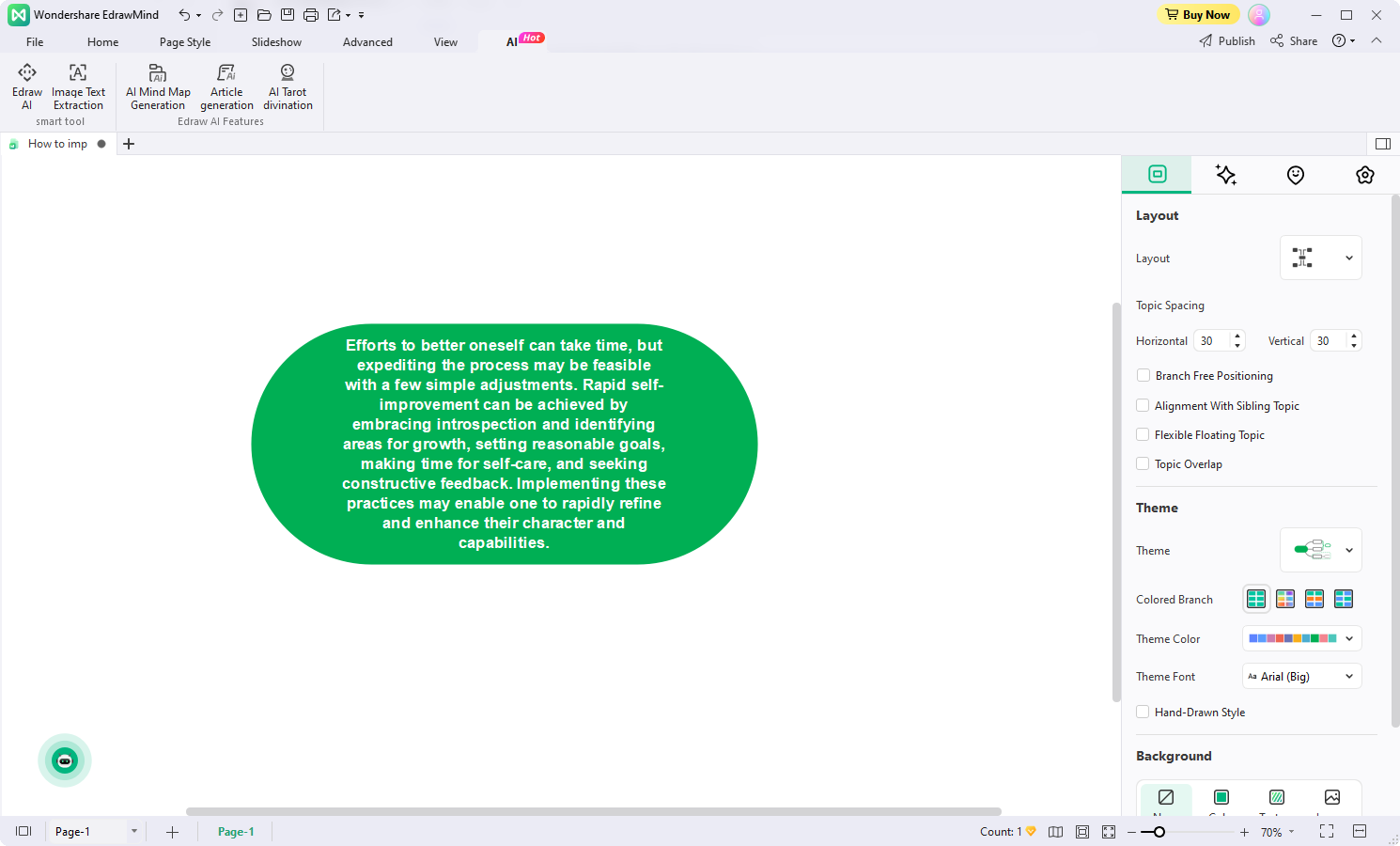 AI Smart Annotation
The Smart Annotation feature, similar to the Copywriting feature, generates an annotation tailored to a topic. In this example below, Edraw AI generated a response based on the prompt "How to improve yourself quickly?"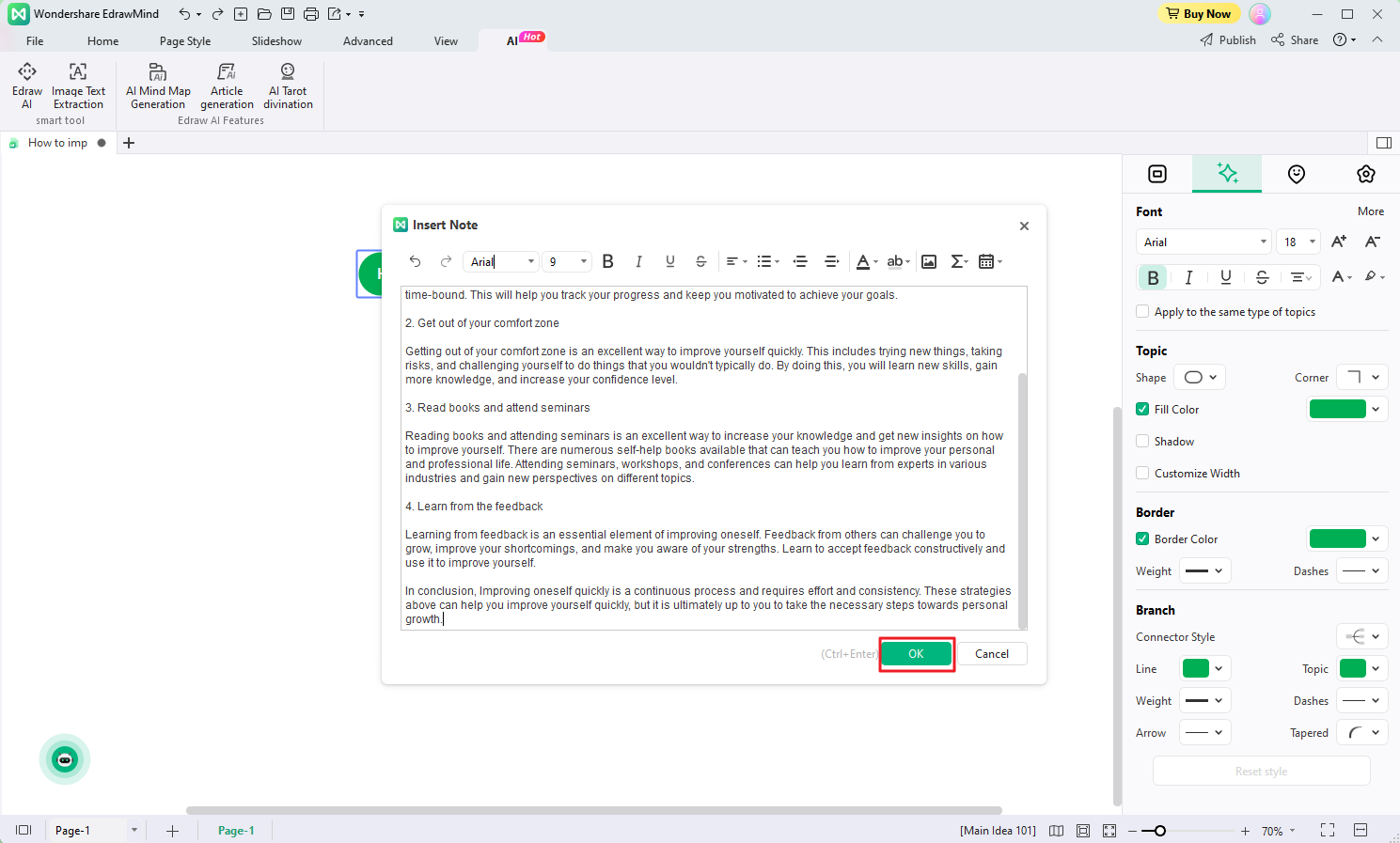 AI Article Report Generation
The Article Generation feature of EdrawMind allows you to create articles based on your input command instantly. In this example, a user-generated a prompt on "How to Use mind maps in business?" As seen in the dialog box, Edraw AI responded with a well-structured article based on the user's requirements.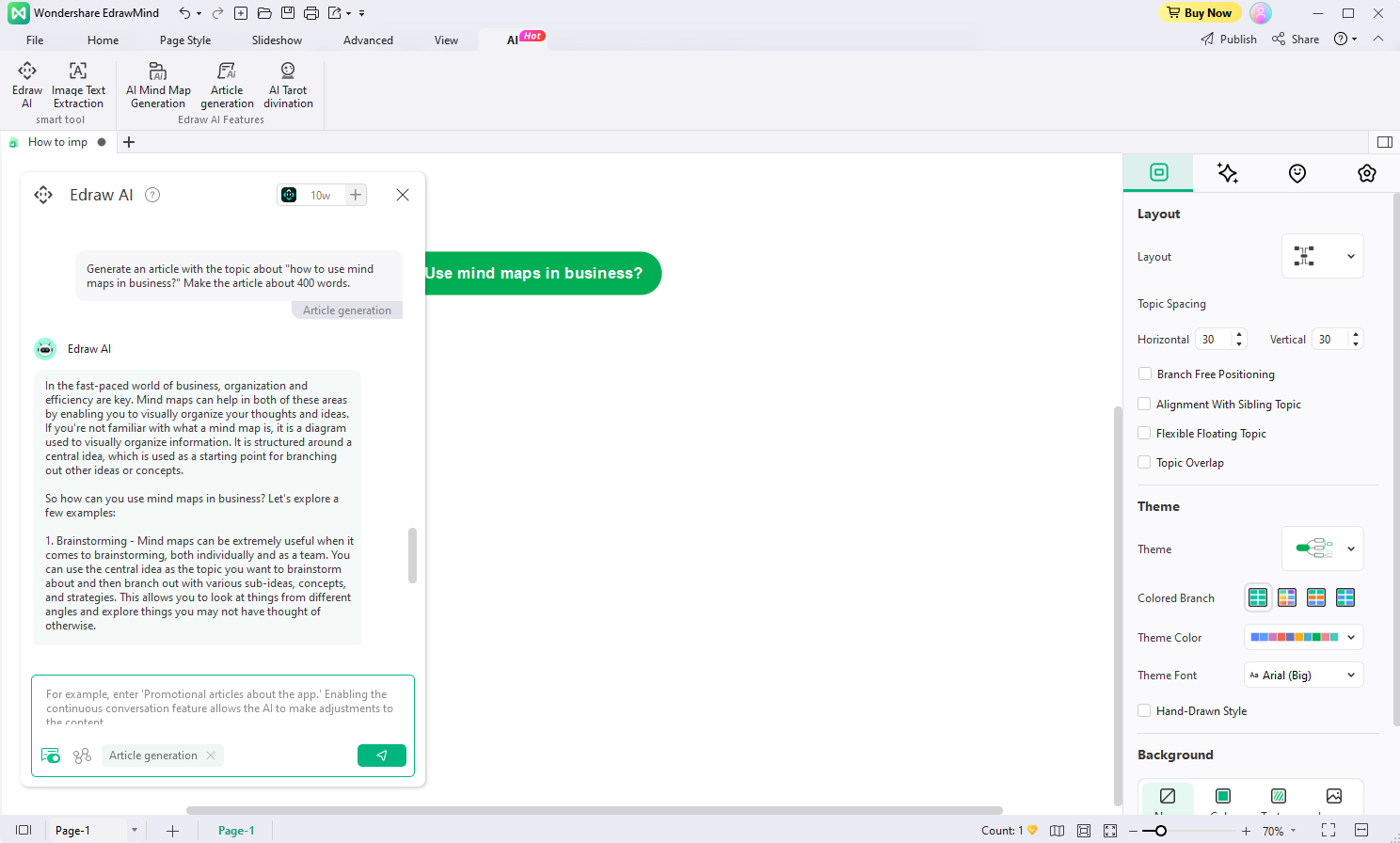 Tarot Divination
The Tarot Divination feature of EdrawMind mixes ancient wisdom with AI technology. The image below is a sample response by Edraw AI from a user requesting a fortune telling in 2023. It offers a captivating and enjoyable method to seek guidance and insights at the touch of a button.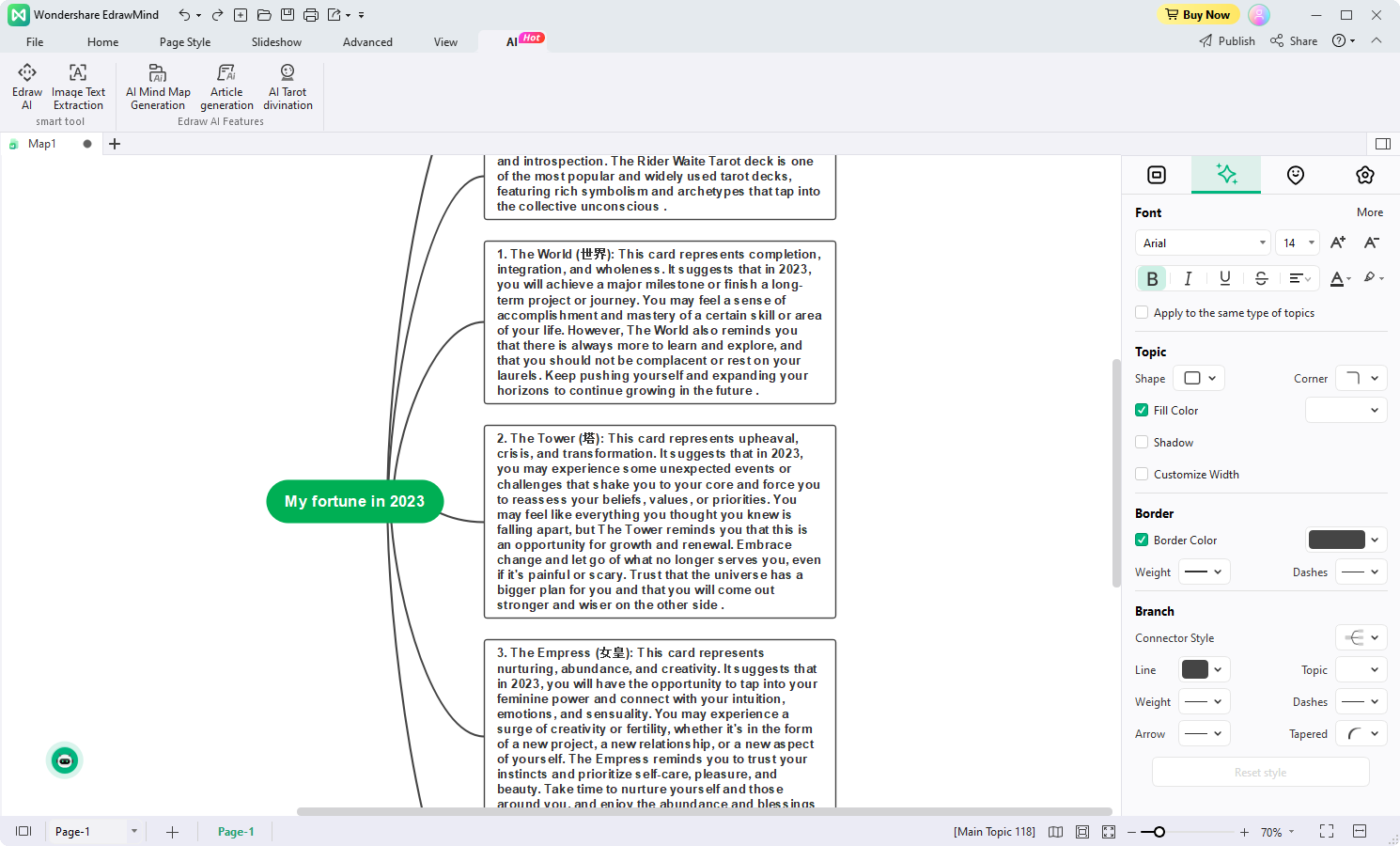 Boost Assistant
Lastly, the Boost Assistant feature allows you to generate compliments instantly. In the example below, Edraw AI praised the user's girlfriend for her specific qualities. It generated a personalized and uplifting complement to create heartfelt admiration in seconds.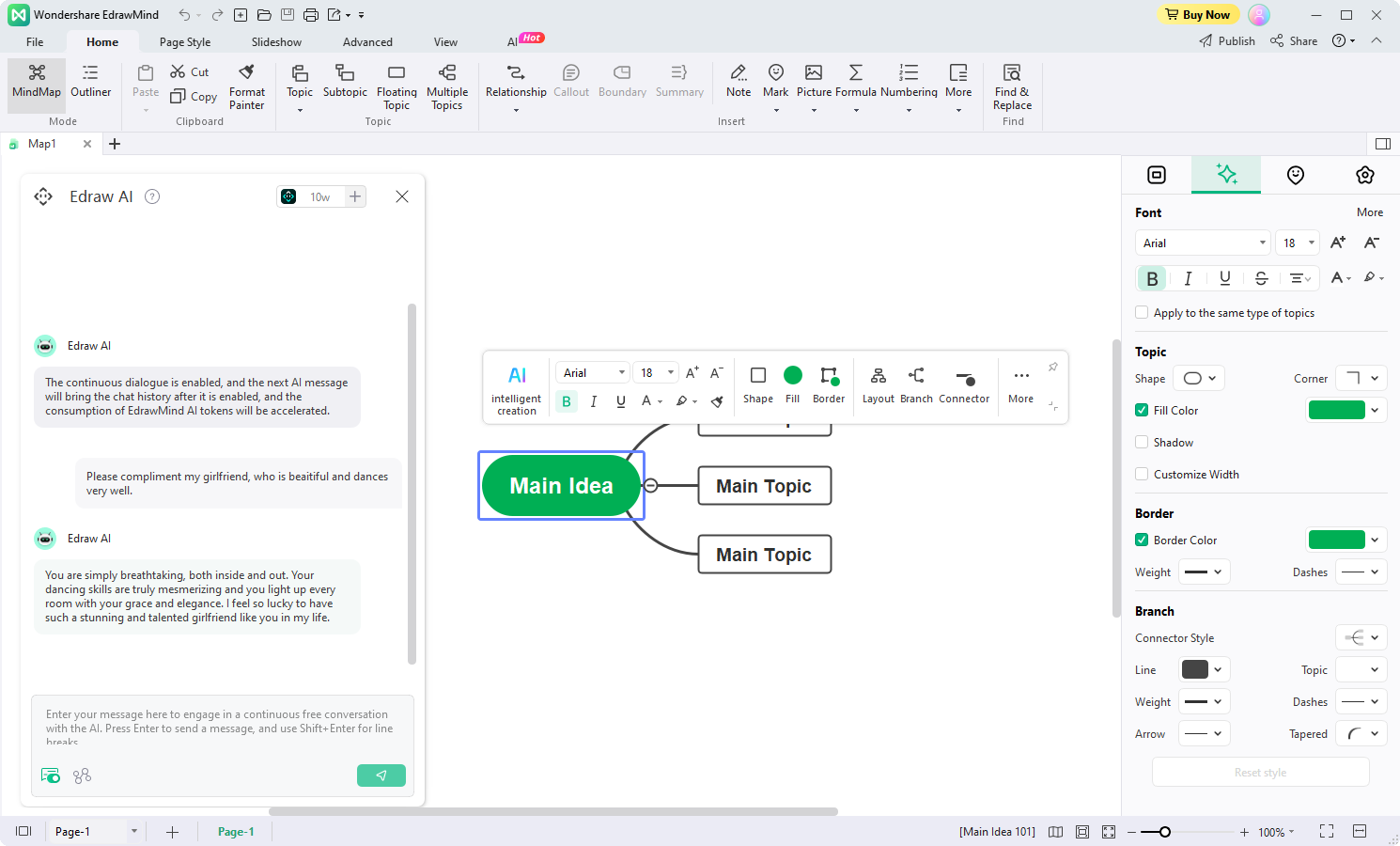 Note:
Learn More about functions and features of Edraw AI in EdrawMind Guide. e.g. You can know about how to
One-Click Mind Map
.
4. Creating Mind Maps With EdrawMind AI Tool
Creating mind maps with Edraw AI is a straightforward process. It can help you visualize and organize your thoughts effectively with a few clicks. Here are the steps below.
Step 1: Download and Install EdrawMind on your computer. Next, click Edraw AI on the homepage.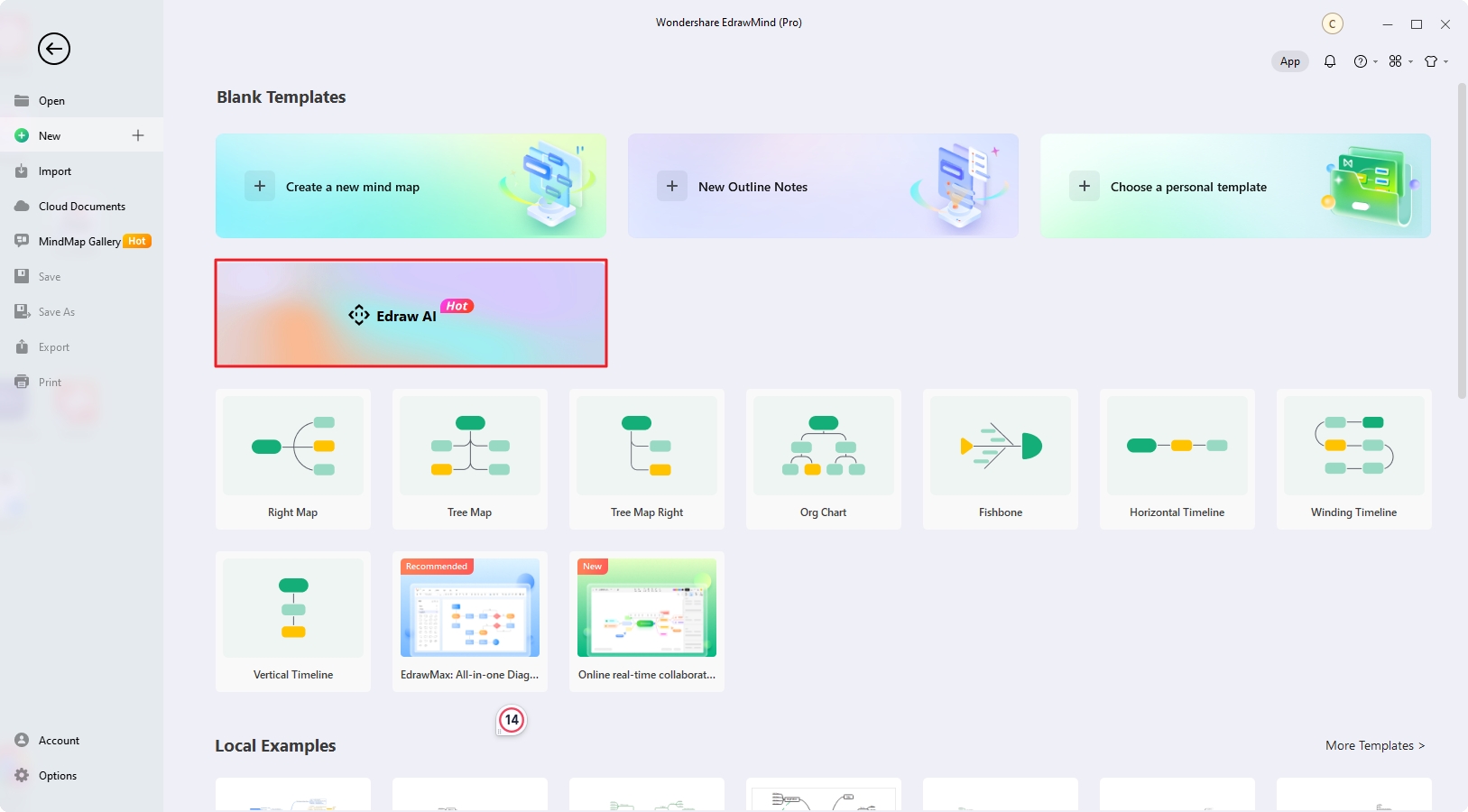 Step 2: In the popup window, input your command.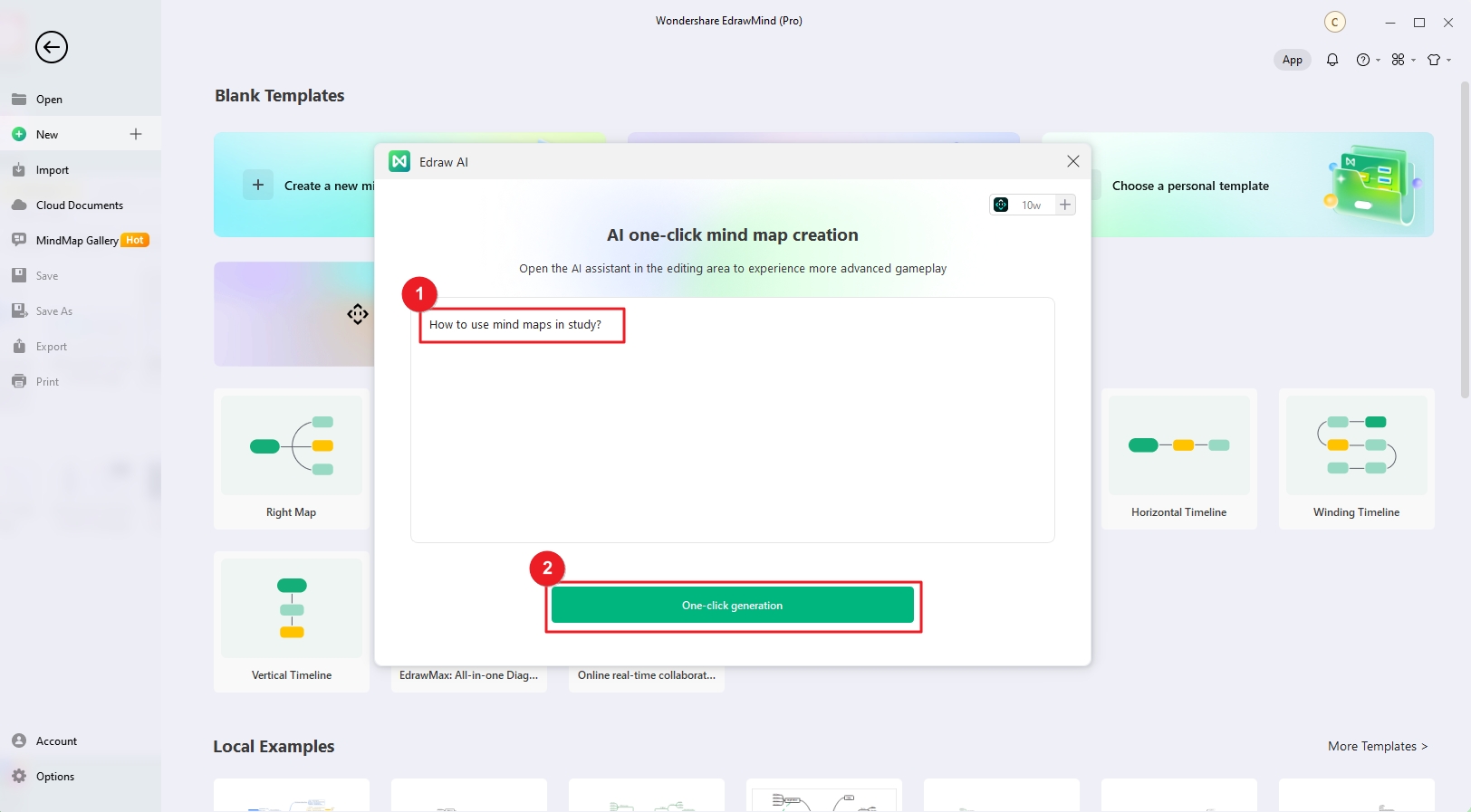 Step 3: Edraw AI will create a mind map according to your command automatically.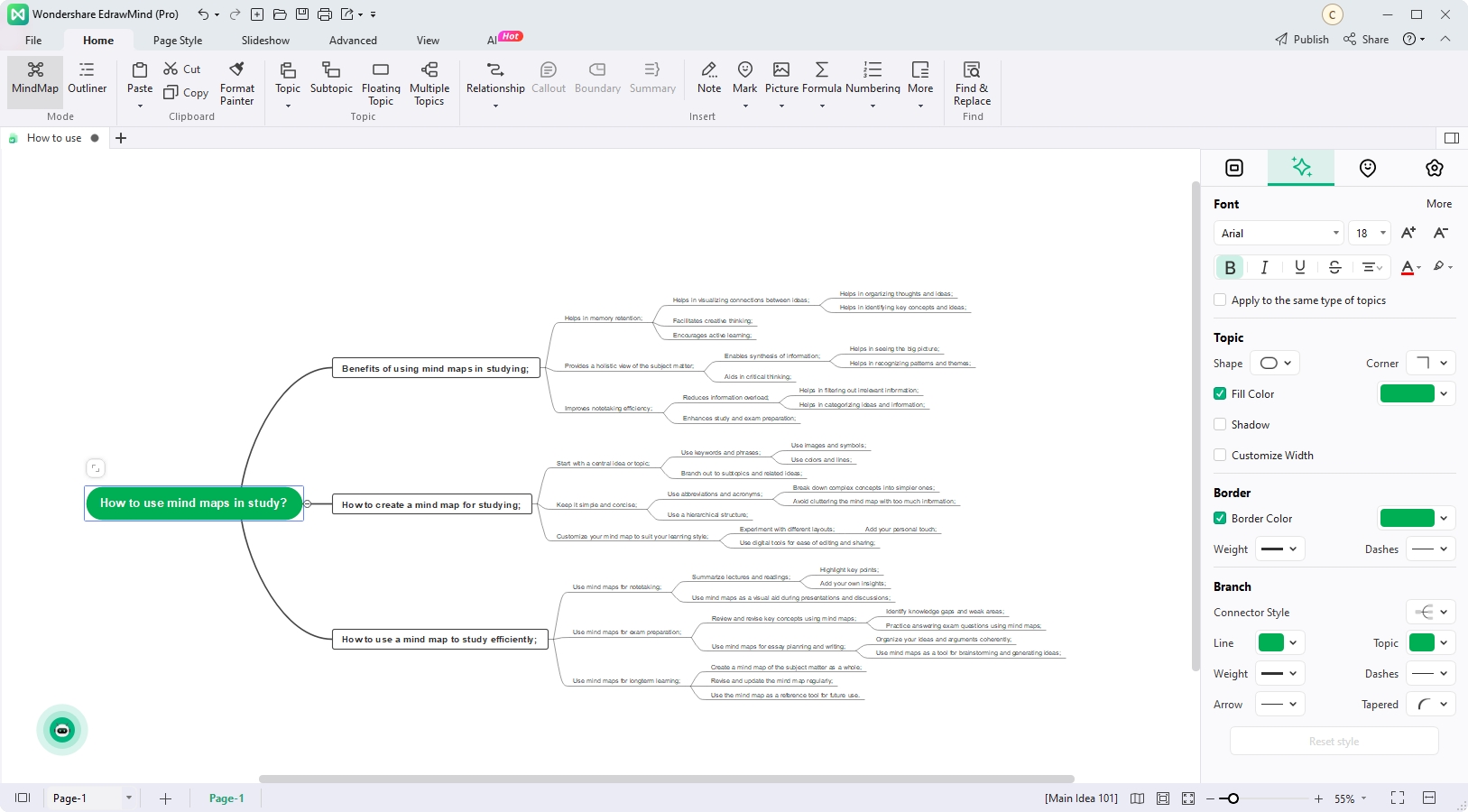 Note:You can also select the AI button at the top panel, depending on your needs.
Step 4: Personalize your mind map by customizing and formatting it. Use the right panel to change font styles, colors, and shapes. You can also add icons, images, and hyperlinks for additional context and visual appeal.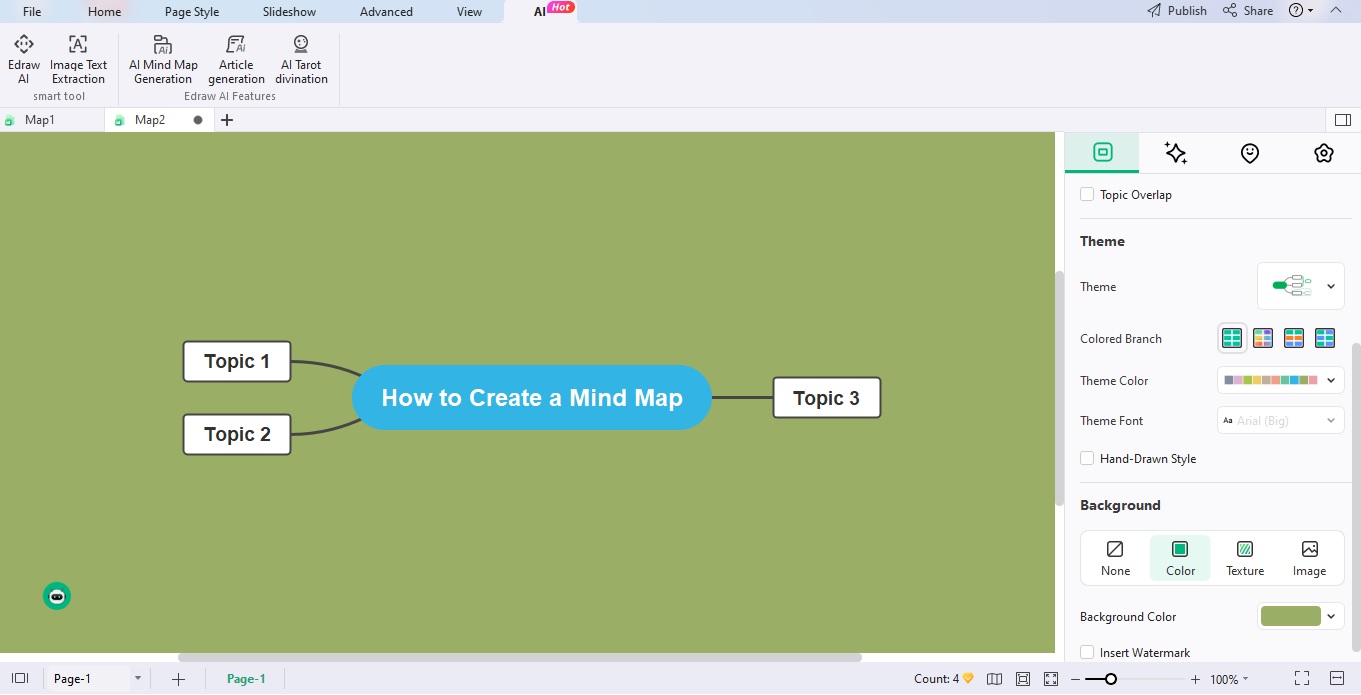 Once you're satisfied with your mind map, save your work to preserve your progress. You can export your mind map in various formats such as image files, PDF, Word, or PowerPoint. Choose the desired export format and save your mind map to your preferred location.
5. Conclusion
Whimsical AI presents a promising future for mind mapping. The tool empowers you to create clear, engaging, personalized mind maps. While there may be limitations, the advantages of time savings and creative inspiration outweigh the cons.
EdrawMind, on the other hand, adds another layer of innovation to creatives. It provides users with even more features and capabilities for mind mapping. Whether you're a student, professional, or creative individual, it's recommended to experiment with both tools. See what works best for you to unlock the full potential of mind mapping in your endeavors.
EdrawMind Apps
12 structures & 33 themes & 700+ cliparts
Support Win, Mac, Linux, Android, iOS
Advanced import & export options
On-premises software for business
Enterprise-level data security
EdrawMind Online
12 structures & 33 themes & 700+ cliparts
Access diagrams anywhere, anytime
Team management & Project management