Want to know more about how to do case study?
EdrawMind helps move ideas forward, faster and better. Check out this guide to know how to do case study and how mind maps can help. Try EdrawMind free now!
A case study is a document that outlines how a customer used your product or services to overcome the issues. It is real-world proof that your product or service works and delivers the results. If your product or service has helped the customers get excellent results, then a case study can help you showcase the results to prospective customers. If you are in an early stage of business, then creating a case study is a perfect way to attract more business. In this elaborate guide to understanding case studies, we will help you understand what the major differences between a research paper and a case are and, at the same time, how you can easily do a case study of any topic.
1. What is a case study?
A case study refers to the sub-category of research design that investigates problems and offers solutions. As you will see in this article, a case study can range from academic research studies to corporate promotional tools offering services.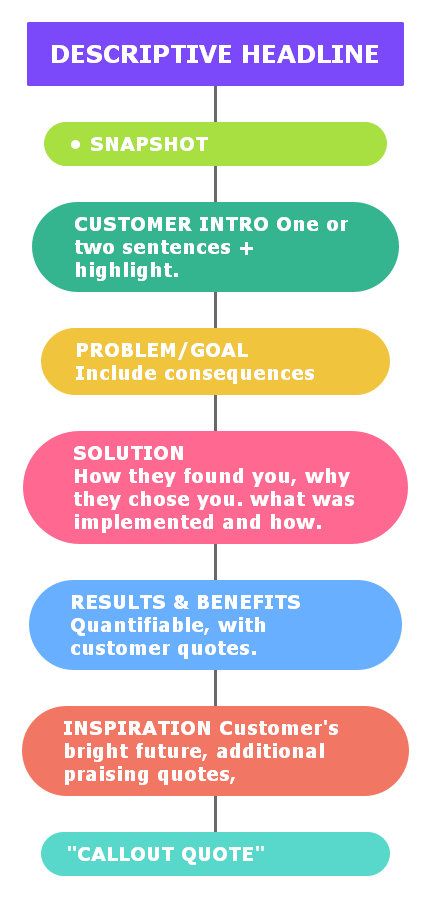 What is the difference between a research paper and a case study?
The research paper fetches the reader's attention to a certain issue, while a case study can even go further. The case study guidelines require students to focus on details, examining the problems closely and in-depth using different research methods. For instance, the case study can examine the court cases if you study the law or a patient's health history if you are a medical student. At the same time, let us assume that if you own a digital marketing firm, you can send your previous case studies to your new cold leads to let them know how your company has improved the previous brand's overall digital performance.
As you see, the case study comprises much storytelling. It usually examines particular cases for a person or a group of people. This research method is very beneficial as it is practical and can help you with much hands-on information. Generally, the case study length is around 500 to 900 words, which is less than the average length of the research paper.
The structure of the case study is similar to the storytelling. It comprises a protagonist who is a problem you are trying to solve. You can use the system of three acts in the story. It should cover the introduction, rising action, climax focusing on the transformation, falling action, and a solution. There is a formula that you can use for the case study. Problem ( Act I): > Solution (Act II) > Result (Act III) > Conclusion.
2. Types of Case Study
The core purpose of a case study is to deliver a detailed report on a certain event, a person, a place, or an institution. There are different types of case studies; however, the class depends on the topic. Here are a few of the common areas where case studies are required:
Historical
Historical case studies are a good resource for learning. Usually, historical events have a multitude of sources of info offering different perspectives. You can always find modern parallels where these perspectives can be applied, compared, and analyzed thoroughly.
Problem-Oriented
This type of case study is generally used for solving problems. It is often assigned as a hypothetical situation where you need to engage in the position to examine it. For example, if you are working for a start-up and you observe a significant flaw in the design of your product. Here, in this case, you can study the issue in detail and provide the solution before escalating it to senior management. This type of case study is an important part of relevant socio-economic discussions.
Cumulative
A cumulative Case study lets you collect the information and offer comparisons. This type of case study is often used to tell people about the product's value in business.
Critical
Critical case studies help you explore the different causes and effects of a certain case.
Illustrative
An illustrative case study lets you describe certain events and investigate the outcomes and lessons you learned.
3. Format of case study
A Case study is not only limited to a PDF attachment format that comes with the email. Nowadays, everyone prefers shorter and crisper content to understand the subject. Therefore, there are several other formats in which you can prepare the case study. Here are a few formats you can consider to engage with your audience.
Report Format
The case study report format has been used for many years for Business-to-Business case studies. This format is useful when the complex subject matter asks for detail. This type of case study format is utilized to provide in-depth information.
One Pager Format
With the One Pager Format, you can keep things short and sweet. Here you can focus on the key points and highlight the biggest wins at a single glance. Usually, most report format case studies can be easily converted into a One Pager format. This is best for prospects and salespeople who have limited time and prefer documents that can be scanned easily.
Video Format
A video can deliver a message way more effectively than a document or a report. Therefore nowadays, you can easily spot video case studies everywhere. Video case studies give you an unmatched creative freedom and storytelling level by using lighting, music, voice, and pacing. This can evoke the prospect's emotions and persuade him to take the right action. Usually, these videos are short and can deliver a message in a short period.
Infographic Format
People love to see information with colorful graphics, and therefore Infographics came into existence. An Infographic case study is an excellent way to convey the important data in a simple yet eye-pleasing way. If you want to use any data to prove the point or visualize the data to make the results clearer, then building an infographic case study can be a great investment for your business.People love to see information with colorful graphics, and therefore Infographics came into existence. An Infographic case study is an excellent way to convey the important data in a simple yet eye-pleasing way. If you want to use any data to prove the point or visualize the data to make the results clearer, then building an infographic case study can be a great investment for your business.
4. How to do a case study?
Creating a case study involves qualitative as well as quantitative methods. You may use just one complex case study where you explore a single subject in detail or prepare multiple case studies to compare and illuminate the different aspects of the research problem. If you are searching for a step-by-step guide on doing a case study, then here it is.
1
Prepare the Case
Case studies do not have to be just in a one-page report format. In your case study, you can use different media to promote the final piece on different channels. Here are some different case study mediums you can consider while preparing your case:
Written Case Study
You can easily convert the written case study into a downloadable PDF form. Here a reader will need to enter his details to download the case study. In this way, you can easily generate leads for your business.
Video Case Study
You can plan a meeting with the client and shoot the interview. This type of case study can bring a huge benefit to attracting customers.
Infographic Case study
With an Infographic case study, you can tell your customer's success story from top to bottom. As you progress down to the infographic, highlight the major KPIs using bigger text and charts that show your client's successes.
Podcast Case Study
A podcast platform lets you converse with your client. This type of case study always sounds more real and human to your audience.
2
Start with Templates
Narrating your customer's story can be a delicate process as you need to highlight their success while incorporating your business into their story naturally. However, if you start to create case studies, using the ready-to-use case study templates is always recommended.
These templates help you to kickstart the process. Every registered EdrawMind account comes with free templates that help create the case study mind map in just a couple of minutes. Simply customize the templates and easily make your case study mind map.
3
Determine the Objective
You need to design case studies to demonstrate the value of your service; however, you can focus on client objectives as well. The first step in creating a case study is to determine the purpose of the subject you are featuring. The client objective will always depend on what you want to prove to your prospective customers in publishing the case study. Here are a few of the objectives you can focus on:
Complying with government regulation
Lowering the business costs
Becoming profitable
Generating more leads
Closing on more customers
Generating more revenue
Expanding into a new market
Becoming more sustainable
4
Draft your case
After collecting all the required details, you need to start preparing the draft of your analysis. The draft should include the below-mentioned sections; however, these may differ according to the assignment directions or the case study.
5
Introduction
Under this section, you need to identify the key problem and issues in the case study. You would also need to formulate and include a thesis statement while summarizing the outcome of the analysis in one or two sentences.
6
Background
In this section, you need to set the scene with background information, relevant facts, and important case study issues. You can also demonstrate that you have researched the problems in the specific case study.
7
Evaluation of the case
Make sure to outline the various pieces of the case study that you focus on and evaluate these pieces by elaborating on what is working and what is not working. You can also state why these case study parts are not working well.
8
Proposed solution
In this part, you need to provide a specific and realistic solution and also explain why this solution was chosen. You can support this solution with solid evidence, like concepts from class, outside research, and personal experience.
9
Recommendation
Make sure to determine and discuss specific strategies for accomplishing the proposed solution. You can recommend further action to resolve some of the issues if applicable. You can also specify what should be done and who should do it.
10
Publish and promote your case study
Once you have completed the case study, it is time to publish and promote it. Every case study format has different promotional channels. For example, a video case study can go on YouTube, while an Infographic case study can go on Pinterest. Here are a few ways to publish and promote your case study.
Lead Generation through a Blog Post
Written case studies can act as a lead generator if you convert them into a downloadable format. You can consider writing a blog post that tells an abbreviated story of your client's success and asking readers to fill out the form with their details. This would be the best way to generate leads. You can then promote the blog post on social media, Facebook, or Twitter.
Publish as a page on the website
You may also need to display the case study on the open platform as a part of your growing business. This is beneficial to gain the trust of your audience. You can publish the case study on your website rather than getting behind a landing page. You can then direct the visitor from your homepage with the case studies button and your home page's top navigation bar.
5. Case Study Templates
It is common for a case study to narrate the story of a successful business partnership between a vendor and a client. The success that you are highlighting could be the number of leads your client generated, customers closed, and the revenue generated. These key performance indicators are examples of your company's services in action. When used correctly, these KPIs can create a huge impact on your business and help to attract new clients. To help your prospects arm with the information they can rely on, you can use ready-to-use case study templates to create the best case studies.
EdrawMind is one such tool that offers several templates that can easily be replicated to create a mind map that helps in the present case study.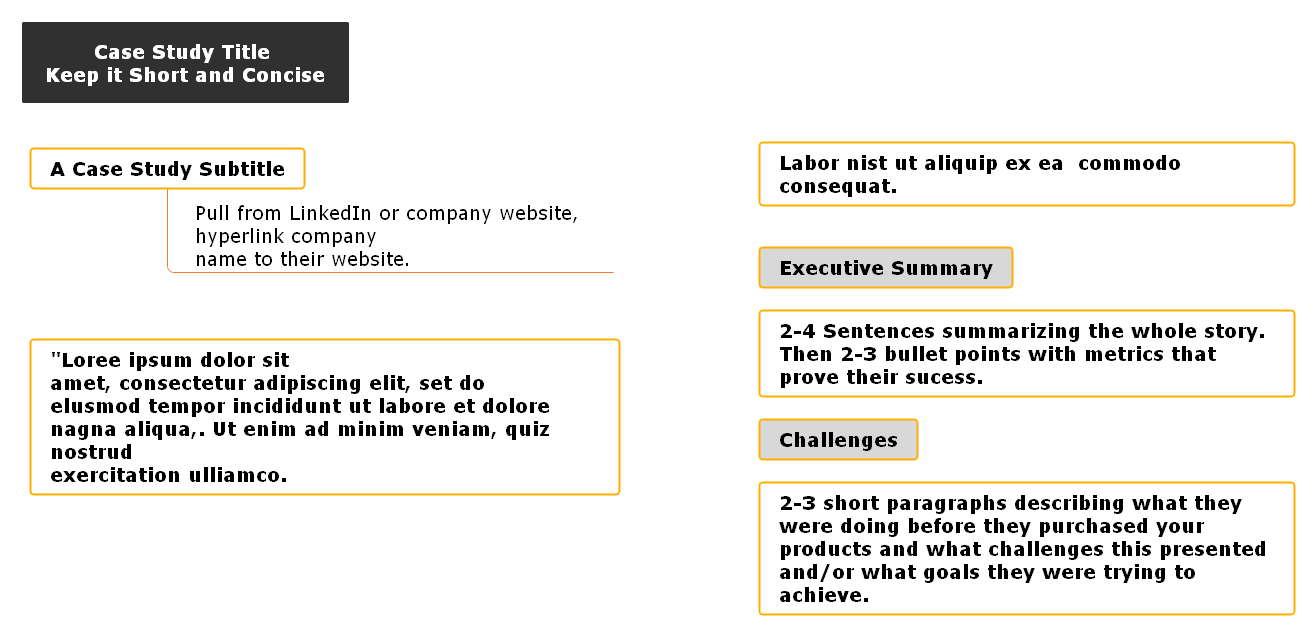 Click here to download EdrawMind
(For Win)
Click here to download EdrawMind
(For Mac)
Click here to download EdrawMind
(For Linux)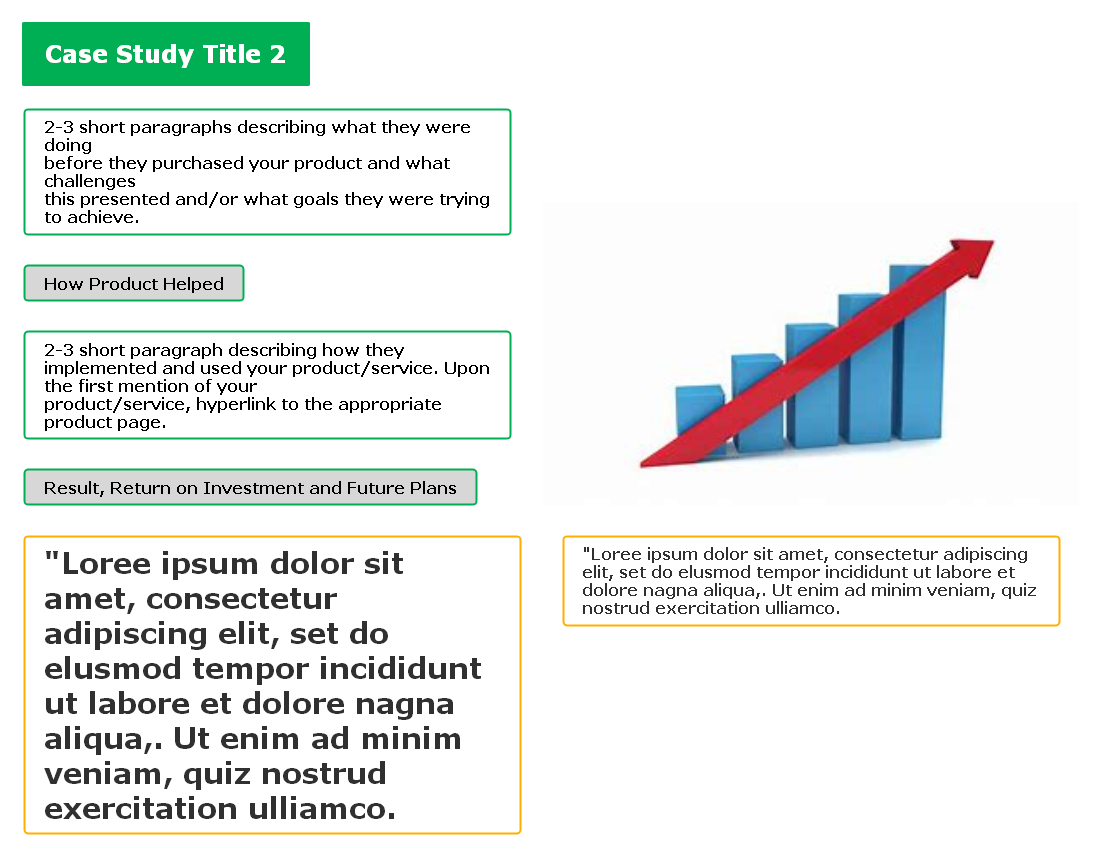 Click here to download EdrawMind
(For Win)
Click here to download EdrawMind
(For Mac)
Click here to download EdrawMind
(For Linux)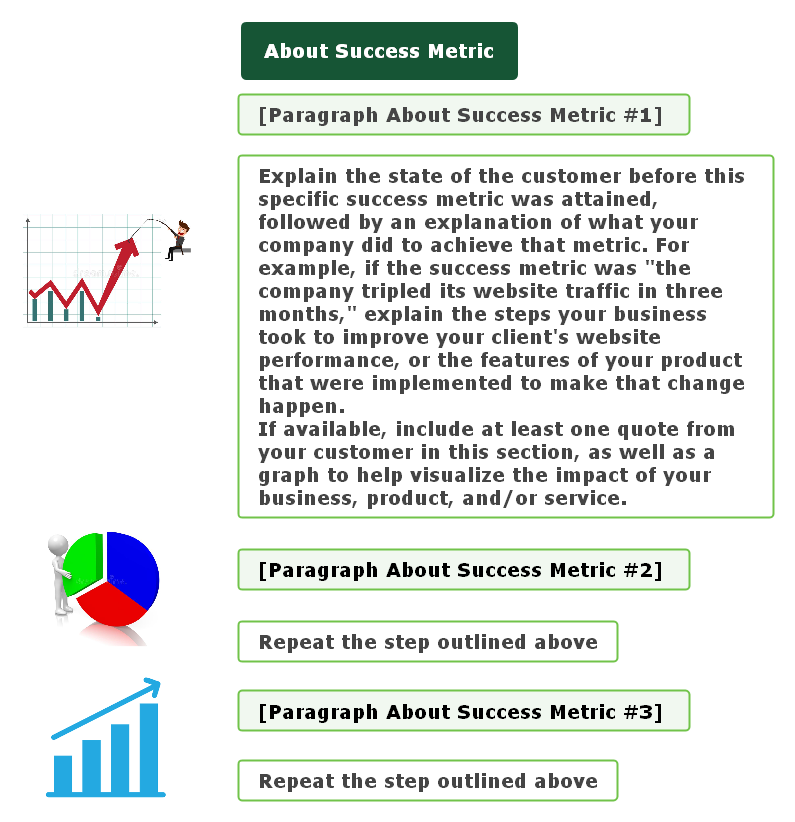 Click here to download EdrawMind
(For Win)
Click here to download EdrawMind
(For Mac)
Click here to download EdrawMind
(For Linux)
6. Key Takeaways
A case study helps bring new clients on board and helps understand which areas you or your company excelled in recent years. With the help of EdrawMind, you can easily create case study mind maps to analyze and study all the topics in detail easily. This free mind mapping software lets you easily connect between different sub-topics without losing the entire mind map's formatting. You can create multiple topics and subtopics and link them together with a single click.
EdrawMind Desktop/Mobile
12 structures & 33 themes & 700+ stylish cliparts
Support Win, Mac, Linux, Web, Android, iOS
Advanced import & export options
On-premises software for business
Enterprise-level data security
EdrawMind Online
12 structures & 33 themes & 700+ stylish cliparts
Access diagrams anywhere, anytime
Group & real-time collaboration
Personal Cloud and Dropbox Integration