How to start a presentation
How to start a presentation that impresses your audience?
EdrawMind gets you covered on how to start a presentation. It is a powerful mind mapping tool that will help you create amazing visualization for your presentation and other professional and educational tasks. Try it for FREE today.
Presentation is a powerful way of communicating your ideas, thoughts, and notions with the audience.
Delivering an impactful presentation is an art that requires a proper selection of meaningful words and visualizations to transfer a message, sound and clear.
And like any other art, presentation requires practice to be a master at it.
This article will help you lay a solid foundation for your presentation and teach you how to start a presentation, maintain a flow throughout the presentation, and tell you the best practices that will help you deliver a powerful presentation that will win the hearts of your audience.
1. How to Start a Presentation?
As discussed earlier, a presentation is nothing but a combination of powerful words and impactful visualizations. For the visualization purpose, we will use EdrawMind, a magical tool that lets you create amazing visualizations for multiple objectives with just a few clicks.
Let's see how to achieve that in five simple steps.
1
Determine the main idea of your presentation
The very first step is to determine the main idea of your presentation. What is your presentation about? Here you have to be specific; you can not talk about three to four things in a single presentation because it will confuse your audience and kill your presentation's flow.
The best practice is to write down the exact topic of your presentation so you will not be diverted from your main subject.
To add the main topic to your presentation, launch the EdrawMind select mind map, select any shape and color, and add the topic.
For example, our main topic is "Pizza Shop Business Plan," as shown in the picture below.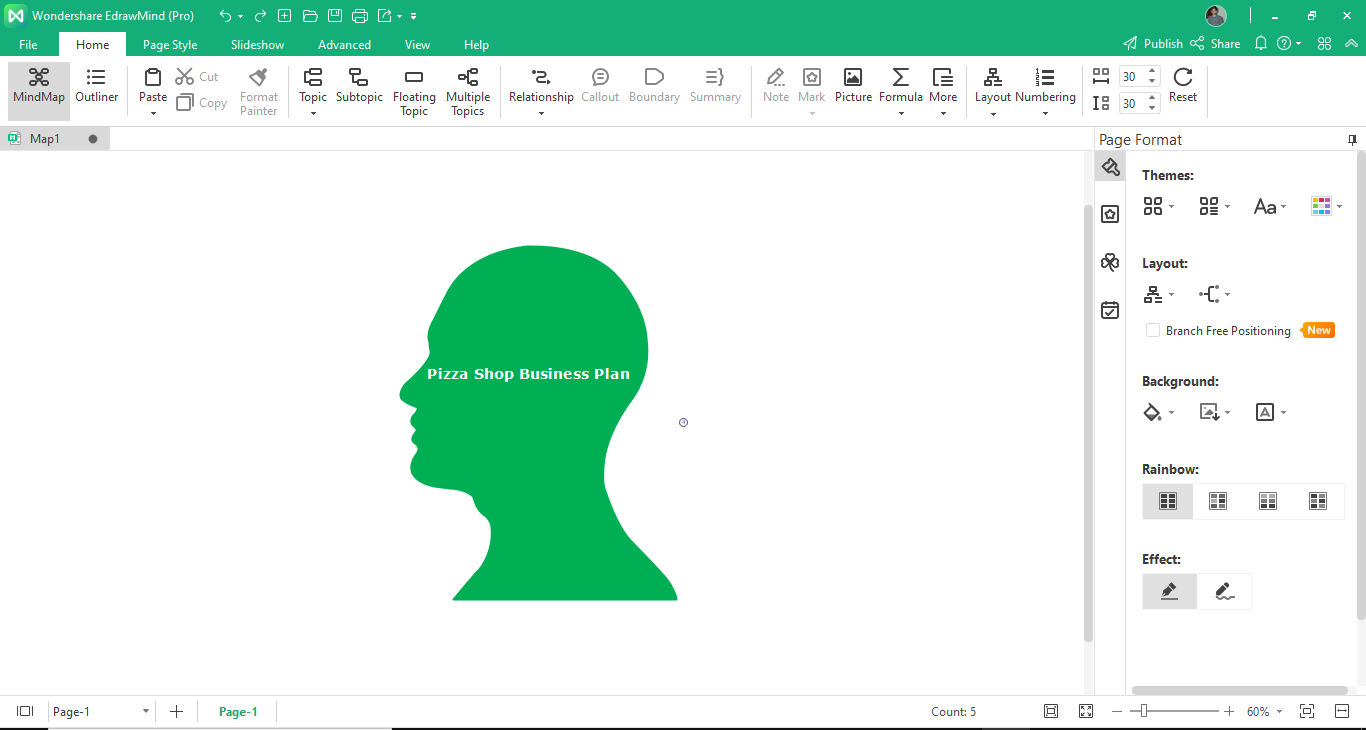 2
Add topics related to the main idea
The second step is to add supporting ideas to your main idea. What factors are directly related to your main idea?
In our example, the main topic is "Pizza shop business plan." Now think about what things are required to make a pizza business successful? They may be the varieties of your pizza, your staff, your marketing, and your restaurant's interior design.
To add them to your mind map, click the dot and type your supporting ideas; you can customize their shape and color, just as shown in the picture below.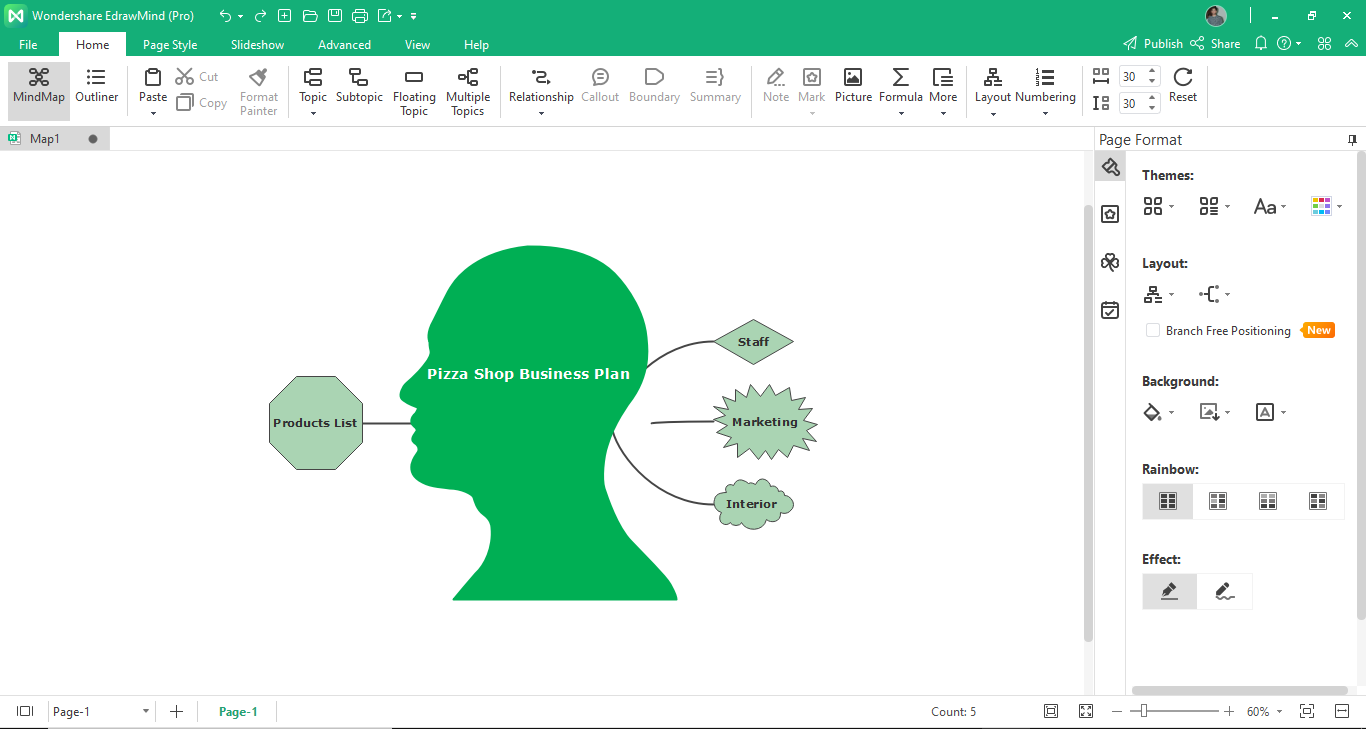 3
Prioritize these topics and decide their order in the presentation
Not all supporting ideas possess the same priority. Some of them are more important while others are less important. And the topics with higher priority must come before the topics with lower priority in your presentation. This way, you can achieve a good flow in your presentation.
You can prioritize your supporting ideas in two ways either put the most important idea at the top by dragging it with your mouse, just shown in the picture below.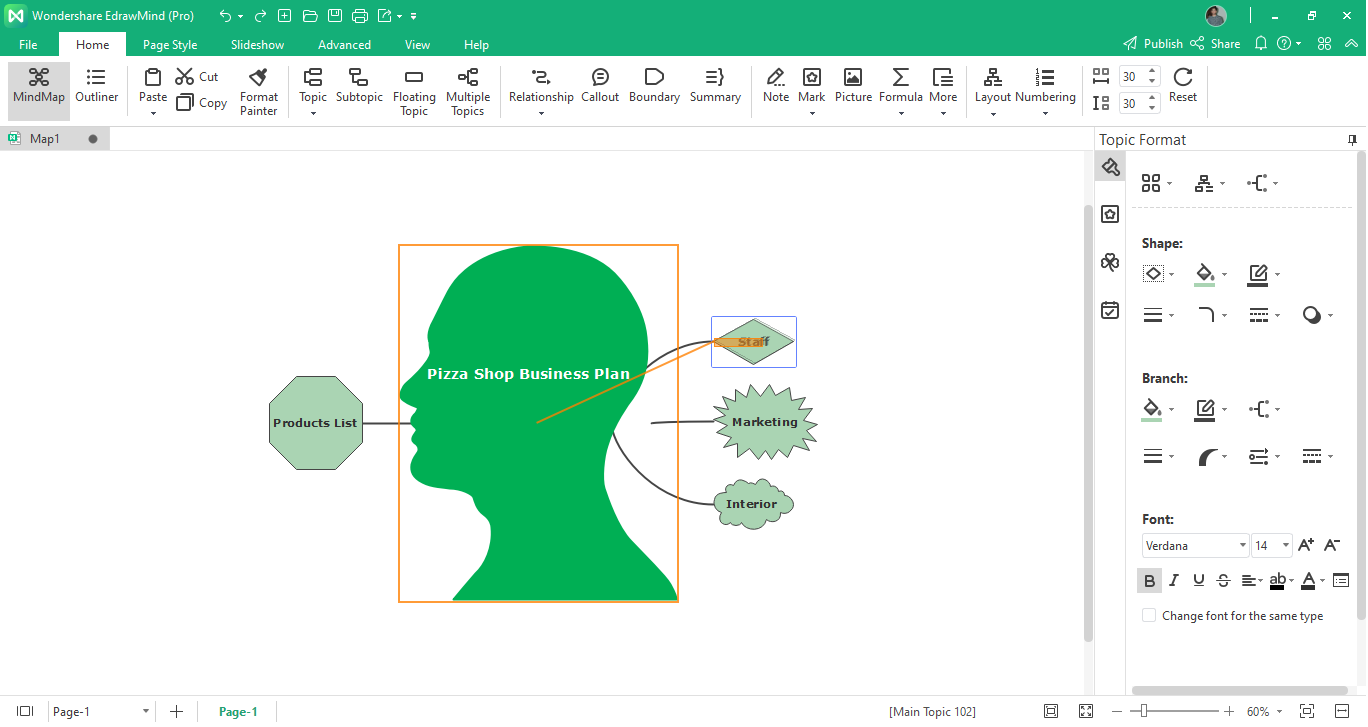 Or you can assign them a priority number. Go into the Home tab in your EdrawMind, click mark and then select the priority option this way, a priority number would be assigned with each subtopic.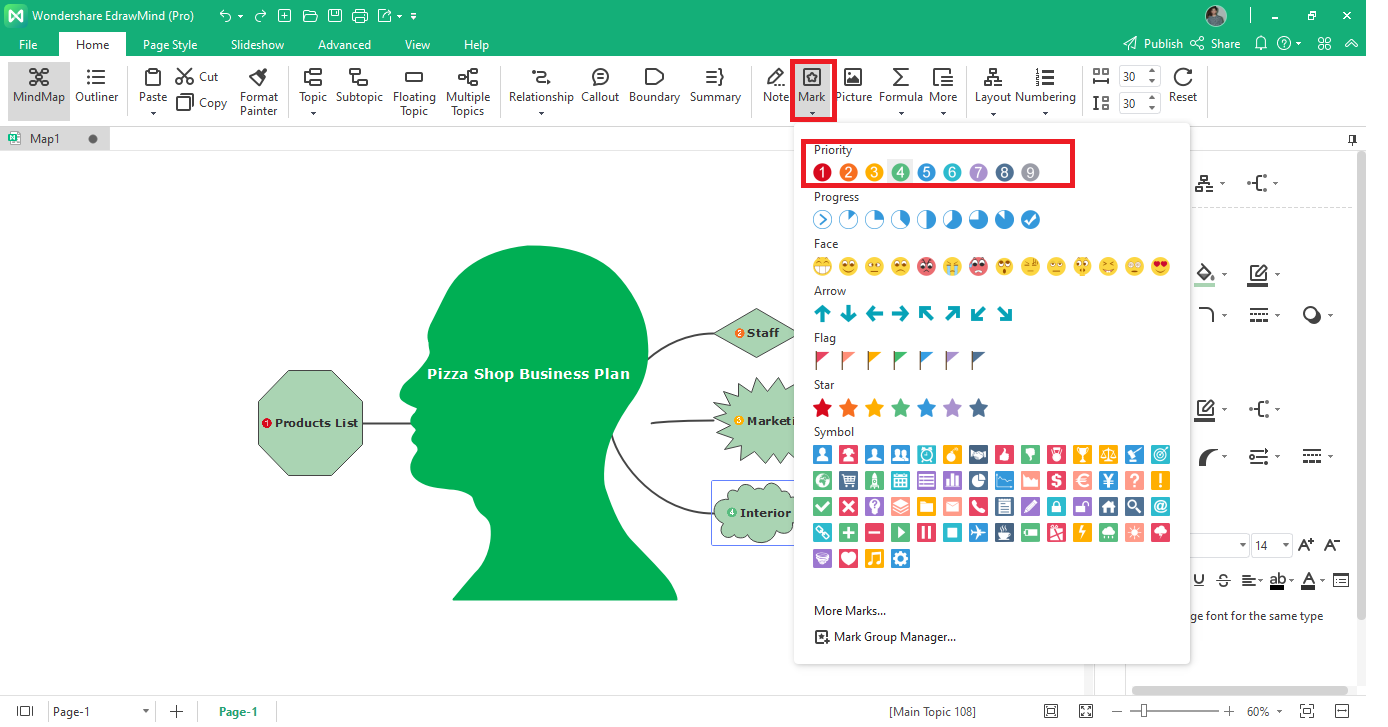 4
Supplement all necessary information to make the presentation more complete
The fourth step of making a powerful presentation is supplementing all necessary information like pictures, graphs, charts, callouts, hyperlinks, and showing their relationship with each other. This will give your presentation a complete look and make your presentation feel organized.
With EdrawMind, you can easily add pictures and show relationships between two or more objects.
EdrawMind gives you the freedom to show your creativity.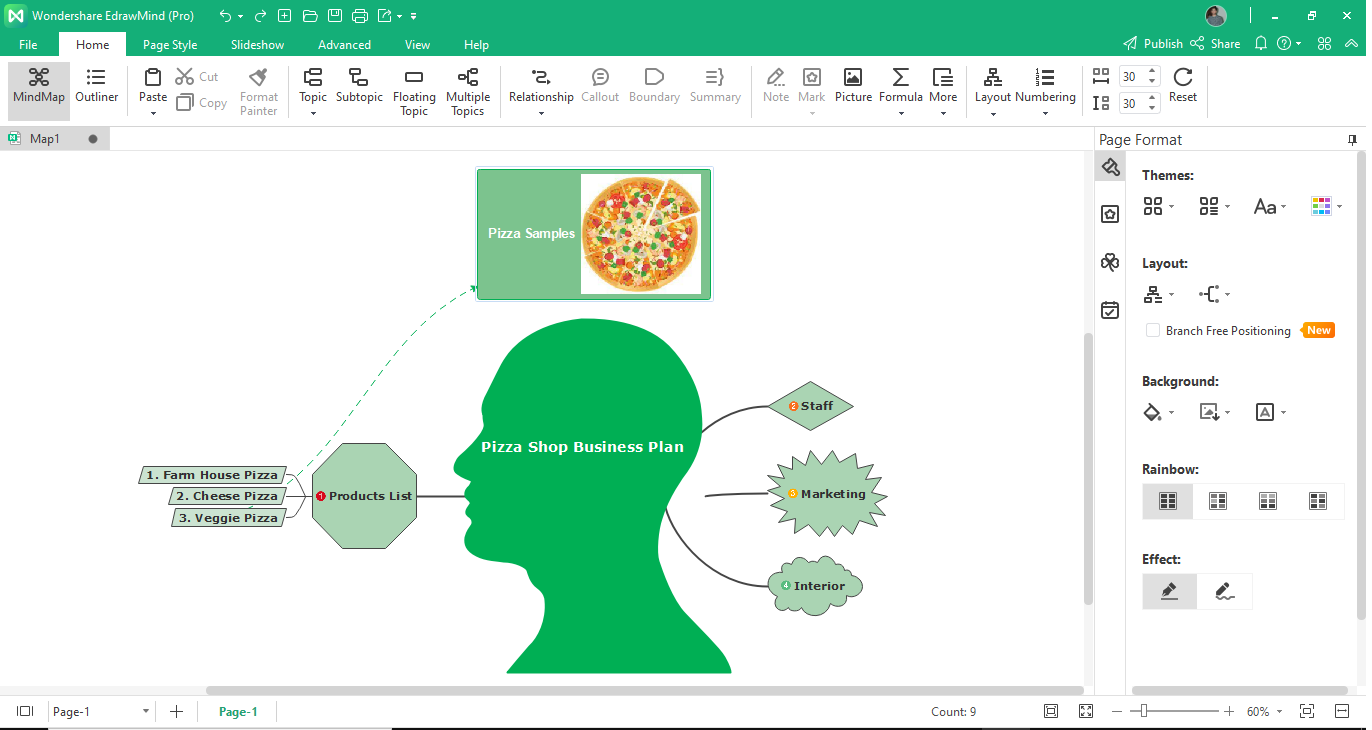 5
Change your mind map to a presentation with one click
Now everything is ready to be presented.
With EdrawMind, not only makes a presentation easy, and presenting that presentation is even easier. You can go to the Slideshow tab, click the slide Preview there, select the create slides automatically option voila, an amazing eye-catchy presentation is ready.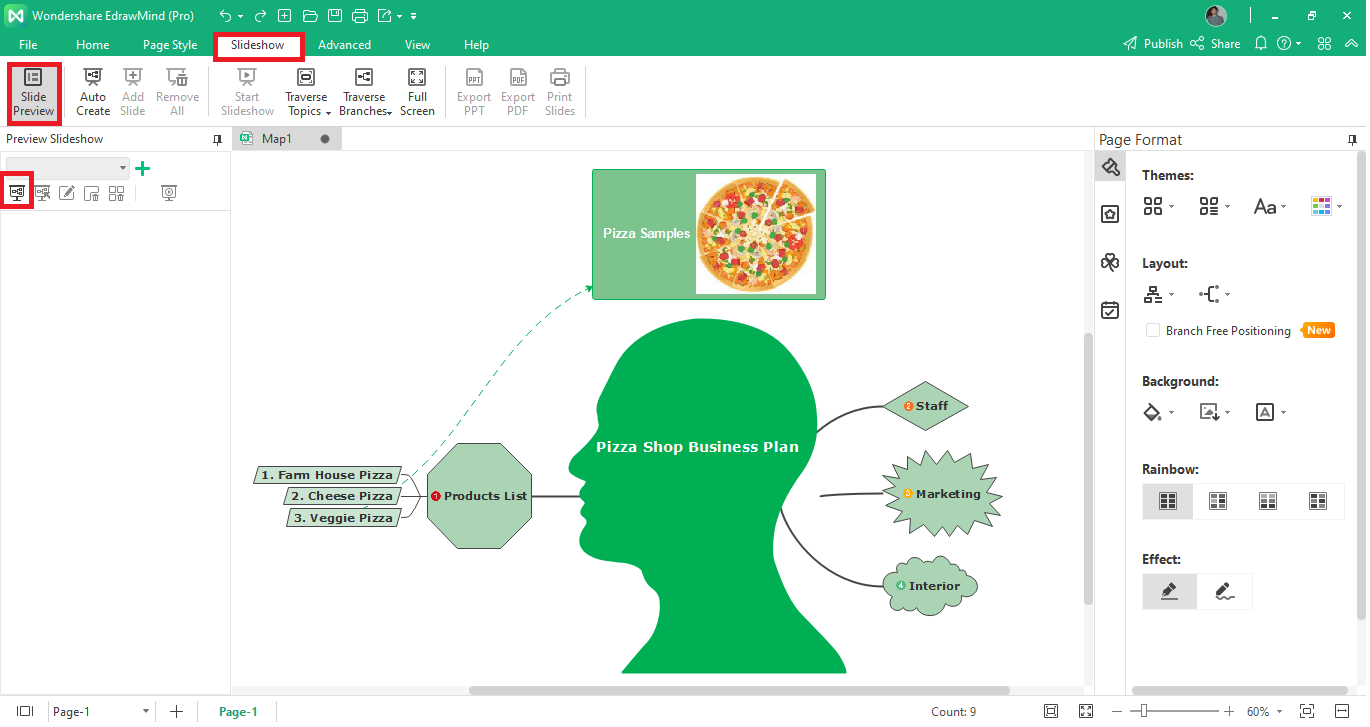 2. The 10 Must-Know Presentation Tips
In this section, you will learn 10 potential tips that will teach you how to start a presentation, how to deliver your presentation powerfully, how to conclude it, and most importantly, how to maintain the interest of your audience throughout the presentation.
Visualization is an essential part of every presentation; therefore, each tip carries a visualization part. You can use EdrawMind to make visualizations for the presentation that is easy to use and create eye-catchy visualizations.
1
Start with a Question
The questions provoke thoughts. Starting your presentation with a question that makes your audience think is always a good idea. This way, they will maintain an interest in your presentation until the end. Make sure to give little hints about the question during your presentation and conclude it by the end.
For example, if your presentation is about launching a new product, you can ask, "What can 10X the company's annual revenue?" this will make your audience think.
You can put that question on the very first slide of your presentation.
2
Introduce yourself
Now you can introduce yourself and tell the audience why you are the right person to talk to on this subject. You can also talk about your qualifications, experience, and credibility on the subject of concern.
You can add the second slide about your introduction.
3
Tell a story
Here you will reveal your idea, but to make that idea more impactful, tell that in the form of an interesting story because facts tell stories to sell. A Story is one of the most powerful ways of communicating your ideas, and the reason is that a story is hard to forget.
4
Use quotes to support your stance
The quotation is the highest compliment you can pay to an author.
Do you see how we used a quote to support our idea?
You can do the same thing with your presentation and add relevant quotations to emphasize your stance.
5
Use facts and statics
Using facts and statics will increase the credibility of your presentation.
For example, you can use a stat like this, and we need to introduce a new feature because 63% of our targeted audience is interested in it.
Such facts and statics will help you a lot in your presentation.
Make sure to add a few slides giving facts and statics.
6
Use infographics, pictures, and videos
A picture is worth of thousand words. We, humans, trust more things we see with our eyes. Therefore, adding relevant infographics, pictures and videos will make your presentation meaningful and powerful.
With EdrawMind, you can make beautiful info graphs and mind maps for your presentation with just a few clicks. These graphical visualizations will give a prettier look to your presentation and add value to it.
7
Maintain a friendly atmosphere
Make sure to maintain a friendly atmosphere throughout your presentation. This way, your audience can easily communicate with you and understand your stance.
8
Ask your audience to participate
Audience participation is a key factor in a successful presentation. Be open to the audience and let them ask. Answer their questions politely and encourage them to participate. That is how you can deliver them your message successfully.
9
Take short breaks
If your presentation is long and contains many subtopics, it is always good to take short breaks. This way, your audience will be able to digest your content better.
10
Make your audience think about your idea
End your presentation with a powerful note. Give your audience something to think about. Once your presentation is over, they will recall the whole presentation and understand it.
3. Key Takeaways
Presentation is a powerful tool to communicate your ideas effectively with the help of meaningful words and beautiful visualizations. If you know how to start a presentation, you will be able to transfer a message clearly.
Delivering a powerful presentation is not that difficult if you learn the appropriate tips, tricks, and techniques and access useful and powerful visualization tools like EdrawMind.
Presentation is part words and part visualization. For the words part, you can use the tips and techniques we discussed in this article, but you would need a visualization tool for the visualization part.
EdrawMind is a useful and very powerful visualization tool that simplifies the game of effective presentations. The tool comes with thousands of ready-made templates that you can easily customize and apply to your presentations.
EdrawMind Desktop/Mobile
12 structures & 33 themes & 700+ stylish cliparts
Support Win, Mac, Linux, Web, Android, iOS
Advanced import & export options
On-premises software for business
Enterprise-level data security
EdrawMind Online
12 structures & 33 themes & 700+ stylish cliparts
Access diagrams anywhere, anytime
Group & real-time collaboration
Personal Cloud and Dropbox Integration