Want to know more about how to study?
EdrawMind helps move ideas forward, faster and better. Check out this guide to know how to study for finals and how mind maps can help. Try EdrawMind free now!
For any student, the entire academic year is free of strife until it all comes down to the most stressful and decisive time of the year - final exams. From juggling ten subjects at a time to struggling to meet deadlines, this article is your detailed guide on how to study for finals.
1. How to Study for Finals
As stressful as exams are, they do not need to result in anxious, troubled nights leading up to the finals. We have listed down the best study tips for finals that will keep you composed and focused during the last few weeks of the semester:
Set Your Own Goal
Nothing yields better results than going the extra mile for what you desire the most, or in simpler words, your goal. What motivates you should be a reason enough to invest your time and energy in studying for finals. A great way to get motivated is by writing down your goal on a piece of paper. Not only does this inspires you, but it also helps you overcome procrastination.
Set a Study Schedule
One of the best ways to get ahead of grappling with ten subjects at a time is to plan a schedule around your date sheet. While making your schedule, it is important to keep a couple of factors in mind: the order of your exams, core syllabus, and prep leaves. In order to study effectively, it is imperative to have a pre-planned schedule, which brings us to our next trip.
Start Early
Studying ten days before exams and then trying to cram everything one night before the final is going to give you nothing except a grade short of a C. The smart thing to do is to revise what you study in class daily so that you already know the basics when the exams are near up. Plan your schedule as soon as you get your datasheet so that you have plenty of time to cover up the syllabus, revise and practice test questions.
Study in Right Order
Instead of cramming the entire textbook in one go, it is better to study in order of priority. Make a list of all the essential chapters, and then move towards chapters that are not of much importance. Ask your respective teachers about past paper questions and study tips for finals, and discuss to finalize the list with your friends.
Form a Study Group
If you struggle with commitment but are a firm believer in "two heads are better than one," then this tip is just for you. Studying together in a group is not just encouraging but also keeps everyone motivated toward the goals. Students tend to learn faster while in a group; they get the opportunity to clarify concepts, analyze the syllabus, and work upon their respective notes.
Reorganize your Notes
After an entire year of taking classes, you are bound to have disorganized notes scattered everywhere. With finals approaching, the first and foremost thing to do is to gather all of your notes in one place and then classify them according to respective subjects. Make additional notes if required and cancel out irrelevant information. Give headings that will remind you what the notes are about.
Take Practice Tests More
Once you have gone through the syllabus and learned all of your notes, it is time to test your knowledge by practicing questions. You can ask your teacher to draw up a set of questions that you can solve at home, take online quizzes, or practice online papers. This will not only help you get confident about your preparation but will also make you more familiar with the pattern of the exam. Remember, practice makes perfect.
Attend Class Reviews
If your institute is offering extra classes a couple of days before finals, do not miss out on them. Your teacher is most likely to focus on material that has a higher chance of coming in exams. Furthermore, you can freely discuss with the teacher about things that you find difficult to understand. It is also a great time to ask your teacher about how to study for finals.
Review Regularly
Before learning a new set of notes, quickly review the notes you learned the previous day. This will make you remember the information for a longer period of time and will further strengthen your concepts. Put special emphasis on information that is hard to learn; the more difficult it is, the more time and effort required.
Get a Good Night's Sleep
We cannot stress enough how important it is to get at least a minimum of eight hours of sleep before your exam. If you think pulling an all-nighter for cramming your syllabus will get you an A grade, then you are under an erroneous notion. You will only end up being sluggish, tired, and unfocused on the day of your exam.
2. Mind Maps Help You to Ace Your Finals
Being overwhelmed with the stress of exams can often lead to having disorganized and messed up study material, but fret no more. Use mind maps to help you overcome this stress.
1
Develop Your Study Plan

Click here to download EdrawMind
(For Win)
Click here to download EdrawMind
(For Mac)
Click here to download EdrawMind
(For Linux)
Mind mapping can help you build your study plan by visualizing your entire syllabus in the form of images, videos, and links. You can have access to various layouts, including an exam preparation layout, where you can easily divide your work into sub-headings.
2
Reorganize Your Notes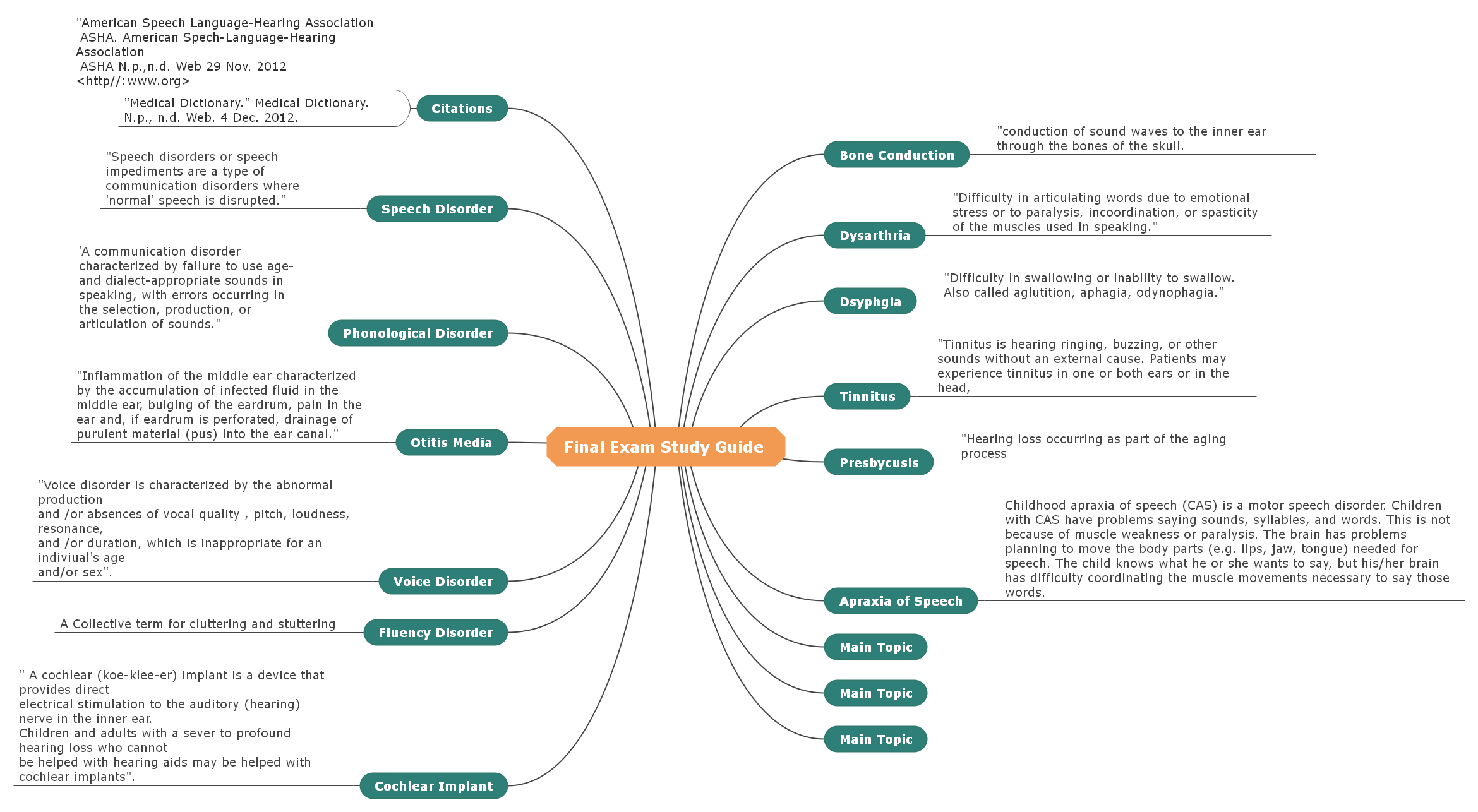 Click here to download EdrawMind
(For Win)
Click here to download EdrawMind
(For Mac)
Click here to download EdrawMind
(For Linux)
Another great benefit of mind mapping is that you can sort your notes and resources in a chronological manner and compile them in one place. This will help you connect classroom references with the context of the textbook.
3. Key Takeaways
Adapting to a well-organized studying schedule is hard work, but it is also what will make you successful. Not only will this help you achieve outstanding grades in your academic life, but it will also benefit you in future career advancements.
However, in today's time, the ordeal of "how to study for finals" has become an easy task, courtesy of mind mapping online sites. With an ending note, we would recommend our readers to fix their study plan with EdrawMind. It will help transform your keynotes into a mind map that you can share in the form of a presentation.
EdrawMind Desktop/Mobile
12 structures & 33 themes & 700+ stylish cliparts
Support Win, Mac, Linux, Web, Android, iOS
Advanced import & export options
On-premises software for business
Enterprise-level data security
EdrawMind Online
12 structures & 33 themes & 700+ stylish cliparts
Access diagrams anywhere, anytime
Group & real-time collaboration
Personal Cloud and Dropbox Integration